Gay Travel Guide Sweden for LGBTQ+ Travelers: The central country of Scandinavia (Norway in the west, Finland in the east) is undoubtedly one of the most gay-friendly countries in Europe even the whole world. Sweden is bordering the Baltic Sea in the south, making it an attractive destination in the summer for LGBTQ+ beach vacationers, too. The pride parades in Stockholm, Malmö, and Gothenburg are known for their diversity and queer rainbow vibes while the approachable Swedes making it easy to get in touch with the local LGBTQ+ community. Beyond that, lesbian, gay, and queer travelers can expect unforgettable beautiful nature, delicious (sea) food, and rich cultural heritage. Especially in Stockholm, everything is about music, and, hey, honestly, who doesn't agree that the Swedish band ABBA produced some of the best Gay Pride Songs ever!? Dive into the easy-going, open-minded, and gay-friendly atmosphere of Sweden and enjoy the best the Scandinavian country has to offer during a trip to Sweden!
🇸🇪
#gaysweden #gaystockholm #gaymalmö #visitsweden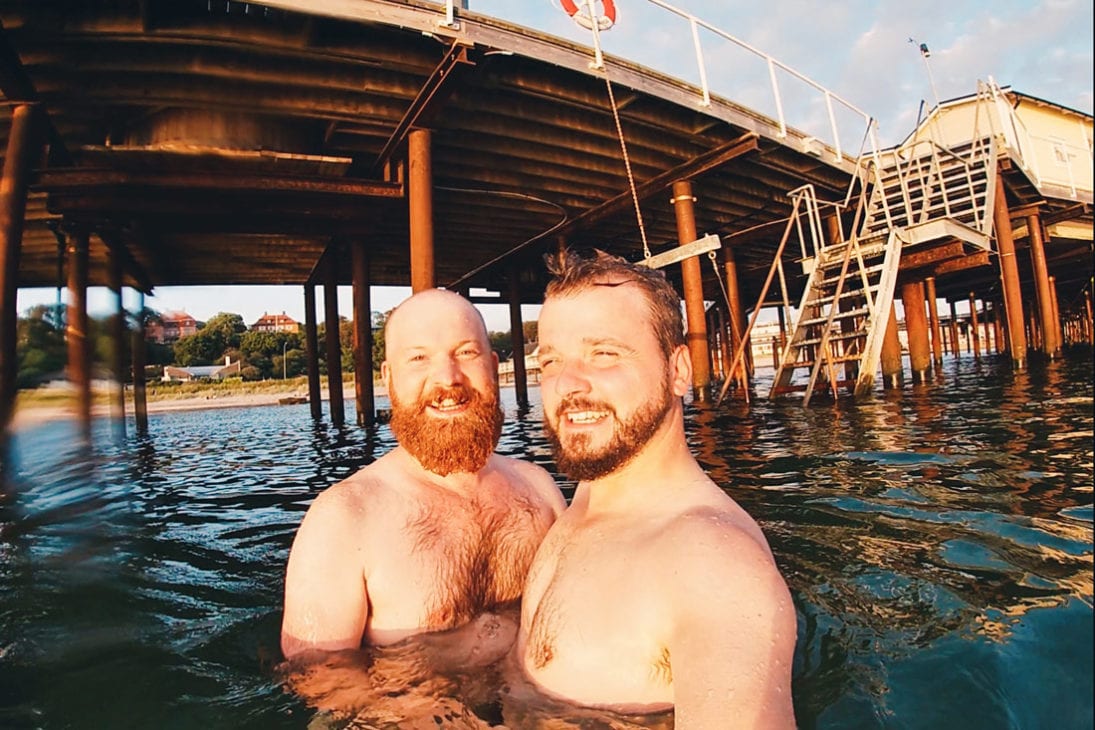 How LGBTQ+ & Gay-friendly is Sweden?
So gay-friendly is Sweden! Following the LGBTQ+ rights by law and the common feedback from the local community in the Scandinavian country, Sweden can be considered as one of the most LGBTQ+ and gay-friendly countries in the world. Already in 2009, Sweden legalized same-sex marriage countrywide, making Sweden the 7th country in the world with marriage equality. Additionally, the country has banned any kind of discrimination based on sexual orientation, gender identity, and gender expression already in 1987. Good to know for LGBTQ+ Travelers: Same-sex couples can adopt children already since 2003, and lesbian couples have had equal access to IVF and assisted insemination since 2005. Furthermore, Sweden became the first country in the world to allow transgender people to legally change their sex, provided free hormone therapy, and an equal age of consent. Transgenderism was declassified as an illness in 2017. Sweden was ranked in the annual Gay Travel Index to be the top LGBTQ+ friendly country yet again.
Our experiences in Stockholm have been unexceptionally positive: Holding hands in public, giving each other a kiss, or checking in a hotel asking for a double bed we never faced any difficulties and could thereby fully enjoy our trip to the Swedish capital city.
Spartacus Gay Travel Guide: Rank 1 (in 2020)
Wikipedia Gay Sweden: LGBT rights in Sweden
Visit Sweden: LGBT+ & Gay Sweden
Gay Stockholm Travel Guide
Our first-ever trip to Sweden together brought us in 2018 to Stockholm. It was just a couple of months before Euro Pride in Stockholm, and we couldn't be more excited to finally explore the home city of ABBA with its majestic Swedish Royal Palaces, shopping streets for Scandinavian style clothes and furniture, and the impressive LGBTQ+ community. We stayed in two gay-friendly hotels in the city center for a long weekend in the Swedish capital city together with StockholmLGBT, the network of LGBTQ+ friendly companies in Stockholm. Check our blog articles for more inspiration and the newest Gay Travel News for Stockholm!
Gay Scania Travel Guide – Southern Sweden
Last year, it was finally time to travel to Southern Sweden. The Swedish state called Skåne = Scania covers the area all the way to the Baltic Sea including the cities of Malmö, Helsingborg, and Kivik. Did you know that Malmö is a co-hosting city of World Pride in 2021 together with Copenhagen? After attending Malmö Pride, we went on a road trip covering the Swedish coast to Skåne in the south including the wonderful beaches at the Baltic. Delicious food, unforgettable culture, and unique nature made this trip a memorable one! And we will be going back in August 2020! Stay tuned for more of Sweden's amazing South.
We found some great flight options flying within Europe with KLM, one of our favorite airlines based in Amsterdam, with some pretty good return-flight deals starting from around €99 to Stockholm and Copenhagen (neighboring city of Malmö and Danish capital). Train and car trips to Sweden are a wonderful alternative!
Gay-friendly Hotels in Sweden
During our trips to Stockholm, we could stay in two different hotels: the Hotel HOBO and the Hotel Skeppsholmen. You can find our review videos here. Our Hotel during our first trip to Malmö was Ohboy hotell, a bike hotel close to one of Malmö's landmarks, the turning torso! After Malmö Pride, Southern Sweden is waiting for us and our 5-days road trip. The first accommodation on our five-day tour was the Grand Hôtel Mölle in Kullaberg. Our second hotel is located in Helsingborg called The Vault Hotel. After a long trip through the southern part of Sweden's Skåne, we arrived at the east coast of Sweden staying at the Karnelund Krog & Rum in Simrishamn. Finally, we visited Kivik and stayed at the Kiviks Hotell. Knowing about Sweden's LGBTQ+ friendliness, we are excited to test more Swedish accommodations giving you detailed feedback about their gay-friendliness.
Plan your Gay Sweden Travels with

Couple of Men
Gay Travel Guide Sweden: Please consider our tips as suggestions with no guarantee that it still will be like that when you are traveling there. Though we did our research and all our opinions written in this article are honest, authentic, and true.
So, are our photos and videos always aiming to prove our experiences to be authentic? We would like to thank Visit Stockholm, Tourism Malmö, and Tourism Skåne for their invitation, support, and the possibility to experience Sweden in a very free and authentic way.
For any clarifications about your plans for traveling to Stockholm, Malmö, and Southern Sweden Skåne, follow us and email us or drop us a line on Facebook, Twitter, YouTube, and Instagram. See you around the world and the next time in Stockholm, Malmö, and Southern Sweden! Karl & Daan.