Our best photos and video of the Malmö Pride. Lucky us, we could attend the 25th anniversary of (Gay) Pride in Malmö during our summer adventure to South Sweden. Since 1995, formerly known as the Rainbow Festival, Malmö celebrates equality, love, and respect for everyone. According to malmo.com, the LGBTQ+ festival expected more than 15,000 participants to get ready for World Pride 2021. Moreover, Malmö is a partner city and co-host of World Pride in 2021, preparing the biggest LGBTQ+ celebration the city has ever seen together with the Danish capital city Copenhagen. The organization of Malmö Pride 2019 included a Pride House (Hotel Scandic Triangeln), the Pride Park (Malmö Folkets Park), and a Pride Street (Friisgatan) in their planning for pride week in Gay-friendly Malmö. So enjoy Pride Malmö and its colorful parade with thousands of queer folks of the LGBTQ+ community with our photos and video through a Couple of Men's eyes.
– in paid collaboration with @malmotown/Malmö Tourism –
Best Photos & Video of Malmö (Gay) Pride 2019
The First Gay Pride was a Riot – 50 years after the Stonewall riots, Malmö Pride is celebrating its 25th anniversary, and we are happy and proud to be part of it! Four days of LGBTQ+ events, performances, lectures, and seminars, with the climax of the colorful rainbow Malmö Pride Parade, made Malmö Pride 2019 a pride event for your gay travel pride bucket list. The pride parade 2019 started on Stortorget and made its way to Malmö Folkets Park. There, we could celebrate, dance, and laugh together with the other LGBTQ+ attendees and their queer allies while performers like the Weather Girls created a more than pleasant, welcoming, and gay-friendly atmosphere.
---
Like a Swedish Summer Fairy tale! On our Gay City Trip to Malmö, we spent four days in the 3rd biggest Swedish city exploring the city by bike and by boat, always on the lookout for architectural highlights, great places for dinner, and Instagram-worthy photo spots. And we stayed at gay-friendly hotels in Malmö.
---
Demonstration ends in Folkets Park Malmö
After the peace- and colorful pride parade through the old town center of Malmö, the demonstrators and the partying crowd arrived at Folkets Park Malmö with its iconic onion-domed tower and festival space. Together with our lovely travel buddies Maartje and Roxanne, we were able to celebrate, dance, and laugh together with the other LGBTQ+ pride attendees.
At the same time, performers like the Weather Girls created a more than pleasant, welcoming, and gay-friendly atmosphere. We were overwhelmed by the young, friendly, and queer crowd waving pride and rainbow flags throughout the day, standing up for LGBTQ+ rights. We are more than certain that Malmö is a more than worthy partner city for World Pride 2021 together with Copenhagen, the Danish capital city.
---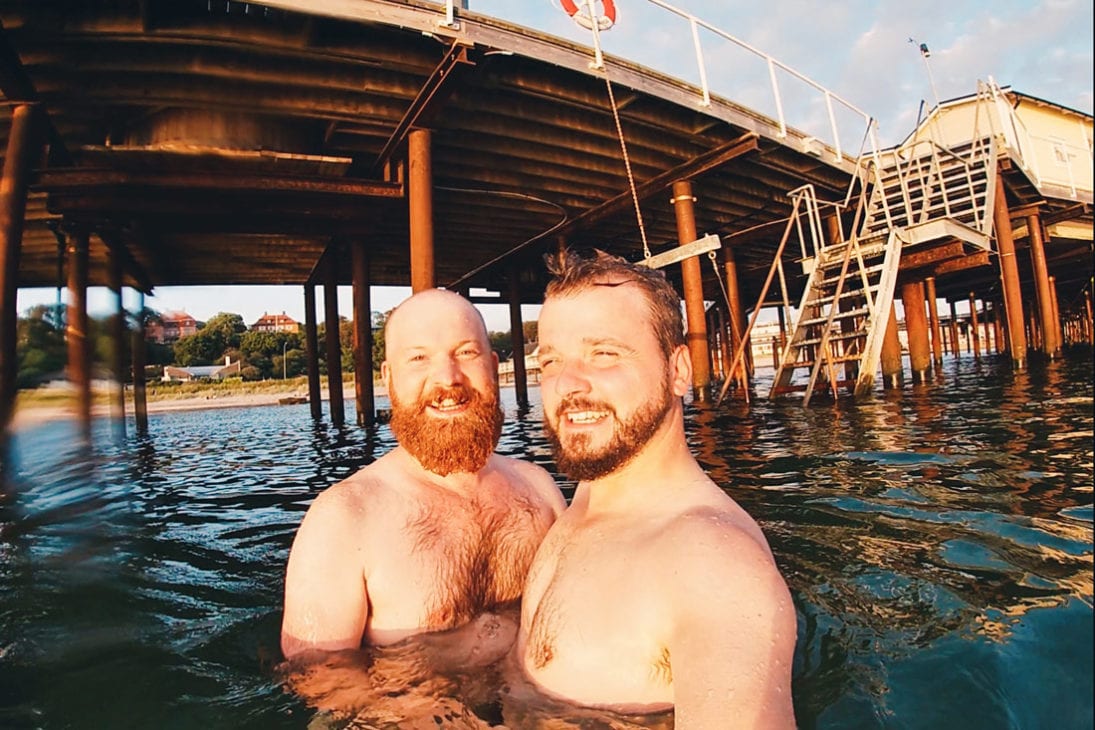 But South Sweden had even more to offer. After our Gay City Trip to Malmö, we went on a 5-days road trip along the coastline of the South Swedish county Skåne. Far away from Stockholm, which we visited last year, we found stunning Swedish nature, witnessed stunning sunsets over the Baltic Sea, and met wonderful gay men who settled down in Skåne!
---
Two Cities, Two Nation – One Vacation
Many places in Malmö remind us of Copenhagen, quite rightly. Copenhagen and Malmö are two cities connected by one bridge connecting two countries at the same time, Denmark and Sweden. If you are planning to visit Malmö arriving in Copenhagen, a night or two in the Danish capital city might be advisable. Especially, if you are a theme park nerd like us. A couple of years ago, we visited the theme park Tivoli Gardens in Copenhagen for Christmastime and had a fantastic time on the historical rollercoasters like Rutschebahnen. We are planning to come back to Copenhagen as well hopefully next year and during World Pride in 2021!
Please note: This trip was made possible in close collaboration with Tourism Malmö and Tourism Skåne as well as the tips and help to come from our wonderful readers, followers, new and old friends from all over the world. Nevertheless, our photos, our videos, our opinions, and our writings are our own, as always.