It doesn't matter if you hibernate in Europe, North America, or on the other side of the hemisphere. We know we will get you in a spring mood with our Top 13 Best Gay Ski Weeks 2023 / 2024! It is time for some gay-friendly fun in the Alps, the Rocky Mountains, the Pyrenees, or on top of any other snowy mountain with LGBT winter sports fans worldwide. You may wonder why you should go party in the snow, but is there any good reason not to?! There are still a lot of small mountain villages and ski resorts where the LGBTQ+ community is not entirely accepted. But during a Gay or LGBTQ+ or Queer Event, locals and travelers can enjoy Ski and Snowboard fun with a great time, even off the ski pistes, with a low chance of homophobic aggression and a significant chance of a fantastic gay-friendly winter sports event!
Snow & gay-friendly winter sports 2023 / 2024
There is something about Karl you should know… he LOVES the snow! Karl grew up in the mountains of East Germany and went to a winter sports school all the way up in the East German uplands. He is a Snowboarder by heart and former Managing Editor for Blog & Social Media for Snowplaza, one of the biggest German Ski and Winter Sports Websites in Europe. His snow mountain experiences combined with our motivation to stand for an openly gay lifestyle is a perfect match for attending one or more of the Top 13 Best Gay Ski Weeks worldwide. Have a look at our list of the Top 13 Best Gay Ski Weeks sorted by dates, and maybe we will meet you on one of the slopes in the Austrian, Swiss, French, Norwegian, American, Canadian, or even New Zealand ski resorts!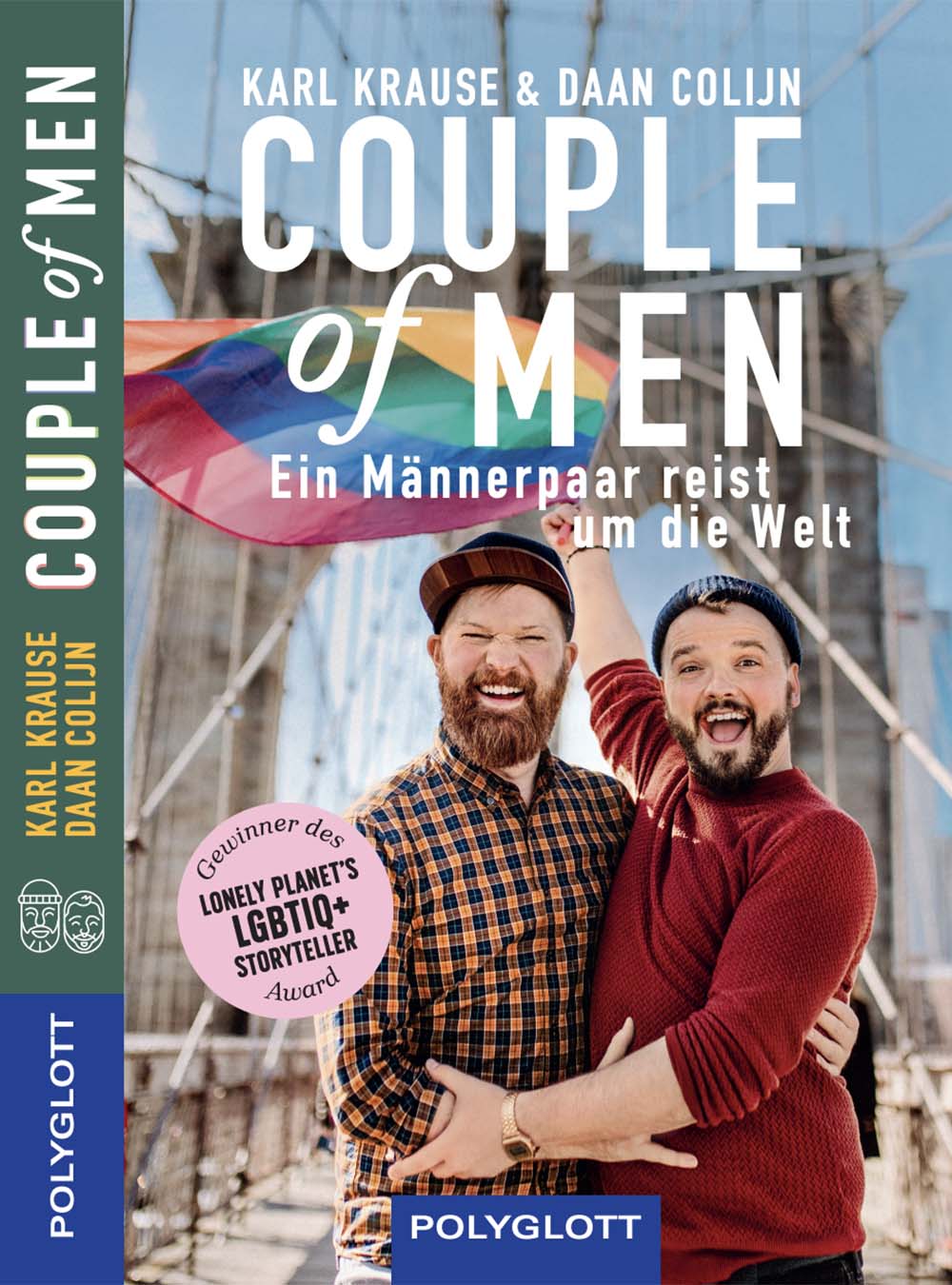 Advertisement
The perfect present to inspire (German-speaking) LGBTQ+ travelers and their allies to travel the world open-minded, respectfully, and with a happy heart.
Order our book online or purchase it in bookstores in Germany, Austria, and Switzerland.
Gay-friendly Ski Resorts News
And of course, we already attended two of the Top 13 Best Gay Ski Weeks to be precise, Jasper Pride in the Canadian Rocky Mountains, and in British Colombia visiting Vancouver and attending the 26th and 27th editions of Whistler Pride Ski Festival 2018. Winter in the Alps is just about to begin. And there will be always some great news for LGBTQ+ winter sporters when new Gay Ski Events will premier all around the world. Like last year, for example, when the Addiction Ski & – Boarder Weekend in Kaprun was organized. We will keep an eye on it and inform you more if there is a new one. And now, join us and see the world of gay-friendly winter sports through a couple of men's eyes!
Advertisement
We found some great deals with flights worldwide and in Europe via Amsterdam (and return) with gay-friendly KLM Royal Dutch Airlines. That includes direct connections with KLM or their partner airlines, Air France and Delta Air Lines. *subject to availability / last check: 2023
Top 13 Gay Ski Weeks Worldwide:
#1 Aspen Gay Ski Week | Aspen, USA
The Ski Area Aspen in the United States of America is internationally well known, even in Europe. It also can be listed as one of the most gay-friendly ski areas worldwide. The Aspen Gay Ski Week takes place already since 1977 in the historic mountain town of Aspen in Colorado. With its more than 480 km of ski and snowboard runs on the four ski areas Aspen Mountain, Aspen Highlands, Buttermilk, and Snow mass, it offers a variety of skiing and snowboarding terrain. If you are a fan of cross-country skiing, snowshoeing, and winter hiking, the Ski area of Aspen offers all trails in the Elk Mountains of Colorado.
Dates: January 14 – 21, 2024
Plan your trip here: Best Hotel Deals Aspen > | Best Flight Deals USA >
#2 Arosa Gay Ski Week | Arosa, Switzerland
The Ski Area Arosa in Switzerland is one of the most gay-friendly Ski areas in the Alps with rainbow flags swaying all winter long. Since the year 2005, the 7-days event is offering world-class entertainment in the Swiss mountains on its 220 km slopes full of snow, skiing, and fun for more than 600 lesbian and gay winter sports fans from over 30 different countries. See you on the slope during Arosa Gay Ski Week!
Dates: January 20 – 27, 2024
Plan your trip here: Best Hotel Deals Arosa > | Best Flight Deals Switzerland >
#3 Whistler Pride & Ski Festival | Whistler Blackcomb, Canada
Canada is known to be one of the most gay-friendly countries in the world. And in 2017, the North American country was celebrating its 150th anniversary as a united nation. The Whistler Pride & Ski Festival is not that old yet but since 1992, women, men, and everyone in between coming together at Ski Whistler Blackcomb to enjoy gay-friendly Winter sports on more than 250 km of ski slopes. The loaded entertainment program and the lively ski resort Whistler will make your Pride & Ski Festival in Canada an unforgettable experience. We had the pleasure of attending the 30th edition in January 2018!
2018: Read more about Whistler Pride Festival 2018>
2019: Highlights of Whistler Pride Gay Ski Week 2019 >
Dates: January 21 – 28, 2024
Plan your trip here: Best Hotel Deals Whistler > | Best Flight Deals Canada >
#4 Snow Queer Festival, formerly Snow Gay Weekend | Boí Taüll, Spain
Even in Spain, it can be a winter wonderland! "Rainbow Barcelona Tours" is organizing a Snow Queer Festival in the Spanish Pyrenees of Lleida at Ski Area Boí Taüll. The 47 km ski and snowboard run facing the North offers perfect snow conditions and is the basis for your Winter vacation in Spain. Sports, events, partying, and the hosts Pupi Poison and La Nenuco will make sure this weekend will be an unforgettable one!
Dates: not announced yet for 2024
Plan your trip here: Best Hotel Deals Lleida > | Best Flight Deals Barcelona >
#5 Elevation Utah Gay Ski Week | Park City, USA
Next to Aspen, the USA has more ski areas to offer. For example, the Ski Area Park City – Deer Valley in Utah with its three ski areas Park City, Deer Valley, and The Canyons all together form about 250 km Ski & Snowboard runs up to an altitude of 3.050 meters. The Utah Gay Ski Week invites LGBT ski and snowboard fans for the 10th time in 2020 with a complete program of events in a world-class ski resort. The long weekend in the mountains of Utah is a fun time for new and old friends and the community to come together. Worth a try after we have been to Zion National Park in Utah.
Dates: February 28 to March 8, 2024
Plan your trip here: Best Hotel Deals Park City Utah > | Best Flight Deals to the USA >
#6 Elevation Mammoth Gay Ski Week | Mammoth Mountains, USA
The Mammoth Ski Area is the origin of the Elevation Ski Week brand. For 16 years, California's best ski area Mammoth Mountain has been the home of the Mammoth Gay Ski Week presented by Tom Whitman. South of Yosemite National Park and North of Sierra National Forest, Mammoth Gay Ski Week takes place by the Mammoth Lakes, not far from the Mono Lake we visited during our 1-mount road trip southwest of the USA. Create your event by putting together the tickets for the events of your choice.
Dates: March 13-17, 2024
Plan your trip here: Best Hotel Deals Mammoth Lakes > | Best Flight Deals USA >
#7 SWING Gay Ski Week | Lenzerheide, Switzerland
Let's call it the little, older sister of the Gay Ski Weeks, or simply the SWING Gay Ski Week in Swiss Lenzerheide. Good to know: Arosa and Lenzerheide are two ski resorts of the massive Ski Area Arosa-Lenzerheide with 225 km ski and snowboard pistes. Their slogan "Another Way of Skiing" is a gay-friendly, personally organized ski week in a high valley with snow guaranteed and a complete event agenda. So meet friends, enjoy the snow in Switzerland, and have fun together with like-minded LGBT people from all over the world.
Dates: March 3 – 10, 2024
Plan your trip here: Best Hotel Deals Lenzerheide > | Best Flight Deals Switzerland >
#8 Jasper Pride Festival | Jasper, Canada
"Jasper, Proud & Free" – For ten years, annually in March, Jasper has been celebrating its Jasper Pride Festival, including a rainbow flag skiing parade at ski area Marmot Basin with around 100 km ski and snowboard runs. Jasper is a fairy-tale mountain ski resort in the Canadian Rocky Mountains with a traditionally diverse and open-minded community. It is a beautiful place to enjoy winter and ski vacations between Vancouver, Edmonton, and Calgary for the local queer community, the LGBT traveler, and many LGBT couples. We loved our time in Jasper National Park for Jasper Pride Festival! Now we can show you more of the Canadian gay-friendliness and beauty of nature of the Rocky Mountains.
Dates: April 5 – 14, 2024
Read here all about: Our Jasper Pride Festival Trip
Plan your trip here: Best Hotel Deals Jasper > | Best Flight Deals Canada >
#9 European Snow Pride | Espace Killy, France
The French Alps are the stage for two Gay Snow Weeks in Spring. First, we have the European Snow Pride at Espace Killy, a 300 km ski runs big ski region with two ski areas Val d'Isere and Tignes. Espace Killy is culminating at 3.450 meters for beginners to experts. An impressive line-up of Après-Ski DJs, vocal performers, and dancers are rocking the Alps in France since 2011 with extraordinary mountain scenery.
Dates: March 16 – 23, 2024
Plan your trip here: Best Hotel Deals L'Espace Killy > | Best Flight Deals France >
#10 European Gay Ski Week | Les Arcs, France
Happy Birthday! The European Gay Ski Week celebrated 2022 its 14th anniversary. Hundreds of other LGBT people will celebrate Europe's No. 1 Gay Winter Sports and Music Festival, the European Gay Ski Week at Paradiski in France. One of the world's largest connected ski areas with the well-known ski resort Les Arcs is hosting the biggest gay-friendly Ski week in Europe for the 11th time. Our famous Dutch Drag Queen Lady Galore was there last year. Join the gay and lesbian ski and snowboard fans and celebrate an unforgettable Winter Ski Vacation in France.
Dates: March 23 – 30, 2024
Plan your trip here: Best Hotel Deals Les Arcs > | Best Flight Deals France >
Welcome to Hemsedal, the so-called "Scandinavian Alps"! Up to 45 km ski runs and a very gay-friendly Nordic vibe create for LGBT ski and snowboard fans perfect conditions for one of the best Ski Pride Festivals in Europe. Unfortunately, the official website is only available in Norwegian at the moment. What we do know about the Scandinavian Ski Pride, is that the Norwegian LGBT community is doing its best since 2011 to provide on and off the slope, a wonderful rainbow-colored Scandinavian Ski Pride that you don't want to miss!
Dates: Ski Week canceled until further notice
Plan your trip here: Best Hotel Deals Hemsedal > | Best Flight Deals Norway >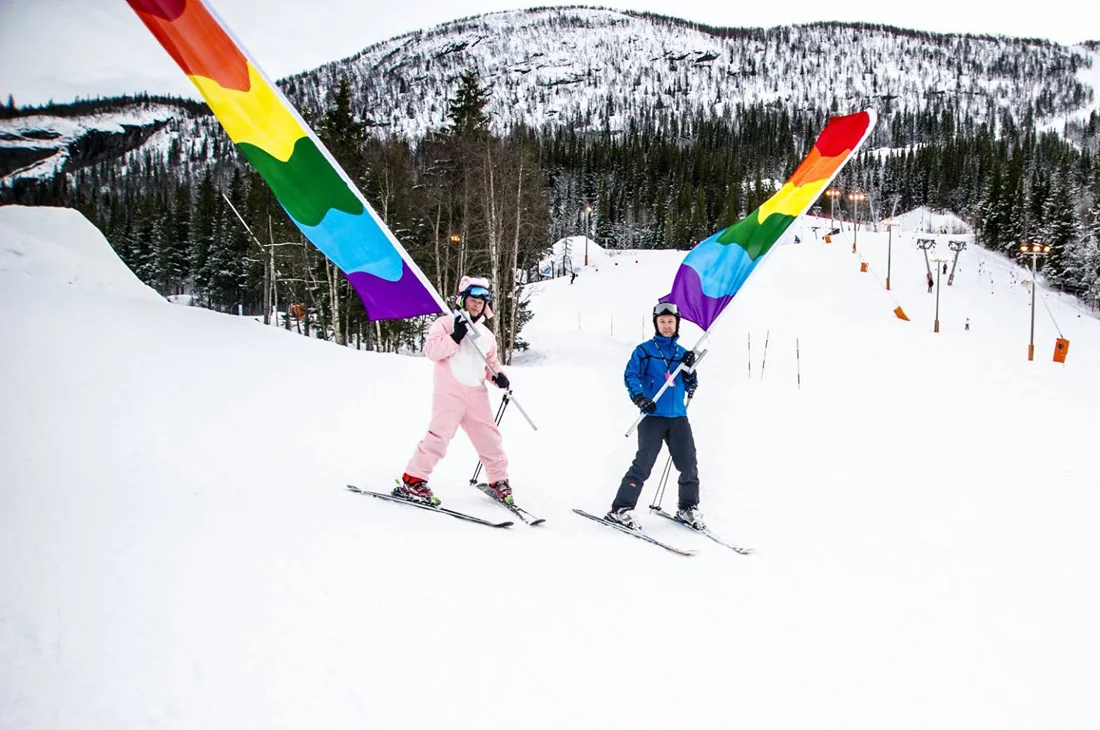 #12 Winter Pride Sölden | Sölden, Austria
The number one Ski Nation in Europe, Austria is hosting the Sölden Gay Snow Happening in one of the most famous ski areas at Ötztaler Alpen. Since 1998, the Austrian LGBTQ+ community is celebrating 145 km ski slopes and the variety of LGBT life. The ski area Sölden is offering a snow guarantee and a lively Après-Ski activity up to an altitude of 3.340 meters. Soon more details here on our blog about the Ski Week in Austria.
Dates: March 16 – 23, 2024
Plan your trip here: Best Hotel Deals Sölden > | Best Flight Deals Austria >
#13 Gay Ski Week QT | Queenstown, New Zeeland
While in Europe summer is ending, in New Zealand spring is about to start! This is the best time for Winter sport since warmer weather conditions are making the snow soft and the LGBT Winter sports fans from (almost) down under are getting spring fever. A perfect time for the largest gay & lesbian Winter Pride, the Gay Ski Week QT, in the Southern Hemisphere at Cardrona Alpine Resort just 35 minutes from downtown Queenstown, New Zealand. Thus, when you are discovering the home of the hobbits around the end of August, don't forget to bring your Winter clothes and join the LGBT community of New Zealand for a fun week in the snow.
Dates: August 25 – September 3, 2023
Plan your trip here: Best Hotel Deals Queenstown > | Best Flight Deals New Zealand >
Top 13 Best Gay Ski Weeks 2023 / 2024 Worldwide
These are the Top 13 Best Gay Ski Weeks worldwide in the Alps, the Pyrenees, Norway, Canadian Rocky Mountains, New Zealand, and the United States of America. We hope we could inspire you to book and experience gay-friendly skiing/snowboarding, Party/Après-Ski Events, and many options to make new friends because, in the end, that is the spirit and goal of our LGBTQ+ Snow Prides and Pride Parades all over the world. And even if you are not up for cold feet and broken legs, the time spends in one of the gay-friendly ski resorts high up in the snowy winter wonderland mountains is a romantic opportunity for existing and newborn gay couples.
We cannot wait to pack our snow gear and get ready for a Gay Ski Week this Winter season! For more about our gay travels worldwide, follow us on Facebook, Twitter, YouTube, and Instagram. See you on the ski runs of ski resorts around the world!
Karl & Daan.
Do you like it? PIN IT! >