The vegan restaurant Mineral in Malmö. Fans of the vegetarian and even vegan cuisine visiting Malmö and South Sweden should put the gay-friendly restaurant Mineral in Malmö on their gay travel bucket list. Owned and run by three Swedish girlfriends, this top restaurant in Malmö is all about connecting nature from the interior to all plant-based food and natural drinks. The welcoming green terrace with beautiful trees, several cycle racks, and multiple sitting accommodations give LGBTQ+ guests of the Mineral restaurant the choice to sit outside or, if the weather isn't that good, inside in a typically modern, hip, and South Swedish atmosphere. So enjoy your dinner and glass of Scandinavian beer at Mineral vegan restaurant in Malmö. We are convinced that we can inspire you for a glass of wine or a full dinner at the Mineral Vegan Restaurant Malmö with our Couple of Men gay couple restaurant review.
– paid collaboration with @malmotown/Malmö Tourism –
Review of the Vegan Restaurant Mineral in Malmö
The secret of a successful dinner at Mineral Vegan Restaurant in Malmö lies in sharing your main courses. Fruits, vegetables, and seasonal herbs are put together playfully, creating an unexpected taste adventure. The kitchen is all plant-based and changes regularly after every season and according to the fresh vegetables that LGBTQ+ travelers can find in Malmö's and Sweden's gardens. We shared several main courses with the four of us, and although not every meal was made for every one of us, all plates were empty at the end since there truly was something for everyone.
Our food selection at Mineral: #1 Sea Buckthorn carrots, miso gratinated celeriac, smoked pumpkin, rye bread with pulled cabbage, and fermented vegetables. Main course #2: Cold smoked carrots, Chioggia beet, green peas, strawberries, and elderflower vinaigrette and last but not least: main course 3 with new potatoes, black garlic, chanterelle, oyster mushrooms, and onion compete. Our tips: Start the evening with one of the delicious natural wines, all unique and from small vineyards, Scandinavian beers, or delightful, locally produced local ciders. And definitely try the Ganache for dessert!
We simply couldn't resist a Sweden adventure in summer. Especially with a very special gay-friendly touch. This time we didn't go to visit Stockholm but spent four days in Malmö exploring architectural highlights by boat and bike, attending the rainbow-colored LGBTQ+ festival Malmö Pride and staying at a bike hotel.
About Mineral Restaurant in Malmö
We enjoyed our time sitting by the big window surrounded by plants with a wonderful view over the outside terrace area. Additional to the subtle lighting, we liked the tasteful interior and the fact that the LGBTQ+ and gay-friendly staff took their time to explain all about the food and beverages from their menu. We also learned that a couple of times a month, the Mineral Restaurant hosts concerts, jazz brunches, and parties. And don't miss the toilet that is an art project on its own.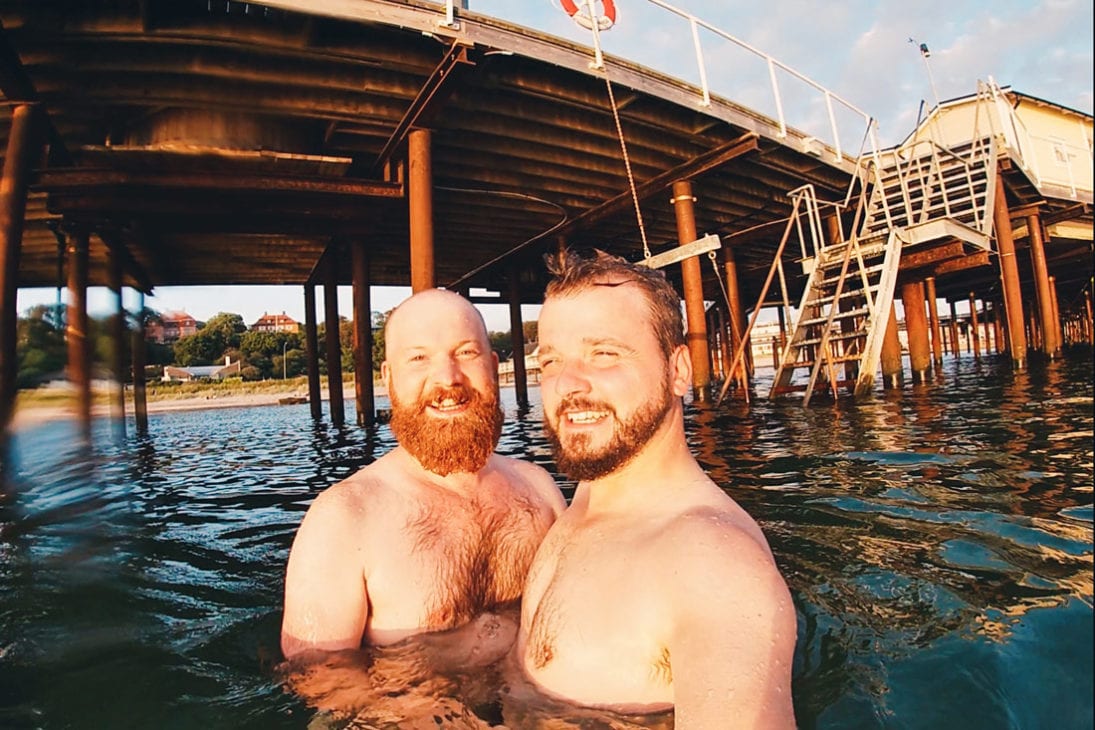 But our trip does not end with our wonderful time in Malmö. We planned a road trip for 5-days along the South Swedish coast of Skåne to Mölle, Helsingborg, and Kivik. Stunning Swedish nature, unforgettable sunsets over the Baltic Sea, and some wonderful unique gay couple stories.
Exploring Malmö & South Sweden Skåne
The third-biggest city of Sweden, Malmö, is the cultural and gay-friendly center of the Southern Swedish county Skåne. Especially in the past couple of years after the world-famous Öresund Bridge was built and Malmö University opened its gates, Malmö became more and more attractive to investors and young professionals from all over the world. The best way to fly to Malmö is actually flying to Copenhagen Airport, which is conveniently connected to worldwide flights. After a 30-minute ride by train, only even over the Öresund Bridge, we arrived at Malmö Central Station. Malmö is located close to the shoreline of the Baltic Sea with a strong water connection. Malmö ranks as the 5th most bike-friendly town in the world. LGBTQ+ travelers can also explore Malmö's highlights like the lighthouses, the typical Scania buildings, and parks by rental boat due to its canals, even during a self-guided boat tour.
Video of our Malmö Gay City Trip
Gay Couple Review of the Vegan Restaurant Mineral in Malmö
Address:
Mineral Restaurant
Sankt Knuts väg 13
211 57 Malmö, Sweden
Opening Hours: Mineral Homepage
Contact: boka@mineralmalmo.se
Our special tip:
Order several dishes and share!
Click here for the Menu
Do you want to know more about our gay travels around the world? Stay tuned on Facebook, Twitter, YouTube, and Instagram. See you again soon!
Karl & Daan.
Please note: This trip was made possible in close collaboration with Tourism Malmö and Tourism Skåne as well as the tips and help to come from our wonderful readers, followers, new and old friends from all over the world. Nevertheless, our photos, our videos, our opinions, and our writings are our own, as always.