After our Gay City Trip to Malmö, we took a rental car to drive all the way northwest of the South Swedish county Skåne. The first stop on our 5-day road trip was the Kullaberg Nature Reserve and the little fisher village Mölle. Stunning views, rough nature, and cute little colorful Swedish houses give this region of Sweden a unique atmosphere. Embedded in the rough nature of the Kattegat shoreline (the name of the sea between the Northern and Baltic Seas), we found the gay-friendly and gay couple-owned café Ransvik Havsveranda with a unique historical significance. Enjoy our story of Gay-owned Café Ransvik Havsveranda with photos and tips, and we are convinced that we can inspire you to visit the gay-friendly Ransvik Havsveranda, to try some of their delicious food and to learn more about The Sin of Molle with Couple of Men.
– in paid collaboration with Tourism Skåne –
Besides the gorgeous view of the sea bath beach and the well-maintained garden, the food is the real highlight of Ransvik. Everything is homemade by the gay guys and their team with the primary use of local Swedish ingredients. This place was the highlight of our first Skåne (Scania) days.
Story of Gay Couple Andy & Matti
Originally from the North of Sweden, the two guys Anders Enerstedt (nicknamed Andy) and Mattias Grapenfelt (nicknamed Matti), moved to Mölle earlier in spring 2019. Their goal was to take over a Café 1921 located right at the shoreline of the Kattegat, the water between the Baltic and the North Sea. Andy has years of experience as a restaurant manager and chef, and Matti worked for many years in the Tourism industry for the STF (Swedish Tourist Association).
Their dream is to combine hospitality, organic self-made food, and locally sourced ingredients as an openly gay couple. Therefore, they decided to leave their homes in Stockholm and Åre to settle down together in Ransvik. This beautiful place on earth is embedded in a forest surrounded by colorful flowers, fresh herbs, and a gorgeous water view. Welcome to the Gay-owned Café Ransvik Havsveranda.
Gay-owned Café Ransvik Havsveranda
When we met them right before they opened the doors of their Café Ransvik Havsveranda for lunchtime, they seemed to be super busy with preparing for up to 500 guests for the day. We should soon learn about why. Friendly and welcoming as they are, they took the time to say hello, and to show us around this heavenly place on earth. We loved it here, so close to the sea and yet surrounded by forest. The guys told us that they cook and bake everything themselves with a small team of professionals. No wonder they have been so busy when we arrived and the place wasn't even open yet.
They also shared some ideas and plans for the future with us like their intend to extend the garden. But also their goal of opening Ransvik Havsveranda for dinner in 2020. But on top of their list, despite all their love and effort they put into this place, is to try finding the right balance between non-stop working, living and loving together 24 hours a day. Similar to our lives together as content creators and gay travel bloggers for Couple of Men.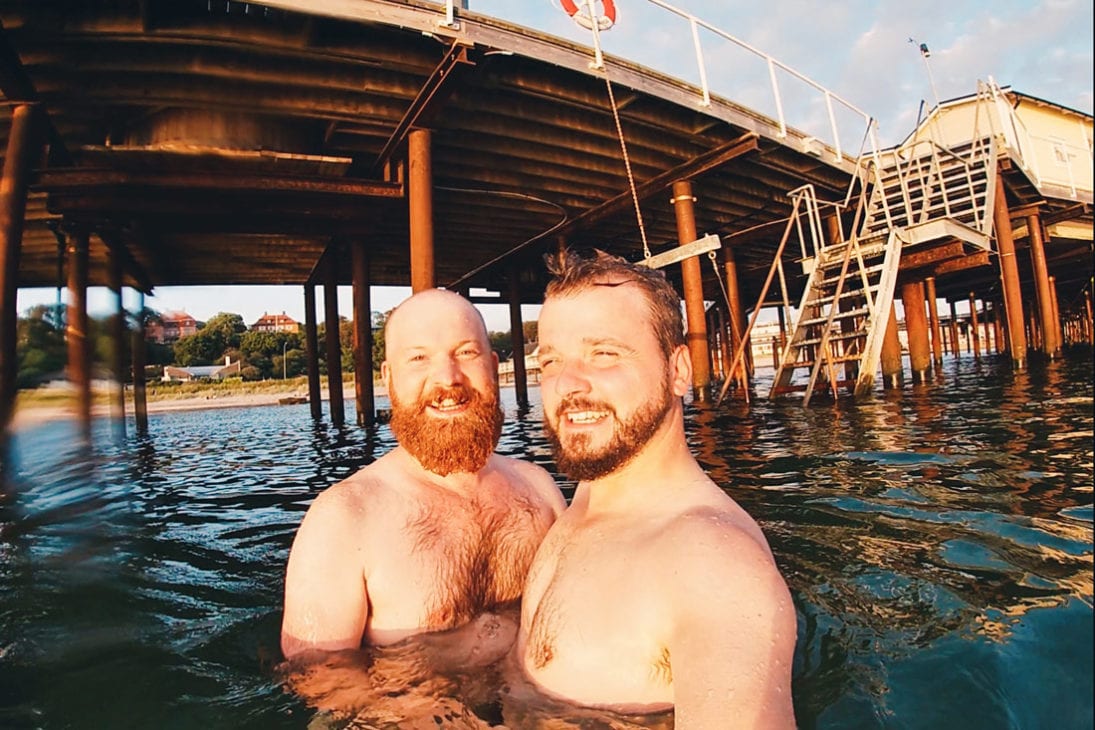 From Malmö into Swedish nature! We started our gay summer adventure in Skåne in Kullaberg making our way south, visiting Helsingborg, Ystad, and Kivik. Our last day we spent at the clothing-optional gay beach, Sandhammaren. Read our full journal and get inspired to plan your Swedish Summer Adventure.
Organic self-made Food & Drinks
Although we hadn't much more time together, we had the chance to try some of their delicious and organic lunch creations. Karl was super enthusiastic about his salmon filet, the freshly prepared Swedish potatoes, and a little strawberry cake. Daan opted for vegetarian, organic lentil soup and a delicious seabuckthorn cake. After we shared an organic home-made Kambothca and freshly brewed hot coffee, the weather changed, and the sun came out. And there it was, the wind-protected microclimate the guys talked about. And on time for lunch, hundreds of locals and outdoor enthusiasts arrived to secure their seats for lunch with the desire to swim in the mild sea afterward.
After a wonderful time in Malmö, we boarded our rental car for a 5-days road trip along the South Swedish coast to Mölle, Helsingborg, and Kivik. Stunning Swedish nature, unforgettable sunsets over the Baltic Sea, and some incredible unique gay couple stories. Did we mention our clothing-optional gay beach?
A special place in history – The Swedish Sin in Molle
The guys told us about the particular microclimate here in Ransvik, which can significantly differ from the neighboring region. If that was the reason for Ransvik becoming so historically important for Sweden, Europe, and the world, we don't know. But it most certainly was part of it. The Swedish Sin in Mölle is a phenomenon that describes the reputation of the Swedes as sexually easy-going women. Why? Because for the first time, people of all genders came together already in the 1880s at the sea bath of Ransvik to get into the water at organized communal baths on the stony beach on the Kullaberg peninsula.
Following the story of Ransvik, the unconventional bathing action that broke with the rules was initiated by a group of students from the South Swedish city Lund. It should soon attract even the Swedish King and German Emperor. Later in the early 19th century, the region around Mölle, also known as the granary of Sweden, experienced its first tourist rush as it was named Kullaberg – North Riviera. Today, everyone is welcome in Mölle to swim and have lunch together and to enjoy the sea together all year round.
Gay-owned Café Ransvik Havsveranda in Mölle, Skåne – Southern Sweden
Address:
Ransvik Havsveranda
Italienska Vägen 151-159
263 77 Mölle, Sweden
Facebook: facebook.com/ransvik.se/
Book your stay: Offers & Reviews on TripAdvisor
Do you want to know more about our gay travels around the world? Stay tuned on Facebook, Twitter, YouTube, and Instagram. See you again at the gay-owned Ransvik Sea Porch, Mölle, Scania, and Sweden soon!
Karl & Daan.
Please note: This trip was made possible in close collaboration with Tourism Malmö and Tourism Skåne. A special thanks for tips and support goes to our wonderful readers, followers, new and old friends from all over the world. Nevertheless, our photos, our videos, our opinions, and our writings are our own, as always.