Historically, it is said that the Canary Islands' physical distance from catholic, mainland Spain gave it enough refuge for an environment to flourish in which gay men could be freer than in most other places. And all of this even before homosexuality was decriminalized. The progressive attitudes granting gay men freedom quickly spread around Europe by word of mouth, and thanks to this, Gran Canaria is still one of the biggest gay tourist destinations in the world. Enjoy John's Gran Canaria guide for the best Gay Cruising experience on the Spanish Canary Island with cruising tips for Maspalomas, the gay beach, the Yumbo Center, and gay men-only hotels on Couple of Men.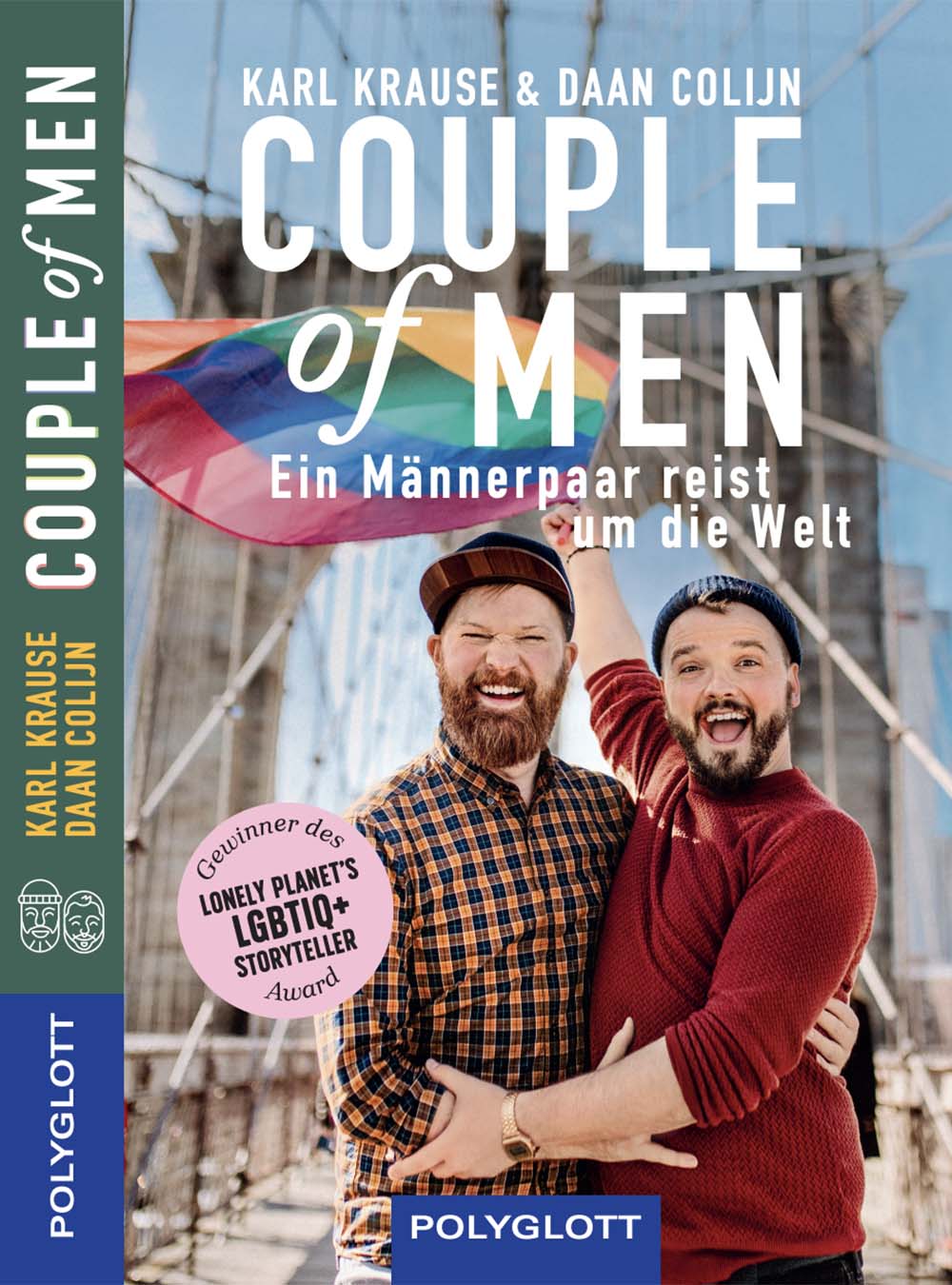 Advertisement
The perfect present to inspire (German-speaking) LGBTQ+ travelers and their allies to travel the world open-minded, respectfully, and with a happy heart.
Order our book online or purchase it in bookstores in Germany, Austria, and Switzerland.
This freedom, on the most basic of levels, has always been intrinsically linked to the idea of sexual freedom, and of course, gay cruising. These ideas still permeate the island today, making Gran Canaria a great destination for cruising, sexual liberation, and its connection to nature. Rather than being confined to a small area, cruising in Gran Canaria can take many forms. Sandy beaches with towering dunes and its gay focussed businesses including bars, clubs, and hotels provide many opportunities for meeting and exploring.
Our Gran Canaria Gay Cruising Guide
Just like many other beaches where men cruise for sex, the gay beach in Maspalomas takes a bit of a hike to get to – and for good reason! Who would want to be disturbed by random passersby and curious lookie-loos? Rather than trekking far out into the wilderness, however, the journey to Kiosko Beach N. 4 (or as the German's have lovingly renamed it FKK Bude 4) begins at a rather peculiar place: the Hotel Riu Palace Oasis. Trekking through the hotel, you enter the nature reserve of Playa de Maspalomas – an endless sight line of dunes, hills, and sand. To get to the beach itself, follow the trails, and orient yourself to other visitors.
To the best Gay Beach of Gran Canaria
It's not a very long journey, but make sure you have enough sun protection and water with you – because the likelihood that you'll stick around the dunes for a bit longer is quite high. In between the dunes and the bushes throughout your trek you'll run into a good number of men shielding themselves from the scorching sun, hoping that a passerby will stop and take a rest with them. You can see any number of things going on in the dunes, where luring looks often turn into exciting encounters.
Cruising in the dunes of Playa de Maspalomas
Whether you decide to stick around for a while or not – the heat will make the call of the ocean sweeter as time goes by. Once you arrive at the seafront of Gran Canaria's Swingers Nudist Beach at the Playa de Maspalomas with Kiosko 4, you'll be able to rent one of the iconic orange sunbeds and umbrellas (or not if that's not your thing). Take off your clothes, and bask in the freedom and liberty of being one with the elements with no textile barrier between you and the world. See and be seen by the plethora of both locals and visitors from across Europe and the world. You'll hear an eclectic mix of languages with a high likelihood of Spanish, German, English, Dutch, and French.
Kiosko Beach N. 4 – FKK Bude 4
At the kiosk, you'll be able to buy refreshments and small snacks to get you through the day. The beach is a great place to make friends with other travelers, be that either for romantic reasons or simply to have a group to go out with later. The vibe is relaxed, fun, and friendly – and nudism is taken seriously. While there is no requirement to be nude – it is definitely an experience to have had. There is generally no sex going on at the beachfront itself, but it's easy to leave your stuff behind on your sunbed and venture out to the dunes a couple of times. Keep in mind however that amidst this bastion of freedom and sexuality that not everyone is well-intentioned. Keep your most important belongings with you, and make sure you don't leave any trash behind in the dunes!
We visited the cities of Barcelona, Malaga, Benidorm, the island of Ibiza, and the Canary Islands during our second gay cruise as a gay couple. Find our tips for the best Spanish destination on our blog: Gay-friendly hotels, gay bars, LGBTQ+ friendly activities, and more. We love gay-friendly Spain!
Going out at Yumbo Center Maspalomas
After a long day at the beach and some rest in your hotel – you're probably feeling anxious to go out again. After only seeing naked men for the whole day, throw on a cute outfit and head to one of the most fascinatingly bizarre gay places of Europe: Yumbo Center. By day, Yumbo center is not much more than a semi-abandoned strip mall, with touristy shops selling inflatables and knockoff t-shirts. Who would ever go to a place like this – and why isn't it in a gay guide? After the sun sets, the answer to this question will become clear – as vendors start taking their display racks inside and closing up their shops, other businesses pull out their rainbow flags and turn on the red lights in their back rooms. At night, Yumbo Center becomes a bustling chaos of sights and sounds.
The best gay bars of Maspalomas
With a seemingly endless amount of gay bars, targeting every type of crowd there is something for everyone. If you're having a mild night, hang out at Buddies or Adonis. If you're wanting to rub up on some bears, visit Bärenhöhle. If you didn't get enough action in the dunes throughout the day, however, you can go on in one of the many cruise clubs, appropriately named things like Bunker, The Box, or Strong Construction Men's Cruising Bar (yes, really!). Because everything is so close to each other in Yumbo, bar hopping is easy (however some bars will have a minimum spend policy). What bar is busy and with which type of men is very dependent on the season and time of night you're visiting. Have a look around, and see what tickles your fancy. If at the end of the night you're still not satisfied, there's a large chance you'll end up at The Hole, the largest men-only cruising bar in Yumbo which spans over 300m2 on two floors.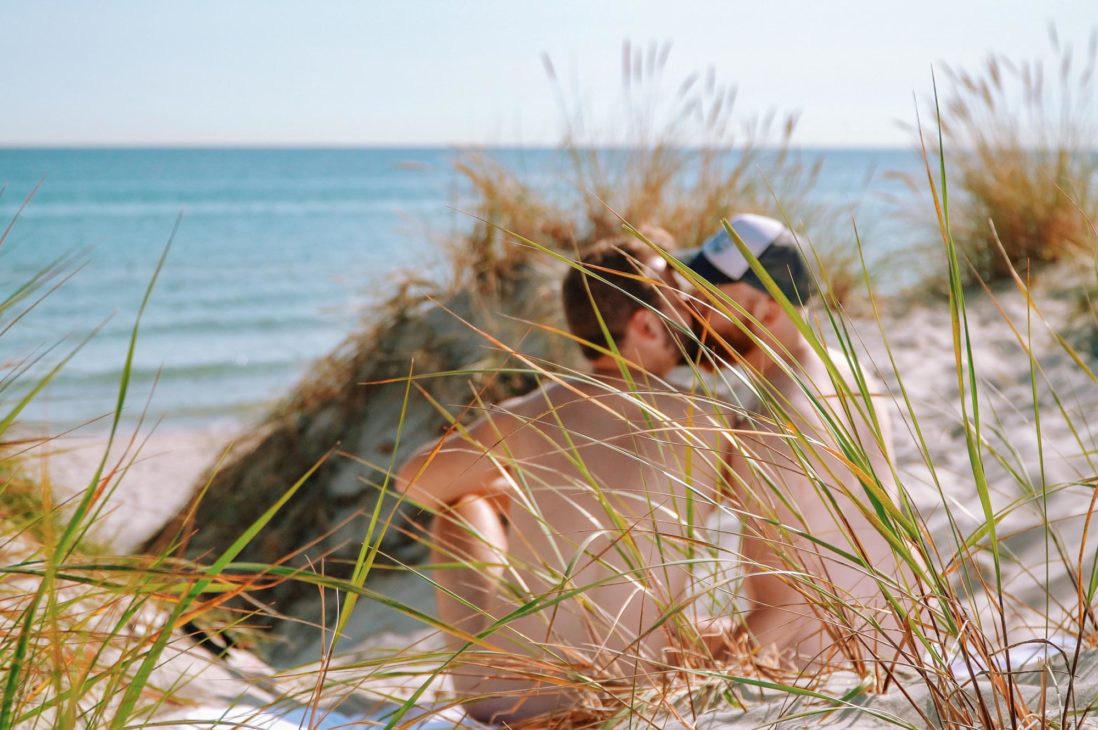 Together with our dear friend and Gay Cruising Culture expert John, we are showing you the best cruising places of gay-friendly travel destinations around the world. How to find gay cruising hot spots? What should be considered when doing gay cruising? Is gay cruising legal in the country you are traveling to?
Gay Cruising Hotels Gran Canaria
Tiring days in the scorching sun and long nights at Yumbo can become overwhelming – it's your vacation after all. Luckily, gay tourism is so embedded into Gran Canaria that you won't even have to leave your hotel to meet some nice guys (and find some action). Maspalomas has a large number of gay-oriented, and men-only hotels in which poolside relaxing can quickly lead to having some visitors over in your room. Gay focussed, but not gay exclusive hotels from known brands such as Axel Beach Maspalomas have a definite cruisy vibe going on, especially with their "Do Disturb" door hangers, and their very intimately small steam room. As these hotels are not gay exclusive, however, confused straight tourists who buy non-refundable rooms through deal sites are often mixed in – possibly leading to awkward encounters.
Other accommodations such as Club Torso, Paso Chico Gay Bungalows, and Seven Hotel & Wellness overcome these sorts of challenges by clearly establishing themselves as 'gay men only'. Depending on the hotel, there will be officially designated cruising areas, either around the pool or the sauna, or areas in which cruising and sex are tolerated by staff. In any case – there is no shortage of accommodations regardless if you're an experienced cruiser, or would like to ogle some cocks at the poolside. Maspalomas has it all.
John's Guide for Gay Cruising on the Canary Island Gran Canaria
But of course, a vacation on the Canary Island Gran Canaria is not "only" about sexual encounters and cruising. Besides unique nature and national parks on the island with spectacular hiking possibilities, gay tourists should visit the capital city of Las Palmas in the north of the island.
For many European travelers of the LGBTQ+ community, Gran Canaria is the LGBTQ+ and gay-friendliest destination in the world. Don't forget to bookmark this Gran Canaria Gay Cruising Guide for your gay adventures! Also, we cannot wait to go back there…
Do you want to know more about our gay travels around the world? Stay tuned on Facebook, Twitter, YouTube, Pinterest, and Instagram. See you again in Spain, in Gran Canaria, in Maspalomas, or somewhere around the world! Karl & Daan & John.
Disclaimer: The contents of this website were written with due diligence and by the author's best knowledge. Please be always aware of the local laws and behavioral guidelines regarding cruising in public and public sexual encounters even on the beach, in the forest, or wherever it might happen. Our cruising guides and cruising stories are not intended to support unlawful behavior but aim to add an adventurous note to your trip.