Amsterdam has a reputation around the world. Intimate encounters, drugs, sex workers in red-lit windows, and windmills are common associations in peoples' minds. While there is some truth to these ideas, Amsterdam is working very hard on creating a new image emphasizing the importance of culture within the city. Museums, restaurants, concerts, and festivals are the heart of Amsterdam – and they draw a vast crowd of locals and tourists. With plenty of cruising bars, clubs, and outdoor spaces to meet guys, Amsterdam is not a city inspiring abstinence. Enjoy John's Amsterdam Gay Cruising guide for the best gay cruising experience in the Dutch capital with tips for gay bars, gay clubs, and outdoor cruising on Couple of Men.
Our Amsterdam Gay Cruising Guide
While Amsterdam used to be the gay epicenter of Europe, not only for Gay Cruising, it's unfortunate that this has largely faded over the last 20 years. We will never know the exact reasons for this. Some claim it's the commodification and 'Disneyfication' of the city. The gay neighborhoods where you used to see gaggles of leather men congregate have been transformed into souvenir and waffle shops. Others claim that the capital city of the Netherlands is so progressive that there is no need for a gay 'infrastructure' anymore. Because everyone is welcome everywhere, the need for gay neighborhoods seems to be gone. The reality is likely somewhere in between these two reasons.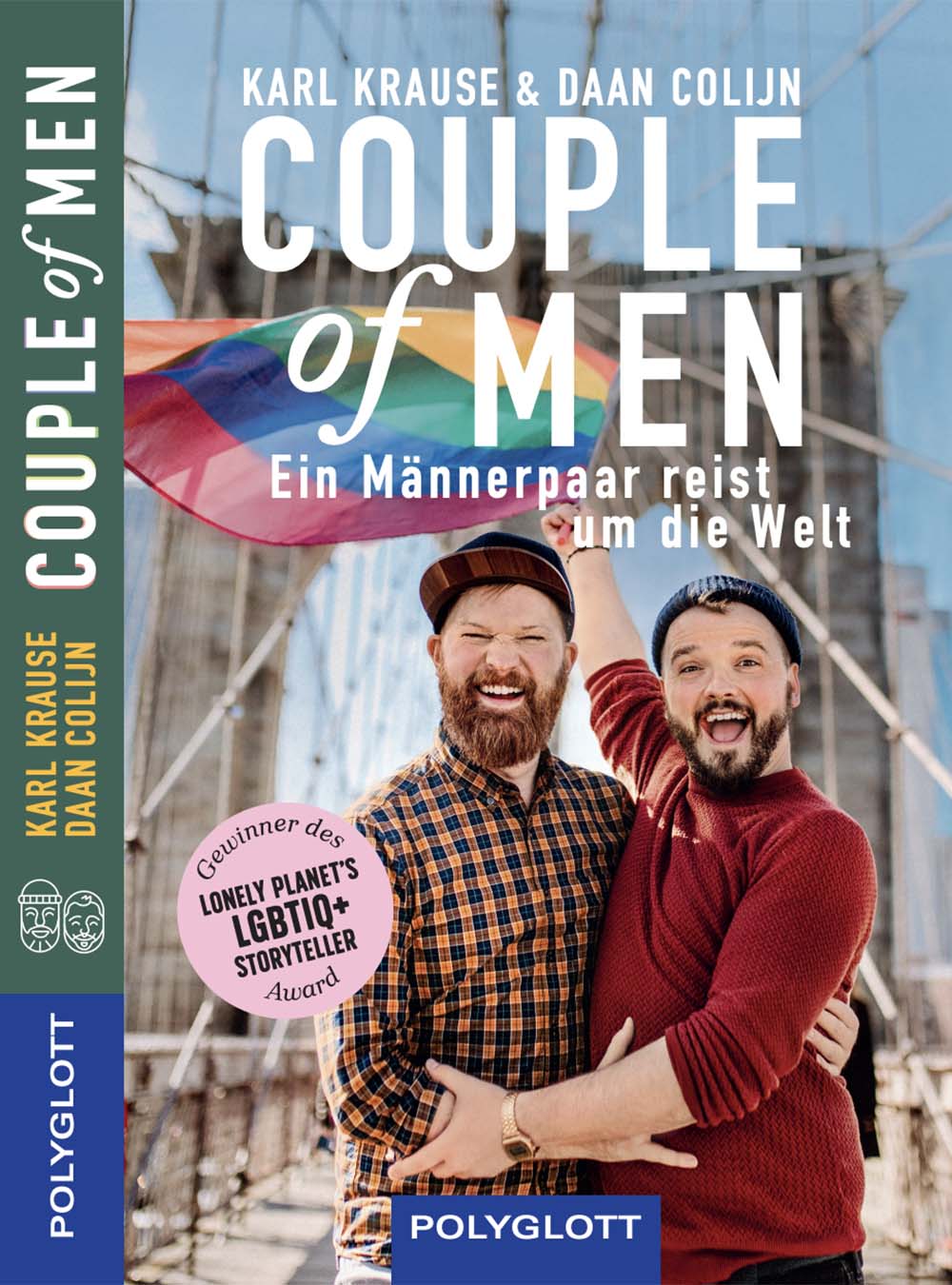 Advertisement
The perfect present to inspire (German-speaking) LGBTQ+ travelers and their allies to travel the world open-minded, respectfully, and with a happy heart.
Order our book online or purchase it in bookstores in Germany, Austria, and Switzerland.
Gay Cruising Bars and Clubs in Amsterdam
Gay men enjoy a significant amount of social acceptance and freedom in the capital city of the Netherlands. But it has come at the loss of many places and institutions that used to give this city its distinctive gay edges. Nevertheless, many places, like cruising bars, in Amsterdam still embody the original spirit of the 80s and 90s. They offer unique experiences to Amsterdam as a destination. Meeting guys in Amsterdam isn't hard. But in some places, it's easier than in others, especially when you're trying to get laid.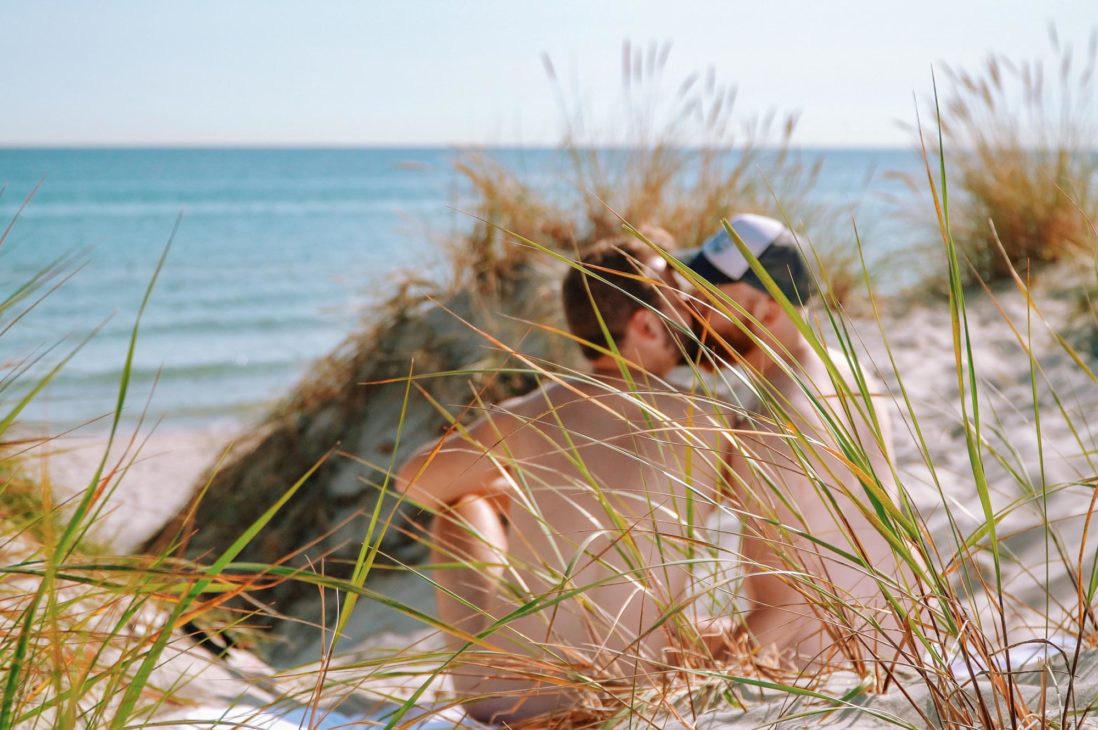 Together with our dear friend and Gay Cruising Culture expert John, we are showing you the best cruising places of gay-friendly travel destinations worldwide. How to find gay cruising hot spots? What should be considered when doing gay cruising? Is gay cruising legal in the country you are traveling to?
Drake's Gay Bar
A handful of gay cruising establishments in Amsterdam combine a bar that serves drinks with a cabin or maze-like setup. One exception to this is Drake's on the Damrak, which only emphasizes the latter. While the downstairs looks like an innocent luxury boutique that sells slightly kinky gifts, the upstairs is a full-on, men-only, video-cabin, glory-hole playground. If you're under 26, you can enter for free after showing an ID. Due to its proximity to the central station, a mixed crowd of locals and out-of-towners gather here, from afternoons to the early evenings. If you prefer a place where intimate encounters and socializing over a drink are a bit more in balance, you have a couple of other options in the city.
Cuckoo's Nest Gay Bar in Amsterdam
For a bit more socializing but still, plenty of cruising, head over to the Cuckoo's Nest. With a complete bar upstairs and a large, darkened cruising maze with cabins downstairs, you can meet for a drink or much, much more in any order that you prefer. What makes this bar stand out is that it often gets full, even in the afternoon. So, you can easily combine it with other center activities. Similar to Drake's, the clientele is a mix of locals and tourists, with a distinct, slightly kinky edge.
Eagles Gay Bar in Amsterdam
If you're looking for a combined club and cruise-bar experience, explore The Eagle on Warmoestraat. The Eagle offers a perfect mixture in terms of going out, as the relaxed bar feeling in the afternoon turns into a full-on club later at night. All that with a sizeable basement for play.
Club Church Gay Bar in Amsterdam
If you're hoping to really dance and cruise, then Club Church is right for you. This place is truly a late nightclub, with the largest dance floor out of all of them. With several play areas and specific fetish nights, Club Church offers something for everyone. Before going to Church, we advise you to check the agenda for the night. Some parties have specific dress codes. Please note that most of these establishments are men-only, with a few exceptional nights or special events here and there.
Notable Gay Cruising Bars in Amsterdam
Other notable mentions to check out when touring the city include Spijkerbar (perfect to go before Church or on an easy afternoon), the Web, and if you're up for it, Dirty Dicks. For an after-party, or for any time of the day, really, it's definitely worth paying a visit to Sauna NZ.
Gay Sauna NZ Amsterdam
With jacuzzis, saunas, and steam rooms, partaking in some wet exploring with only a towel around your waist is relaxing and fun at Amsterdam's gay Sauna NZ. The crowds will change significantly depending on the time of day and what other events are happening in the city, with an older crowd in the afternoons and a younger, club-kid vibe in the early morning hours.
The Dutch capital is considered to be one of the most gay-friendly cities in the world. By legalizing equal marriage as the first country in the world already in 2001, the Netherlands and its capital offer a diverse LGBTQ+ friendly cultural program throughout the whole year. The highlight of the Summer is (Gay) Pride Amsterdam.
Outdoor Cruising in Amsterdam
Cruising in public places is often not officially allowed, a legal gray zone, or just plain illegal. Although some municipalities and tourist destinations tend not to control certain spots too heavily, Amsterdam has one of the few officially designated zones in the world in which cruising (including nudity and public intimate encounters) is tolerated.
Cruising at Nieuwe Meer Amsterdam
This zone is located in De Oeverlanden close to the Nieuwe Meer. Here you will find official signs placed by the municipality of Amsterdam that show specifically what area these activities are tolerated. On sunny days this is a perfect place to come and do some naked sunbathing. Within this designated area, there are tall grass, woods, and little pathways to explore, and many men walk around completely in the nude or only in shorts. Pretty much anything goes at Nieuwe Meer. Men come alone, or in groups of friends, or as couples. Some sunbathe and enjoy the view, while others make many new…friends.
On hot days, the area gets quite full, with a mix of younger and older guys. You should know that there are not many shops around this area, so my advice would be to bring sufficient drinks with you on a hot day. While there is a gas station nearby that you can go to in a pinch, it doesn't sell any alcohol. My exclusive tip here is, in addition to drinks, sunscreen, and something to lay down on is to bring insect spray. You want to avoid ending up with a tick on your balls after a busy day of lying in the tall grass.
The official cruising area
The official cruising area is also close to the waterfront, one of the prime places to swim in the summer. However, this part officially falls outside the cruising zone, so there is not much action going on here. Officially, nudism is also not allowed here, but many visitors still choose to sunbathe and go swimming in the nude anyway. When you spend an afternoon here, you will also find a surprising number of anchored boats close to the shoreline that flies gay or bear flags. Often one or two male captains. It can be exciting to swim around the boats and see if these captains are nice enough to invite you on board for a taste of nautical adventure.
Nieuwe Meer and de Oeverlanden is truly a unique place in Amsterdam (and in the world!), in which you can enjoy freedom, nudity, and a feeling of belonging, among others. Furthermore, the closeness to nature and the water is liberating and makes you forget that you're in a city.
Nudist Zone Zonneweide
If you want to get even further away from the city to enjoy some sun on your balls, it might be worth making the trip to Amsterdamse Bos. The Zonneweide is another officially designated nudist zone. In contrast to Nieuwe Meer, however, this is not a cruising zone. While Nieuwe Meer tends to be almost exclusively men, Zonneweide is mixed and not specifically intended for cruising. But, as it is often, naughty gays do tend to accumulate on the outside perimeter of this huge open field to at least check out each other's goods.
On sunny days, you'll also notice your gay men dating apps blowing up quickly when you're in the vicinity. It's important to be respectful to others in spaces such as this, and note that intimate encounters are mostly covert. While there's no denying that you can cruise a bit at Zonneweide, if your primary goal is to pick up guys, you should head over to Nieuwe Meer.
Cruising at Vondelpark & Rozetuin
If both places are too far for you and you want to stay in the city center, why not give Vondelpark a try? The Rozetuin is a popular hangout spot for gay guys, close to the water fountains. Little groups of friends gather here in the summer to socialize and have a beer. It's a friendly and relaxed atmosphere (albeit not nude). At night, the bushes and wooded areas around the Rozetuin start filling up with guys cruising for intimate encounters. While it's definitely going on, it's not for the faint-hearted.
Cruising here happens in complete darkness, only illuminated by the occasional glow of a cigarette in the dark. With the absence of streetlights, you have to watch your step and your belongings as pickpockets, or other sketchiness can happen here. Cruising tends to be tolerated here by the authorities, although it's not as official as in Nieuwe Meer. And only as long as you don't bother others who aren't involved. While there is no police control looking for cruising men here, gay-bashing has unfortunately occurred over the last years. So, we advise you to be cautious.
But what if you want to get out of the city? See more of the Netherlands? All while still enjoying the thrill of getting lucky in the most unexpected of places? Fear not – as this guide will go in-depth into the best nude beach (with some gay cruising) near Amsterdam.
John's Guide for Gay Cruising in the Dutch Capital Amsterdam
But of course, a vacation in Amsterdam is not "only" about intimate encounters and cruising. Besides its unique cultural heritage with many historical buildings and museums, Amsterdam has a strong connection to nature. Be it the world-famous canals, the parks, and the Northern Sea around the corner: it's not going to be boring during your trip to the Dutch capital city.
For many European travelers of the LGBTQ+ community, Amsterdam is one of the LGBTQ+ and gay-friendliest cities globally. So don't forget to bookmark this Amsterdam Gay Cruising Guide for your next gay adventures! Also, we cannot wait to go back there…
Do you want to know more about our gay travels around the world? Stay tuned on Facebook, Twitter, YouTube, Pinterest, and Instagram. See you again in Amsterdam, the Netherlands, or somewhere around the world! Karl & Daan & John.
Disclaimer: We wrote the contents of this website with due diligence and the author's best knowledge. Please be always aware of the local laws and behavioral guidelines regarding cruising in public and public intimate encounters, even on the beach, in the forest, or wherever it might happen. Our cruising guides and cruising stories are not intended to support unlawful behavior but aim to add an adventurous note to your trip.