A journal of our 4-day Queer City Trip to Malmö during Pride Weekend before World Pride 2021. Malmö was one destination on our gay travel bucket list for 2019, where we planned to experience the gay- and bike-friendly atmosphere near World Pride in 2021. And, of course, the inviting, warm summer weather, the mild Baltic Sea, and the architectural highlights of Malmö just waited to be discovered by bike and by boat. So join us on our gay-friendly queer Malmö city trip to Southern Sweden and experience the 5th most bike-friendly town in the world and co-host of World Pride 2021 with photos, videos, stories, tips, and info through a Couple of Men's eyes.
– paid collaboration with @malmotown/Malmö Tourism –
Queer and gay-friendly Malmö for World Pride 2021
The Scandinavian country is one of our favorite European gay travel destinations that is currently ranking in the top position of the annual Gay Travel Index together with Canada. Besides this encouraging rank, we experienced an ongoing welcoming and LGBTQ+ friendly environment first hand, be it in the bigger cities of Stockholm and Malmö or the countryside of the South Swedish county Skåne. So, it came as no surprise that the small and, at the same time, the third-largest city in Sweden will host the World Pride 2021 together with Copenhagen. Thus, this summer, the big LGBTQ+ event will finally occur in one of our favorite cities in the world!
Gay-friendly Hotel in Malmö
The Best Western Plus Hotel Noble House located right in the heart of Malmö's old town city center is an accommodation we can recommend for a gay city trip to Malmö. The gay-friendly hotel's modern, hip, and luxurious style creates the ideal atmosphere for a queer weekend around (World) pride. In addition, the hotel offers excellent breakfast, a beautiful lobby and bar, as well as a parking garage.
Gay-friendly, bike-friendly, and centrally located – We can recommend the LGBTQ+ welcoming accommodation right in the city center for a Malmö Pride weekend trip. Hip design, super friendly staff, and the possibility to go out for theater, drinks, or dinner nearby.
6 (LGBTQ+) Things to do in Malmö
#1 Walk side-by-side at Malmö Pride
We walked the Malmö Pride Parade 2019, celebrating with the Swedish LGBTQ+ community the 25th anniversary of the queer rainbow festival. We compiled our best photos and a video to give you the first glimpse of what Pride in Malmö looks like. And don't forget: It is finally happening: Malmö is organizing World Pride 2021 together with the Danish capital Copenhagen! Click here for our Photo Story >
#2 Skinny Dipping in a Swedish gay-friendly Sauna
Whether the sun is shining in Malmö in the summer or gray rain clouds are drifting over the Baltic Sea: a day in the Swedish sauna Ribersborgs Kallbadhus makes you forget all your worries. The open-air bath is a nude sauna divided into two areas, one for women, one for men. The view of the wooden sauna huts over the sea is spectacular, and the skinny dipping after a long sweaty session is more than refreshing.
With the monthly event "Queer Kallis", the traditional house from the late 19th century is finally opening up to the whole LGBTQ+ community in Sweden and the world, including trans and non-binary sauna fans. Also, it is one of the gay hot spots in town.
#3 Mitt Möllan: Place to be for shopping and food (and ice cream)
Mitt Möllan is a place in Malmö where creatives and queer people like to go, hang out, and can be who they are. The former shopping mall from the 1960s transferred into a colorful and light meeting place with smaller and bigger shops and a diverse food court. Here we met Nathan Lloyd, a queer Welsh food, drink & design blogger living in Malmö who introduced us to KÖLD, a local ice cream parlor producing just the best locally sourced ice cream you can imagine – vegan, dairy-free, or common. We couldn't get enough from a variety of ice creams, even beer ice cream! Well, you'll enjoy it, for sure!
#4 Folkets Park: Fika at the green heart of Malmö
The next stop on our queer Malmö tour is Folkets Park, right in the city's heart, where the annual Pride Parade usually ends up in one big outdoor party. On other days, Folkets Park is a trendy green recreation space where LGBTQ+ travelers and locals can relax with friends or family. In the middle of the park, we find Sallys Café, a small take-out café that serves Fika. That is what the Swedish call lunch or a snack break around lunchtime. Actually, if we are not mistaken, you can have a Fika the whole day. It just means coffee with friends and something sweet or savory.
#5 Have fun on, at and, of course, in the water
Historically, Malmö has a strong connection to water because of its unique location at the Baltic Seashore. Queer travelers can experience this connection everywhere in Malmö starting with the Baltic Seashore, the harbor area, the canals in the city center, and, of course, the Swedish saunas. This time, we could join a lovely mixed group of queer people from Malmö on a relaxing boat tour around the city's canals with a stunning view over the picturesque harbor area of Malmö. The boat trip was organized by the Swedish LGBTQ+ community RFSL for the elderly queer people living in Malmö. But we are convinced that Malmö will organize some LGBTQ+ boat tours for World Pride. Alternatively, you can always rent a small electric boat for a private tour as we did during our first Malmö trip – no license needed.
#6 INKONST: Enjoy a show by queer artists
The cultural institution INKONST, with its queer director Chris, is determined to working closely together with Malmö Pride and, of course, World Pride 2021 to create a queer space for the community and beyond. Therefore, it is important to present LGBTQ+ artists all year round. Using the momentum, the fireworks of Wold Pride, INKONST, thrives on implementing LGBT culture as a regular, constant part of local culture into Malmö's DNA. During World Pride, the event space will host several queer events. Don't miss out!
Red Shoe Bar – Malmö's only gay bar
Is there a gay bar in Malmö? Well, we asked and heard this or similar questions many times before, during, and after visiting Malmö in the past two years. And we can proudly say: Yes, there is! The Red Shoe Bar is THE place to go in Malmö. The cozy bar and meeting space for the LGBTQ+ community is known for the delicious cocktails, the regularly changing art exhibitions, and, of course, the fun times when LGBTQ+ locals and their allies celebrate a rainbow-colored night. So make sure to put a night out at the Red Shoe bar in Malmö on your World Pride bucket list!
The Red Shoe bar, the only gay bar in Malmö, is owned and operated by the local Swedish couple Joe and his partner. Unfortunately, due to the pandemic, the guys are currently going through a difficult and challenging time. Nevertheless, we encourage you to stop by, have a drink, enjoy the night and thereby support the LGBTQ+ business.
Local LGBTQ+ Voices of Malmö queer Community
We visited Malmö twice already. So that gave us the unique opportunity to revisit places during our second queer Malmö city trip we fell in love with during our first Malmö trip. At the same time, we could meet with locals from Malmö's queer community to learn more about the gay-friendliness of the third-biggest Swedish city and where we definitely have to go and write about.
When in Malmö – twice… We met Chris, Soleil, Kaj, Karin, and Mats who showed us their favorite LGBTQ+ friendly spots in Malmö explaining what makes Malmö such an open-minded and lively queer space in Europe.
Queer Malmö before, during, and AFTER World Pride
One question we asked all our interview partners was: Is. Malmö actually LGBTQ+ friendly? Independently, respondents unanimously answered "YES" to this question! Kai, for example, replied to us: "[Malmö] is my favorite city in the whole world. It's the city in Sweden I feel most safe in. Malmö is the [Swedish] capital city of veganism, LGBTQ+ people, feminism. It is like the most politically correct city." We also talked to the Tourism Board and the organization behind Malmö and World Pride 2021 to learn more about the bigger picture. The city of Malmö is in the process of integrating LGBTQ+ rights, equality, culture, and visibility into the city's DNA sustainably, and not only for the momentum of World Pride. Queer sustainability, we like the sound of that!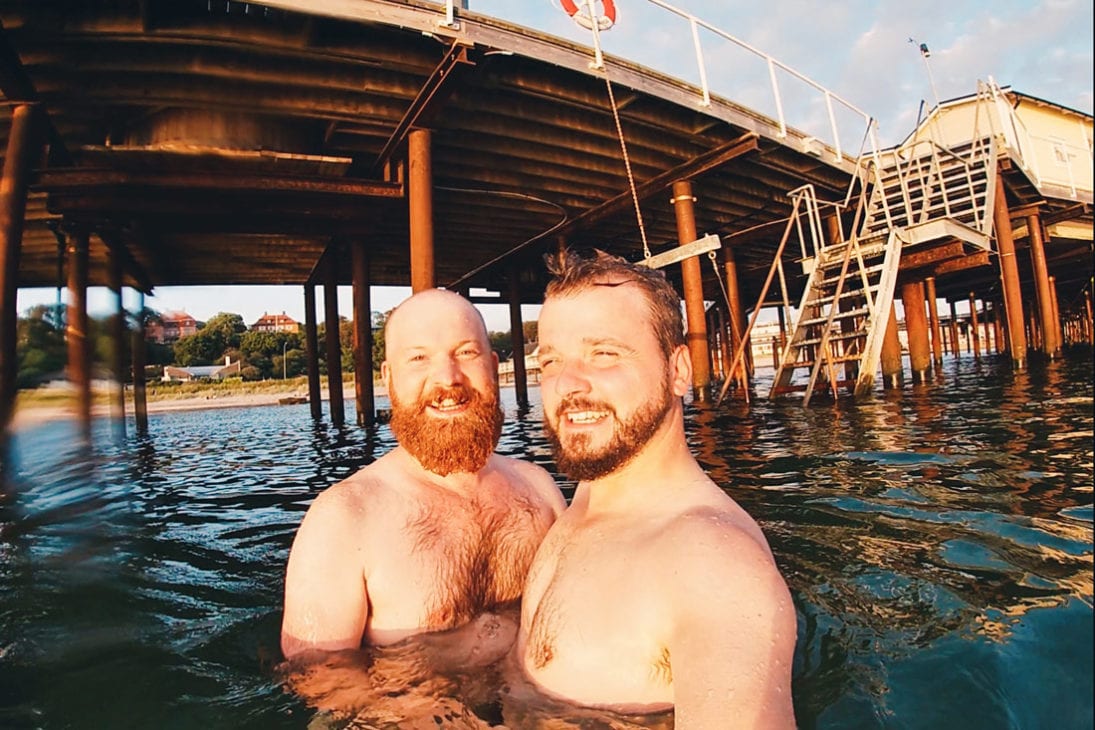 Our trip to Southern Sweden didn't end in Malmö. Actually, it was just the beginning. We rented a car and started our 5-day road trip along the coast of the Swedish county Skåne. Stunning sunsets, breathtaking nature, the gay couple-owned cafés & restaurants, and a clothing-optional gay beach – Sweden has it all.
Sustainable Malmö = Queer Malmö?
Sustainability is a big topic for the people of Malmö: The fifth bike-friendly in the world, a diverse vegetarian and vegan culture, and the strategic location close to Copenhagen, as well as the Baltic Sea, give Malmö the platform for its aspirations to be(come) one of the most environmentally conscious cities in the world. Let us show you more about sustainable Malmö here >
Our Queer Summer Adventure: Malmö City Trip for Malmö Pride
In our opinion, Malmö will be a worthy co-host of World Pride 2021 together with Copenhagen. The city is very charming with a special multi-cultural touch. We especially liked the close connection to the Baltic Sea with stunning sunsets and a real vacation feeling due to multiple beaches and opportunities to go swimming. And, of course, the option to bike around the city and to drive a boat ourselves without a driver made us feel just like being home back in Amsterdam, a little at least.
Do you want to know and see more of us gay couple travel bloggers? Stay tuned on Instagram, Twitter, YouTube, and Facebook! See you around in Malmö, Sweden, and on one of our next gay pride trips around the world!
Karl & Daan.
Please note: This trip was made possible in close collaboration with Tourism Malmö and Tourism Skåne, as well as tips from our wonderful readers, followers, new and old friends from all over the world. Nevertheless, our photos, our videos, our opinions, and our writings are our own, as always.
Gay Travel Sweden Blog Articles