A Gay Couple's City Trip to Groningen. Our second stop on our Dutch City Tour was Groningen in the Northern parts of the Netherlands. During our first weekend together in Groningen, we try to get an overview over the so-called "Dutch capital of the North". And of course, one thing was definitely on our list "not to be missed", a visit to the Groninger Museum. Join us on our gay-friendly Gay City Trip to Groningen and experience the capital city of the Dutch province Groningen through a couple of men's eyes. Looking for other Dutch cities? Have a look on our trips to more cities of the Netherlands.
Although the Winter weather was typical Dutch (means rainy, misty and windy), we dressed accordingly warm and waterproof to start our adventure in Groningen, not far from the German border. As usual, we search for the highest and best view point, good places to discover architectural highlights typical for the city, and some nice place to eat, drink and dance. In general, the city of Groningen with its compact and walkable old town surrounded by Grachten is, next to its famous Groninger Museum, very well known for the popular student life and a creative art scene.
What to do on a Gay Couple City Weekend in Groningen?
Well-connected to the NS-train system, the trip from Amsterdam is about 2.5 hours. We arrived in Groningen at the spectacular station building, only a stone's throw away from the Groninger Museum and our Hotel. It was a pity that the weather during our weekend stay wasn't the best to spend time outside (and stay dry). The additional wind really challenged our motivation to go outside our Hotel. To stay dry, we were equipped with our see-through umbrellas from our Pilgrimage in Japan. Groningen with its charming historical buildings, smaller and bigger galleries and of course, its famous Groninger Museum, made us enjoy our time in the city.
Our LGBT City Guides Jet and Rebecca
On our Cultural Gay City Weekend in Groningen, we had for the first time a very charming gay couple guiding us around the city with some tips and background information about Groningen. The best way of traveling is to have locals around you on a city trip who can give you insider info you won't find easy in guidebooks. A big thank you to the lesbian couple Jet and Rebecca for making our Cultural Gay City trip in Groningen comfortable and more lively.
Groninger Museum – Icon of Groningen
Exhibition of Joris Laarman Lab (open until 10th April 2016)
If you like modern designed furniture and new ways of producing them, you should know Joris Laarman. It was an impressive experience to see what different ways of manufacturing processes nowadays are possible. Did you ever hear about Voxels, the 3D equivalent of Pixels? The exhibition will make you see furniture out of a different perspective. You can even download an open-source 3D printable chair at home. Quote of the Groninger Museum:
With engineers, programmers and craftsmen, he [Joris Laarman] conducts cutting-edge experiments that combine art, science and technology, using manufacturing processes that are often as innovative as the end results.
Exhibition "DAVID BOWIE IS…" by V&A Museum London
David Bowie is dead. Long live David Bowie. And after visiting the V&A (Victoria & Albert Museum London) Exhibition "David Bowie is" at the Groninger Museum, he will be a little longer alive, at least in our memories. Although he was at the height of his career way back in time before we started to listen to music, he made himself immortal by being a never ending trendsetter. He was also one of the most pioneering and influential performers of modern times. And exactly that is where this exhibition succeeded with David Bowie is, and will always be.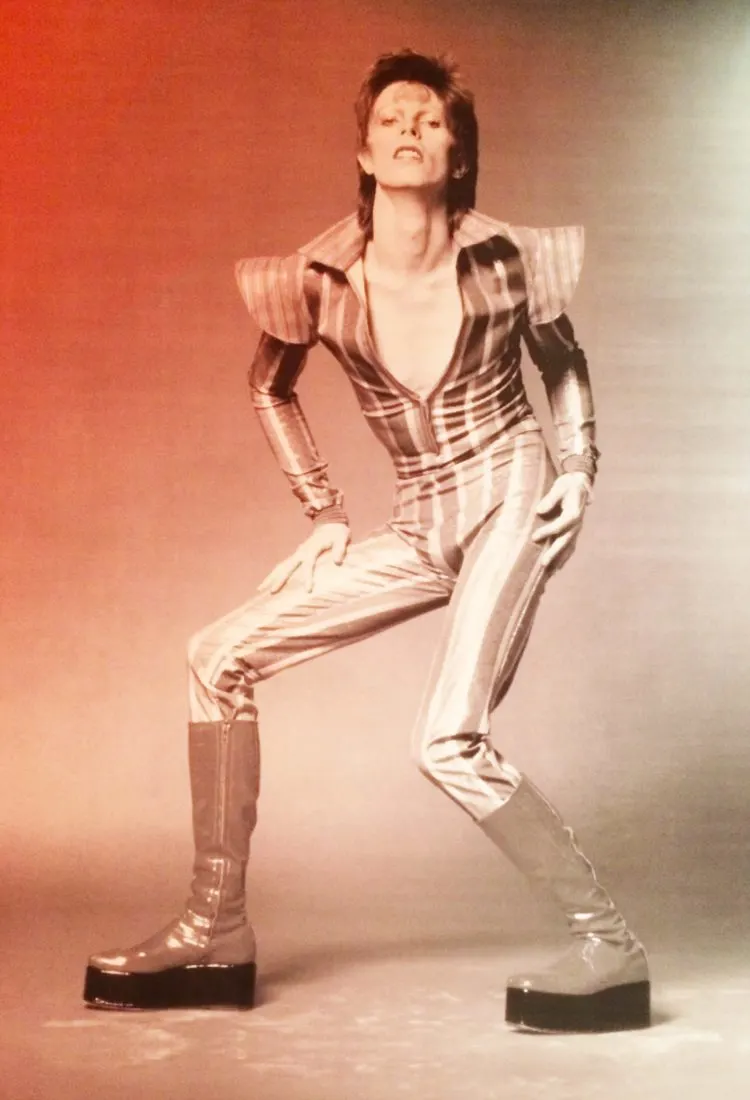 The Best View over Groningen – Martini Tower
A well-known attraction, but not busy at all! As you might already know, we like to be on top to see where we are, what we might want to discover and what we don't wanna miss. For a good orientation over Groningen, the so-called Martinitoren (eng. Martini Tower), of the Martini Church is a really nice thing to do during a gay couple city weekend Groningen. After you reached the city center, you cannot miss it due to its height. First, go to the tourist center VVV and buy a coin for 3 Euro for the entrance machine. The tower has no elevator, only uncountable, old and narrow stairs upwards guiding us our way to the top of the Martini Church. Once you are there, the view over the city is worth every effort. If you are not afraid of height, you can go even one floor higher into the belfry to see the bells from close up. More information about tickets, opening hours and prices >
Foodhallen van Het Noorden – Food Festival
Lucky us, we were in Groningen during the Indoor Food Festival "Foodhallen van het Noorden". With food trucks, pop-up restaurants, delicatessen Winkels, and numerous local products, this food event was worth the 15 minutes walk from the center in the southeast direction. The location in a former newspaper factory was interesting to discover, next to all the tastes from all over the North. We asked someone who worked there if there is a regular festival in planning? As it was very successful over the weekend, there might the next one coming soon. Good news for locals and travelers on a gay couple city weekend Groningen like us! Eet smakelijk!
Infoversum & Art in North West Groningen
Infoversum – A dead Iconic building of Groningen. We like wandering around and to spot spontaneously the uncommon parts of a city. So did we in Groningen. From the top of the Martinitoren, we detected a white sphered-building in the North direction in an industrial looking area. Equipped with a smile and our camera, we started walking towards this ominous place. Right next to the Campus of the Groningen University, we entered an open urban art space with the iconic dome of the so-called "Infoversum". Sad for us and sad for Groningen, the Infoversum, which hosted a 3D cinema, is permanently closed due to financial reasons. But still, a beautiful building we discovered during our Groningen Gay City Trip.
Urban Life with ALLAN KAPROW'S YARDS
We kept on wandering around containers, graffiti, and open sand space through a calm and almost abandoned area. "Alle Macht aan de Kunst" – this slogan got our attention, of course. Written on an old container and curious as we are, we stepped into this built structure made of old car wheels. Suddenly, we were in the middle of YARDin: RECtangular, an ongoing art installation process based on the free and open art idea of Allen Kaprow. We had a lively and informative conversation with a very friendly lady from the exhibition about Allan Kaprow's mind setting, the idea of the interactive YARDs and the urban life from North East Groningen area. As we got to know, this whole urban art space will be relocated later this year to another area of Groningen. More about NPdrie Mediacombinatie >
Hungry in Groningen – "Huize Maas" for Dinner
Time flew by, and we started to get starving. Back on the Fishmarket "Vismarkt" in the center of Groningen, we were looking for a nice dinner place. Next to De Korenbeurs, which is nowadays probably one of the most beautiful discounters (Alber Heijn) we ever visited, we spotted the crowded restaurant "Huize Maas". While sitting next to the chimney, we ordered some delicious vegetarian food for Daan and a German Burger for Karl with some Dutch beer and Belgian Radler. A successful dinner evening after a beautiful, eventful Cultural Gay City Weekend in Groningen.
Being GAY in Groningen
As an openly gay couple during our trips, we are always very sensitive about safety, tolerance and how gay-friendly the inhabitants are accepting a gay way of life. Groningen is a gay-friendly city as we experienced. It is a pity, that most of the gay places closed down here, as well as in other smaller cities of the Netherlands. But there is one well-known gay café and party house in the backyard of the Oosterstraat right in the city center: "De Kast". We went out together for our Gay Groningen Saturday night with the girls, friends, and colleagues and really enjoyed ourselves. The crowd was a colorful mix of mostly younger gay and straight people dancing to pop music.
Our Gay Couple City Weekend in Groningen
After our Gay City Weekend in Eindhoven, Groningen was our second stop of our Dutch Gay City Tour 2016. Even in Wintertime and with the rainy, cold weather, Groningen was an experience, culturally but also very gay-friendly. Thanks to our comfortable Hotel, our nice lesbian city guides, and the walkable inner-city distances, we can recommend a week stay, to enjoy the cultural life in Groningen. We will come back in Summer to see more from the famous nature areas around the city. The next Stop of our Dutch Gay City Tour 2016 is the City of The Hague (Dutch: Den Haag).
Do you want to know more about our gay travels around the world? Stay tuned on Facebook, Twitter, YouTube, and Instagram. See you again, hopefully very soon in the Netherlands!
Karl & Daan.