---
As two avid travelers and a loving gay couple, we couldn't be more excited about our upcoming journey to the beautiful South American gem, Argentina. Our adventure begins with a flight from Amsterdam to Buenos Aires with KLM Royal Dutch Airlines, whisking us away to a land of vibrant culture and breathtaking landscapes. From the bustling streets of Buenos Aires to the awe-inspiring landscapes of Iguazu, Puerto Madryn, and El Calafate, we cannot wait to be part of captivating experiences, explore natural marvels, and catch LGBTQ+ moments in Buenos Aires. Join us on our gay Argentina travel adventure and explore the LGBTQ+ friendly South American country through a gay couple of men's eyes.
Iguazu Falls National Park: Cascading Beauty
Our first three days in Argentina will be spent exploring the Iguazu Falls National Park on the Argentinian side of the falls. As we step into this lush paradise, we'll be greeted by the thunderous roar of cascading waterfalls surrounded by lush rainforest. One of our highlights will undoubtedly be the Guira-aga birdhouse, a haven for colorful and fascinating bird species of the jungle. The symphony of bird calls and vibrant plumage will surely leave us enchanted. And maybe we will be able to do a full moon hike through the jungle, too?
Another breathtaking spot on our itinerary is the Three Borders Sunset spot. This vantage point allows us to witness the confluence of the Iguazu and Parana rivers, marking the borders of Argentina, Brazil, and Paraguay. As the sun sets, painting the sky in hues of gold and orange, we'll be reminded of the beauty of diversity and unity, a perfect reflection of our journey as a gay couple. Nestled amidst the lush greenery of the rainforest, many hotels are available nearby of the Iguazu Falls.
Whale Watching & Marine Life in Puerto Madryn
From the enchanting waterfalls of Iguazu, our journey takes a marine turn as we will arrive in Puerto Madryn. A rendezvous with the ocean's gentle giants awaits us as we embark on a whale-watching adventure. Witnessing these magnificent creatures in their natural habitat is a humbling experience that is definitely one of the Argentina highlights and will undoubtedly leave an indelible mark on our hearts. Exploring Puerto Pirámides and Punta Valdés unveils a world of diverse marine life, while snorkeling with playful sea lions adds an exhilarating touch to our aquatic escapades.
Wonders in El Calafate & Perito Moreno Glacier
El Calafate beckons with its icy wonders and untamed landscapes. Our home away from home, Hotel Xelena, boasts panoramic views of the mesmerizing Lake Argentino. A Perito Moreno Day Trip with Minitrekking is the pinnacle of our journey, allowing us to tread upon the glacier's ice and marvel at its majestic grandeur. As we traverse the exuberant Bosque Andino Patagónico, the fusion of ice, woods, and mountains creates an enchanting tapestry of nature's artistry.
Indulgence and Tranquility at Hotel Xelena, El Calafate
Nestled against Patagonia's icy landscapes, Hotel Xelena will be our oasis of luxury. Its modern design seamlessly blends with nature, offering panoramic views from our room. After our glacier trek, the elegant spa will beckon, providing soothing treatments. Hotel Xelena's fusion of contemporary elegance and Patagonian charm promises an unforgettable stay, becoming a cherished memory of our journey.
The Berlin-based Spartacus informs LGBTQ+ and queer travelers about how gay-friendly a holiday destination is according to several ranking factors and criteria. Gay travelers can use the Gay Travel Index 2023 to prepare for their gaycation and as a guide when choosing a holiday destination. But which country ranks first? Where is it safe to travel to as a gay and LGBTQ+ traveler?
Sailing from Punta Bandera Port, we embark on an expedition to witness the marvels of the glaciers. The journey begins amidst the icebergs of the North Arm of Lake Argentino, where we cruise past the awe-inspiring Upsala Glacier. The Spegazzini Channel treats us to stunning views of hanging glaciers, culminating in the breathtaking sight of the towering Spegazzini Glacier.
Discovering Buenos Aires' LGBTQ+ Scene
Returning to Buenos Aires, our adventure is set to be vibrant and inclusive as we explore the city's LGBTQ+ highlights. Buenos Aires celebrates diversity in every corner, from colorful neighborhoods to lively bars and clubs. We delve into the heart of this community, witnessing its vivacity and warmth, a testament to Argentina's open-minded spirit. We cannot wait to tell you all about it on our Instagram and here on our blog!
GNETWORK360: Championing LGBTQ+ Travel
Our journey culminates with a meaningful experience at the LGBTQ+ travel conference, GNETWORK360, where we are honored to be speakers. It's an opportunity to share our stories, insights, and connect with fellow LGBTQ+ travelers, contributing to the continued growth of inclusive travel.
As we bid farewell to Argentina, we take the time to review gay-friendly Dutch Airlines KLM's newest travel class, Premium Comfort. The journey back to Amsterdam is not just a flight; it reflects the remarkable moments we've lived and the profound connections we've made throughout our adventure.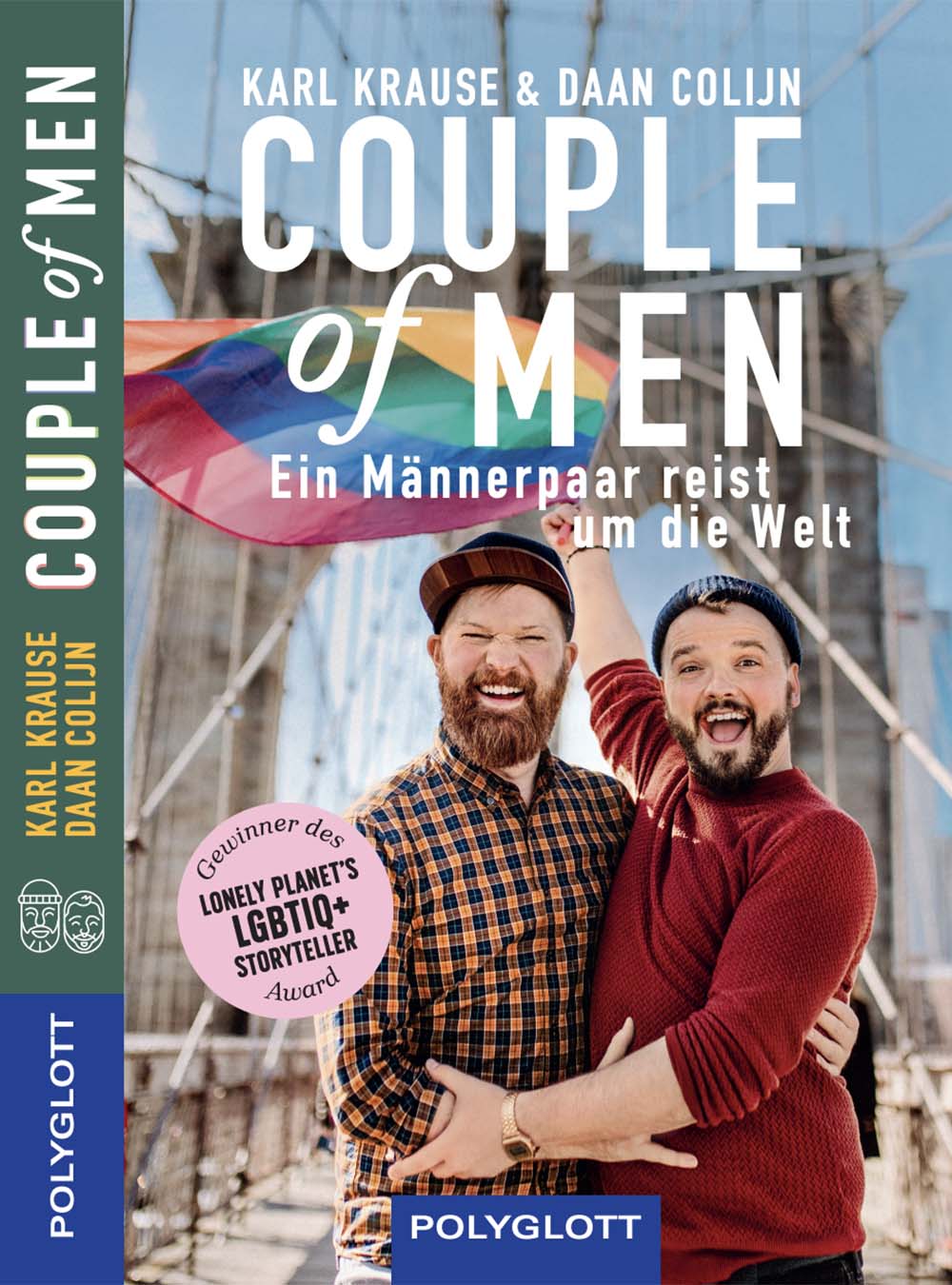 Advertisement
The perfect present to inspire (German-speaking) LGBTQ+ travelers and their allies to travel the world open-minded, respectfully, and with a happy heart.
Order our book online or purchase it in bookstores in Germany, Austria, and Switzerland.
How LGBTQ+ and gay-friendly is Argentina?
Argentina stands and ranks proudly as one of the most LGBTQ+ friendly destinations in South America and the world. With progressive laws in place, including legal same-sex marriage, since 2010, the country has fostered an environment of acceptance and celebration of diversity. Cities like Buenos Aires have vibrant LGBTQ+ neighborhoods, bars, and cultural events that showcase the country's inclusive spirit. The annual Buenos Aires Pride Parade draws thousands of attendees, locals, and tourists, showcasing the collective commitment to equality. Beyond the bustling capital, other cities also embrace LGBTQ+ communities, creating an atmosphere where travelers feel safe, respected, and welcome. Our journey through Argentina's breathtaking landscapes explored its natural wonders and celebrated its open-hearted embrace of all walks of life.
And now it is time to plan your Gay Argentina Travel adventure!
Our three-week odyssey through Argentina will undoubtedly be a voyage of discovery, love, and embracing the unexpected. From the thunderous cascades of Iguazu to the glacial wonders of El Calafate, each destination will offer its magic for us nature lovers. As LGBTQ+ travelers, we will celebrate Argentina's natural splendors and warm embrace of acceptance.
Do you want to know and see more of us gay couple travel bloggers? Stay tuned on Instagram, Twitter, YouTube, and Facebook! See you around in Argentina, South America, and on one of our next gay pride trips around the world!
Karl & Daan.
Please note: This gay-friendly trip to Argentina was made possible in close collaboration with KLM Royal Dutch Airlines, Gnetwork360, and the Tourism Boards of Iguazu, Puerto Madryn, Patagonia, and Buenos Aires. Additionally, we are thankful for all the tips and help from our wonderful readers, followers, new and old friends worldwide and South America. Nevertheless, our opinion, photos, videos, and writings are always our own and without bias.