Kivik's gay Cake Cowboy. The third stop on our 5-days road trip around South Sweden was Kivik, a locality in Österlen, the southeastern part of Scania (Skåne). This picturesque village with its small harbor is simply perfect for taking long walks, enjoying some cider the region is famous for, and enjoy some freshly caught seafood by sunset. But Kivik is even more. It is home to an exceptional person of the LGBTQ+ community who has his story of pride, acceptance, and gay life to tell. Yes, we are talking about the Cake Cowboy Markus Lundqvist, a gay chocolatier who settled down in Kivik and opened up his shop. The gay-owned so-called Chocolate Saloon & Grocery offers delicious sweets and pastries as well as everything you need for daily life, including rainbow flags, pins, and stickers. A visit to the two-time participant of the Swedish TV show 'Dessertmästarna', the Swedish Dessert Masters, was therefore on our list. But it hasn't always been peaceful and gay-friendly around here in the South of Sweden. Read our touching story about the Cake Cowboy from Kivik and read on Couple of Men about why you should put a visit to his Chocolate Saloon in Kivik, Österlen on your gay travel bucket list.
– in paid collaboration Tourism Skåne –
Cake Cowboy from Kivik Markus Lundqvist
Karl simply loves Chocolate and anything sweet and delicious! No wonder we put a visit at the Cake Cowboy's Chocolate Saloon & Grocery on our gay travel bucket list for Scania. The rainbow flag hanging in front of the entrance revealed that we were right at a gay-friendly and welcoming place. Markus Lundqvist did welcome us with a broad grin wearing his signature cowboy boats and a rainbow pin on his vest. Together with his partner and his dog, he had made some time for us to talk about his story having a chocolate shop as an openly gay man and cowboy fan in Kivik.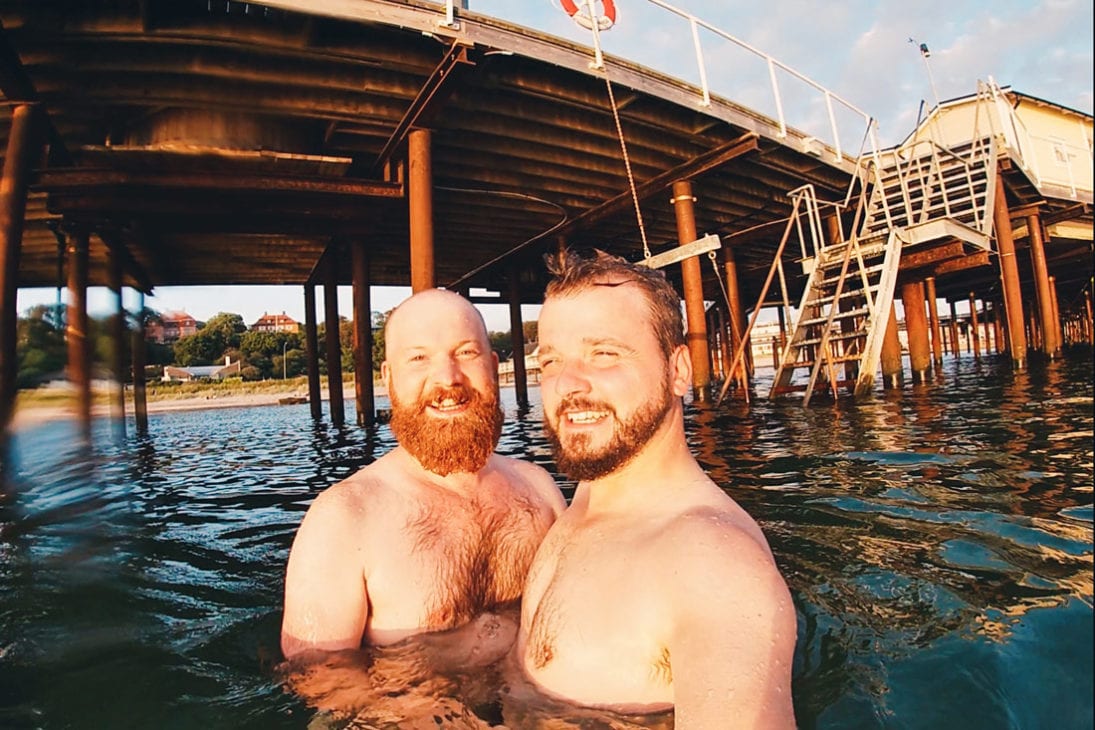 From Malmö into Swedish nature! We started our gay summer adventure in Skåne in Kullaberg making our way south visiting Helsingborg, Ystad, and Kivik. Our last day we spent at the clothing-optional gay beach Sandhammaren. Read our full journal and get inspired to plan your own Swedish Summer Adventure.
Chocolate Saloon in Kivik
The Chance of a lifetime, that's how Markus describes starting his Cake Cowboy project in Kivik when he got the chance to take over a company far away from the hectic city life of Stockholm. Being around his horse makes him the happiest gay cowboy in Sweden. But making his sweet creations coming from his heart, and incidentally holds up his rainbow flag for equality and love for everyone makes him even happier. Although the conversation was a little difficult at the beginning since he doesn't speak fluently English, we had a click and talking happened with our arms, hands, and smiles and with the sOf course, being of his partner.
Markus is proud of what he had achieved in the past years after overcoming his nervous breakdown and burnout working as a chef and chocolatier in the industry. Not only was he a two-time participant at the Swedish Cake Masters on channel 5. He also made his dream come true to start his own business producing organic pastries and chocolates. Therefore, he tries to produce everything as ecologically on earth as possible working with farmers in his store's vicinity to get organic eggs, milk, berries, fruits and more. His efforts seem to pay off as his business is flourishing.
After a wonderful time in Malmö, we boarded our rental car for a 5-days road trip along the South Swedish coast to Mölle, Helsingborg, and Kivik. Stunning Swedish nature, unforgettable sunsets over the Baltic Sea, and some wonderful unique gay couple stories. Did we mention our clothing optional gay beach?
When Nazis attacked the LGBTQ+ community
Unfortunately, it wasn't always happy and gay-friendly like that in Kivik. It happened in the summer of 2018 when his rainbow flag out of a sudden disappeared. After replacing it and another disappearance, he found a homophobic sticker on his car stating "Crush the Gay Lobby" with a link to a Swedish Neo-Nazi movement. But instead of being silent, he spoke up and continued to raise his rainbow flags. Markus said to QX, the biggest Swedish gay website:
"If I would not have continued to raise the flag the whole thing would not have made such big waves. But I also would not have been true to myself, true to who I am and what I believe in. They can't silence me with some damn stickers, I know what I believe in and it's love and diversity."
And then something beautiful happened: Meanwhile, the word traveled around the locality. The people of Kivik would just stand back and hand over their peaceful and inclusive community to a neo-Nazi attack. Instead, over 30 companies in the region raised a rainbow flag too to supporting the Cake Cowboy. It meant a lot to him and showed how welcoming, gay-friendly, and open-minded the community of Kivik really is.
Please note: This trip was made possible in close collaboration with Tourism Malmö and Tourism Skåne A special thanks goes to our wonderful readers, followers, new and old friends from all over the world. Nevertheless, our photos, our videos, our opinions, and our writings are our own, as always.