Our Top List of the best LGBTQ+ and gay travel bloggers for 2023 – You have no idea where to go on vacation this year? Do you want to know in which country you can hold hands and enjoy the best time of the year? Do you want to be up-to-date about the newest events, hidden gems, and hot spots of the gay and LGBTQ+ community? Finally: You need to get inspired about which places around the globe are safe, LGBTQ+, and gay-friendly? Knowing about the colorful and sometimes very difficult history of the LGBTQ+ community and the equal rights movement, we want to make it easier for you. Take a closer look and find out which of the queer LGBTQ+ & Gay Travel Bloggers 2023 (or all of them) you would like to get inspired by and give your support! Happy Gay Traveling, everyone!
During our travels for our blog Couple of Men, we can meet lesbian, gay, trans, and queer travelers from all around the world trying to find the answers to exactly those questions. By doing that for themselves and sharing it on their blog and social media, the best gay travel blogger and LGBTQ+ influencers are trying to make your vacation planning much easier by supporting local LGBTQ+ businesses like gay-friendly hotels, gay pride festivals, and queer weekly events. But, as you can imagine, it is not always easy to find the right and the good ones of the LGBTQ+ activists of today.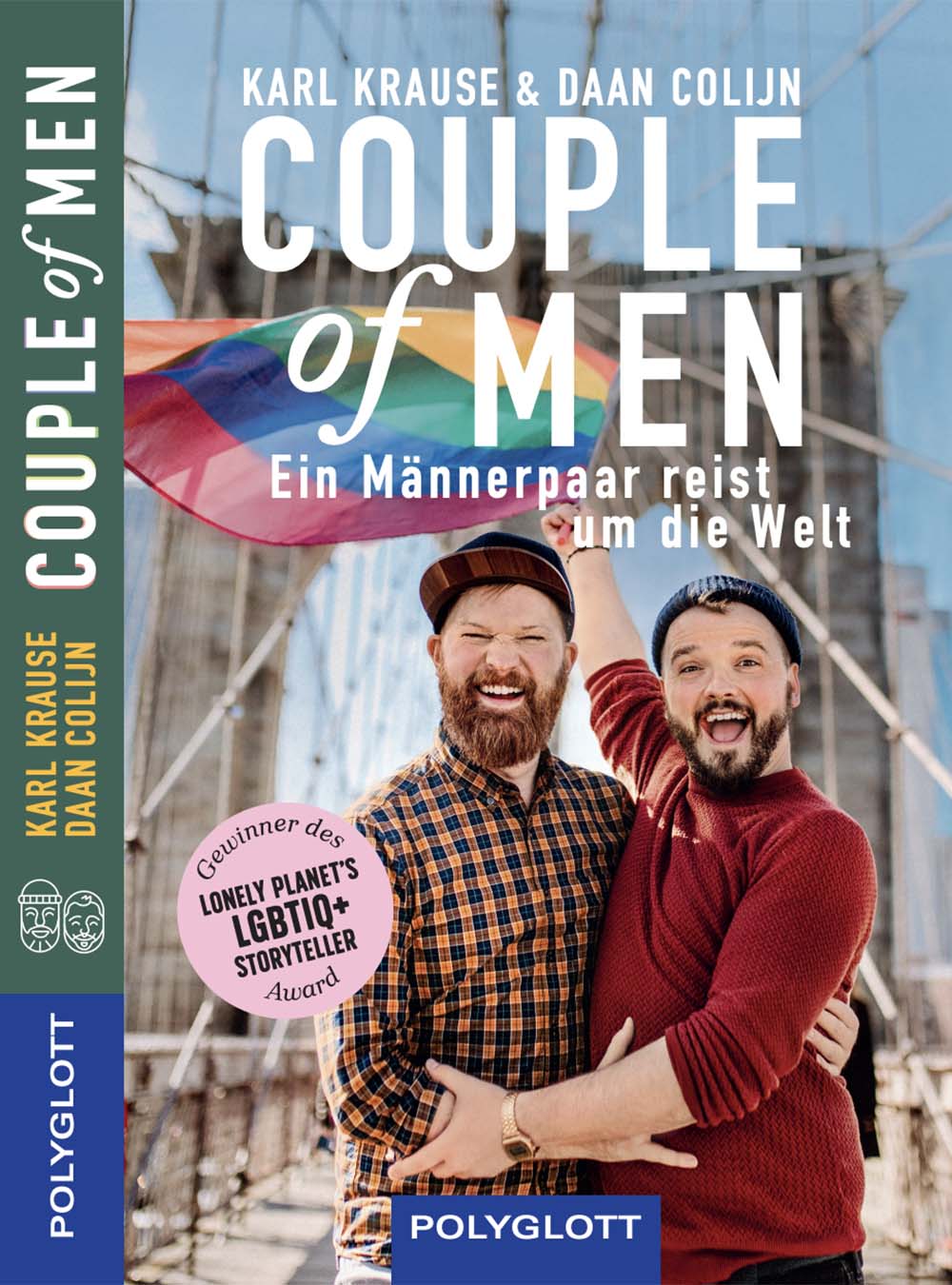 Advertisement
The perfect present to inspire (German-speaking) LGBTQ+ travelers and their allies to travel the world open-minded, respectfully, and with a happy heart.
Order our book online or purchase it in bookstores in Germany, Austria, and Switzerland.
Couple of Men – Gay Couple Travel
Our Blog (in EN & GER) | Instagram | Facebook | Twitter | YouTube
Yes, that's us, Karl and Daan, from Europe writing, blogging, and posting in English and German (as one of the few German Gay Travel Blogs). We want to give you first a short heads up about our blog, which aims to be a supporting gay travel source, especially, but not only for gay couples. Our future together has just begun after celebrating our 10th anniversary in March 2023. From the first trip to Vietnam on, we are eager to share the best gay travel tips out of an adventurous couple of men's eyes with luxurious accommodations, exciting experiences such as zip-lining or white-water rafting along the way, and Gay Pride Parades all around the world. Because, in our opinion, the fight for equality just started. In the end, love wins. We are counting on your support to make the world a better place for LGBTQ+ people.
LGBTQ+ & Gay Travel Bloggers in 2023
But before we start with our top list of the best LGBTQ+ and gay travel blogs, we just wanted to clarify one thing: we only include LGBTQ+ and gay travel sources of bloggers we have actually met during our travels. We know there are many more out there, but authenticity is key for us, especially for this list (in alphabetical order). But please comment and send your favorites in as well, so we can meet with them on our next trip or put them in another blog article of Couple of Men as a source. Happy traveling, everyone!
#1 Onceuponajrny: The Lesbian Photo Blogger
Blog (in EN) | Instagram | YouTube
And then, there was our trip to Berlin in 2018 for Gay Pride CSD Berlin, when we finally met back then couple bloggers and basically our Dutch lesbian twins, Roxanne and Maartje. Over the past years, we traveled repeatedly together around the world. Back home, we spent nights playing board games such as Carcassonne together. But as life goes… Rox and Maartje are now going their separate ways. But the content on her blog and social media channels will continue to inspire us to travel. And just last weekend, we planned a game night with Roxanne. Good to know: A group of queer bloggers and Maartje are currently launching the Pride Atlas as a print edition. Just check it out!
Blog (in EN) | Instagram | Facebook | Twitter | YouTube
Best Buddies for Life – beyond gay travel blogging. We met Stefan and Sebastian for the first time in Vancouver two years ago. We can proudly say that we developed a good friendship with them after some winter fun on the slopes in Whistler and some cocktails at the Gay Winter Pride parties. Last spring, they visited us in Amsterdam and stayed for over a week at our place, eager to explore everything about "our" Amsterdam. One thing is for sure: Everything they do will be shared on Social Media – if you like it or not! #bestiesforever
#3 The Globetrotter Guys – Party Bloggers
Blog (in EN) | Instagram | Facebook | Twitter
Our first encounter with gay travel bloggers Sion and Ben from The Globetrotter Guys was during our first trip to the US-American state of Illinois. We met them during Chicago Pride, the colorful LGBT event in the city of wind. The guys are based in the UK, focusing on sharing their experiences of circuit festivals, pride, and other LGBT events.
#4 Whatwegandidnext: The Lesbian Beauty Bloggers
Blog (in EN) | Instagram | Facebook | Twitter | YouTube
The two beauties, Whitney and Megan from the travel blog whatwegandidnext are as cute and lovely to have around. We met them in 2018 in Stockholm, pre-checking the Swedish city for gay-friendliness just before Euro Pride 2018. The two girls are based in Windsor, UK writing, posting, blogging, and vlogging about their lives as married wives and openly gay travelers. Part of their story is about traveling as a person with a disability in public and on social media. We love their love, and hoping to travel with them again very soon!
#5 OutwithRyan: The Queer Blogger
Blog (in EN) | Instagram | Facebook | Twitter | YouTube
And, of course, we cannot miss our favorite queer traveler and influencer queen, Ryan. We met this wonderful energetic person in Stockholm as well and reunited with him on the first Open Sea Cruise. He is professional, creative, and simply adorable to hang out with, especially together with his boyfriend Andrei. His work focuses on vlogging and creating YouTube videos about his experiences abroad as a queer traveler in all his rainbow-colored facets on his blog, YouTube, and Instagram. We will meet him and his boyfriend again in New York and cannot wait to take some more fun photos together with them!
#6 27 Travels: The lesbian New Yorker Bloggers
Blog (in EN) | Instagram | Facebook | Twitter
Two lesbians in love, traveling the world – but they call New York City home. We met the two lovely cuties during our travels to New York for the IGLTA convention in April 2019. They became our New York guides for two days, showing us their favorite Street Art in Soho and beyond. We also took them to the Top of the Rock, the viewing platform on top of the Rockefeller Center, where we enjoyed a stunning view over Manhattan. As cat owners ourselves, we had so much to talk about and to laugh at… We cannot wait to see and travel with them again!
#7 Ravi Round the World: The sensational queer blogger
Blog (in EN) | Instagram | Facebook | Twitter | YouTube
We've been inseparable travel buddies since our first meeting at a rooftop party in New York City. Whether it's Amsterdam Pride, a travel conference in Milan, or a long night out in gay club in Berlin, Ravi is always fun to be with. By the way, the queer LGBTQ+ activist has his own YouTube show and actively campaigns for the interests of the queer community. A real role model you might wanna give a like and hit the follow button.
And the list goes on …
We met many more influential LGBTQ+ travelers, writers, and vloggers during our travels, besides the best Gay Travel Bloggers 2023. Some of our favorites are Queer Twitter and social influencer Barb Snelgrove from Vancouver, as well as YouTubers and former Mr. Gay Canada, Josh Rimer. We will strive to keep this article updated, adding new queer travel resources to this list of LGBTQ+ and Gay Travel Bloggers worldwide.
Our Top List of Gay Travel Bloggers 2023 and more
Influencers, in their own way, are LGBTQ+ travel writers who create high-quality texts for diverse magazines, inspiring thousands of readers all over the world. For example, David Duran, travels the world writing for a living, or Markus Bidaux, a travel writer and photographer. And there will be many more coming in the following weeks, months, and years.
Do you want to know and see more of us and other gay (couple) travel bloggers? Stay tuned on Instagram, Twitter, YouTube, and Facebook! See you around Europe or around the world and on one of our next gay pride trips! Karl & Daan