We've been together to Stockholm two years ago for the last time. We really fell in love with the Swedish capital city, not only because of its LGBTQ+ and gay-friendly atmosphere and values but also for its unique architecture, its strong connection to music, and its perfect symbiosis with the surrounding nature and waterways. Furthermore, we just love Stockholm and Sweden. Not only that but we are excited that StockholmLGBT invited us back to Gay Stockholm in the near future and shared with us some exciting gay travel news about Stockholm. For us, Stockholm really is one of the best LGBTQ+ and gay vacation destinations not only in Europe but worldwide. Even though we won't go back to Stockholm this summer, but instead, will be exploring the World Pride co-hosting city of Malmö, we want to share Stockholm Gay Travel News in our "Ode to Joy, to Stockholm". Definitely, some great reasons for Couple of Men to go back to Sweden!
– paid collaboration with LGBT Stockholm –
Why Stockholm is a great gay destination
Well, our first reason has to be: Because it is one of the most LGBTQ+ welcoming and gay-friendly countries in the world. For several years now, the annual Gay Travel Index ranks the Scandinavian country on the top. Already in 2009, Sweden legalized same-sex marriage countrywide making Sweden the 7th country in the world with marriage equality. And while many countries in the world, including Germany or the USA, still struggled with it, Sweden has banned any kind of discrimination based on sexual orientation, gender identity, and gender expression already in 1987. Some additional facts: Same-sex couples can adopt since 2003, lesbian couples have equal access to IVF and assisted insemination since 2005, and Sweden became the first country in the world to allow transgender people to legally change their sex, provided free hormone therapy, and an equal age of consent. Cool, right?
Stockholm calling! … with Gay Travel News
In our last blog article before the Euro Pride in 2018, we highlighted some of our favorite gay-friendly experiences during our first trip. Please check the updated "Top 13 LGBTQ+ Travel Tips" for your next travel plans to Stockholm. But that is not all that makes Stockholm so special for a gaycation: Shopping in Stockholm's fashion district 'Bibliotekstan', experiencing Scandinavian spas and saunas, and fully embracing the environmentally friendly way to build, live and eat, for example in some of the best Vegetarian & Vegan Restaurants we have ever been. After all two years can be a long time and of course, Stockholm LGBT has some Stockholm Gay Travel News to share. We told you about the strong connection of Stockholm to music, right?
Music City Stockholm – ABBA
Did you know that ABBA is planning to release new ABBA songs in 2021? Björn Ulvaeus confirms that the Swedish icons will release five brand-new songs next year as they had to postpone due to the unprecedented times in 2020. But all the queer Dancing Queens around the world should be sad to miss anything of their idols as ABBA the Museum reopened. And while Eurovision Song Contest the movie on Netflix is taking the world by storm, visitors of ABBA the museum can find out where it all began and how the finals of the Brighton contest in 1974 put ABBA into the world music hall of fame. Also, ABBA the Museum has just opened its brand-new wing charting the story of its more modern accomplishments, from the musical Chess, all the way up to the unmissable Mamma Mia! franchise.
We put the Swedish capital Stockholm on our gay travel itinerary testing gay-friendly hotels, vegetarian and vegan restaurants as well as LGBT-friendly activities like shopping, the music heritage of ABBA, going out in Stockholm's Gay Party Scene… and falling in love with Scandinavian design and architecture.
Gay-friendly Hotels in Stockholm at their best
The last time we have been in Stockholm, we stayed in two different hotels. One of the gay-friendly hotels in Stockholm we can highly recommend is the hip and coming HOBO hotel in Brunkebergstorg, central Stockholm. But this news really blew our minds! You know we are big fans of road trips and huge nature lovers, right? We know where we want to stay the next time we will be in Stockholm, the brand new Hobo Grand California Room – a hotel suite on wheels! The idea behind it: You get the luxury of rolling away in a camper van furnished with 100% Hobo standard, crisp sheets, bath towels, bathrobe, decorated toilet cabinets with Hobo products, and a fully equipped mini kitchen. AND the price also includes one tank of fuel and a lunch box for breakfast and dinner from the restaurant TAK by celebrity chef Frida Ronge. Where to go? That's up to you! In Sweden, everyone has the freedom-to-roam by law, so you can rock up pretty much anywhere reasonably (Stockholm LGBT recommends the archipelago).
Sieh dir diesen Beitrag auf Instagram an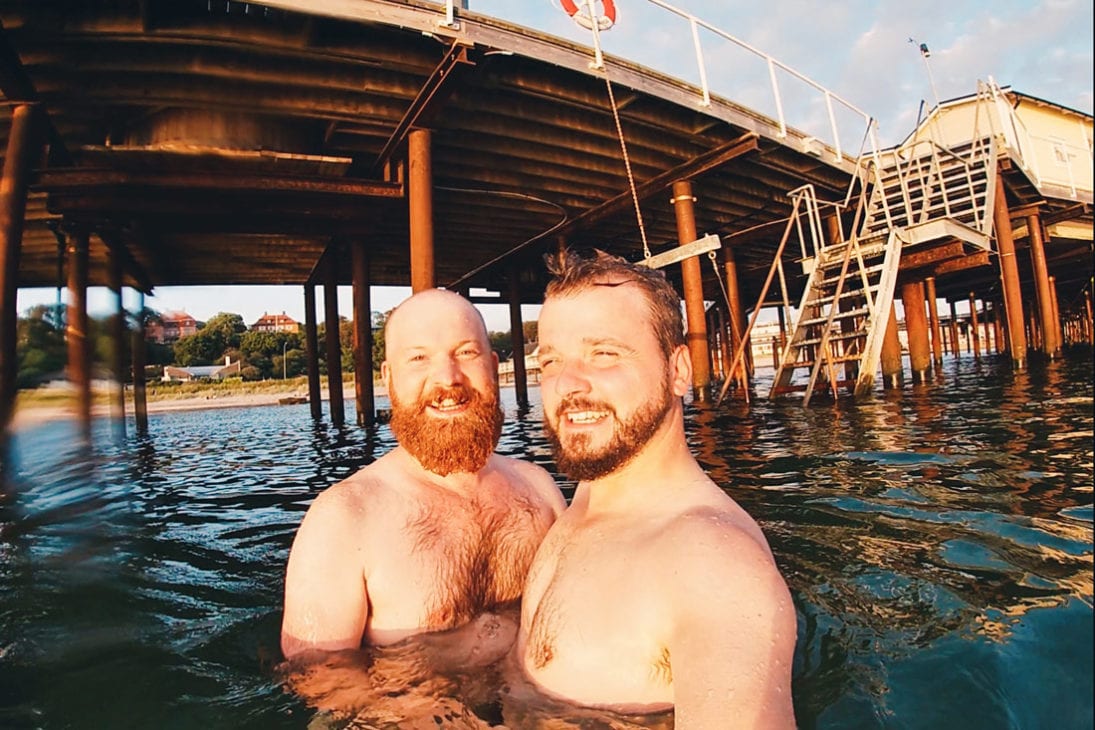 After a wonderful time in Malmö, we boarded our rental car for a 5-days road trip along the South Swedish coast to Mölle, Helsingborg, and Kivik. Stunning Swedish nature, unforgettable sunsets over the Baltic Sea, and some wonderful unique gay couple stories. Did we mention our clothing-optional gay beach?
Stockholm & Nature: The Perfect Combination
In our last article about Stockholm, we told you about our favorite spot to catch a Scandinavian sunset over the rooftops of Stockholm's city center, Monteliusvägen located right behind Ivar Los Park. But what to do after the sun sets? You could go out in one (or more) of Stockholm's Gay Bars. Or… You've probably heard about the fabulous eatery TAK above our favorite hotel HOBO. Of course, that's not the only adjacent Stockholm hotspot to continue a good gaycation night in Stockholm.
The all-new Stockholm Under Stjärnorna (Stockholm under the Stars), a vibrant rooftop located 50 meters above the streets of central Stockholm is one of the new favorite spots for the LGBTQ+ community in Stockholm, not only because it's hosting many rainbow parties during Stockholm Pride. It's a modern roof park where the focus is put on activities with significant attention to detail. Whether it's the DJs that play music, the movies on the screen, and the cocktails in your glass, everything is carefully curated to create something extraordinary and entertaining.
Museums & Royal Palaces of Stockholm
Just in case, you didn't know: the official name of Sweden is the Kingdom of Sweden. The European country is therefore a constitutional monarchy and a parliamentary democracy comparable with countries like the UK, Spain, or even the Netherlands. However, some Swedish palaces are open for the public to visit during a gaycation. In Stockholm, four out of the ten Stockholm Royal Palaces reopened already with the last ones expected to open their doors before the end of summer. The last time we were in Stockholm, we visited the Royal Apartments of the Royal Palace in Stockholm with their exhibition of world-renowned textile artist Märta Måås-Fjetterström. Other highlights to see are the World Heritage site Drottningholm (aptly, The Queen's Island) and the Gripsholm Castle in Mariefred.
Besides the Royal Palaces in and around Stockholm, the Swedish gay capital is also famous for its museums. Our favorites are undoubtedly the Vasa Ship at Vasa Museum and of course, ABBA the Museums in Stockholm. Following the information coming from Stockholm LGBT, Millesgården, an artist home built in 1908 by sculptor Carl Milles and his wife painter Olga Milles is worth a visit located just 20 minutes from downtown Stockholm. Photo and Instagram lovers will enjoy the well-renowned museum that is an artist's home, an antique collection, a vast sculpture garden, and an art gallery in one peaceful location.
Stockholm LGBT – the gay-friendly way to explore Stockholm
While writing this article and learning all about Stockholm's gay travel news, we couldn't get more excited to travel again to the Swedish capital city. But for now, it is time for us this summer to explore Southern Sweden again and take a big road trip around the best of Germany. But back to Stockholm:
A great gay travel source to find more info on LGBTQ+ travel to Stockholm is Stockholm LGBT, the city's rainbow family of LGBT-friendly travel businesses. The membership-based network of hotels, restaurants, attractions and other partners are committed to upholding Stockholm's reputation as one of the most diverse and inclusive cities in the world.
Website: www.stockholmlgbt.com/
Facebook: facebook.com/gaylesbianstockholm/
Instagram: instagram.com/stockholmlgbt
Do you want to know more about our gay travels around the world? Stay tuned on Facebook, Twitter, YouTube, Pinterest, and Instagram. See you again in Europe, Sweden, Stockholm, and somewhere around the world! Karl & Daan.

Please note: This article was created in close collaboration with Stockholm LGBT. A special thanks for tips and support goes to our wonderful readers, followers, new and old friends from all over the world. Nevertheless, our photos, our videos, our opinions, and our writings are our own, as always.