Is there a gay bar in Malmö, you might ask? Of course, there is! The Red Shoe Bar in Malmö. Moreover, the gay bar is operated by a gay couple. The two guys, Johan and Joakim, are from Malmö and are running the welcoming queer space together for Queer travelers in Malmö, the local LGBTQ+ community and its allies. The Red Shoe Bar is located in the city center of Malmö, just across the canal named Södra Förstadskanalen. We had the chance to visit the LGBTQ+ bar to enjoy live music, DJ sets, and some of their famous cocktails. After a challenging couple of months, the Red Shoe Bar is looking forward to World Pride 2021 in Malmö, Southern Sweden, and Copenhagen. But now, have a closer look at the only gay bar in town, Malmö's Red Shoe Bar, through a Couple of Men's eyes!
– paid collaboration with @malmotown/Malmö Tourism –
During our second city trip to Malmö, we focused on sustainability and queer friendliness before, around, and after World Pride in 2021. So, it was only a logical next step that we also started looking for queer venues and gay bars. And no matter who we asked in Malmö for a bar for the LGBTQ+ community, we always got the same answer: "Of course, the Red Shoe Bar!" So, we scheduled an evening drink at the bar run by gay couple Johan and Joakim without further ado. Bull's eye! Even on a Thursday night, the bar was packed with queer people and their friends, clearly having a good time. We even had the opportunity to chat briefly with the two men from Malmö.
Gay Couple Johan & Joakim (and a radical thing to do)
The gay couple met 19 (!) years ago in Malmö at Club WONK. Apparently, it was love at the first (and second) sight because, after only three months, the two Swedish men moved into their first apartment together. A month later, Johan and Joakim got engaged during a concert of the band The Ark and their song "The most radical thing to do," of all things. And the rest is gay history. Johan smiles. "Already during our first date, Joakim confessed that he was not really a man for a relationship. But, hey, I figured he hadn't met the right person by then!" The two laugh heartily and look at each other happily. Unfortunately, the two of them can't chat with us for long. There is a lot to do because the handsome young man at the bar, who is just mixing another of the infamous cocktails, really has his hands full alone tonight!
A Sweden adventure in summer – simply irresistible. Especially with a gay-friendly touch. We visited the south Swedish city of Malmö several times already. We collected all our experiences, tips, and stories in this guide with additional stories about the lively LGBTQ+ community near World Pride 2021.
A Swedish Gay Bar – A Queer Hotspot in Malmö
It is always great to meet a (gay) couple that has realized their dream – in their case – of a joint bar. And they did an awe-inspiring job. Everything seems to fit together well here in the queer space in Malmö. The place is really stylishly decorated, impressive works of art hang on the walls. We could witness numerous regulars come to the bar after work or before going out and enjoying the good mood and atmosphere. Johan comes to our table once again with a few fresh cocktails and adds excitedly, "And before I forget to tell you, we're hosting the official closing party of this year's World Pride 2021 here in Malmö. Hope to see you then!" Guys, we take you at your word and hope to see you again at World Pride 2021 in Malmö, of course with a cocktail or two!
Good to know: Although Sweden chooses a different way of handling the current difficult times and bars and restaurants have been open conditionally, much fewer queer people visited the Red Shoe Bar in the past couple of months. Furthermore, traveling has been restricted worldwide, which had a big impact also on the hospitality services in Sweden. To keep queer spaces alive and kicking – especially when it is the only gay bar in town – we would like to encourage LGBTQ+ travelers to visit queer bars, restaurants, and companies to ensure their survival. Happy World Pride 2021!
Celebrate World Pride 2021 at Red Shoe Bar in Malmö
For the first time in the history of the global World Pride movement, this year's World Pride 2021 will be organized in two countries and thus in two cities. Together with the Danish capital Copenhagen, Malmö organizes one of the largest and most sustainable queer events in the history of modern LGBTQ+ human rights movements in Sweden, Denmark, and Europe. But how LGBTQ+ and gay-friendly is Sweden's third-largest city really? We met five queer locals from Malmö and talked to them about the current situation of the LGBTQ+ community in Malmö. All interviewees agree: Malmö is a wonderfully queer-friendly place to live. Read more about our 20-minute documentary here >
When in Malmö – twice… We met Chris, Soleil, Kaj, Karin, and Mats who showed us their favorite LGBTQ+ friendly spots in Malmö explaining what makes Malmö such an open-minded and lively queer space in Europe.
Sustainable & LGBTQ+ friendly Malmö
Besides LGBTQ+ friendliness, sustainability is a big topic for the people of Malmö. The fifth bike-friendly country globally, a diverse vegetarian and vegan culture, and the strategic location close to Copenhagen and the Baltic Sea give Malmö the platform for its aspirations to be(come) one of the most environmentally conscious cities in the world. Let us show you more about sustainable Malmö here >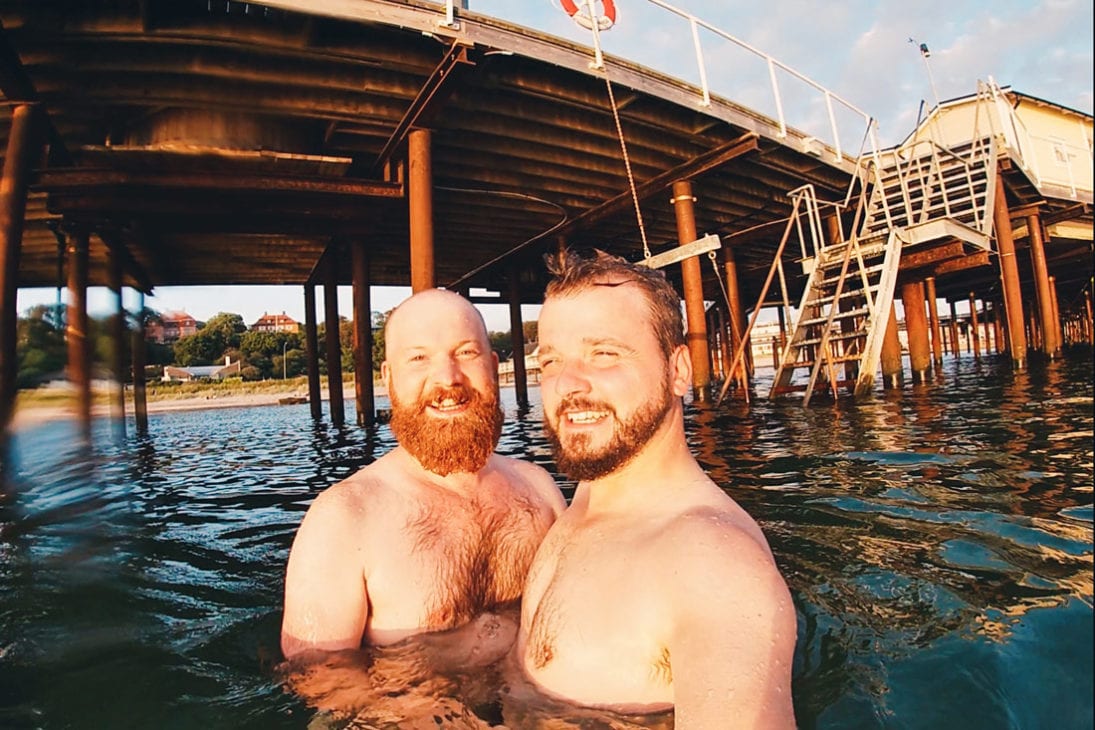 After a wonderful time in Malmö, we boarded our rental car for a 5-days road trip along the South Swedish coast to Mölle, Helsingborg, and Kivik. Stunning Swedish nature, unforgettable sunsets over the Baltic Sea, and some wonderful unique gay couple stories. Did we mention our clothing optional gay beach?
Plan your Gay Night out at the Red Shoe Bar in Malmö
Just a couple of months before the pandemic hit the world, the two guys behind the only gay bar in Malmö opened a nightclub next door to the Red Show Bar. Unfortunately, due to the current situation, it has been closed for months now. We cannot wait for the club to be open as we are really looking forward to dancing a night away in Malmö (maybe already around World Pride?).
Address:
Red Shoe Bar Malmö
Drottninggatan 36
211 41 Malmö, Sweden
Homepage: redshoebar.se/
Reviews & Offer: On TripAdvisor >
Do you want to know more about our gay travels around the world? Stay tuned on Facebook, Twitter, YouTube, Pinterest, and Instagram. See you again soon! Karl & Daan.
Please note: This trip was made possible in close collaboration with Tourism Malmö as well as the tips and help to come from our wonderful readers, followers, new and old friends from all over the world. Nevertheless, our photos, our videos, our opinions, and our writings are our own, as always.