A Gay Cruising Story. John, our editor for the sexy travel details and cruising information, is eager to tell us and you more about his cruising adventures on the Italian island of Sicily. John and his future husband take you and us on a journey to warm and summery, sunny climes on the Mediterranean. And while running into handsome Italian men, he met other queer people from around the world during Catania Pride. Don't expect full coverage of all details regarding LGBTQ+ life in Sicily or Italy. But instead, enjoy John's very personal (and intriguingly sexy) Sicily Gay Cruising Story and get inspired for your very own gaycation and gay cruising experience in Sicily with Couple of Men.
Hi – my name is John and I write cruising guides for coupleofmen.com. So far, I've written comprehensive guides on popular cruising destinations such as Gran Canaria, Sitges, and Amsterdam. I've traveled to many places, not all of which were primarily intended for cruising. That's why I wanted to present some of these experiences from my point of view, and in a story format, rather than summarize them into a guide. In these stories, I aim to explore the intricacies of cruising, being in an open relationship, jealousy, excitement, and travel. I hope you enjoy reading my stories – let me know in the comments below what you think.
Getting lost on the island with hairy Italian men
"Sicily? You? Really?". This was the reaction I got from many friends and coworkers that found out about my plans to visit the Italian island. Having gotten fatigues of my usual escapes to Sitges, Gran Canaria, and the like – the very notion of visiting a place not littered with rainbow flags and men wearing Speedos came across as strange yet exciting. While I obviously love those places for what they are, for once, I was yearning for subtlety and authenticity. Don't get me wrong, I was still hoping to meet others during my travels – but not in the way that I was used to. Experiencing the destination was what I wanted to do first and foremost. Whom I was to meet along the way was only a bonus. But this time, rather than walking into a full bar or cruising beach, I was hoping for it to be more subtle. More low-key. To catch someone's eye out in the open. Feeling the excitement of the unspoken attraction in a place that wasn't made for it.
Typically, my trips tend to be very well planned out. With activities, restaurants, bars, and everything in between set in a tight schedule. This time I was looking forward to a looser, less structured holiday – only roughly knowing what cities we wanted to visit. The trip was to be taken together with my lover, who also longed for a change of scenery. We started our journey in the city of Catania unprepared – only with the impressions, I had gathered of the location from the book Mussolini's Island. Before the trip, I had devoured this novel with great excitement, following the story of Francesco in the 1930s. Reading the accounts of young gay men congregating under the arches of the city's railway, hiding from the oppression of fascism, secretly meeting in the twisting alleyways of the inner city to get together at their dance hall, painted a bitter-sweet (though mostly bitter) image of some gay history of the city I was about to explore. I couldn't help but wonder how things had changed, and if I would be able to meet a man under the same arches as those boys stood.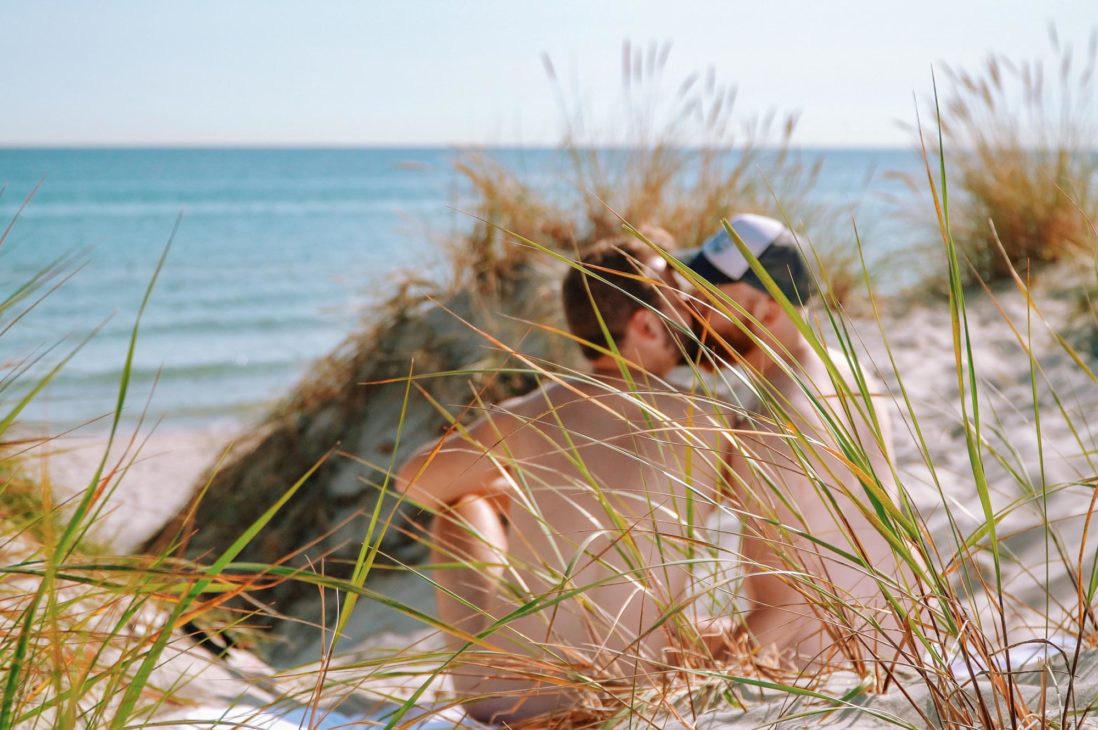 Together with our dear friend and Gay Cruising Culture expert John, we are showing you the best cruising places of gay-friendly travel destinations around the world. How to find gay cruising hot spots? What should be considered when doing gay cruising? Is gay cruising legal in the country you are traveling to?
The first couple of days in Catania passed, providing us with an enormous number of new sights, impressions, smells, and tastes. The city was bustling with a mixture of locals and travelers. Surrounded by the warmly colored stone buildings, shining bright under a layer of grime and graffiti, we explored wherever our curiosity took us. The sounds of Vespas zipping along narrow streets and footpaths. Terrazzos are filled with people meeting for an Aperitivo. Markets filled with bellowing men, announcing their wares for sale. These were the impressions that stood out. But throughout it all, we hadn't met anyone. No secretive looks. No unforeseen conversations with strangers on the street. Not even under the arches of the railway, like I had daydreamed about.
In contrast to all the beauty and vibrancy of the city, we felt strangely alone. It felt as if we were among a herd of people, but never part of a crowd. It raised many questions about gay travel and moving about to a destination that isn't particularly known for gay tourism for us. Unable to strike up conversations with others due to a lack of an intrinsic connection felt, to a certain degree, alienating. As if there was an invisible barrier, we could not break through. In dire need of someone to talk to, discuss, and share our experiences with, we were hoping to find someone to discover everything we had missed and not yet seen. Someone to reveal the local secrets to us, so we could go beyond what was accessible in plain sight, and explore the inner core of the city. To feel a more intrinsic connection to the city, we set out to explore.
On the third day, we finally admitted defeat regarding having a "non-gay" holiday as we had set out to before and googled "Catania gay" – only to be greeted with one top result: Buio – a gay bar in the city center. Proudly flying a rainbow flag outside their door, we were happy to walk into a place that felt somewhat familiar to us. Where we understood the rules and the game that was being played by its patrons. It was still early and crowds were slowly gathering on the terrace and on the surrounding streets. Those feelings of being an outsider and alienation quickly melted away, and while I hadn't made any connections yet, beyond a little eye contact here and there, we knew that we had found a place where we could break through the budding loneliness of the days prior. Maybe we had found our personal railway arches, with a hidden dance hall. Perhaps this was what we were looking for all along. Drink after drink, our reservations melted away, and spontaneous connections started being made. Especially from the locals, we wanted to know: Where to go? Whom to meet? What to see?
Are you searching for a gay-friendly place to stay in Tuscany? LGBTQ+ friendly? Luxurious but still close to nature? We've got something private with a remarkable view for you!
We ended up amidst a small group of local friends. Mixed in ages, they ranged from about 30 to 50 – with some couples in between. One of them especially caught my eye. An older man in his fifties. His olive skin deeply contrasted the white chest hair coming out of his button-up shirt. His rolled-up sleeves revealed equally hairy arms, with visible veins. It was apparent that his younger boyfriend was interested in my lover and his bearded face – as I saw them giving each other the looks throughout our conversation. Similarly, I felt the magnetism of the older boyfriend, in both the way he spoke and smiled at me. It didn't often happen that we met another couple we were both interested in. It was apparent that both were slowly probing us to understand what "kind of couple" we were. If we played together with others, or if we didn't. If we'd be open to exploring, or if we were "prudes".
The prodding questions and subtle bodily contact, like a reluctant hand on the shoulder or on the knee, were indicative of the game they were playing, while the rest of the group engaged us on a purely friendly level. Elated and slightly inebriated, we were questioned by the group on what we had done so far and what our plans were for the rest of our trip. After laying out our itinerary and intentions, however, the group suddenly fell silent, with their smiles wiped off their faces. Scared that we might've said something offensive, we searched for understanding in their eyes, only to be met with cold stares in return. In utter disbelief, one of them uttered "that is all very nice but… you are going tomorrow, right?" They could tell by the puzzled looks on our faces that we were, in fact, not.
Advertisement
We found some great deals with flights worldwide as well as in and around Europe via Amsterdam (and return) with gay-friendly KLM Royal Dutch Airlines. That includes direct connections with KLM or their partner airlines, Air France and DELTA. *subject to availability / last check: 2023
"…to what?" I asked sheepishly, and the small crowd erupted in a cacophony of Italian emotion and hand gesturing. "To Catania Pride, of course!!". With great detail over what seemed like hours, we were introduced to the details and importance of the day to come. We grew ecstatic with the notion of being able to celebrate pride in a city like Catania. Having been all too used to the gigantic prides happening back home in Amsterdam, and the feeling of anticipation lingering in the air before all the festivities taking place, we started feeling the connection to the city in a way we weren't able to before. Drink after drink, we got to hear their gleeful stories, while also slowly inching closer to the older-younger couple that got progressively more explicit in the way they were touching and interacting with us.
Within me, I could feel the excitement for the next day competing with the sexual tension building up among us. I felt the adrenaline coursing through my veins, and I could tell my lover was on the same plane as me, as confirmed by our small "check-in" looks we kept giving each other through the night. The rest of the night went on in a blur. Arms around each other. A kiss on the terrace. A deeper kiss in the corridor to the bathroom. Sneaking through the reception of our hotel, with two unregistered guests. The relief of the fact that I still had packed condoms after all for our explicitly "non-gay-cruising-holiday".
Exploring Catania Pride
The next morning, having said goodbye to our late-night guests, we threw on what, we thought, would be most appropriate for such an event: shorty shorts and a tank top, and ate a big breakfast, so we could handle anything coming our way. From our drunken conversations, we had retained the name of the main road the parade would take place, and our plan was simply to show up and see what would happen. Regardless of everything we had heard last night, we had no idea what to expect. Would this be a giant pride parade, or a small group carrying banners? Would it be political? Fun? Sexy? Would it be sponsored by Vodafone, and every other pink-washed company like pride at home to capitalize on gay culture? Full of anticipation, we made it through the streets of Catania, and from far away we could hear the sounds of a mass of people approaching. We were met with a full-on parade. Thousands of people were marching in unity, holding political banners, dressed in drag, and blasting music from speakers.
It lacked the corporate sponsors and logos we were used to from home and had a distinctly homemade feel. It was made by the people for the people and felt both fun, yet deeply political. We were immediately absorbed by the mass and pulled along the marching route, only stopping every so often at a kiosk to stock up on beer and Arancini. The rest of the parade passed in a rainbow-colored blur, disturbed only occasionally by the stern faces of disapproving bystanders, observing the mass from the sidelines with crossed arms. While their presence was not intimidating, their glaring disapproval of these festivities encapsulated the importance of this gathering in the first place. It was clear that the people of Catania did not have to hide under the railway arches anymore, and they were now out in the open. After hours of dancing, laughing, and parading, we ended up on the Piazza Vincenzo Bellini, where we sang along to Bella Ciao! with a big group of locals. As memories of what I had read about Francesco and his life under fascism bubbled up within me, it felt validating to be able to sing this old anti-fascist hymn together in unity.
The parade and people started to die down. The loud songs that were being sung started to quiet, as we desperately tried to find something to do. It was too early to go home, and all the Arancini we had wolfed down meant we didn't need any dinner. On our way to find a bathroom somewhere, we passed a group of young guys, who were scheming their next move. By their accent, they were unmistakably American, and the most audible and repeated word in their hectic plan-making was: "beach". I walked over to them and offhandedly asked if they knew something about an after-party. "Yeah, we're all going to this party at a beach club, it's going to be sick" he exclaimed, with an intonation that sounded jockyer than expected. We quickly made friends and decided that we could all share cabs to get to this party together.
After a loud, drunken cab ride with more introductions between us, I could hear the bass thumping distantly. The moving laser lights of the party illuminated the sand distantly. It was nighttime and although the sea wasn't visible anymore, its ever-present roar seemed to be the constant undertone of the music that was playing. With our new group by our side, we felt elated to join the boisterous crowd for more drinks and fun. Being very aware of the fact that we were a big group of tourists, we danced among the locals celebrating the end of this great day.
Out of the corner of my eye, I also noticed how my lover was starting to dance very closely with one of our new American friends. End 20s, muscular, in a tank top with a backward baseball cap, he had the classic American jock appeal – something that left me absolutely cold, but I knew would drive my lover mad. I started to feel the day weighing down on me. The heat. The exhaustion. The beers. Considering this was now the second night in a row of partying and drinking, I knew that I was ready to wrap up the day soon. I wanted to get out of here. I looked for my lover to try to get a cab to our hotel, but he was nowhere in sight. The dance floor was relatively small and manageable, so a quick glance confirmed that he wasn't around anymore. Curiously, I walked off from the dancing crowd to explore the surroundings. Making my way through stacked up lounge chairs and folded up umbrellas, stumbling towards the ocean, I couldn't help but notice that I was not the only one who had the idea to get some time away from the party.
Here and there, under the cover of the darkness, the moonlight illuminated, couples, triples, and little groups having fun with each other. Some romantically watching the moonlight, some making out heavily, and some going at it more explicitly. Among them, my lover with his pants around his ankles, reclined on a beach chair – holding the American jock's head between his hands. A familiar burst of both excitement and jealousy coursed through me – a feeling I could feel in the pit of my stomach. This wasn't unfamiliar behavior, nor was it out of the norm for our relationship.
When you aren't monogamous with each other you have to learn to accept that the sexuality of your partner doesn't necessarily always include you. But jealousy always remains like a dark cloud hovering over your rationality – and it takes a good amount of willpower to regulate your emotions – and sometimes it just rubs you the wrong way. I sheepishly returned to the dance floor, hoping he'd cum quick, so we could go home. I had had it and all I wanted was to get to sleep. After what seemed like an eternity, and knowing that my lover took ages when he was a bit drunk, I finally saw his face pop up among the crowd. His eyes searched for mine, and while we remained perfectly calm, he could see that underneath the facade I was pissed. "Let's go home?" – and in that very moment, there was no better thing he could've asked me.
The Beach close to Noto
The next morning we awoke in a sweat. It was a hot summer day, and the dehydration from last night exacerbated the painful morning. This feeling trumped whatever animosity was leftover from last night, which was to be written off as yet another party shenanigan we fell into. It was clear that we needed a bit of a change of scenery. No bars, or thumping bass lines tonight. All we wanted was to nurse this hangover somewhere quiet. After gulping down gallons of cold water, I heard "I know where we can go" from the other room. "Am I gonna like it?" I asked coyly. He nodded. Not much later we were making our way direction Noto. "I found this place online" he explained "I think it's exactly what we need". As we made our way along the highway, the scenery varied from small villages to pure nature, as we arrived at a natural reserve park.
We parked our car and hiked along the path in nature. It seemed as if we were far away from civilization, with no car, shop, or road in sight. The beauty of the natural dunes was only surpassed by the glorious display of the roaring ocean in front of us. Along the shoreline couples were lounging in the sun, some with kids, some in groups of friends. "I read online that once we're facing the ocean, we have to trek all the way to the right until we arrive beneath a massive dune." As we walked along, the couples with kids became less and less, and more of them seemed to be couples of men. At the same rate the kids were disappearing, swimwear was getting sparser too, with many couples sunning in the nude. I was beyond excited. The very thing I had sworn off before this holiday was now exactly what I wanted and needed.
Surrounded by other naked couples of men, we took off our clothes and before even setting up our towels, took off running into the sea. Whatever hangover or negative energy remained from last night simply melted away in the cool water under the shining sun. The inherent sense of freedom, to exist without clothes in nature, to not be judged or afraid of others felt very liberating – maybe even more so than singing Bella Ciao! in unison. Lounging at the beach and being surrounded by others experiencing that same freedom felt like a small pride parade in itself. Void off political messages, or angry bystanders – the beach encapsulated all the aspects of freedom I yearned for. We spent the day in and out of the water, occasionally leaving the other behind by the towels to have a nude walk through the big dunes, to see who we could come across. It's ironic that the very thing that caused me to feel upset the day before was now perfectly fine. That's the interesting thing about open relationships. Your boundaries are often contextually dependent – and while both days boiled down to having sex with strangers on the beach, it just pushed different buttons. Why exactly that is, I'll never know.
We enjoyed our day at the beach so much that we decided to return the next day. It was my turn to guard our belongings and towels when my lover returned from the dunes exclaiming "Look who I found!". He was followed by our two, unregistered, overnight guests from a few days prior. We hugged and greeted. They set up their towels close to ours. We were happy to be able to spend more time with each other. Once we were fully embracing the calm atmosphere of the beach, cycling between going into the water, basking in the sun and exploring the dunes. When it truly felt like nothing could disturb the perfect peace – that's when it happened. I suddenly awoke from my sleepy beach nap, by what sounded like a high-pitched, manic whistle. I sat up in shock, my heart pounding – and felt how the whole atmosphere had changed in a split second. Something was going on, and I didn't understand what. Couples around us were scrambling, reaching into their bags, and…. Pulling up their swimsuits? All around me, men were fumbling to withdraw stings and Speedos to hide their bare bodies. Alarmed by their panic, I joined in and pulled up my swimsuit. Amidst all the commotion, I could identify the source of the whistling and shouting. A stocky, balding man, seemingly breathless by the effort of walking through the sand with his shoes on, in a uniform (albeit one with shorts), was blowing into a whistle, yelling: "Costumi da bagno! Costumi da bagno! Mettiti i costumi da bagno subito". One couple argued back in Italian too fast for me to decipher, all the while gesticulating wildly.
An argument ensued, until they too, begrudgingly put on their bathing suits, and the man in the uniform moved along – towards the direction of the cruising dune. "What the hell was that?!" I whispered to our Italian company. "Just wait…" he said, intently staring at the uniformed man finally disappearing in the dune. And just like that, all the tension that had just built up suddenly disappeared. Within an instant, all the swimwear came off again, almost simultaneously. Some stood up, rebelliously shaking their cock in the direction of the dune, shouting and celebrating. The natural order of things had been restored. "They come along here sometimes… They don't have any real power, but they like to give you a fine. Even though this is a nudist beach, they want to enforce the morals" he said, wagging his fingers in air quotes, rolling his eyes, and smiling.
We ended up visiting the beach several days that summer. It was the only time we saw the man in the uniform, and we were never forced to put on our swimsuits again. But the event reminded me of how nudity and cruising are all components of our fight for freedom that others want to actively suppress. Liberty and freedom, it seems, are not solely achieved by waving signs at protest, but also by waving your dick in the sun – even in the face of authority. Our idea of not having another gay cruising holiday faded in light of our discovery of this beach – and I was once again happy to have found refuge among other men just like me. Those who refuse to wear a Speedo, even if they're told to do so.
John's Sicily Gay Cruising Story
The final note from John about his Sicily Gay Cruising Story: This story is based on real events that took place in Sicily. Some names and events were changed in order to protect the privacy of those involved.
Disclaimer: The contents of this website were written with due diligence and to the author's best knowledge. Please be always aware of the local laws and behavioral guidelines regarding cruising in public and public sexual encounters, even on the beach, in the forest, or wherever it might happen. Our cruising guides and cruising stories are not intended to support unlawful behavior but aim to add an adventurous note to your trip.
Do you want to know more about our gay travels around the world? Stay tuned on Facebook, Twitter, YouTube, Pinterest, and Instagram.
See you again in Amsterdam, the Netherlands, in Italy, in Sicily, or somewhere around the world! Karl & Daan & John.