The Gay Travel Bloggers Karl & Daan from Couple of Men
We are Karl and Daan, a German-Dutch gay travel blogger couple happily based in the beautiful capital of the Netherlands, Amsterdam. Our blog is about the Life of two (gay) Men loving and traveling the world together.
About Couple of Men Gay Travel Blog: We are eager to explore the world around us, starting from our favorite neighborhood restaurant to undiscovered hikes through the mountains on one of our trips across the globe. Famous metropoles, distant natural wonders, theme parks, gay sports events, and local far-away friends are great reasons to travel. Together, we have visited more than 50 countries on over 5 continents. Our last big trips brought us to Japan, Iceland, Peru, Colombia, Sweden, and the United States of America where we discovered natural wonders…
On our summer trip from Sweden to Germany to Austria, we received a completely unexpected message: "Congratulations on winning the first Best in Travel LGBTIQ+ Storyteller Award from Lonely Planet!" This award is usually given to places and organizers that deserve special attention for the upcoming travel year. We were speechless that we should now be one of them!
… cultural highlights, and traditional cuisine. We as openly gay travelers are proud of who we are. We like to focus on gay rights, equality, and judgmental free minds. Furthermore, we think it is important to support the gay community worldwide. Our profession is to collect authentic and gay-friendly proofed travel info which we then love to share through written, visual, and social media content. We are the gay couple travel bloggers Karl and Daan, and we invite you to find out how to travel the world as we do: open-minded, respectful, and with a happy heart.
Gay-Friendly Hotels | Gay Travel Guides 2020 | Gay Pride Trips | All about Amsterdam | Gay Couple Travels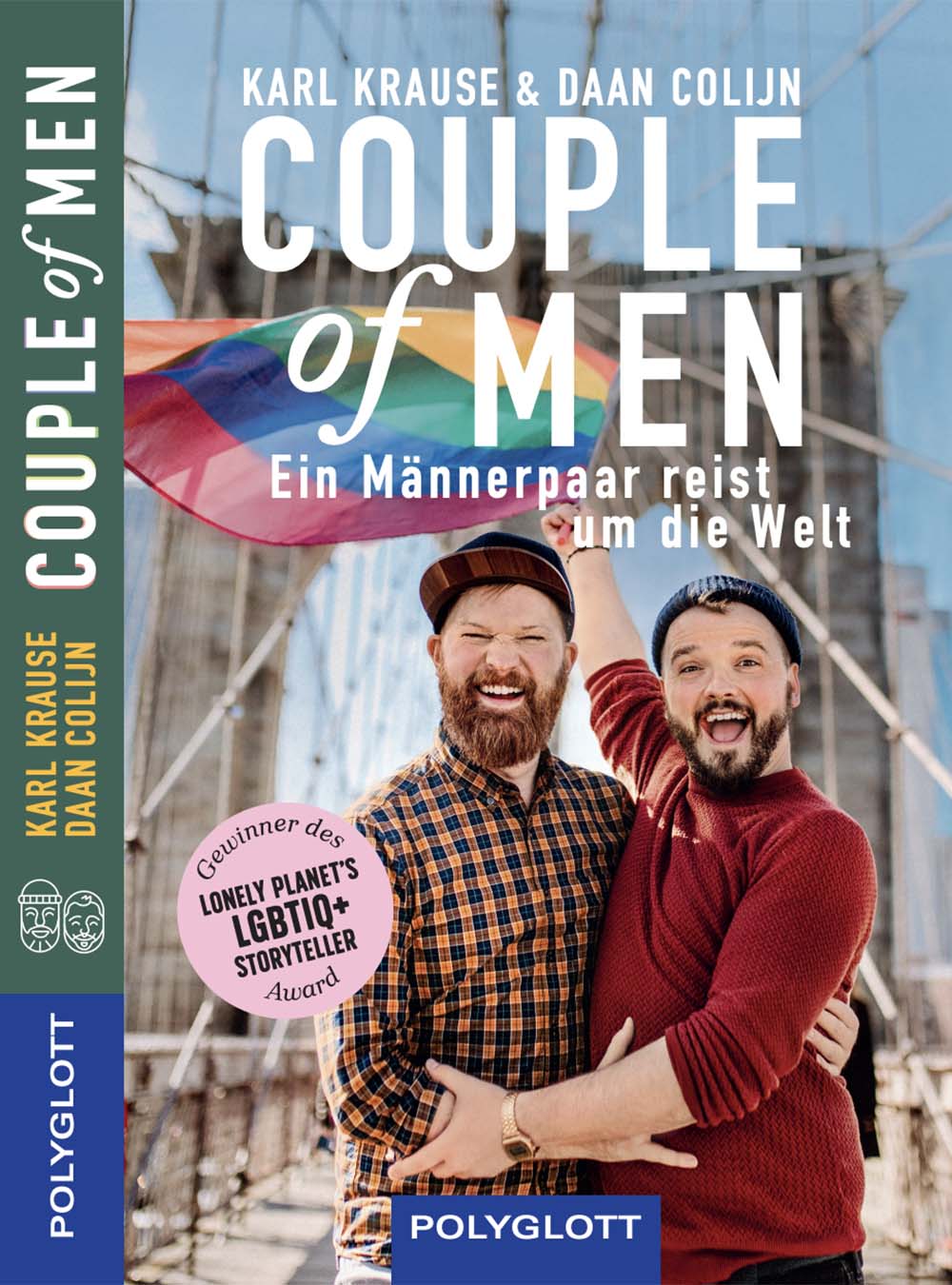 Advertisement
The perfect present to inspire (German-speaking) LGBTQ+ travelers and their allies to travel the world open-minded, respectfully, and with a happy heart.
Order our book online or purchase it in bookstores in Germany, Austria, and Switzerland.
Karl – 39 | German | he/him/his
The first guy behind the blog is Karl. He was born and raised close to the German city Dresden in the Eastern part of the country. After finishing his Abitur in 2002, he studied medicine in Dresden, before he switched to Art History and German language at the Technical University Dresden and later on Technical University in Berlin.
His first big trip with a backpack brought him to Asia in 2006 where he got infected by the "travel fever". Nevertheless, matters of LGBTQ+ life were and became one of his biggest concerns. As a member of the gay community Gerede e.V. Dresden, he was not only a supporter but also an organizer of the Pride Parade Dresden. He also participated in an educational program teaching pupils at school about the variety of (LGBTQ+) life. Being a gay travel blogger is part of his ambition to create a better, more peaceful world for everyone, disregarding gender, sexual orientation, and identity.
Karl is currently working as a freelance writer, copywriter, blogger, columnist, and social media manager, as well as a blogger for several (gay) travel websites. As a content creative and social media manager, he is also part of Mango Kollektiv, a network of professionals aiming to bridge the cultural gap for businesses targeting international markets.
Karl on LinkedIn Karl on Xing Karl on Facebook
Daan – 37 | Dutch | he/him/his
The second guy behind the blog is Daan. He was born and raised in and around Amsterdam where we are having our home base together with our tomcat. After finishing high school Daan studied commercial presentation and communication where he, after two years, decided to follow his dream of auditioning for the Amsterdam Theatre School. During his studies, he found the most satisfaction in creating and directing theater instead of acting 'only'. Over the years, he produced and built several immersive theater installations at Dutch festivals like Oerol, Over Het IJ Festival, and De Parade.
As a director and concept developer in theater, he has always been interested in the leisure entertainment industry. One of the most important elements in his profession is storytelling and the way you visually communicate this in an interesting way. By telling elaborate stories and using different kinds of media at the same time, his love for travel, art, and his boyfriend Karl come after all perfectly together.
Daan is currently working as a freelance writer, social media manager, photographer, video maker, and on several projects that involve immersive experiences for audiences all around the globe.
Daan on LinkedIn Daan on Facebook Website DaanColijn.com
Work with
us!
We are genuinely interested in visiting new destinations all around the world. We love to write and take beautiful pictures of everything that we find significant to capture and share with our readers, with a focus on learning as much as possible about the local LGBTQ+ community. Not only that, but we take our credibility very seriously. That is why we continually try to create authentic content by using only our pictures and writing out of our experiences. We are also members of the IGLTA, the International LGBTQ+ Travel Association. Please contact us by email or on one of our Social Media platforms if you are interested in a couple of men exploring and showcasing what your destination has to offer.
Gay Travelers | Art & Architecture enthusiasts| Volleyball | LGBT rights activist| Photographers | Graphic – Designer | Theme Park addicts | Nature lovers
Join us on our gay travel blog, Instagram, Twitter, Facebook, and YouTube channel to see the world through a Couple of Men's eyes.