Known for its vibrant nightlife, welcoming LGBTQ+ community, and various queer venues and attractions, Wilton Manors in the suburbs of Fort Lauderdale is a must-visit destination for anyone looking for a fun and inclusive vacation in Florida. As avid gay couple travelers, we were excited to explore the "gay island" of Wilton Manors during our recent vacation in the USA. After visiting Orlando and Miami in the past, we were longingly expecting to spend a week in this colorful part of Florida we had heard so much of. As we arrived in Fort Lauderdale, we were ready to experience a week filled with pride, sun, fun, and excitement in the heart of the LGBTQ+ community in Florida – Wilton Manors.
– paid collaboration with Visit Greater Lauderdale –
Wilton Manors: Trailblazing for LGBTQ+ rights
Wilton Manors, a small city nestled within the greater Fort Lauderdale area, has a rich and vibrant LGBTQ+ history that has been celebrated for decades. Known as the "Second Gayest City" in the USA, Wilton Manors has become a hub for the LGBTQ+ community and a popular destination for tourists seeking a welcoming and inclusive environment. The city located just north of Fort Lauderdale has a long history of activism, dating back to the 1970s when the first gay pride march was held in nearby Fort Lauderdale. In the 1980s, Wilton Manors became one of the first cities in the country to pass a comprehensive anti-discrimination ordinance protecting LGBTQ+ individuals.
Today, Wilton Manors, so-called South Florida's LGBT+ capital, remains a thriving LGBTQ+ destination with a diverse and inclusive community that celebrates its history and works tirelessly to advance the cause of LGBTQ+ equality. The neighborhood is home to a wide range of LGBTQ+ businesses and organizations and numerous events and festivals throughout the year, including the famous Wilton Manors Stonewall Pride Parade. Let us show you some of our highlights of the "Island City" in Florida.
Advertisement
We found some great deals with flights worldwide and in Europe via Amsterdam (and return) with gay-friendly KLM Royal Dutch Airlines. That includes direct connections with KLM or their partner airlines, Air France and Delta Air Lines. *subject to availability / last check: 2023
Exploring Wilton Manors by Kayak
To explore the island city of Wilton Manors from another point of view – not from the car, but from the water – we rented two transparent kayaks with "Get on the Waves". And only a short time later, our adventurous, sporty tour with scenic views, mangroves, and gorgeous estates began right around the corner from Colohatchee Park and Dog Park. The weather couldn't have been better, with the sun, a fresh breeze, and a few friendly clouds here and there. Although it was manatee season, we didn't spot any here, only later in Key West. However, we saw numerous iguanas, colorful birds, and cute little ducklings. Additionally, we were entertained by the handsome, lightly clothed paddleboarding locals who passed by. Click on the following link to see our Kayaking Reel on Instagram!
Our first accommodation in Greater Fort Lauderdale was the Wilton Manors Gay Resort "Cabanas Resort and Spa" in Wilton Manors. This all-male and clothing-optional resort is a beautiful place to unwind, especially when your brain is still in another time zone, facing the challenges of adjusting to time differences.
Restaurant Tip 1: Rosie's Bar and Grill
Rainbow lanterns, pink plastic flamingos, and exceptionally friendly stuff – Rosie's was the right first place to start our food journey in Greater Fort Lauderdale. While sitting in the atmospheric outdoor area surrounded by bamboo, we filled our stomachs with delicious burgers and fries. Apropos fries: did you ever have fried pickles? Karl couldn't believe his eyes when he spotted a quintessential American delicacy on the menu. And, of course, he fell for it head over heels.
Travel planning with TripAdvisor: Rosie's Bar and Grill >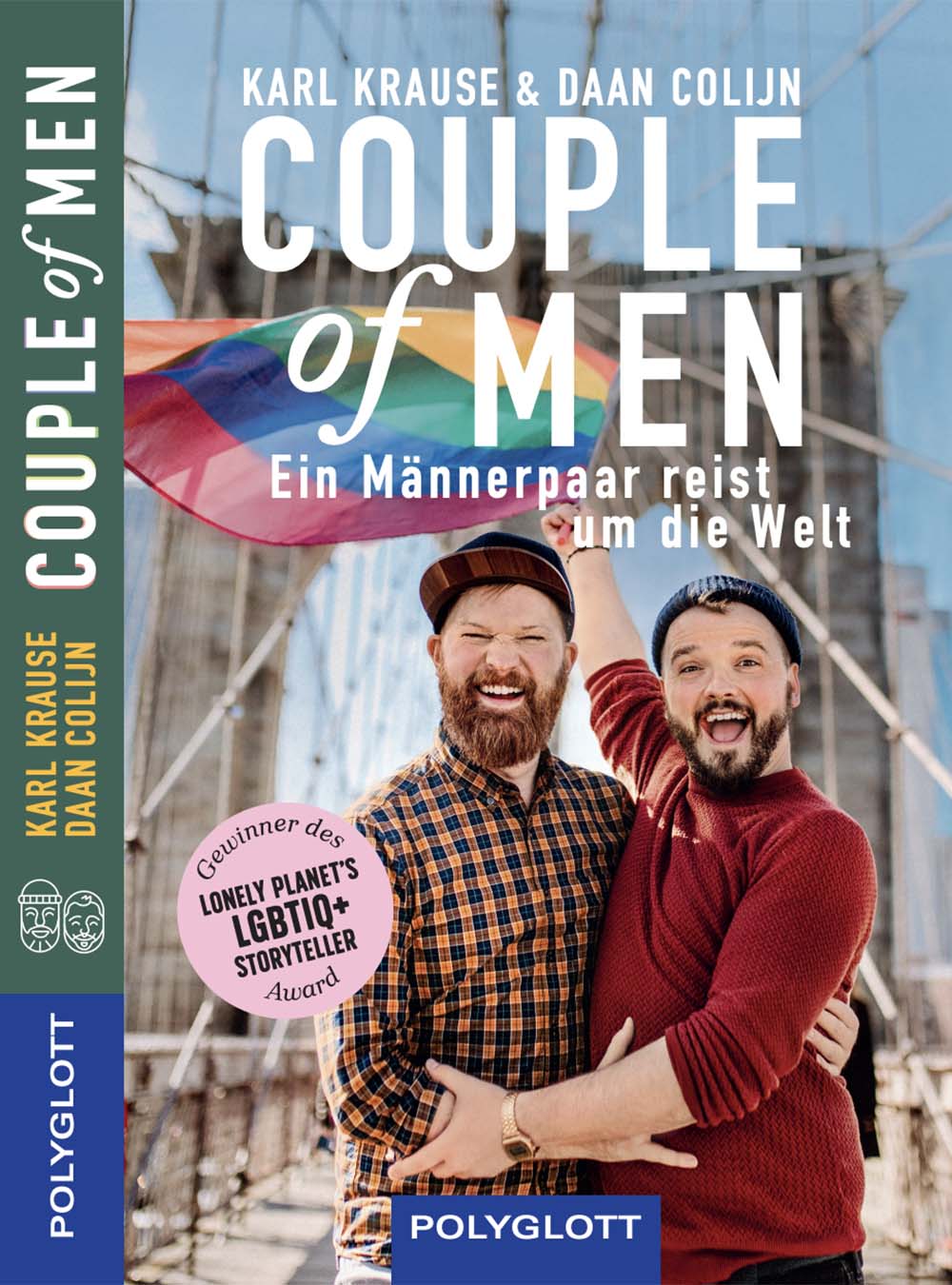 Advertisement
The perfect present to inspire (German-speaking) LGBTQ+ travelers and their allies to travel the world open-minded, respectfully, and with a happy heart.
Order our book online or purchase it in bookstores in Germany, Austria, and Switzerland.
World Aids Museum in Fort Lauderdale
For us, traveling means broadening our horizons, asking questions, learning new things, and sometimes adjusting our opinions. That is what happened during our trip to Wilton Manors, once again. Fort Lauderdale is home to the World Aids Museum and Educational Center (WAM for short) and the Stonewall Archive, library, and National Museum (SNMA for short). Here we got the chance to talk to two outstanding personalities: Terry Dyer from the WAM and Robert Kesten of the Stonewall Archives.
After the first Pride of the Americas was supposed to take place in Fort Lauderdale in 2020, which unfortunately had to be canceled, the first edition was finally organized in February 2023. And we had the opportunity to join hundreds of LGBTQ+ people from Fort Lauderdale, Florida, and worldwide to take to the streets for equality, freedom, and respect for queer people and drag queens. These are our favorite moments and best photos from Pride of the Americas 2023.
Stonewall Archives in Fort Lauderdale
And although we thought we had enough time planned for this part of our trip, we got lost in profound conversations about how the LGBTQ+ community gets challenged by current politics, especially in Florida. But also about how deeply rooted HIV stigmatization is even in today's society. Touched, shocked, and encouraged: Education is vital to understanding what's behind us, and learning from the past is mandatory to create a better future. Our future. Together.
Never forget where OUR COMMUNITY is coming from… 50+ years have passed since Stonewall, and for 40+ years, HIV has been part of our lives; 20+ years ago, two men got married for the first time in the Netherlands…
Travel planning with TripAdvisor: World Aids Museum >
Travel planning with TripAdvisor: Stonewall Archives >
Restaurant Tip 2: Bona Italian Restaurant
Together with our dear local friend Richard, we had a dinner reservation at the Bona Italian Restaurant on Wilton Drive – Wilton Manor's Best Italian & Pizza. While sharing funny stories of our past travels, we indulged ourselves in tasty pizzas, delicious pasta, and a good glass of red and white wine. We highly recommend this spot for a great meal and a lovely evening dining out. Ready for a night out in the gayborhood Wilton Manors?
Travel planning with TripAdvisor: Bona Italian Restaurant >
Shopping in Wilton Manors
The neighborhood boasts an array of shops and boutiques catering to the community's needs and interests, including LGBTQ+ clothing, accessories, and gifts. Some of the most popular LGBTQ+ shops in Wilton Manors include Out of the Closet, a thrift store that donates its profits to the AIDS Healthcare Foundation, Ball Beachwear, where Karl got his blue shorts, and True Blue Clothing (see photo). From vintage shops to specialty stores, there's something for everyone in Wilton Manors.
Restaurant Tip 3: La Mexicana Taco Bar
We highly recommend visiting La Mexicana Taco Bar if you're in the mood for some delicious Mexican food. This hidden gem is located south of Wilton Drive and serves freshly homemade mojitos and burritos. The location is super cute, with seating areas both inside and outside. The passionate live band did not make it easy for us to chat with each other. But that didn't dampen our mood to fully enjoy the delicious Mexican food with a breeze of US cuisine.
Travel planning with TripAdvisor: La Mexicana Taco Bar >
Wilton Drive – The Central Artery of Wilton Manors
We spent the nights meeting the local queer community after dinner in one of the numerous LGBTQ+ establishments of Wilton Manors. Did you know that Wilton Manors and Greater Fort Lauderdale are home to more than 24 gay bars? We know! That is unbelievably remarkable. But let us tell you, the ones we have been to for a beer or two, have been crowded with handsome, chatty, and friendly locals from the queer bear, otter, and cub community – local and visiting. Wilton Drive is thereby considered the center of the gay neighborhood, the central artery of Gay Wilton Manors' queer nightlife. Our favorite establishments were The Eagle Wilton Manors and Hunters Nightclub Wilton Manors and, of course, Georgie's Alibi Monkey Bar.
Gay Bars & Clubs
If you'd like to learn more about LGBTQ+ venues in Greater Fort Lauderdale, visit the Gay Fort Lauderdale Guide on our blog. You'll also find a list of gay bars and queer locations in Wilton Manors.
Coming soon…
We want to thank Visit Lauderdale, KLM Royal Dutch Airlines, and the Cabanas Guesthouse & Spa for the invitation, support, and opportunity to experience Fort Lauderdale in an accessible and authentic way.
Would you like to learn more about us gay travel bloggers and experience our queer adventures together with us? Then stay tuned and follow us on Facebook, Twitter, YouTube, Pinterest, and Instagram! See you in Florida, Wilton Manors, or on one of our next Gay Pride trips worldwide!
Karl & Daan.