Gay-owned Karnelund Krog & Rum – our gay couple hotel and restaurant review. Close your eyes and imagine yourself on a Swedish farm with apple trees full of juice apples surrounded by a wide golden cornfield. That is how we can describe the Skåne/ Scania landscape and that's where we spent our last night. But not just somewhere. We stayed in a gay couple-owned and operated farm hotel with southern Swedish charm and a welcoming atmosphere. Enjoy our story of the gay-owned Karnelund Krog & Rum in Southern Sweden with photos and tips, and we are convinced that we can inspire you to stay or plan a dinner at the gay-friendly hotel and restaurant with Couple of Men.
– in paid collaboration with Tourism Skåne –
Gay Couple owned Karnelund Krog & Rum
Gay couple Janne and Peter converted the historic cottage and buildings into a quaint hotel and restaurant. The Karnelung tavern and its rooms (Krog & Rum) are located in the old farm village Gislöv on Österlen not far from the Swedish Stonehenge Ales Stenar and the white beaches of Sandhammarens. This LGBTQ+ getaway in southern Sweden offers small-town cuteness, excellent food, and charmingly decorated individual rooms. The name Krug & Rum is the designation for an Inn with Rooms. But this definition does not satisfy the gay-friendly accommodation in southern Sweden at all. Embedded in sheer endless cornfields, we arrived at the old farmer's village in the late afternoon after a day at the Sandhammaren beach.
But before we would enjoy the dinner known for its quality and test beyond Gislöv in Österlen, it was time to check in at our superior room (name), get a quick refresh, and say hello to our hosts. The gay couple Janne and Peter are managing and owning this little gem already for a couple of years. And it really feels like the perfect LGBTQ+ friendly getaway decorated with beautiful flowers and little items representing their love for Sweden. Peter is the chef of the Krog & Rum and knows about the best spots to get local ingredients to create the delicious (organic) meals we would enjoy later. Janne is the smiling face of the place. He was personally welcoming everyone who is arriving for dinner and also made our time at the Inn worthwhile.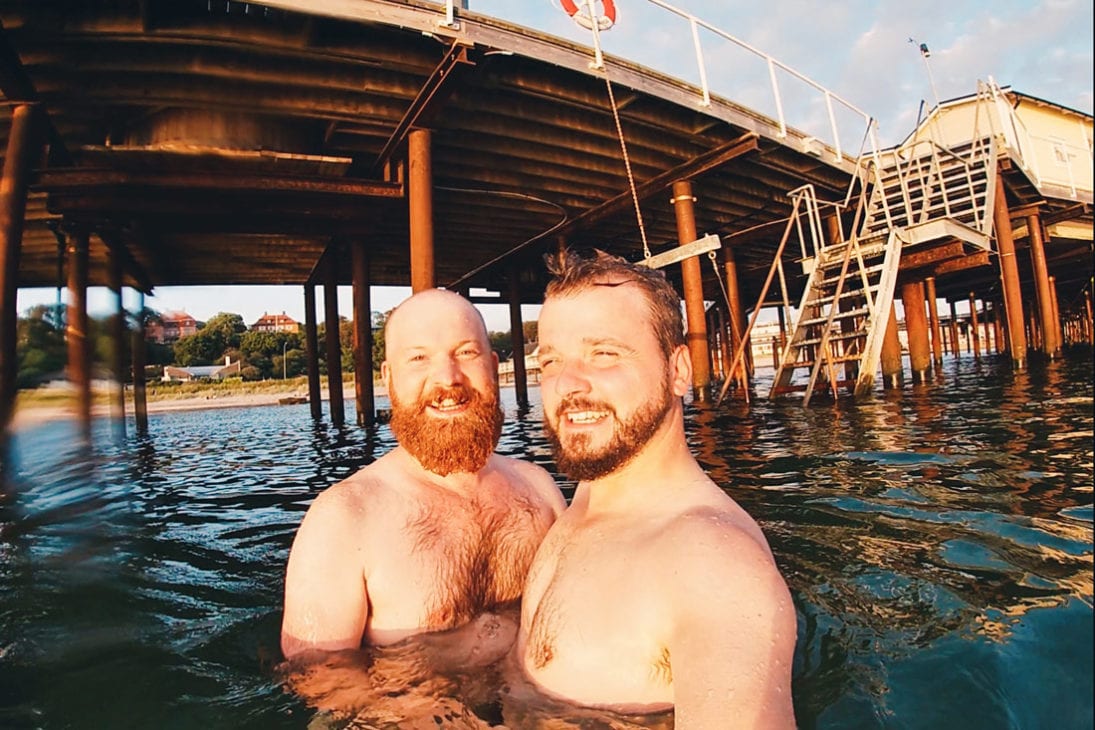 From Malmö into Swedish nature! We started our gay summer adventure in Skåne in Kullaberg, making our way south and visiting Helsingborg, Ystad, and Kivik. Our last day we spent at the clothing-optional gay beach Sandhammaren. Read our full journal and get inspired to plan your Swedish Summer Adventure.
Review of Karnelund's farm hotel in Gislöv on Österlen
We couldn't ask for more of our superior room, the (name) apartment. The two-story room with its modern furniture keeps the charm of the building, conserving the history of this old farmer's village. Wooden floors, metal stairways, cotton pillows, and a small veranda overgrown by wine plants just gave us the vacation feeling with the extra Swedish design touch.
The rain shower after a day in the sand at the Sandhammaren beach was just the cherry on top. While the bed is on the first floor, a sitting corner with books and a skylight with the sense of the timber created an inviting first floor. Although you don't hear anything from the neighboring apartments, it is easy to get in touch with your fellow guest due to the wooden chairs on the continuous veranda around the building.
After a wonderful time in Malmö, we boarded our rental car for a 5-days road trip along the South Swedish coast to Mölle, Helsingborg, and Kivik. Stunning Swedish nature, unforgettable sunsets over the Baltic Sea, and some remarkable unique gay couple stories. Did we mention the clothing-optional gay beach?
Breakfast & Dinner at Karnelund Krog & Rum
The plan for our last night in Sweden was clear: Sunset watching on the stones of Ales Stenar. But after a day at the beach, we were starving. It was time to try their infamous culinary skills from Peter finally. We started with local Kambodcha, alcohol-free local beer, freshly baked bread, and tomato butter.
Meanwhile, the kitchen prepared a delicious vegetarian meal for Daan and some freshly caught fish with local potatoes for Karl. The dinner at Karnelund Krog & Rum was precisely what we needed to finish an exciting but relaxing last day in Sweden. Leave some space in your stomach for one of their delicious desserts. Yummy.
The next morning, we filled our stomachs with a rich breakfast, including freshly baked local pastries, organic cold cuts, vegetables and fruits, and excellent coffee! All we needed for our way back home! But before we started our journey, we spent some time in the beautiful garden of Karnelund Krog & Rum where the guys harvest some fresh ingredients for the kitchen.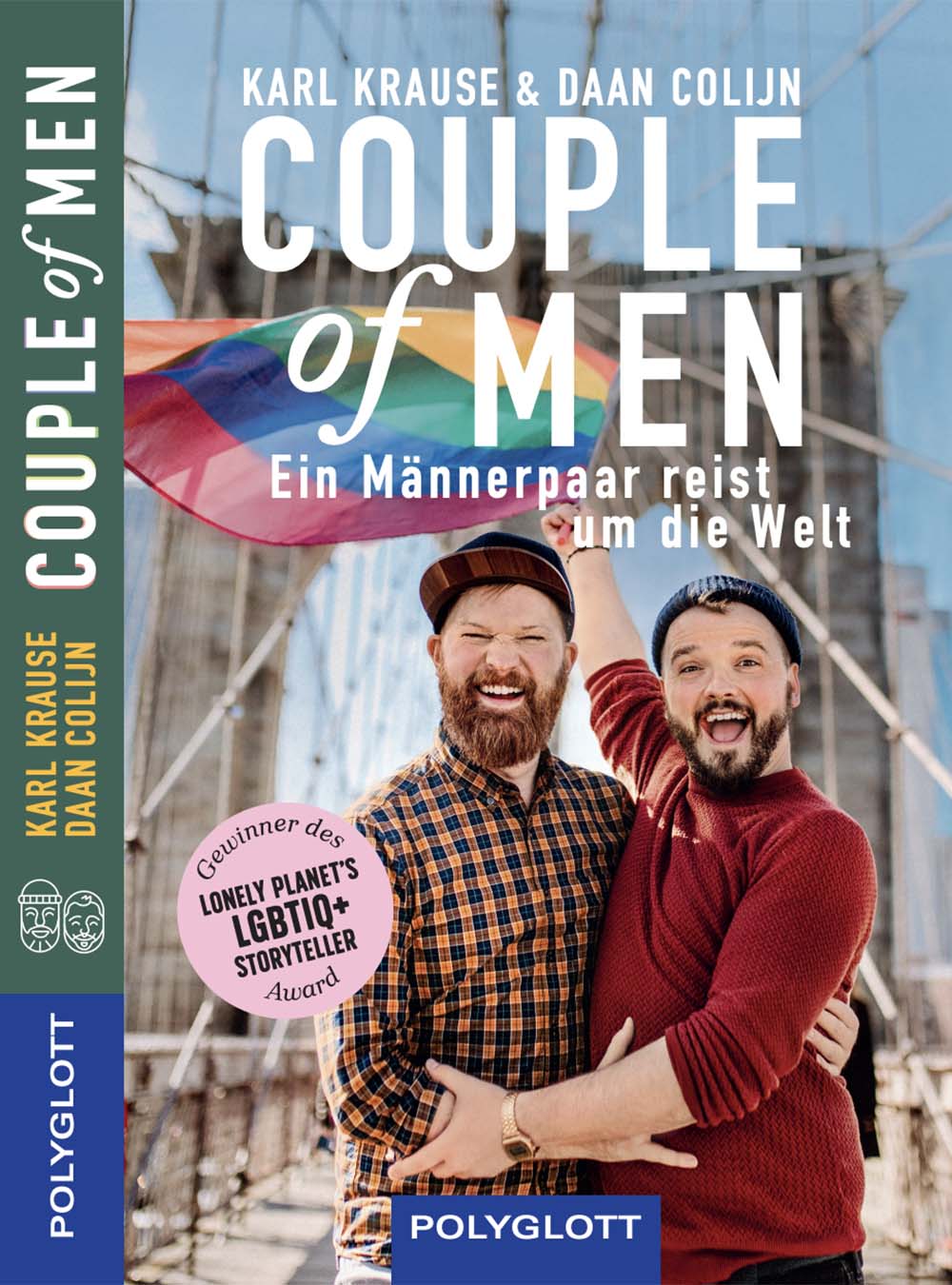 Advertisement
The perfect present to inspire (German-speaking) LGBTQ+ travelers and their allies to travel the world open-minded, respectfully, and with a happy heart.
Order our book online or purchase it in bookstores in Germany, Austria, and Switzerland.
Last night to remember at Ales Stenar
But back to our last evening! After dinner, we jumped in our rental car and made our way south to the coast to the small fisher village Kåseberga. Bring some beers, a light jacket, and your camera. Why? The sunsets here at Ales Stenar are spectacular. The so-called Swedish Stonehenge is located on a 20 m high cliff and is one of the most romantic viewpoints we've ever visited. The small village has some restaurants and snack bars as an alternative dinner option. Bye, bye, Scania and Southern Sweden. It has been a pleasure. Read more about our Swedish Gay Summer Adventure here >
Please note: This trip was made possible in close collaboration with Tourism Malmö and Tourism Skåne. A special thanks for tips and support goes to our wonderful readers, followers, and new and old friends from all over the world. Nevertheless, our photos, our videos, our opinions, and our writings are our own, as always.
All our Articles about Southern Sweden