Our Gay Summer Adventure in Skåne – Road Trip to South Sweden. The Scandinavian country Sweden is a dream destination for us. Why? Well, it offers everything we need for a perfect vacation from beautiful nature, stunning views to a broad variety of organic and locally sourced cuisine. We got super excited about the offer to join forces with the National Tourism Board of Skåne, also known as Scania, to show you the gay-friendly side of Southern Sweden. And by writing that, we are most definitely not exaggerating. So, and now, let us show you the highlights of our Gay Summer Road Trip Skåne – Scania in Gay-friendly South Sweden through a Couple of Men's eyes.
– in paid collaboration @malmotown/Malmö Tourism –
Tips for a Gay Summer Road Trip in Skåne
We were able to meet two Swedish gay couples and a Swedish gay man who settled down in Scania running their own businesses successfully. Additionally, we never faced homophobic behavior, even though we continuously showed our affection by holding hands and kissing in public. Keep in mind, that the Swedish people keep their distance from new and foreign people (we would call it coolness). That sometimes can be a little bit challenging. Nevertheless, we had a wonderful summertime together with a serious gaycation feeling not only in Malmö but beyond.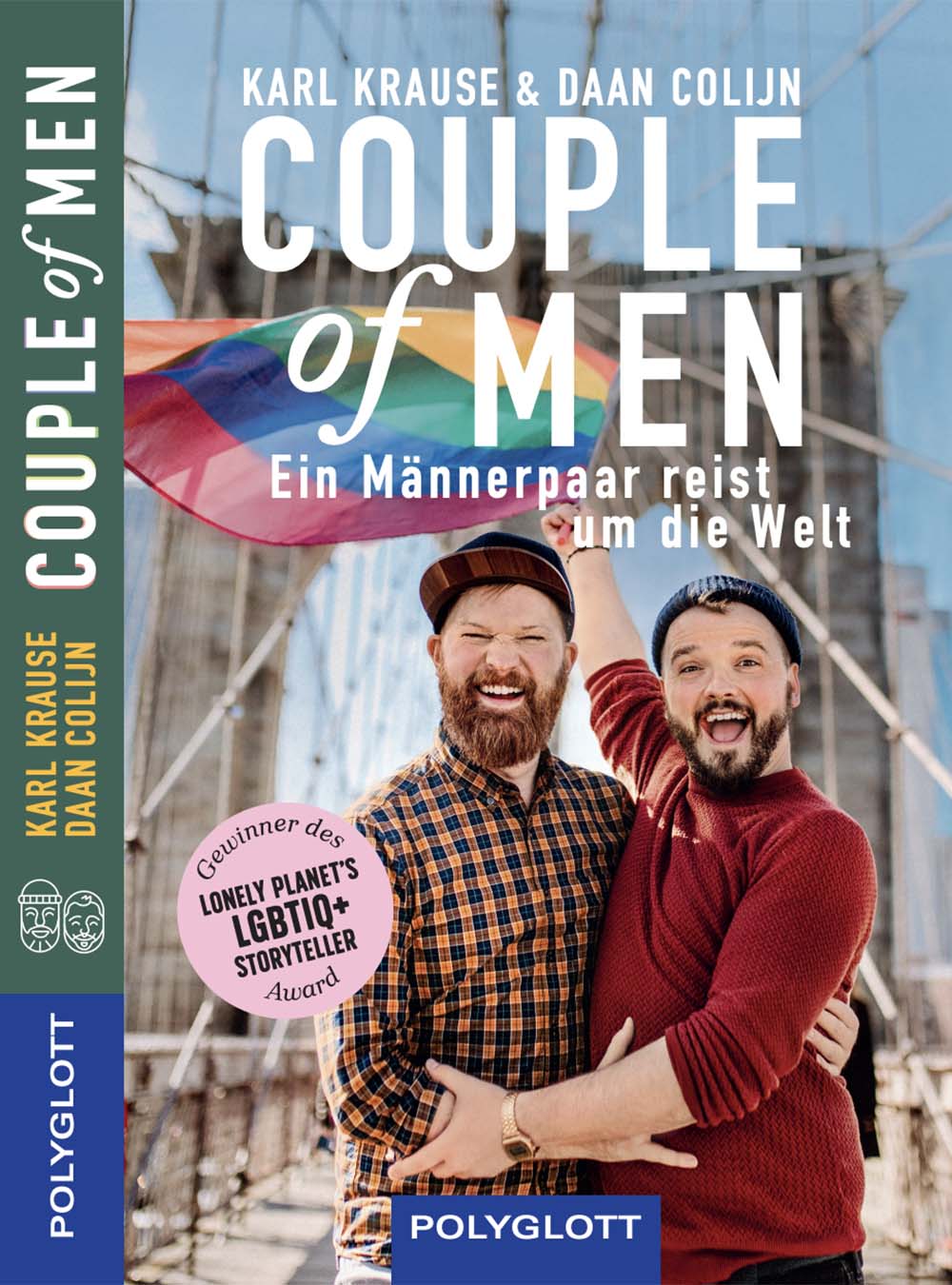 Advertisement
The perfect present to inspire (German-speaking) LGBTQ+ travelers and their allies to travel the world open-minded, respectfully, and with a happy heart.
Order our book online or purchase it in bookstores in Germany, Austria, and Switzerland.
From Malmö to the Granary of Sweden
Our gay summer adventure in Scania started with a 4-days Gay City Trip to Malmö. We attended Malmö Pride and were able to explore the bike-friendly South Swedish city. But this was just the beginning. We had planned a full 5-days itinerary for South Sweden beginning with the so-called granary of Sweden. By the way, the English translation of the South Swedish county Skåne is Scania. Therefore, we will use both words in this article.
So, the first stop of our gay-friendly summer road trip around Skåne was Mölle, the sleepy little fisher village in the northwestern part of Scania. Even the windy rainy weather had its charm, creating this special rough but exciting atmosphere. Especially for us, outdoor enthusiasts, it also meant to be the perfect condition for long hikes to and around Kullaberg. But first things first. We started with a visit to the picturesque little harbor of Mölle with its great view of Kullaberg's Nature Reserve and our hotel, the Grand Hotel Mölle.
The third-biggest city in Sweden has a charming, Scandinavian, and rather relaxing atmosphere. We arrived at Malmö Central Station with the train coming from Copenhagen Airport. Historical houses in Scania style, lighthouses, and many bikers on bikeways, that is how you could describe our first days in Malmö.
Hiking around the Fisher Village Mölle & Kullaberg
But before we could even start our hike, it started to rain cats and dogs. Well, nothing could dampen our mood anyway. We just had to reschedule our hike at Kullaberg Nature Reserve for the next morning. After a good night's sleep and a rich breakfast, we arrived at the lighthouse Kullen after a short drive. The view of the Kattegat shoreline was spectacular. Obviously, we couldn't resist just sit down and soaking in this special moment. Especially, since we still had some time before our lunch appointment. Hence, we decided to hike along the coast in a southeastern direction over wide green grass fields and through herds of sheep, always accompanied by uncountable seagulls. The grass weighed in the wind while we walked together along the stormy sea.
Hiking through the rough nature of Scania and the fresh air of the coast made us hungry. It was time for our first gay couple story and some amazingly delicious lunch. We meet Andy and Matti, the gay couple running a café right where the 'Swedish Sin of Molle' was born.
City of Helsingborg – Swedish & Danish History
After the first rainy day, the weather was changing and summer arrived in Sweden. It was time for us to leave the beautiful Kullaberg behind and to start our trip south. Next stop on our road trip in Skåne: Helsingborg, the second-biggest city of Scania, which is also Sweden's closest point to Denmark. Actually, we could see the Danish city Helsingør clearly from Helsingborg. We checked in at The Vault hotel, right on the main street, with some spectacular views of some of Helsingborg's main sights.
Things to do in Helsingborg: Swedish Sauna
That includes the Terrace Stairs leading to Kärnan and the Helsingborg City Hall. On our list for the rest of the day: A visit to the Swedish bathhouse and naked sauna Pålsjöbaden for sunset. For us, there was no better way to end this day than to spend some hours in the sauna. The view out of the wooden saunas over the Öresund to Denmark was breathtaking. After that, we had to jump naked into the sea before warming up again in the warm summer sun. So, make sure to check the opening hours and to bring your slippers and a locker!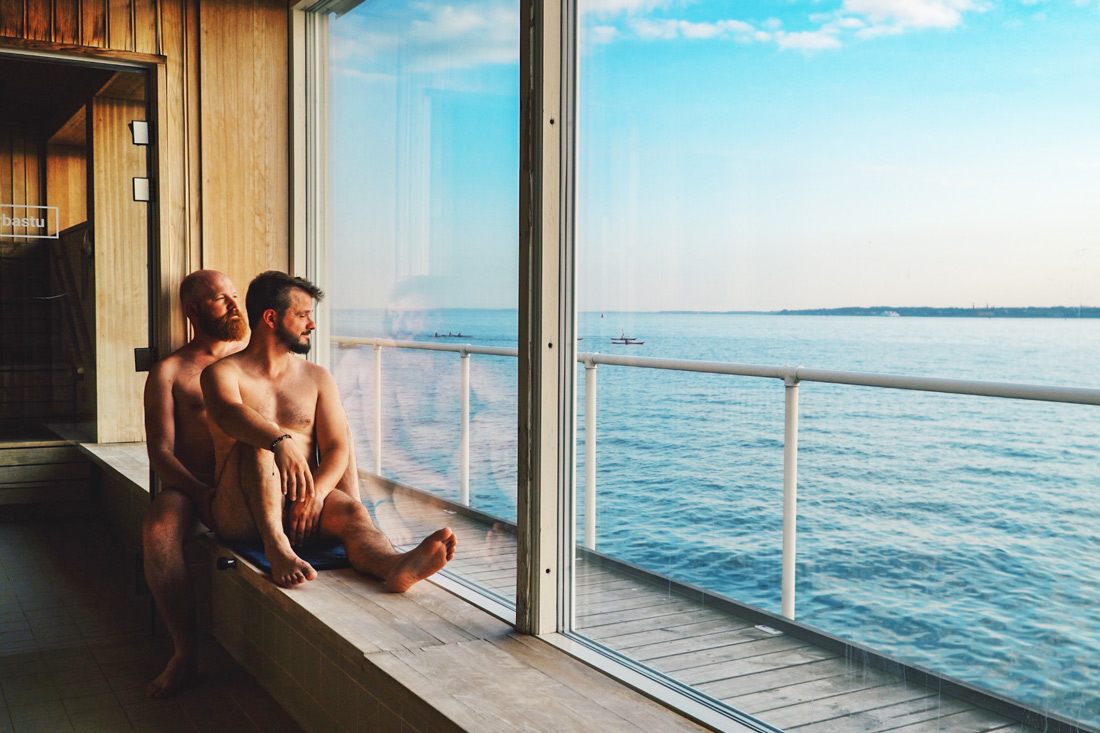 We spent the night in Helsingborg, one of the most stylish and detailed designed Hotels we've been to in a long time. The historic elevator, the extensive breakfast buffet, and the view of the main street were just a few highlights worth mentioning. We slept heavenly through the mild summer night, especially after the stunning sunset.
South Coast of Skåne – From Helsingborg to Ystad
The morning in Helsingborg was reserved for some sightseeing and shopping. We walked together around the city center and up the terrace stairs. The view of the rooftops of Helsingborg's historical buildings was impressive. Make sure to take some extra time to walk through the narrow alleys to discover the hidden beauty of Sweden's and Denmark's history. And maybe, who knows, you will find a hidden shopping gem as we did. The vintage store Sweet And Tender, decorated with lots of original Star Wars toys and gadgets, had some fascinating pieces in storage. So, definitely a Special tip for Star Wars Fans! After that, it was time to hit the road and begin our road trip around south Sweden – Skåne along the shoreline of the South Swedish coast with its many beautiful photo hot spots.
Arriving in Kivik at the East Coast of Scania
One of our favorites was the Lavendar field of Österlenkryddor. You simply must try their award-winning Lavender ice cream. Delicious! Another stop we would recommend is the charming town Ystad with its typical Swedish houses surrounded by colorful Hollyhocks. Our final destination of the day was the gay-friendly Kiviks Hotell in the picturesque fisher village Kivik. After we arrived at the east coast, we checked in the penthouse room with a unique view of the harbor and the sea. Before we went for dinner at Buhres på Kivik restaurant, we visited the Cake Cowboy who had a touching story to tell. Good to know: The region of Kivik is renowned for its apple plantations. And of course, we tried Kivik cider paired with freshly prepared fish and a vegetarian burger. While the sun went down, we witnessed the most stunning play of colors in the sky and the sea. Wow!
The only gay in the village? Not quite, but definitely the most famous one! We couldn't resist and meet the Cake Cowboy from Kivik in his Chocolate Saloon & Grocery. And he had an interesting and touching story to tell about how gay-friendly Sweden, Scania, and Kivik really are. It all began with a rainbow flag.
Kivik with its picturesque colorful houses
The night was mild, and we slept with open windows. While the wind played with the see-through curtains, the sun tried to get us out of bed far too early, of course. But today was finally the beach day! After we packed and got dressed quickly, we enjoyed a lovely breakfast in the huge green garden of the hotel. But before we hit the road, we wanted to see the colorful houses and narrow alleys the fisher village of Kivik in Österlen is known for. The weather was wonderful with a deep blue sky and flights of swallows whirring through the air. Right at this moment, we couldn't have imagined a more picturesque Swedish village.
Sweden's most beautiful Gay Beach – How to get there?
Despite all the beauty, we wanted to go swimming at what is considered to be the most beautiful beach in Sweden. If you are not into skinny dipping, don't worry. You can keep your swimwear on. Some parts of the beach, a little further away from the crowd, are clothing-optional anyway and known to be south Sweden's gay beach. But first things first: How to get to the beach during your road trip around Skåne? Drive south on the Östra Kustvägen, the south coast road until you arrive in the small village of Backåkra. Coming from the east, take a left turn on Bjeringsborgsvägen road. This narrow street leads all the way down to the Sandhammaren beach.
The last accommodation of our Sweden trip was not only gay-friendly but also gay couple-owned. The Inn was located in an old farmer's village surrounded by sheer endless cornfields. The exquisite cuisine for dinner and breakfast, as well as our stylish apartment, made it a worthy last Swedish night in Scania.
Beach Day in the Dunes of Sandhammaren
The best time to arrive at the beach and to be able to secure a parking spot is early in the morning (before everyone arrives), around noon (when some spots become available due to lunch), and in the afternoon. Important note: Please bring water, snacks, and sun protection. There are no trees or anything like it on the beach. If you are looking for a gay and clothing-optional beach, go down to the water and take a left turn. Now you have to walk for about 15-20 minutes until you will arrive in a less crowded area with beautiful dunes. We spend there several hours sunbathing, swimming, and simply enjoying ourselves with a cooling sea breeze. What a wonderful last day in Scania.
Magical Sunset at Ale's Stones (Swedish: Ales Stenar)
We have saved the best sunset spot for the last evening! The stone ship Ales Stenar (English: Ale's Stones), is located 10 km south of Ystad. The megalithic monument is also known as the Swedish Stonehenge referring to the much bigger and better-known monument in England. To get there, we had to drive first to the fisher village Kåseberga. It can be quite busy on a clear evening. Make sure to be early, especially in high season. However, it is a 10-15 minutes hike from the parking lot to the Ales Stenar founded approximately 1,400 years ago in the Nordic Iron Age. The view from the 20 m high cliff over the coast and sea was stunning, almost indescribably beautiful. The sky turned into a colorful play of yellow, orange, and red while the sun goes down over South Sweden. We hope to be back soon!
It's your turn for a Gay Summer Road Trip in Skåne – South Sweden
If you don't want to wait until World Pride 2021 in Copenhagen and Malmö, start planning your gay adventure to South Sweden now. Scania isn't only in summer a wonderful destination. But it certainly offers much longer days and more outdoor opportunities. We hope you enjoyed our journal about Skåne in South Sweden. The highlights for us have been definitely to meet fellow gay couple business owners, basically everything about Swedish nature and the delicious food. Meanwhile, we are curious about your highlights! Leave a comment and share your experience!
Do you wanna know and see more of us gay couple travel bloggers? Stay tuned on Instagram, Twitter, YouTube, and Facebook! See you around in Sweden and on one of our next gay pride trips around the world!
Karl & Daan.
Please note: This trip was made possible in close collaboration with Tourism Malmö and Tourism Skåne. A special thanks for tips and support goes to our wonderful readers, followers, new and old friends from all over the world. Nevertheless, our photos, our videos, our opinions, and our writings are our own, as always.
Gay Road Trip Skåne Blog Articles