Gay Miami Travel Guide: Welcome to Florida! And let's get something perfectly clear right at the beginning: We are gay, we are queer, we are LGBTQ+ and talking about it, writing about it and educating about it is what we do on our blog and social media – without any exception. And so, we did in Miami, a destination in the USA that has been on our bucket list for a very long time already, not only because we are Golden Girls fans! You cannot imagine how pleasantly surprised we were that the metropolis on the east coast of the state of Florida was so LGBTQ+ and gay-friendly to us. Naturally, we had the best weather with temperatures just above 30 degrees Celsius, bright blue skies and crystal clear water along with wide sandy beaches. But that wasn't all we have to share about the queer-friendly US-American travel destination. In our Gay Miami Travel Guide, we've compiled the most important things for your trip planning. What we did, our personal highlights and happy moments during our summer vacation, you can read soon on our Miami travel report.
– in paid collaboration with Visit Miami –
When we are talking about our gaycation in Miami, we, of course, are also talking about Miami Beach. That is where our hotel was, where the beaches are and where the LGBTQ+ community spends a night out (if not in Fort Lauderdale), or two. But Miami with its "magic" skyline, and its huge city spread along and around Biscayne Bay has so much more to offer with world-famous museums, the Everglades at the doorstep, and huge queer festivals and events all year around. After spending some days in Orlando visiting the theme parks of Disney World and the Universal Studios, we rented a Mazda convertible and made our way south. Get ready for Miami in the Sunshine State, Florida!
🇺🇸
#visitmiamilgbtq #gayFlorida #FoundInMiami #gayUSA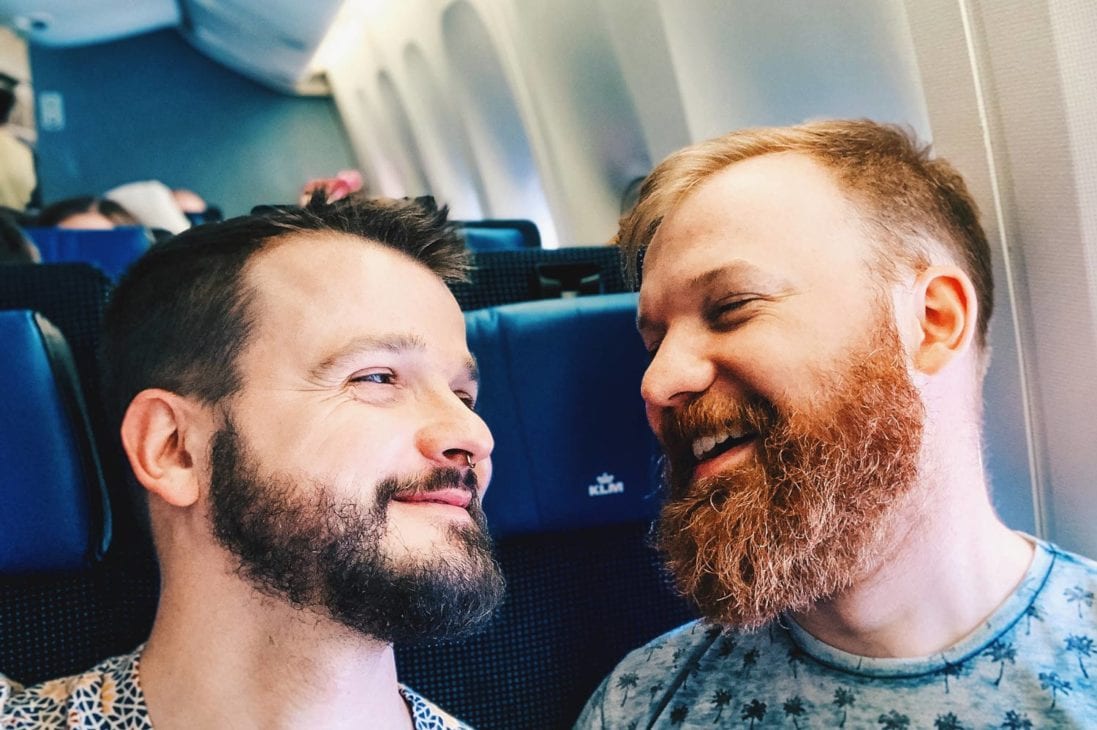 We found some great flight options, flying from Europe to the States with KLM via Amsterdam, with just one additional change, for example in New York, Atlanta, or Orlando. Alternatively, plan a road trip along the East Coast.
City Trip to Miami & Miami Beach – When to go?
In general, the climate in Miami with its hot, humid summers and dry, mild winters is described as a tropical monsoon climate. Just when summer really gets going in Central Europe, the rainy season begins in Miami, which also coincides with the Atlantic hurricane season between the beginning of June until October. But even in winter, which is less hot but drier, temperatures hardly drop below 20 degrees Celsius. We spent a few pleasant, warm late summer days in Miami in late September and early October. In the process, we relaxed for a few days from early to late on the nude beach and dressed in shorts and muscle shirts, biking and hiking along the South Beach of Miami Beach.
All Blog Articles about Miami
How LGBTQ+ and gay-friendly is Miami & Miami Beach?
Miami itself can be described as a very, very LGBTQ+ and gay-friendly city in the USA. We did not feel uneasy or uncomfortable at any moment, but spent our vacation time mostly in public areas, queer hotspots and downtown Miami and Miami Beach. In the past, however, Miami was one of the most dangerous cities in the U.S. with high drug crime and gang violence. However, police presence and social programs since the 1980s and 1990s have made Miami a much safer place for LGBTQ+ travelers, especially in the downtown and tourist areas.
This includes the city's efforts to make Miami an LGBTQ+ friendly destination. Today, many gay, lesbian, transgender and queer people feel at home. Numerous clubs, bars and community establishments offer so-called Safe Spaces, or safe places for queer people. Every year, Miami Beach Pride and other LGBTQ+ events like the Orgullo Festival also take place. Miami Pride is considered to be one of the most colorful Pride events in Florida and on the East Coast. Of course, at this point, we must also mention the latest negative changes in Florida politics. Due to what is known as the "Don't Say Gay" law, teachers in Florida are not allowed to talk about sexual orientation or gender identity in elementary schools. We hope that this political polarization will once again disappear from the classroom and that the lawsuits filed by critics and LGBTQ+ activists will be successful.
Spartacus Gay Travel Guide: Rank 31 for the USA (in 2021)
Wikipedia Gay Floriday: LGBT rights in Florida
LGBTQ+ Miami: Events & Festivals
Gay-friendly Hotels in Miami (Beach)
We had the pleasure of staying at the gay community's hippest hotel on our Miami trip: Hotel Gaythering – "Where Gay Men Stay & Play in Miami Beach". As the hotel's slogan suggests, the small but charming hotel has stylish and iconically queer decorated rooms, as well as a bar and even a gay sauna with steam room, whirlpool and dry sauna. LGBTQ+ events take place throughout the week, such as drag bingo and karaoke. For the second part of our trip, we tested the small but fine boutique hotel Croydon further north. This queer-friendly hotel also has the beach in sight, whether from the roof terrace or from the rooms. But there are other gay-friendly hotels in Miami that are worth staying at. One of them is the Axel Miami Beach, just one street away from the sandy beach.
Gay-friendly Activities in & around Miami
But even during a sunny beach vacation in Miami, there are cloudy days that are perfect for getting some city air and nature. On those days, we mix some culture into our itinerary with a visit to the Pérez Art Museum PAMM for modern and contemporary art by international artists and an afternoon in the exceptionally artfully designed gardens of Villa Vizcaya. For us adventurers, an excursion on a swamp boat into the Everglades is, of course, one of the absolute highlights of our sun vacation in Florida. Time always flies when it is particularly beautiful. Of course, there is much more to experience in Miami, such as a trip to the islands off the shore of Miami, which are connected by massive bridges. Or a trip to the photogenic, ever-changing graffiti landscape of the Wynwood Walls in the Wynwood district. But we'll have to postpone the latter until our next visit because one thing is for sure: we definitely want to come back and discover more of Florida.
Gay Bars, Gay Clubs & Gay Sauna in Miami
Bars, Clubs, Restaurants, Beaches, and Hotels – Miami has it all. And of course all the workout stations where muscled men train their biceps, legs, and behind. 😉 During our stay, we visited several queer and LGBTQ+ friendly spaces, mostly located in South Beach. This is an almost complete list of queer-friendly spaces in Miami and Miami Beach:
List of our favorite Gay & Queer places in Miami:
Gay Bar Nathan's Bar, 1216 Washington Ave, Miami Beach, FL 33139
Drag Bar & Restaurant Palace, 1052 Ocean Dr, Miami Beach, FL 33139
South Beach gay club TWIST, 1057 Washington Ave, Miami Beach, FL 33139
Night Club Azucar, 2301 SW 32nd Ave, Miami, FL 33145
Gay Sauna & Hotel Gaythering, 1409 Lincoln Rd F1, Miami Beach, FL 33139
Gay Beach: Haulover Nude Beach
List of LGBTQ+ friendly places in Miami:
Wood Tavern, 144 NW 23rd St, Miami, FL 33127
Bar Gramps, 176 NW 24th St, Miami, FL 33127
KYI – KiII Your Idol, 222 Española Way, Miami Beach, FL 33139
Our first trip to the United States of America brought us via Atlanta to Florida, where we spent some beautiful days in Orlando's Disney Parks and Universal Studios. In the same year, we explored the South Western part of the USA, starting with California from San Francisco. Meanwhile, we visited more states in the USA including Illinois, Oregon, Nevada and are planning to back every year at least once.
Plan your Florida Trip with our Gay Miami Travel Guide
Our experiences in Miami have been unexceptionally positive: Holding hands in public, giving each other a kiss, or checking in a hotel asking for a double bed – we never faced any difficulties and could thereby fully enjoy our trip to Miami and Miami Beach. Please don't hesitate to reach out if you have any additional questions.
Nevertheless, please consider our Miami tips as suggestions, with no guarantee that it still will be like that when you are traveling there. Though we did our research and all our opinions written in this article are honest, authentic, and true. So, are our photos and videos always aiming to prove our experiences to be authentic? We would like to thank Visit Miami for their invitation, support, and the possibility to experience the US metropolis in a very free and authentic way.
For any clarifications about your plans for traveling to Miami, Florida, and the USA, follow us and email us or drop us a line on Facebook, Twitter, YouTube, Pinterest, and Instagram. See you around the world and the next time in Miami!
Karl & Daan.
All Blog Articles about Florida