Amsterdam is pretty gay. As explained in the Amsterdam Cruising Article – there are plenty of places in the city that you can go to meet other men intimately. From bars and parks to saunas – there are plenty of choices for you to engage in Amsterdam gay cruising. But what if you want to get out of the city? See more of the Netherlands? All while still enjoying the thrill of getting lucky in the most unexpected of places? Fear not – as this guide will go in-depth into the best nude beach (with some gay cruising) near Amsterdam. Enjoy John's guide about the gay beach in Zandvoort close to Amsterdam for some great summer fun with other handsome men from the Netherlands not far from the Dutch capital on Couple of Men.
Hi – my name is John, and I write cruising guides for coupleofmen.com. So far, I've written comprehensive guides on popular cruising destinations such as Gran Canaria, Sitges, and Amsterdam, as well as the cruising story about my trip to Sicily. In this article, I now want to share another story directly from my adopted country, The Netherlands.
Zandvoort aka Amsterdam Gay Beach
Zandvoort is one of the closest beaches to go to, coming from Amsterdam and going to one of the few gay nude beaches. It is sometimes referred to as "Amsterdam Beach" by tourism boards, much to the chagrin of many locals. Zandvoort has a long sandy coastal line, dotted with small dune areas and a beautiful nature biome as a backdrop to the ocean. As in many other beaches – the cruising areas of Zandvoort are at the nudist beach, further away from the center. That means you'll have to plan your route there beforehand.
Advertisement
We found some great deals with flights worldwide and in Europe via Amsterdam (and return) with gay-friendly KLM Royal Dutch Airlines. That includes direct connections with KLM or their partner airlines, Air France and Delta Air Lines. *subject to availability / last check: 2023
How to get from Amsterdam to the Nude Beach in Zandvoort
There are a couple of different methods to get to Zandvoort, all with their advantages and disadvantages. You'll almost always need some combination of different modes of transportation, as you'll first need to get to Zandvoort itself and then southwards to the gay nudist beach. Here's a quick run-down for you to make an informed decision.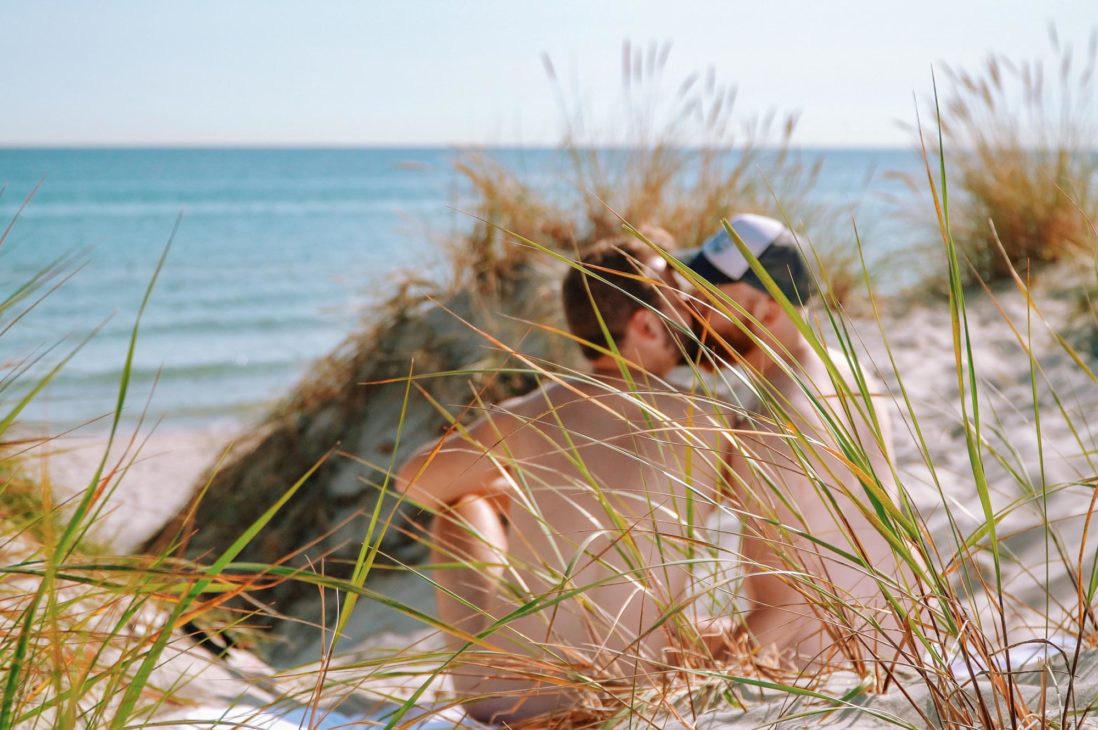 Together with our dear friend and Gay Cruising Culture expert John, we show you the best cruising places of gay-friendly travel destinations worldwide. How to find gay cruising hot spots? What should be considered when doing gay cruising? Is gay cruising legal in the country you are traveling to?
Going from Amsterdam to Zandvoort by train
This is an easy and affordable option. You can go either from Central Station or Sloterdijk, and it takes about 30 minutes to get to Zandvoort Central Station. After arriving there, however, you'll need to figure out how to get to the nude beach. In this situation, you can either walk, which will take you about 45 minutes. Or you can get an OV (Openbaar Vervoer = Public Transportation) bike at the station – if there are bikes available. OV bikes are a hot commodity on sunny days. However, unless you are arriving early in the morning, there's a good chance that there won't be any left, forcing you to find alternatives. Instead, you can also bring your bike on the train. This is the best option in my opinion. For a small supplemental fee, you'll have no stress, and you can get to the beach in a cool 10 minutes.
Going from Amsterdam to Zandvoort by car
This option seems easy enough, especially with a group – but can get a bit complicated. In essence, this can work out well, as you can simply leave your car at parking De Zuid. Then you just have a 15-minute walk through the dunes to get to the nude beach. On sunny days, however, the roads to Zandvoort can become so incredibly congested that you cannot get to the city at all. Instead of lying in the sun, you'll be sweating and angry in your car. Similar to the OV bike option, this one only works if you're really early – but has a high potential for frustration if it doesn't work out.
Going from Amsterdam to Zandvoort by bike.
This is the heroic option. Depending on where you are in Amsterdam, it'll take about 2 hours in total to get from door to beach – which on a hot day is not little! This is a pretty good workout if you're into that sort of thing – but might also be an insurmountable challenge for some, leaving you hot, sweaty, and exhausted. It is a beautiful ride, and one of the few ones where you won't need a second mode of transportation (as you can park your bike right behind the beach). But make no mistake, especially the ride back can be quite strenuous after a day of relaxing (and drinking) at the beach. One other downside is that you'll have to be very efficient at packing to take it all with you on the bike.
Rent a bike from a local tourist shop
There are plenty of tourist focussed shops around the station in Zandvoort. They are, unfortunately, very hit or miss. The prices for these rentals are often very high, require you to leave an ID, and other things you prefer not to deal with on a sunny day. To make matters worse, these shops also regularly close at 6 / 7 pm, cutting your day at the beach way too short so that you can return the bike on time. If you cannot return it on time, you have a problem – as you'll need to return it to Zandvoort the next day to return it. It's quite surprising that these shops do not have more customer-friendly drop-off options. This method is the one that has given me the most grief – so I only recommend it as a last resort.
Amsterdam is definitely not a city that inspires abstinence with plenty of bars, clubs, and outdoor spaces to meet guys. Enjoy John's Amsterdam Gay Cruising guide for the best gay cruising experience in the Dutch capital with tips for gay bars, gay clubs, and outdoor cruising …
Once you're in at gay nude Beach in Zandvoort
Regardless of what mode of transportation you've chosen, once you've arrived in Zandvoort, you'll either walk or bike through the dunes (Brederodestraat) until you are hitting the beach between the poles 68 and 71. If that doesn't make any sense to you, don't worry – just set your Maps' location to Strandpaviljoen Fosfoor and walk in that direction. The walk through the dunes is incredibly scenic and relaxing – and will allow you to get some beautiful photographs. Once you're at the height of Fosfoor, you'll see a sand path leading up the dunes in the direction of the ocean. When you've climbed this steep path, the terrace of Fosfoor will be to the right, and the nude beach will be to the left. You have arrived at your destination.
Where the nude gay action happens
There are two distinct places at the nude beach where guys tend to meet, with one additional bonus peculiarity which I've found to be unique. If you're at the beach (facing the ocean), there is a small dune to the right of the restaurant Fosfoor. Here you have natural sandy enclaves that get taken up by individuals or couples. After you install yourself here with a towel and the rest of your stuff, you'll quickly notice the glances that are flying around all over the place. Walk around a bit, smile at the men you like, or say hello. If you're also nude, you'll quickly notice how low the barrier to starting a conversation is. Because this dune is close to the beach with other passersby, the action here tends to be more covert and discrete. Don't expect grandiose group shenanigans, but rather subtle, passionate interactions with other happy beachgoers.
The other area is not directly at the beach, but in the dunes behind it (behind Brederodestraat). Walk back from Fosfoor, up the sandy path (towards the bike parking), until you get to the paved bike lane. Cross it and continue walking into the dunes. You'll quickly notice some footpaths leading up some dunes with plenty of thorny bushes. At the top of these dunes, there are some deeper sand craters, in which some guys sun and play. Because these craters are shielded from the view of others, cruising here tends to be a bit more brash and explicit. Some guys spend their whole day in these craters, while some walk back and forth between the beach and the craters themselves.
Bonus fun cruising fact: Due to the exposed nature of the nude beach itself (so, not the part in the dunes), there isn't any action going on here out in the open. Zandvoort also tends to be blustery, so a lot of the frequent visitors come and set up temporary tents on the beach to shield themselves from wind….and others' prying eyes. If you walk around a bit and make eye contact with some of these tent owners, you might just get invited to check the tents out from the inside – saving you the tiring walk through the dunes. Just remember: a naked stranger with a tent could be your new best friend (at least for the next 20 minutes). I've found this way of tent cruising very peculiar and endearing – and definitely fun.
The Dutch capital is considered to be one of the most gay-friendly cities in the world. By legalizing same-gender marriage as the first country in the world already in 2001, the Netherlands and its capital offer a diverse LGBTQ+ friendly cultural program throughout the whole year. The highlight of the Summer is (Gay) Pride Amsterdam.
Pride at the Amsterdam Gay Beach in Zandvoort
Did you know that there is a whole pride celebration taking place in Zandvoort during pride weeks in Amsterdam? With a vast number of activities for different members of the community, horny bears are certainly not excluded. In the past, during Pride at the Beach, there's been a special event for bears and their admirers called Bears at the Beach. This special event takes place at the nude beach described here and is clothing optional. If bears are your thing, this is definitely a great way for you to make new nude man friends in a relaxed setting. Have a look at the after the movie to get an idea of the festivities (nudist bears, unfortunately not pictured here)
Plan your day at the Gay Beach in Zandvoort close to Amsterdam
One thing to note: unfortunately, there aren't more official cruising zones in the Netherlands, like the Nieuwe Meer, where cruising is officially tolerated. That means that public acts of intimate encounters are most also tolerated, but often not allowed as by law. So, always make sure to follow local laws and feel the vibe of visiting the place.
For many European travelers of the LGBTQ+ community, Amsterdam is one of the LGBTQ+ and gay-friendliest cities globally. So don't forget to bookmark this Amsterdam Guide for the Gay Nude Beach for your next gay adventures in the Netherlands! See you at the beach!
Do you want to know more about our gay travels around the world? Stay tuned on Facebook, Twitter, YouTube, Pinterest, and Instagram. See you again in Amsterdam, the Netherlands, or somewhere around the world!
Karl & Daan & John.
Disclaimer: We wrote the contents of this website with due diligence and the author's best knowledge. Please be always aware of the local laws and behavioral guidelines regarding cruising in public and public intimate encounters, even on the beach, in the forest, or wherever it might happen. Our cruising guides and cruising stories are not intended to support unlawful behavior, but aim to add an adventurous note to your trip.