Monuments are vital in commemorating significant moments, honoring historical figures, and, for the queer community, promoting inclusivity. In the LGBTQ+ community, several monuments around the world stand as powerful symbols of resilience, equality, and the ongoing fight for LGBTQ+ rights, human rights. In this blog post, we will explore ten iconic gay and/or LGBTQ+ monuments from various countries, each representing a unique aspect of LGBTQ+ history and culture. For many travelers, like us gay travel bloggers, they are also important sights to explore while traveling.
LGBTQ+ Memorials: Our Top 11 Queer Monuments
Discover the world's most remarkable LGBTQ+ monuments, where history, resilience, and pride converge. These 11 iconic landmarks stand as testaments to the LGBTQ+ community's struggles, triumphs, and ongoing fight for equality. Each monument holds a unique significance, representing diverse cultures and narratives from around the globe. Join us on a journey through these extraordinary monuments of the queer community where stories of courage, love, and solidarity are etched into stone, inspiring generations to embrace diversity and celebrate the vibrant tapestry of human identity.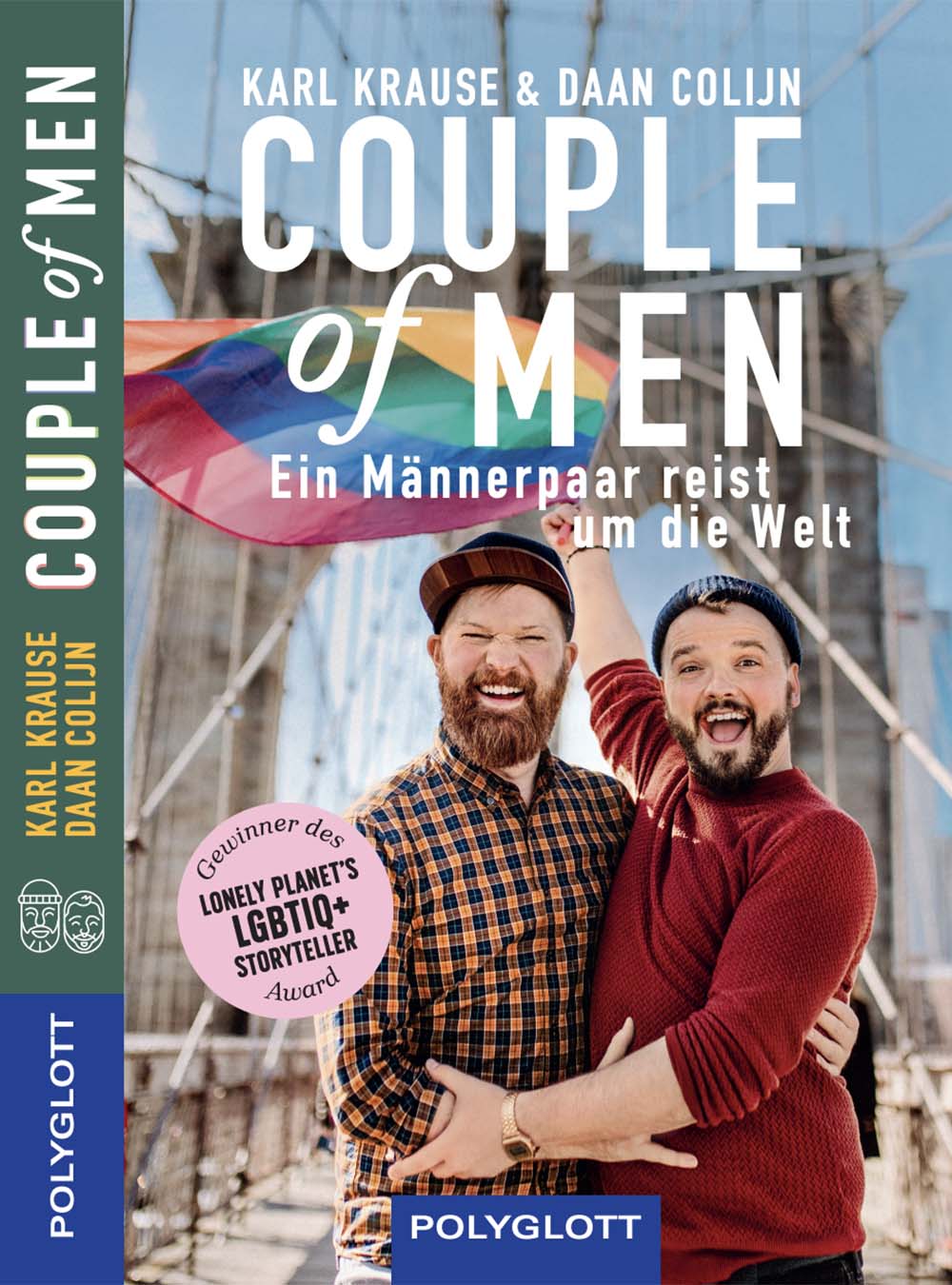 Advertisement
The perfect present to inspire (German-speaking) LGBTQ+ travelers and their allies to travel the world open-minded, respectfully, and with a happy heart.
Order our book online or purchase it in bookstores in Germany, Austria, and Switzerland.
#1 Stonewall National Monument – New York City, USA
38-64 Christopher St, New York, NY 10014, USA
Located in New York City's Greenwich Village, the Stonewall National Monument marks the birthplace of the modern LGBTQ+ rights movement. This historic site commemorates the 1969 Stonewall Riots, which sparked a wave of activism and paved the way for the LGBTQ+ rights movement.
#2 Homomonument – Amsterdam, Netherlands
Westermarkt, 1016 DV Amsterdam
Situated in Amsterdam, the Homomonument is a powerful tribute to LGBTQ+ individuals. Its three pink granite triangles signify past, present, and future challenges faced by the community. It commemorates LGBTQ+ lives lost to persecution and celebrates the ongoing fight for equality. It is also the place where Amsterdam's queer community – including us and our friends – are going to gather and commemorate and, at the same time, celebrate diversity, and party during most of the public holidays.
#3 Memorial For Homosexuality – Berlin, Germany
Tiergarten, Ebertstraße 10117 Berlin
The Memorial to homosexual individuals persecuted under Nazism in Berlin serves as a poignant reminder of the persecution faced by LGBTQ+ individuals during the Holocaust. Located within the Tiergarten Park in Berlin, it pays tribute to the thousands who suffered and died due to their sexual orientation or gender identity. The LGBTQ+ monument in Berlin was designed by Michael Elmgreen (Denmark) and Ingar Dragset (Norway) and ceremoniously opened to the public on May 27, 2008.
#4 National AIDS Memorial – San Francisco, USA
Nancy Pelosi Drive &, Bowling Green Dr, San Francisco, CA 94122, USA
The National AIDS Memorial in San Francisco's Golden Gate Park is a serene and contemplative space honoring the lives lost to the HIV/AIDS epidemic. The memorial's grove of trees and reflection pool provides solace and remembrance for those affected by the disease. The National AIDS Memorial originated nearly 30 years ago during the AIDS pandemic. Devastated by the crisis, a group of San Franciscans sought to create a sacred space to honor those lost to AIDS. Known as "the Grove," this dedicated area in San Francisco's Golden Gate Park provides a gathering place for millions of individuals affected by AIDS to heal, hope, and remember.
#5 The Legacy Walk – Chicago, USA
The Legacy Walk is a walkable LGBTQ+ history exhibit in Chicago's "Boystown" neighborhood. The queer memorial in Chicago is an outdoor museum that features ten pairs of 25-foot-tall decorative steel "Rainbow Pylons," showcasing numerous city spots honoring LGBTQ+ individuals who have made significant contributions to history, culture, and social justice. The Legacy Walk stretches along North Halsted Street with several gay bars, queer cafés, and nightclubs just around the corner.
#6 Alan Turing Memorial – Manchester, United Kingdom
Fairfield St Manchester, England, M1 3HB United Kingdom
The Alan Turing Memorial in Manchester commemorates the life and achievements of the renowned mathematician and World War II codebreaker, Alan Turing. Turing's work was instrumental in breaking the Enigma code, but he faced persecution due to his homosexuality. The memorial represents both his brilliance and the struggles he endured.
#7 Oscar Wilde Memorial Sculpture – Dublin, Ireland
Dublin's Merrion Square is home to a striking memorial dedicated to renowned Irish writer and LGBTQ+ icon, Oscar Wilde. The Oscar Wilde Memorial Sculpture in Dublin's Merrion Square consists of three statues. The center sculpture captures Wilde's flamboyance and intellect, honoring his contributions to literature and LGBTQ+ visibility. Unveiled in 1997, these sculptures were beautifully designed and crafted by Danny Osborne.
#8 Toilet house "The Pissoir" – Munich, Germany
In Munich, the historic restroom building at Holzplatz was transformed into an art installation called "The Pissoir." The project features graffiti portraits of iconic figures, including Freddie Mercury, the legendary frontman of Queen who lived in Munich from 1979 to 1985. "The Pissoir" was initiated by artist Martin Arz and café-bar owner Thomas Zufall, with support from local authorities. The graffiti artworks were created by the street art group "Graphism." The inclusion of Freddie Mercury's portrait on the building pays tribute to his connection with Munich and his enduring legacy as an LGBTQ+ icon.
#9 Memorial to Gay Holocaust Victims – Tel Aviv, Israel
Aluf Albert Mendler St 8, Tel Aviv-Yafo, Israel
In 2013, Tel Aviv unveiled its first LGBTQ+ memorial, honoring LGBTQ+ victims of the Holocaust. It is Israel's first memorial to commemorate Jewish and non-Jewish victims. Located outside the LGBTQ+ Community Center in Gan Meir, the memorial features three pink benches arranged in a triangle, symbolizing the reclaimed pink triangle. The benches of the LGBTQ+ monument in Tel Aviv are engraved in Hebrew, English, and German with the inscription: "In memory of those persecuted by the Nazi regime for their sexual orientation and gender identity."
#10 Anthony Goicolea's LGBTQ+ Memorial – New York, USA
New York City, New York 10014, USA (between W 12 Street and Bethune Street)
Hudson River Park in New York City features public art, including an LGBTQ memorial by artist Anthony Goicolea. The memorial honors the victims of the Orlando Pulse nightclub shooting and promotes unity. With modified boulders and laminated glass, it creates subtle rainbow patterns, encouraging reflection. Goicolea, a first-generation Cuban American artist, explores personal history and cultural heritage in his work. The site-specific design of New York's LGBTQ+ monument blends seamlessly with the park's surroundings, fostering contemplation and togetherness. It stands as a symbol of remembrance, inclusivity, and resilience.
#11 Gay and Lesbian Holocaust Memorial – Sydney, Australia
The Gay and Lesbian Holocaust Memorial in Darlinghurst's Green Park stands as a tribute to victims of persecution based on their sexuality. Located in Stonewall Gardens, the memorial features a triangular pink prism and black steel columns forming a fractured Star of David. It symbolizes the suffering of LGBTQ+ individuals during the Nazi Holocaust and Soviet labor camps, as well as the ongoing violence against the community. The memorial reflects the surroundings during the day and emits a soft glow at night, representing hope and life. Commissioned by The Gay and Lesbian Holocaust Memorial Project in 1991, it stands as a powerful reminder of the enduring struggle for equality.
#12 Plaza de la Diversidad Sexual – Montevideo, Uruguay
11000 Montevideo, Departamento de Montevideo, Uruguay
The Plaza de la Diversidad Sexual (Plaza of Sexual Diversity) in Montevideo's Old City neighborhood features a prominent granite monolith shaped like a triangle, reminiscent of the pink triangles worn by persecuted LGBT individuals during the Nazi era. Created in Uruguay's capital through collaboration between eight activist groups, the plaza symbolizes Montevideo's commitment to honoring diversity and respecting all genders, identities, and sexual orientations. The monolith bears the inscription: "Honrar la diversidad es honrar la vida: Montevideo por el respeto a todo género, identidad y orientación sexual" (Honoring diversity is honoring life: Montevideo for the respect of every gender, identity, and sexual orientation).
#13 Pink Triangle Park and Memorial – San Francisco, USA
2454 Market St, San Francisco, CA 94114, USA
The memorial is located in a small triangular park between Market Street and 17th Street. It comprises 15 gray granite steles, each with a pink granite triangle symbolizing the pink triangle used to identify gay concentration camp prisoners. Artists Robert Bruce and Susan Martin created a stele for every 1,000 victims, totaling 15,000. The pink triangle park and memorial honors not only murdered gay men but all LGBTQ+ individuals killed by the Nazis. The steles form a triangle in front of a gravel area with pink quartz. An explanatory plaque accompanies the memorial, which faces Harvey Milk Plaza.
Pride and Rainbow benches are LGBTQ+ Monuments
Another visual and monumental statements LGBTQ+ travelers will encounter around the globe are the colorful rainbow benches. The symbols of LGBTQ+ pride and inclusivity in public spaces. These colorful installations create safe and welcoming areas for people of diverse sexual orientations and gender identities. They represent resilience and progress in the fight for LGBTQ+ rights, serving as gathering points for community events and celebrations.
Rainbow benches send a powerful message of acceptance, love, and understanding to all who encounter them. For many LGBTQ+ people, they inspire hope and remind us of the ongoing work toward equality. By incorporating rainbow benches into public spaces, communities demonstrate their commitment to inclusivity and foster a sense of belonging for LGBTQ+ individuals. These benches play a crucial role in cultivating a more tolerant and diverse society.
Now it is your turn to visit these remarkable LGBTQ+ Monuments around the world
By commemorating historical moments, honoring LGBTQ+ icons, and promoting acceptance and equality, these monuments contribute to the global visibility and recognition of the LGBTQ+ community's struggles, accomplishments, and the ongoing fight for justice and human rights.
Which one of the LGBTQ+ monuments and memorials is on your gay travel bucket list for this year? And: Which Pride parades are you visiting, demonstrating equal rights for the LGBTQ+ community?
Do you want to know more about travel news from the LGBTQ + community? Follow us on Instagram, Twitter, YouTube, and Facebook! See you at a Pride or CSD demonstration somewhere in this beautiful, diverse, and eclectic world!
Karl & Daan.