Is there a gay sauna in Malmö, you might ask? Not exactly. However, many of the local gays consider the Ribersborgs Kallbadhus to be THE gay hotspot of the Swedish city – to see and to be seen, of course. With the monthly event "Queer Kallis", the traditional house from the late 19th century is finally opening up to the whole LGBTQ+ community in Sweden and the world, including trans and non-binary sauna fans. Enjoy our photos and tips of the Swedish sauna Ribersborgs Kallbadhus, and we are convinced to inspire you for a day trip to Malmö's most popular sauna with our Couple of Men review.
– paid collaboration with @malmotown/Malmö Tourism –
During our second city trip to Malmö, where we focused on sustainability and queer friendliness before World Pride in 2021, we visited the sauna on a hot summer day. And we could experience why the Kallbadhus has the reputation of being a sauna where local gay men like to hang out and enjoy the sun. However, the view over the Baltic Sea in the gay section of the outdoor area with all the attractive Swedish gay men's bodies was quite enjoyable.
A Swedish Sauna – A Gay Hotspot in Malmö
Look at our faces… and what can you see? Exactly! Two relaxed and naked gay men enjoying a Scandinavian sauna with a view of the Baltic Sea. The Ribersborgs Kallbadhus bathhouse at the beach Ribersborgsstranden was, once again, on our bucket list during our second summer trip to Malmö. This time, we had the chance to get early access to the gay-friendly sauna, to take some photos and videos for you. And we loved it again. The combination of recharging our batteries in the hot, dry air of a Scandinavian sauna paired with a cold skinny dip in the Baltic Sea is just everything to us. It could only be topped by connecting with local gay men, always claiming the part in the sun with a view over the Öresund Bridge. In summer or in winter: The Swedish sauna is open to making your gaycation in Malmö even more special!
Good to know: The Ribersborgs Kallbadhus is separated by gender into two areas, one for women and one for men. Both sides of the cold bathhouse offer its guests wood-fired hot tubs, two large outdoor pools (sea pools), two different saunas (a wood-fired sauna and a dry sauna), and an additional steam room that is shared by all genders. For refreshments and snacks (yes, they also have some vegetarian options), guests can visit the restaurant in the front section of the building.
Queer Kallis – Everyone is welcome!
The first Monday of the month is called QUEER KALLIS. It is the day when both areas of Ribersborg's cold bathhouse are open to everyone – regardless of gender identity, gender expression, or sexuality. The motivation behind the regular open house for Queer Kallis is to always be an inclusive and welcoming oasis in Malmö. For us, it is the first step in the right direction for inclusivity, equality, and acceptance. Ribersborg Kallbadhus initiated Queer Kallis for everyone, with a particular focus set on the LGBTQ+ community.
Especially non-binary, gender-fluid, and trans people who previously could not go to Kallis due to the strict gender separation in the women's and men's departments have with the queer Kallis Monday the opportunity to enjoy the saunas as well. During these days, everyone has access to the entire bath, and the visitors themselves decide which department they want to go to. We really appreciate this initiative and see it as an example of how Malmö's traditions are fundamentally changing to be more LGBTQ+ welcoming.
A Sweden adventure in summer – simply irresistible. Especially with a gay-friendly touch. We have visited the south Swedish city of Malmö several times already. We collected all our experiences, tips, and stories in this guide, with additional stories about the lively LGBTQ+ community near World Pride 2021.
Tradition meets the Queer Community
The tradition of having a bathhouse or sauna at the beaches of Ribersborgsstranden goes back to the year 1898. As you can already imagine, Ribersborgs Kallbadhus is named after the district Ribersborg in Malmö. In 1902, a storm called the "Christmas storm" swept over western Sweden and destroyed the original bathhouse. In connection with the reconstruction, specific changes were made to the external design. During the 1930s, enjoying nude baths became fashionable, and a privacy screen was built between the men's and women's sides. After World War II, when parts of the popular bath were used for military purposes, the first wood-fired sauna was built in 1962. In 1995, the cold bathhouse was declared a building monument. In 2009, the bath closed for an extensive renovation of the piling plant on which the plant rests – literally all piles and the sun decks were replaced. The renovation was completed in July of the same year. The cold bathhouse building still requires continuous maintenance. But we are certain that aging is also part of its charm today.
Sustainable & LGBTQ+ friendly Malmö
During our two trips to Malmö for our Gay Malmö Travel Guide, we could experience this independent and free atmosphere of the south Swedish city firsthand. As part of our research before the World Pride 2021 events together with Copenhagen, we had the chance to talk to different people in our community representing the several letters of the LGBTQ+ acronym in Malmö. One thing they all have in common: They love and appreciate Malmö for its LGBTQ+ friendliness, diversity, and sustainability. And now it is your turn to book your trip to South Sweden, to Malmö!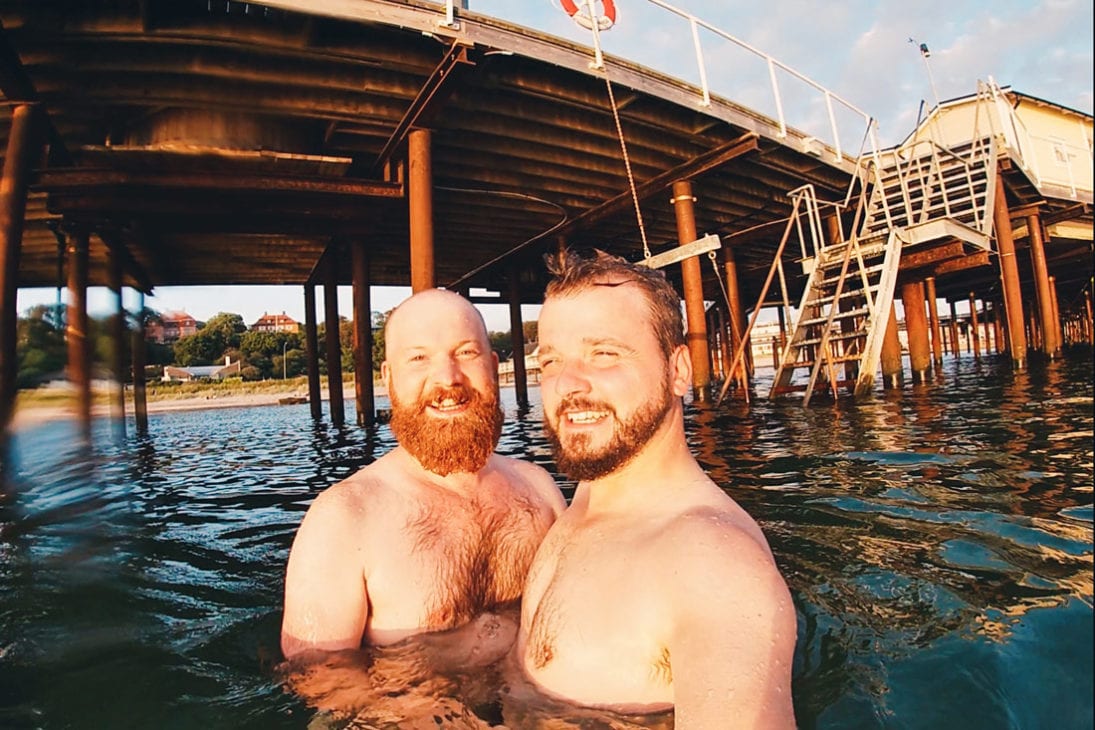 After a beautiful time in Malmö, we boarded our rental car for a 5-days road trip along the South Swedish coast to Mölle, Helsingborg, and Kivik. Stunning Swedish nature, unforgettable sunsets over the Baltic Sea, and some incredible unique gay couple stories. Did we mention our clothing-optional gay beach?
Plan your Sauna day at gay-friendly Ribersborgs Kallbadhus in Malmö
And although there is no official Gay Sauna in Malmö, you can definitely enjoy some sunny moments accompanied by other men at the gay-friendly sauna Ribersborgs Kallbadhus in the south Swedish city of Malmö.
Address:
Ribersborgs Kallbadhus
Limhamnsvägen Brygga 1
217 59 Malmö, Sweden
Homepage: ribersborgskallbadhus.se
Review & Offer: On TripAdvisor >
Do you want to know more about our gay travels around the world? Stay tuned on Facebook, Twitter, YouTube, Pinterest, and Instagram. See you again soon!
Karl & Daan.
Please note: This trip was made possible in close collaboration with Tourism Malmö as well as the tips and help to come from our wonderful readers, followers, and new and old friends from all over the world. Nevertheless, our photos, our videos, our opinions, and our writings are our own, as always.