Sitges is a small town about 35 km away from Barcelona. It tends not to be on everyone's radar, which is why mentioning it to the uninitiated usually draws befuddled looks. For many gay men, however, the name Sitges evokes images of sun, sea, and … intimate encounters. Welcome to our Sitges Gay Cruising Guide! As one of the gay capitals of Europe, Sitges, located in the southeast of Spain, is one of those rare places where a gay man can feel part of the majority. Enjoy John's Sitges guide for the best Gay Cruising experience in and around the Spanish town with cruising tips, gay beaches Playa Balmins, Playa del Hombre Muerto, gay bars, and (gay) men only hotels on Couple of Men.
Whether you like going to the beach, to bars, or just lounging by the pool, you'll quickly discover the passionate tension hanging in the air. Something about this atmosphere seems to lower everyone's inhibitions, breaking down some of the barriers we experience in "regular" life. The town's relaxed and positive vibe of intimate encounters is reflected in the many places where you can meet other (gay) men. The number of possibilities probably goes beyond the scope of this guide, but this should give you a little insight as to what it's like to go on a gaycation in cruising paradise Sitges.
Sitges Gay Beach Playa Balmins (Platja dels Balmins)
Playa Balmins is close to the inner city, walkable within 15 minutes from the center. This beach is often referred to as the bear beach, which is reflected in its furry inhabitants. It's a very relaxed, no-attitude kind of place. The crowd tends to be somewhat older with lots of bears and chubs that don't care for the hike to Playa del Hombre Muerto (more on that later). Sprinkled in between this hairy sea of bodies are younger bear-chasers, and guys too hungover to take on the long trek to the other beach. There isn't a lot of shade on Playa Balmins, except for a few tiny coves in the rock formation behind it. These are the most sought-after spots and fill up quickly. Remember: The early bear catches the shade! In case you weren't quick enough to snatch up one of these coveted coves – make sure to bring an umbrella unless you want to serve fried chicken realness at the bars later on.
Speaking of food, there is a beach shack available here that serves beers, cocktails, ice cream, and food. Should you really get hungry, you can venture up the road and have lunch at La Caleta de Sitges, with a gorgeous view over the beach and the men. But why am I writing about food when all you came here for was to get the skinny on skinny dipping? Playa Balmins is a nude beach, with many men going textile-free. Due to the fact that this beach is in the middle of the city and adjacent to another not-so-gay nude beach, intimate acts are much more subtle and less out in the open than in other places. Instead of fondling each other in the dunes or behind the beach, most of the action here happens in the water, about 15 meters from the shoreline. That's why when overlooking the beach, you'll see a massive congregation of guys standing in the ocean, with water up to their hips. When you take a swim through that man-bear-soup, it quickly becomes evident why that tends to be the sweet spot.
Overall, Playa Balmins is relaxed, and no pressure with a bit of naughty play in the water. It's not as brazen as other spaces, but it surely works for making hot contacts for later on in your hotel or at the bars. It's a beautiful congregation of bears, chubs, daddies, and their horny chasers. Or just a gorgeous spot to soak up the sun.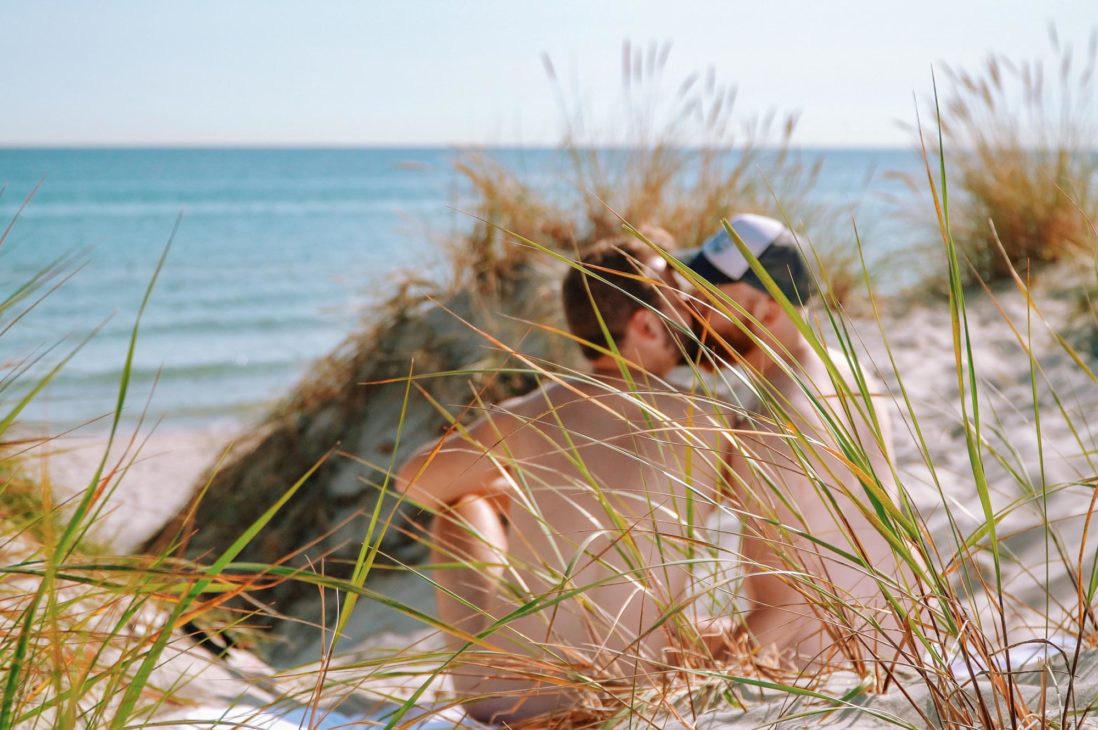 Together with our dear friend and Gay Cruising Culture expert John, we are showing you the best cruising places of gay-friendly travel destinations around the world. How to find gay cruising hot spots? What should be considered when doing gay cruising? Is gay cruising legal in the country you are traveling to?
Playa del Hombre Muerto – the world oldest nudist beach
Playa del Hombre Muerto is a bit further outside the city. Depending on where you are, it can be a 45-minute hike to get there and includes having to trek along an active railway. It definitely is an adventurous outing. I would only recommend this destination to men who are physically fit enough to make it there, so if you have mobility issues I'd definitely recommend Playa Balmins instead. Making your way to this beach is a magical experience, as you really have to hike an unmarked path to seemingly nowhere. You'll stop and hesitate, and think to yourself "Am I really going the right way?". That is until you start seeing the graffiti with dicks for arrows, directing you to "Gay Paradise".
As you venture on through the semi-wilderness, all of a sudden, you'll see a rainbow flag crowning above the cliffs, indicating you've arrived at your destination: The world's oldest gay nudist beach. On sunny days, the beach is tightly packed, with almost everyone fully nude. The beach is almost exclusively for men, which is comforting as there are no families with kids present here. Many guys come alone, as couples, or as small groups of friends. If you're on vacation on your own in Sitges, don't worry, it's easy to make friends (or more than friends) in this welcoming, open location. The beach has a restaurant for snacks and drinks, as well as an umbrella and beach-recliner rental – but you can also bring your own. Once you have soaked up some sun and have taken a dip in the ocean, you can step into your flip-flops, leave your belongings behind, and venture up the road to the forest behind the beach. Across the railway line (watch out for trains) you enter into a forest with small hills, coves, and tree formations. Men of all kinds take walks through this forest, to congregate in groups of two or more.
Follow the pathways, to find some popular spots, either hidden away behind trees or out in the open in a meadow if that's your thing. Walking in the nude, or in swimwear, is exciting and an incredibly humbling experience, as no one around you gets to hide behind their clothes, status, or titles. Coming to terms with your animalistic and pleasure-seeking qualities, and letting yourself get absorbed by the experience, in the safety of other men who are there to do just the same, is liberating, affirming, and fun. Much in contrast with Playa Balmins, the forest behind Playa del Hombre Muerto is definitely one of the more brazen cruising grounds, where much of everything happens out in the open. As always, please remember to take care of yourself and others – before, while, and after cruising – and the surrounding space. Clean up your condoms, and other trash. While this is a pretty safe space for these sorts of activities, always stay vigilant. After you've had your fill in the forest, return to the beach to cleanse yourself in the ocean water. Just to do it all again an hour later. This goes on for most of the day from morning to the afternoon – however guys tend to leave at night.
We visited the cities of Barcelona, Malaga, Benidorm, the island of Ibiza, and the Canary Islands during our second gay cruise as a gay couple. Find our tips for the best Spanish destination on our blog: Gay-friendly hotels, gay bars, LGBTQ+ friendly activities, and more. We love gay-friendly Spain!
Gay Bars in Sitges
It is not hard to find places to go out in Sitges – just step outside your hotel, and you're likely to stumble into a gay flag. One important factor, however, is the time of day you'd like to go out. In line with Spanish custom, bars and pubs tend to open and fill up rather late at night. In the afternoon, however, Plaça de la Indústria tends to be a hotspot, to sit back and have a cocktail. What makes this square (which is located close to the beach) so unique, is that it has four gay bars with terraces on each of its side. All the chairs of the different bars face each other, with a pedestrian intersection through the middle. Enjoy the subtle cruising going on by ogling and being ogled by the patrons of the other bars. Or enjoy the show of guys parading through the intersection, stopping shortly before they walk through to fix their hair from the beach. This square is the destination to see and be seen in Sitges, albeit one of the few ones where clothes are required.
Once the afternoon is over, you can head around the corner to the actual bars. There is such a large variety of gay bars in Sitges, and surely, you'll be able to find the right location for you. From drag shows to cabaret for the lighter days, bar hopping really takes on a new meaning to intense encounters in dark rooms. As with many other things, Sitges is a favorite of Bears, as evident by the several bars that focus on this clientele. These bars and the streets surrounding them get so packed on hot summer nights that it often looks like bear pride is going on (but it's just a random Tuesday). The atmosphere of these bars tends to be manly, with many of them having their darkroom in the back. In addition to this, you'll also find clubs that are more explicitly focussed on sensuality, in which the size of the darkroom is larger than the actual bar itself. This is a great opportunity to re-connect with the guys you've most likely met during the day on the gay beaches of Sitges.
Gay Hotels in Sitges
Sitges does not have any hotels that focus exclusively on gay men, or that are men only. However, the city's hotels are well aware of their incoming traveler – so pretty much any hotel in the city can be considered "gay friendly". There are however some hotels which put you advantaged during your time in Sitges, due to their proximity to other popular spots. Hotel Platjador sports views of the sea, while being ideally located in the city center, just a couple of minutes away from the main bar street. Walking into the hotel, you'll immediately notice several bear flag stickers in the windows and their corresponding clientele sitting at the breakfast buffet. This is a favorite pick for bears and their admirers, as it is located perfectly equidistant from the bear bars and the bear beach! Playa Balmins is only a short walk away. In the afternoon, you can relax with a drink on their fantastic roof terrace with views over the ocean, or lounge by their pool and their jacuzzi. It's easy to pick out the patrons which are there for the same reasons as you are, making it an ideal spot to not only take the new friends you've met at the beach or at the club. But you can also meet someone new as well.
If you don't care to be close to the city center, but would rather go to Playa del Hombre Muerto every day, you might be better off staying in a hotel that is more westwards. Staying up in the mountains at Hotel Dolce gives you an incredible view over the golf course and of the ocean. Walking to the beach from this location is a considerably shorter 20-minute hike through wooded forest sections – allowing you to arrive in the middle of the cruising spot to check out what's walking around that day. Should you still want to venture off to town from time to time, I'd recommend renting a bike through the hotel – that is, if you'll stay sober enough to make it back. If you know that won't be the case then your best bet is to take a taxi, which is plentiful and cheap in Sitges (be aware though – there's no Uber or similar ridesharing apps).
If you are doing Sitges on a dime or just not much of a hotel guy, there are many ways to stay in the city. First, you could check out the many apartments available on Misterb&b and enjoy the benefits of having your kitchen to cook in. This is also a great option for you to take guys home with you if you're not much for intimate actions in public. Many hotels in Sitges have rules against bringing in non-hotel guests, so the privacy of your apartment can definitely be an advantage. If you really want to try something else, however, you could also stay on camping grounds in your tent or camper – or even try a luxurious glamping experience provided by Camping El Garrofer.
Gay Events in Sitges
As mentioned before, Sitges during the summer tend to be packed with guys, from bars bursting with boys to beaches brigaded by bears. Almost every day feels like a mini gay/bear pride event. If that is still not enough for you, it might be worth it for you to visit Sitges during one of their big events.
Sitges Pride
Pride usually takes place around June – after its 10th year anniversary in 2019, Sitges Pride is quickly becoming one of gay Europe's most important celebrations. With an official parade through the cities' streets and events happening all around – it's an intense, fully packed week when you can celebrate intimate encounters, love, and fetishes. Pride by the Mediterranean Sea is an unforgettably warm and sweaty experience – with plenty of opportunities to cool off in the water. Within the center of the city, you'll be able to find the Gay Pride Village, which hosts shows, its bars, and food outlets.
For the Sitges Pride Official Video, Click here >
Sitges Bears Week(s)
Sitges is so popular among our furry friends, that there's not one, but two dedicated bear festivities organized by the Bear Sitges Association. On the last weekend of April or the first weekend of May, you'll have the first edition of Bears Week also known as Bears Meeting. Due to the weather being colder, this is mostly a dedicated weekend for European bears and their admirers to congregate and to crawl the bars. While you might be able to squeeze in the odd beach day or pool party here and there, this week is much more clothed than most of your typical activities in Sitges. With events throughout the different bars and clubs, however, there is no limit to the amount of hot daddy, bear, otter action going on. Meet up with guys at El Horno or Bears Bar and see where the night takes you (spoiler alert: probably at Bukkake Cruise Bar), or participate in the official program which includes dinners and other activities.
For a much larger edition of Bears Sitges Week, return to the city in September. The name 'Bears Week' here is definitely misleading, given the fact that this event takes place over 12 days. With a special Bear City built at the beach, with a similar set up to the one during pride, Sitges transforms into one of the hairiest and the thickest places on earth. There are so many events happening throughout the city that can be overwhelming. From the regular bar and club nights to dinners, BBQs, and the election of Mr. Bear Sitges you'll be sure to come into contact with many, many, men.
For the Sitges Bears Week Video, Click here >
John's Guide for Gay Cruising in Sitges
But of course, a vacation in the Spanish town Sitges is not "only" about intimate encounters and cruising. Besides unique nature and national parks in this part of Spain with spectacular hiking possibilities, gay tourists should visit definitely visit Barcelona for some South European hot summer nights, culture, and sightseeing.
For many European travelers of the LGBTQ+ community, especially for bears and bear lovers, Sitges is the LGBTQ+ and gay-friendliest destination in the world. Don't forget to bookmark this Sitges Gay Cruising Guide for your gay adventures! Also, we cannot wait to go back there…
Do you want to know more about our gay travels around the world? Stay tuned on Facebook, Twitter, YouTube, Pinterest, and Instagram. See you again in Spain, in Barcelona, in Sitges, on Gran Canaria, or somewhere around the world! Karl & Daan & John.
Disclaimer: The contents of this website were written with due diligence and by the author's best knowledge. Please be always aware of the local laws and behavioral guidelines regarding cruising in public and public intimate encounters even on the beach, in the forest, or wherever it might happen. Our cruising guides and cruising stories are not intended to support unlawful behavior but aim to add an adventurous note to your trip.