Disneyland Paris Pride 2023, a spectacular celebration of diversity and acceptance, took place on June 17th, 2023, at the enchanting Walt Disney Studios Park in France. We highly anticipated this rainbow event in the Disney theme park, which we were able to attend for the first time. With old and new friends, community members representing all letters of the LGBTQ+ acronym, and our important queer allies, we spent an unforgettable evening filled with a vibrant parade, live concerts, and extended attraction hours. In this Couple of Men article, we show you some personal highlights of Disneyland Paris Pride 2023, emphasizing the joyous atmosphere and the immense support it garnered from the LGBTQ+ community.
– in collaboration with The Walt Disney Company –
Highlights of Disneyland Paris Pride 2023
Let's get straight to the point: The event was a great success! We and all the other LGBTQ+ attendees were thrilled about the inclusiveness of the Disney cast members and organizers of the LGBTQ+ event. Because even though there were numerous colorful Disney fan items and merchandise for sale, the focus was set on peaceful get-togethers, celebrating equality and diversity. And the program of Disneyland Paris Pride 2023 looked promising.
Already in the queue at the entrance as well as later on in the park, we had several conversations with queer travelers, among others, from the Western part of Germany, who repeatedly traveled to Disneyland Paris for Pride. Only a short time later, while strolling around hand in hand, we were recognized by gay Disney fans from the USA and Vienna, who turned out to be our Instagram followers. But for us, the evening really kicked off with the Pride parade moving through the Disney Park.
Pride Parade at Disneyland Paris 2023
But before the evening was about to begin and we could get our fill of all the open attractions, rainbow delights and musical treats, it was time to secure a spot right along the route of the Disney Pride Parade. From there, we stood with our cameras and cell phones in one hand and our fans in the other, impatiently waiting for the colorful parade to begin.
And then it was finally going to start. The music started playing, and a giant banner, "Disney Colorful Pride Parade", was carried ahead by two good-humored Disney employees. Behind it, dancers dressed in all the rainbow colors began to perform a well-rehearsed choreography. They were cheered by the countless Disney fans on the sidelines and supported by chants.
Advertisement
We found some great deals with flights worldwide as well as in and around Europe via Amsterdam (and return) with gay-friendly KLM Royal Dutch Airlines. That includes direct connections with KLM or their partner airlines, Air France and DELTA. *subject to availability / last check: 2023
Did you know the parade was performed by the queer cast members of the two Paris Disney parks? The rehearsed dances, movements with fans, and handheld device bands were not always perfect. Still, the small insecurities of individual performers were loudly supported and made up for by the spectators with shouts, claps, and chants.
Mickey Mouse and his friends supporting Pride
And then it suddenly became even louder than before. Mickey and Minnie Mouse drove up in their rainbow mobile, wearing their new rainbow outfits. Amid loud cheers, the two Disney idols danced on their car, heralding the performances of their Disney friends.
These included Donald and Daisy Duck, Goofy, and Mickey's dog Pluto. But those weren't all of Mickey's friends in their Pride outfits at the parade.
Superheroes Mrs. and Mr. Incredible floated over on their hover-mobiles, while Frozo refreshed the crowd with his skin-tight, blue superhero suit. But what was that? While Karl was trying to capture this exact moment, a different figure pushed its way to the forefront. Photobomb Edna Mode pranced around in front of us and electrified the cheering crowd. Marvelous!
Chipmunk Dale, Remi, and his brother, and of course, Stitch were not to be missed. And in between, several dance groups followed at once, with fans, ribbons, and huge smiles on their faces.
Even the invited music acts didn't miss the chance to attend the parade. In colorfully decorated floats, they unceremoniously became part of the parade and were duly celebrated by their fans for their support.
That happened after the Disney Pride Parade
After all the artists and dancers passed us, we could join the Pride Parade. And so, we marched the last hundred meters to the main square with the main stage together, where the official concerts would occur. Smoke-filled bubbles, flying confetti ribbons, and waving rainbow flags got the other LGBTQ+ guests and us in the mood for the upcoming music highlights.
With a big bang, the artists started to drop some banging beats, and the crowd began to dance and sing along with the performances of Bianca Costa, Christophe Willem and Jenifer at the end of the program. Unfortunately, due to technical problems, the British artist Calum Scott, eagerly awaited by so many, could not perform on stage. We can understand that his fans have been disappointed. But for us, the park and the rainbow-colored experiences were the priority for the french version of 2023 Pride Night in Disneyland Paris.
But before we soaked up the atmosphere on the rainbow-lit main plaza, we took the opportunity to say hello to some friends, take selfies, and try out the open rides at Walt Disney Studios Park! Because the lines at the roller coasters and dark rides were also particularly short on that particular evening.
And what else was there to experience?
It was possible to talk to the main sponsors. To try out a Pride delicacy in the form of a muffin with rainbow icing or ice cream on a stick decorated with rainbow sugar icing. Alternatively, capturing a photo moment with a Disney character as they danced to appropriate music in various locations scattered around the park. At the top of the list was having fun, celebrating with new and old friends worldwide, feeling welcome and safe, and soaking up a Pride atmosphere at a Disney park with like-minded Disney fans.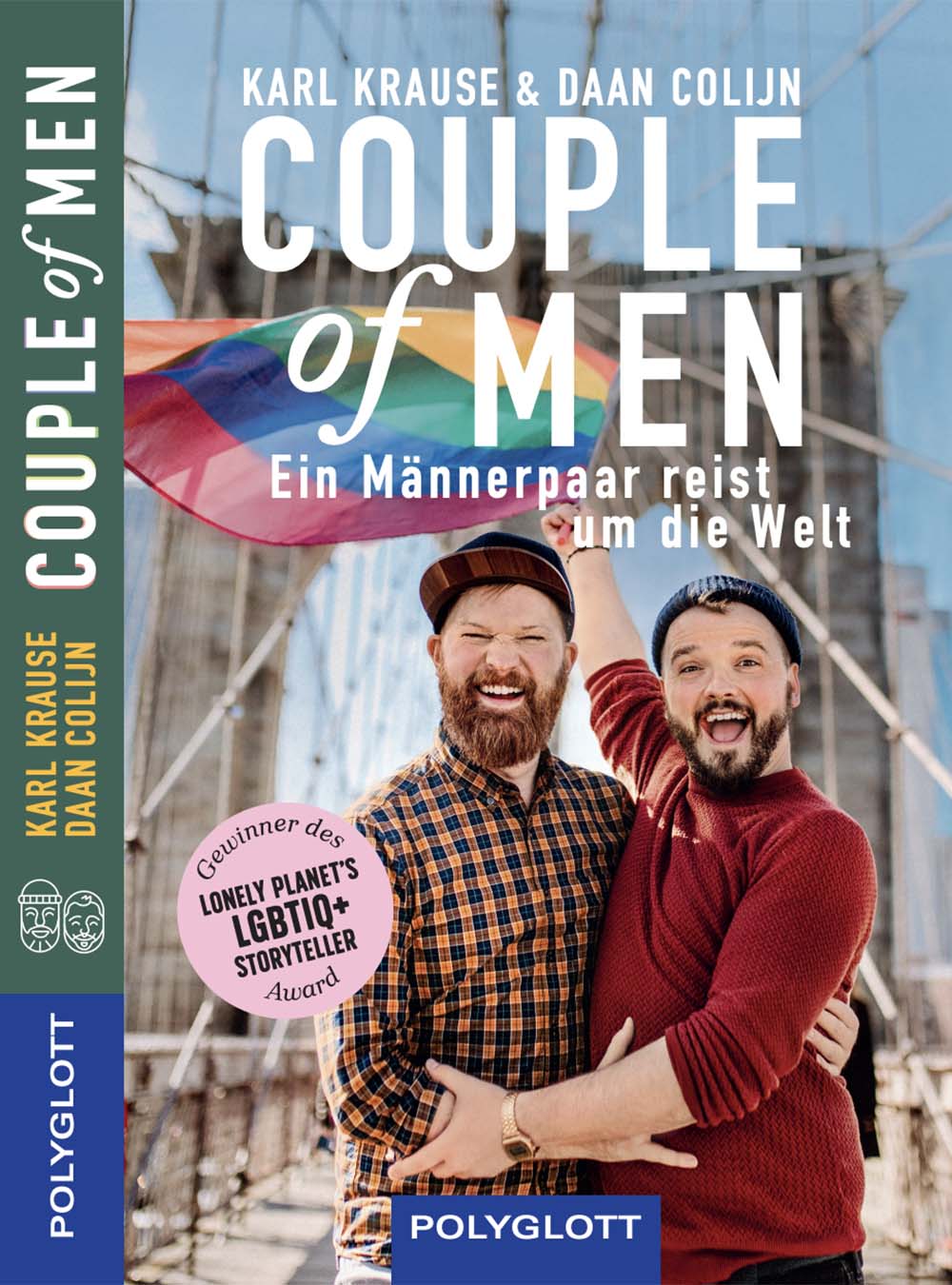 Advertisement
The perfect present to inspire (German-speaking) LGBTQ+ travelers and their allies to travel the world open-minded, respectfully, and with a happy heart.
Order our book online or purchase it in bookstores in Germany, Austria, and Switzerland.
Interesting Posts for Your Pride Travels
Join us for Disneyland Paris Pride 2023
In summary, we can reflect on a beautiful, memorable, rainbow-colored, inclusive, and diverse day in Paris, France. We are incredibly proud to share the highlights of Disneyland Paris Pride, formerly known as Magical Pride, with you on our blog and Instagram. And we are already looking forward to next year!
Perhaps we'll have the opportunity to attend another Disney Pride event in the U.S., Hong Kong, Shanghai, or Japan. The start for more Disney Pride events after Paris has now been made by Disneyland in Anaheim, which held the first Pride Night organized by Disney this year. Happy Disney Pride!
Do you like it? Pin it! >>
Would you like to learn more about us gay travel bloggers and experience our queer adventures with us? Then stay tuned and follow us on Facebook, Twitter, YouTube, Pinterest, and Instagram! See you in the Disney Parks in Paris, Florida, Anaheim, or Japan or on one of our next Gay Pride trips worldwide!
Karl & Daan.