We couldn't be more thrilled to visit Munich for Munich Pride again. The multi-day event from June 10 to June 25, 2023, will climax on June 24th with its annual political parade, a vibrant and powerful celebration of diversity, equality, and LGBTQ+ rights in the southern region of Germany. With its rich history and inclusive atmosphere, CSD Munich Pride has become a symbol of acceptance and an essential platform for advocacy and equality. After all, more than 400,000 participants from the LGBTQ+ community attended last year. While organizers expect even more demonstrators in 2023, more than 180 floats, trucks, and foot groups have registered. Let's delve into the history, explore the exciting 2023 CSD Munich Pride program, and enjoy Couple of Men's favorite moments of the rainbow celebration we will attend this weekend.
– in paid collaboration with Munich Tourism –
MUNICH PRIDE 2023
Our Unsere besten 40+ Fotos 40+ Photos
With over half a million participants (a new record!), this year's event in the Bavarian capital Munich proved to be a powerful platform for change and a celebration of diversity.
History of Pride in Munich
The inaugural Christopher Street Day in Munich (CSD is the German abbreviation for Christopher Street Day, describing Pride in Germany) took place on June 28, 1980. It ended with a visit to the beer garden at the Chinese Tower. Originally known as the "Stonewall-Demo," the event commemorated the historic Stonewall riots in New York City, which marked a turning point in the LGBTQ+ rights movement. In the following years, almost every year Pride events have been organized.
However, these crucial historical pride events in Munich were characterized by limited documentation and recording, leading to a fragmented chronicle. But the commemoration of LGBTQ+ rights and the fight for equality persisted. Over the years, CSD Munich Pride grew in scale and importance, attracting a diverse range of participants from the LGBTQ+ community and LGBTQ+ allies. The event became an opportunity for individuals to express their true selves, celebrate their identities, and advocate for equal rights.
Advertisement
We found some great deals with flights worldwide as well as in and around Europe via Amsterdam (and return) with gay-friendly KLM Royal Dutch Airlines. That includes direct connections with KLM or their partner airlines, Air France and DELTA. *subject to availability / last check: 2023
Program of the political Munich Pride Parade 2023
CSD Munich Pride Parade 2023 promises to be an exceptional political demonstration and celebration of the queer community, embracing the theme of "Queerer Aktionsplan Bayern jetzt!" (Queer Action Plan for Bavaria now!). This year's motto reflects the community's demand for comprehensive and immediate political action by the government of Bavaria to achieve equality, acceptance and especially safety for gay, lesbian, trans, intersex, and queer folks in the Southern German state. The program 2023 is packed with exciting events, including the highly anticipated CSD-PolitParade ("political Pride Parade") on Saturday, June 24, 2023.
The so-called CSD-PolitParade is the highlight of the festivities, featuring a grand procession of lesbians, gays, bisexuals, trans*, inter*, and queer individuals (LGBTIQ*) marching together for equal rights and societal acceptance. The parade will commence at 12 (noon) from the square "Mariahilfplatz". It will traverse through the heart of Munich, spreading a message of love, inclusivity, and the urgent need for change. This is the map for the CSD Munich Pride parade 2023:
Route alteration for 2023
The route alteration for 2023, necessitated by ongoing construction work and alternative public transportation arrangements at Sendlinger-Tor-Platz, leads the parade from the Müller-/Fraunhoferstraße intersection onto Papa-Schmid-Straße, Blumenstraße, Altstadtring, Viktualienmarkt, Isartor, Thomas-Wimmer-Ring, and eventually into Maximilianstraße. The parade concludes just before the Opera House on Maximilianstraße, where vehicles participating are directed to the Alfons-Goppel-Straße (passing by Marstall), Hofgartenstraße, and Altstadtring for disassembly. Pedestrians have the option to continue to Max-Joseph-Platz and proceed to the new party area at Odeonplatz or take the Perusa-, Theatiner-, and Weinstraße routes to reach Marienplatz and other designated areas of celebration.
Best of CSD Munich Pride 2023
CSD Munich Pride is renowned for its diverse and entertaining lineup of activities. Alongside the CSD-PolitParade, the multi-day event offers numerous events that cater to people representing all letters of the LGBTQ+ acronym. From music and performances to art exhibitions and informative workshops, there is something for everyone to enjoy and engage with during Pride.
One notable addition to the 2023 edition is a dedicated assembly area for walking groups at Nockherberg, between the Ohlmüllerstraße/Mariahilfplatz junction and Hochstraße. This expansion allows for a more comfortable experience and streamlined participation. Moreover, participants will appreciate the increased availability of sanitary facilities, including those designed for individuals with disabilities, at Mariahilfplatz and the new assembly area.
Aloft Hotel in Munich
Located close to the city center nearby to the gayborhood Glockenbachviertel with shopping and sights, the gay-friendly accommodation offers spacious loft hotel rooms with optional breakfast, a pantry kitchen, a fitness center, and a Cocktailbar in the playful spacious lobby and lounge.
Political Demands of Munich Pride 2023
Pride means party and politics, and both belong together. Together, we are celebrating what we and LGBTQ+ activists have achieved. Nevertheless, we should never forget what still needs to be done and what we have to defend, standing up for equality and acceptance. The main Political Demands of CSD Munich Pride 2023 are (shortened and translated version for our blog article):
Equal rights for all: We demand equal rights and acceptance without special treatment. LGBTQ+ individuals enrich society, contribute like everyone else, and deserve comprehensive equality plans and anti-discrimination laws in all states, including Bavaria.
Article 3 +: We call for comprehensive anti-discrimination protection that explicitly includes sexual orientation and gender identity. These characteristics are currently absent from Article 3, Paragraph 3 of the Constitution.
Stop the hate: We urge the state to effectively prosecute hate crimes, explicitly acknowledging LGBTQ+-phobic motives in the Criminal Code. Police nationwide should record hate crimes based on sexual orientation and gender identity.
Trans* rights now: We advocate for a new law on self-determination of gender identity, replacing the outdated Transsexuality Act. The process should be simplified, eliminating the need for assessments, medical certificates, or court proceedings. Medical services and training should be improved.
Inter* self-determination: We fight for self-determination and reject mandatory assessments for legal recognition of "Diverse" individuals. Surgical procedures without consent must be banned.
Education for acceptance: LGBTQ+ topics, diversity, and history should be part of every curriculum, promoting acceptance and respect. Action plans in education play a vital role.
Equal rights for rainbow families: We demand modern parentage laws, automatic legal recognition for married same-sex couples, pre-birth recognition for unmarried couples, and ending the requirement of stepchild adoption for lesbian couples. Trans* parents should not have their parenting ability questioned. Birth certificates should reflect the parent's identity rather than their assigned name.
Aging with diversity: We seek specific accommodations for older LGBTQ+ individuals, respectful care, and inclusion in political representation.
Remembering history: We call for support in preserving LGBTQ+ history through memory sites, landmarks, archives, and exhibitions. Gender and LGBTQ+ studies should be supported, and traditional museums should embrace queering memory.
Solidarity: In the face of growing opposition, we must stand together as an LGBTQ+ community, celebrating diversity without shame or stigma.
Love without borders: We advocate for international solidarity with endangered LGBTQ+ individuals worldwide. Refugees should have the right to asylum, and deportations must cease. Close anchor centers: We demand fair and individual asylum procedures, shutting down centers that hinder proper accommodation and access to support, particularly affecting LGBTQ+ refugees.
Join forces with the entire LGBTQ+ Community: We encourage greater visibility for LGBTQ+ individuals, offering year-round engagement opportunities. Activism creates visibility, changing people's attitudes and promoting acceptance.
Program highlights Munich Pride 2023
"Something for everyone", that's how it looks when we look at the versatile, diverse program items of this year's CSD Munich Pride. For us, the following highlights are on our agenda. Just like last summer, we are keen to join the SWM Pride Pool Party at Müller'sches Volksbad in 2023: Swim, play water sports, and get in touch with locals having a good time. We plan to attend the Rainbow Revolution Party at our hotel, the Alot Munich, on Friday.
Last year we had so much fun at the performances of the local drag queens, kings, and burlesque acts that we don't want to miss this evening. On Saturday, after the parade, a museum visit is on the agenda. After all, the LOVERS Lipsync CSD X Munich City Museum will host what is probably the biggest lip sync battle in Munich's city history. And if we still have time, maybe we can make it to one of the gay bars and cafés in Munich for a drink? Perhaps we'll also treat ourselves to a visit to what is most likely Bavaria's most famous sauna house, the Deutsche Eiche. The complete program of Munich Pride here >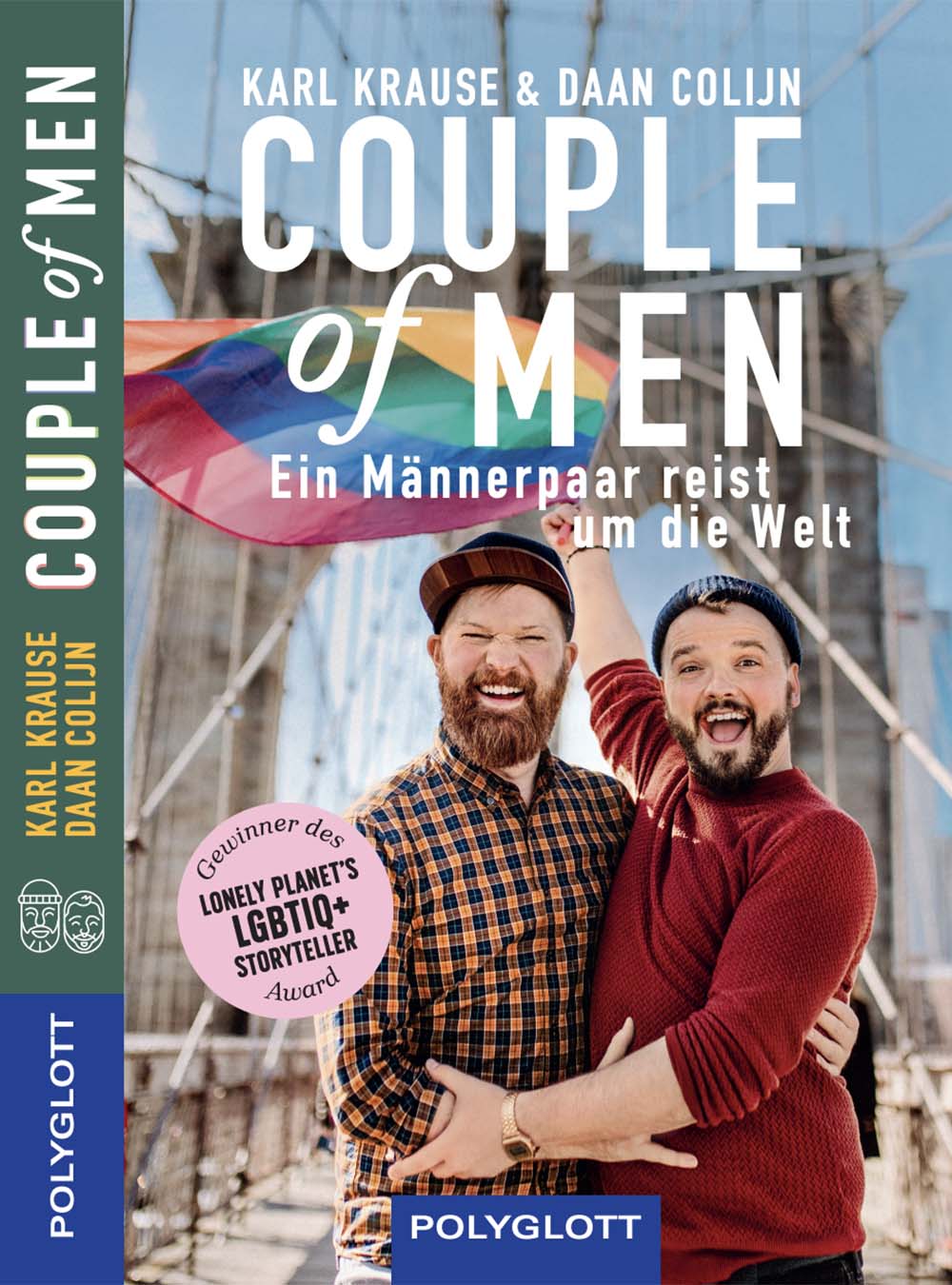 Advertisement
The perfect present to inspire (German-speaking) LGBTQ+ travelers and their allies to travel the world open-minded, respectfully, and with a happy heart.
Order our book online or purchase it in bookstores in Germany, Austria, and Switzerland.
Interesting Posts for Your Pride Travels
Time to plan your trip to Munich and CSD Munich Pride 2023
CSD Munich Pride 2023 is an event that celebrates diversity, promotes equality, and raises awareness of the issues faced by the LGBTIQ+ community. The event attracts people from all over the world and provides a platform for the community to come together and celebrate their identity.
This year's parade motto, "Queerer Aktionsplan Bayern jetzt!" aims to demand and promote political actions, social acceptance, and equal rights for all. The parade will be followed by parties and events at various locations in the city, allowing participants to celebrate and have fun. Join us for CSD Munich Pride 2023 and be a part of the movement for equality and social acceptance.
Do you like it? Pin it! >>
Would you like to learn more about us gay travel bloggers and experience our queer adventures with us? Then stay tuned and follow us on Facebook, Twitter, YouTube, Pinterest, and Instagram! See you in Munich, Bavaria, Germany, or on one of our next Gay Pride trips worldwide!
Karl & Daan.