Join your go-to gay couple travel bloggers, as we immerse ourselves in the vibrant celebrations of Euro Pride 2023 in Malta. Get ready for an extraordinary 10-day-long extravaganza, where love knows no bounds and the diversity of the LGBTQ+ community shines brighter than ever. From pride parades to spectacular performances, we cannot wait to capture every colorful moment of this unforgettable queer celebration. In our travel guide, we will collect tips revealing the best LGBTQ+ friendly accommodations, restaurants, and hidden gems in Malta. To learn more about our first trip to Malta, take a look at our Malta travel journal! Let's dance, laugh, and love our way through EuroPride 2023 in Malta. But before doing that, let us tell you more about the exciting program of the Pride event and a Couple of Men's favorite moments.
– in paid collaboration with Tourism Malta –
History of Pride in Malta – Equality from the Heart
The Malta LGBTIQ Rights Movement (MGRM), formerly known as the Malta Gay Rights Movement, has been a pioneering force in advocating for equality and rights for the LGBTIQ+ community in Malta since its establishment in 2001. MGRM organized Malta's first Pride March in 2004 and launched the first national gay helpline. Over the years, MGRM has played a vital role in lobbying for progressive legislation, conducting research, and providing support to the LGBTIQ community. With dedicated members, such as Sonja Casha and Chris Attard, MGRM has been instrumental in shaping the history of Pride in Malta. Today, based in Mosta, MGRM continues its mission to achieve full equality and foster inclusivity for all LGBTIQ+ individuals in Malta.
The Berlin-based Spartacus informs LGBTQ+ and queer travelers about how gay-friendly a holiday destination is according to several ranking factors and criteria. Gay travelers can use the Gay Travel Index 2023 to prepare for their gaycation and as a guide when choosing a holiday destination. But which country ranks first? Where is it safe to travel to as a gay and LGBTQ+ traveler?
Malta and the biggest Pride Event in 2023
The island nation of Malta tops the ranking of countries considered LGBTQ+ and gay-friendly in Europe and around the world. This includes the Gay Travel Index by Spartacus. Especially, the legislation and related state recognition of gender identities, same-sex marriage, and trans rights predestine the European country to host this year's EuroPride in Valetta and on the island of Gozo. Good to know: Euro Pride 2023 in Malta is organized by the Allied Rainbow Communities (ARC) located in Malta.
Program Highlights of EuroPride 2023 in Malta
Euro Pride in Malta promises a diverse program celebrating love, acceptance, and the vibrant diversity of the LGBTQ+ community. We compiled our highlights of Euro Pride 2023 in Malta:
#1 Representing Pride | Photography Exhibition | 7th to 12th June 2023
Discover "Representing Pride", a groundbreaking LGBTQIA+ photography exhibition at EuroPride Valletta 2023 from September 7th to 17th. Talented photographers from the Mediterranean Basin showcase their ethically minded work, celebrating the diverse beauty of the community. Experience captivating stories from Albania to Tunisia, highlighting the struggles, joys, and resilience of LGBTQIA+ individuals across cultures. In collaboration with HOLMA, this exhibition aims to foster empathy and understanding through visual storytelling, creating a space for the appreciation and celebration of queer identities.
#2 Opening Event | 7th of June 2023 in Valetta
More information about the EuroPride 2023 Malta Opening Event still needs to be revealed. More info here >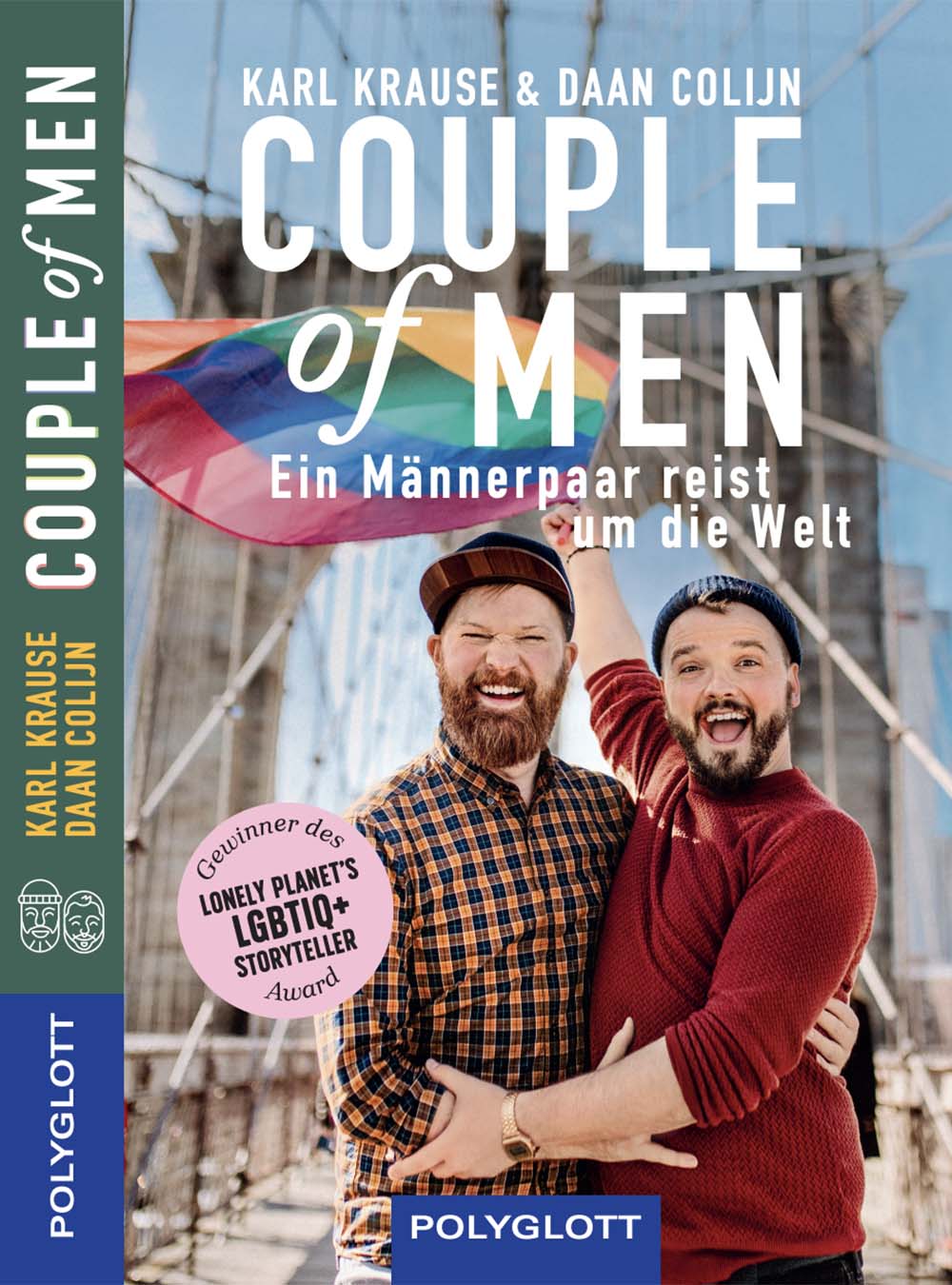 Advertisement
The perfect present to inspire (German-speaking) LGBTQ+ travelers and their allies to travel the world open-minded, respectfully, and with a happy heart.
Order our book online or purchase it in bookstores in Germany, Austria, and Switzerland.
#3 Gozo Pride | Pride March & Concert
Get ready for a dazzling celebration like no other at Euro Pride 2023 on September 9th. Experience unforgettable performances by top artists from Malta and Gozo, and don't miss the iconic Pride March in Victoria, where we march together for unity and equality. After the march, an awe-inspiring concert will feature the renowned brass band 'Versatile Brass' and over 20 incredible artists, including Michela, Ryan Hili, Pamela, Aidan, Amber, and more! Dynamic dance companies Kinetic Dance Company and YADA Dance Company will also captivate you with their moves. More info here >
#4 The EuroPride March | 16th of June 2023 in Valetta
More information about the EuroPride 2023 Malta parade still needs to be revealed. More info here >
#5 The EuroPride Concert ft. Christina Aguilera
Join us for an unforgettable evening of celebration at "The Official EuroPride Valletta 2023 Concert" featuring Christina Aguilera! Especially, Karl couldn't be more excited! Her song "Beautiful" was one of his Coming Out songs. Known for her remarkable talent and unwavering support, we are expecting a vibrant show on the stage at The Granaries in Floriana. This concert will be organized by Allied Rainbow Communities (ARC). We cannot wait for her performance! More info here >
Best of EuroPride Parade 2023
More information still needs to be revealed. We will share our favorite photos and videos with you during Euro Pride week in Malta in September 2023. Stay tuned!
Our Highlights of EuroPride 2023 in Malta here >
Advertisement
We found some great deals with flights worldwide as well as in and around Europe via Amsterdam (and return) with gay-friendly KLM Royal Dutch Airlines. That includes direct connections with KLM or their partner airlines, Air France and DELTA. *subject to availability / last check: 2023
Now it is time to plan your trip to Malta for EuroPride 2023
As we look ahead to the closing of Euro Pride 2023 in Malta, we anticipate the incredible moments of unity, love, and celebration that await us. From the groundbreaking photography exhibition to the upcoming Pride March in Gozo and the highly anticipated concert featuring Christina Aguilera, the journey promises to be unforgettable.
Malta will continue to demonstrate the power of embracing diversity and fostering inclusivity, thanks to the ongoing efforts of the Malta LGBTIQ Rights Movement (MGRM). As travel bloggers, we are excited to be a part of this remarkable event and share our experiences with you. Stay tuned as we bring you closer to the vibrant spirit of Euro Pride 2023
Do you like it? Pin it! >>
Would you like to learn more about us gay travel bloggers and experience our queer adventures with us? Then stay tuned and follow us on Facebook, Twitter, YouTube, Pinterest, and Instagram! See you in Valletta, Malta, and, or on one of our next Gay Pride trips worldwide!
Karl & Daan.