Join us as we embark on a magical journey to Disneyland Paris Pride 2023! Where love, acceptance, and celebration take center stage. This year, on the weekend of June 16th to 18th, Disneyland Paris will host its annual Pride event. It will offer a Disney rainbow experience filled with vibrant entertainment and magical moments. As a traveling gay couple that loves Disney theme parks, and as proud members of the LGBTQ+ community, we are thrilled to share our perspective on celebrating Pride in one of the most magical places on earth. Let's delve into the history of Disney as an LGBTQ+ Ally, the exciting program of this year's LGBTQ+ event, and Couple of Men's favorite moments of this rainbow celebration.
– in collaboration with The Walt Disney Company –
DISNEYLAND PARIS PRIDE 2023
Our Best of 2023
Disneyland Paris Pride 2023, a spectacular celebration of diversity and acceptance, took place on June 17th, 2023. Here our highlights of Disney's Pride event in France.
Why Disney Pride is Important
The Disney Company significantly influences our global culture with its movies, theme parks, games, and merchandise. That is why its commitment to celebrating diversity and organizing Pride events is something big. Especially with the recent controversies involving Disney and conservative groups in the United States and the state of Florida, Disney "finally" took a real stand in being an inclusive brand. CEO Bob Iger stated that inclusion and acceptance are among the "core values" of the company's storytelling.
Advertisement
We found some great deals with flights worldwide as well as in and around Europe via Amsterdam (and return) with gay-friendly KLM Royal Dutch Airlines. That includes direct connections with KLM or their partner airlines, Air France and DELTA. *subject to availability / last check: 2023
One of the ways Disney implements this is with a new "Disney Look" for its cast members, allowing more personal expression. Guidelines now include colored nail polish, expanded jewelry options, tattoos, facial hair, and religious headwear. These policies create a more gender-inclusive and diverse approach to the Disney experience for its cast members and guests. In addition, Disney is emphasizing inclusion in Cast Member training to create a safer and more welcoming space. These guidelines will be implemented across all Disney parks worldwide.
History of Pride at the Disney parks
The Disney theme park in Paris has been organizing its own Pride events since 2019. In doing so, the European Disney Park pioneered in hosting and sponsoring a Pride event by Disney in a Disney Park. This year's event marks the third edition after the 2020 and 2021 editions were canceled. But 2019 was not the first year where Pride was celebrated in one of the most magical places on earth.
Disney has come a long way in its complicated relationship with the LGBTQ+ community. It was in June 1991 when the first unofficial Gay Days took place in Orlando. Over 3,000 LGBTQ+ people visited the parks wearing red shirts. Back then, Disney would warn guests at the entrance and apparently hand out white t-shirts to "straight" visitors who turned up in red attire without a clue. A lot of time has passed since then. Although Disney still doesn't officially recognize the Disney Gay Days, the parks do celebrate Pride Month with unique murals, food, and merchandise. Last year, we participated in Red Shirt Day in the Magic Kingdom, celebrating Gay Days in Walt Disney World, Florida. But did you know that Disney just hosted its first official Disney Pride event in Disneyland in Anaheim, USA?
Disney Hotel New York – The Art of Marvel
We stayed at the Disney Hotel New York – The Art of Marvel. The hotel is located just a 10-minute walk from the train station and the two Disney parks, directly on an artificial lake, Lac Buena Vista. Modern, clean and furnished with art objects from the Marvel world: We felt right at home in our double-bed room. Tip: The buffet dinner at the Downtown Restaurant was a hit, with the best international, cuisine, and delicacies from Italy and Asia.
Participating in Disneyland Paris Pride 2023
As a gay couple and Disney fans who love to travel, we are thrilled to attend Disneyland Paris Pride 2023. Karl has never visited the Disney parks in Paris and only knows the theme parks from Daan's stories. It also will be our first time together to attend Disneyland Paris Pride, formerly known as Magic Pride. This nighttime celebration of diversity will take place in the Walt Disney Studios Park on June 17th, 2023. Featuring live concerts, a special Pride Parade, and attractions that stay open until 2 am! The live show in the heart of the Walt Disney Studios Park in Disneyland Paris will feature several musical acts, known mainly by the French audience.
Program of Disneyland Paris Pride 2023
Among the artists revealed for this exclusive event is Jenifer, the very first winner of the French series "Star Academy." Calum Scott, a multi-platinum-selling British singer-songwriter known for his heartfelt music will also perform. Additionally, Christophe Willem, lovingly referred to as "the Tortoise," will grace the stage. The energetic singer Bianca Costa will bring a unique blend of baile funk, bossa nova, and French urban pop.
#1 Disneyland Paris Pride Opening Celebration at 20:30
Let's start this cheerful evening in front of Disneyland® Paris Pride Stage to celebrate diversity and self-confidence all together!
#2 Disneyland Paris Colorful Pride Parade at 20:45
Guests, Disney friends and Disneyland® Paris Cast Members unite to celebrate diversity in harmony during the unforgettable colorful Disney Pride Parade.
#3 Live Performances at Disneyland® Paris Pride Stage
Head to the Production Courtyard Disneyland® Paris Pride Stage for exclusive concerts with Bianca Costa, Christophe Willem, Calum Scott and Jenifer!
Bianca Costa will hit the stage at 21:15
Christophe Willem will start his show at 21:55
Calum Scott will begin performing at 22:35
Jenifer will step on stage at 23:25
#4 Disney Fabulous DJ Dance Party
Meet in front of the Production Courtyard Disneyland® Paris Pride Stage to dance, and share your pride to the beats of the greatest classic and new hits.
Disneyland Paris Pride 2023 Program in a Slide Show
Disneyland Paris Pride 2023 Program © Disney

Disneyland Paris Pride 2023 Program © Disney

Disneyland Paris Pride 2023 Program © Disney

Disneyland Paris Pride 2023 Program © Disney

Disneyland Paris Pride 2023 Program © Disney

Disneyland Paris Pride 2023 Program © Disney

Disneyland Paris Pride 2023 Program © Disney

Disneyland Paris Pride 2023 Program © Disney

Disneyland Paris Pride 2023 Program © Disney
Mickey & Friends: Rainbow Allies
And also Mickey and his friends celebrate diversity, self-confidence, and pride all evening long. Decked out in rainbow colors, Mickey and the rest of the gang will be waiting to greet us and take selfies! Selfie Spots and Meet'N'Greet locations can be found throughout the park, for example, at Toon Plaza or the Avengers Campus.
Open Attractions during Disneyland Paris Pride 2023
During Disneyland Paris Pride 2023, almost all attractions throughout Walt Disney Studios® Park will be open. Speed freak Marvel fans can get their thrill at the re-themed coaster Avengers Assemble: Flight Force or help Spider-Man defeat his own inventions at the interactive shooter Spider-Man W.E.B. Adventure at the MARVEL AVENGERS CAMPUS. We probably will be repeatedly cueing for a more spooky adventure, stepping into The Twilight Zone Tower of Terror.
TOY STORY PLAYLAND offers more family fun fair experiences with RC Racer, Slinky Dog ZigZag Spin, and Toy Soldiers Parachute Drop. In TOON STUDIO, you can queer-up "A whole new world" by taking your own magical carpet ride on Les Tapis Volants – Flying Carpets Over Agrabah. Lastly, at WORLD OF PIXAR, the younger guests can enjoy Cars Quatre Roues Rallye, while we will be riding the indoor rollercoaster Crush's Coaster, and the super cute but cool trackless dark ride Ratatouille: L'Aventure Totalement Toquée de Rémy.
Food and drinks during Disneyland Paris Pride 2023
We cannot wait to try all the colorful food items served throughout the Walt Disney Studios® Park. Oh, and don't let your taste buds miss out on an exclusive Pride-inspired marshmallow cupcake or colorful Magnum made just for this occasion! Two restaurants will be open between 20:00 and 1:30, the Stark Factory: Pizza & Pasta and the Restaurant en Coulisse. Furthermore, around the park, LGBTQ+ travelers can treat themselves to a colorful, refreshing drink in one of the bars opened for the evening.
Disney Pride collection and exclusive items
Are you a shopaholic like Karl? Discover a selection of themed products like the official Disneyland® Paris Pride t-shirt and exclusive Disney Pride fans and mugs! And there is even more. We cannot wait to find some new Disney Pride items for the coming Pride events we plan to attend. And we are sure to find some wonderful, rainbow-colored Christmas presents for Karl's daughter and son.
Practical Tips for Disneyland Paris Pride 2023
Transportation to and from Disneyland Paris:
The last RER train is scheduled to leave from the Disney station Marne-La-Vallée at 00:24 am. Schedules are subject to change by RATP. Please check the train schedules on the event day for more information. Busses to Disney Hotels & Resort will continue to run until 3 am (except for Disney Davy Crockett Ranch and Les Villages Nature Paris). The Magical Shuttles are scheduled to leave for Paris between 1.30 am and 2:30 am from Marne-La-Vallée Chessy Nord station, platform O and will stop at Bercy, Châtelet, and Concorde. Available upon reservation only. Since we will be staying at Disney's Newport Bay Club hotel, we will simply walk back 10 minutes from the park and fall asleep…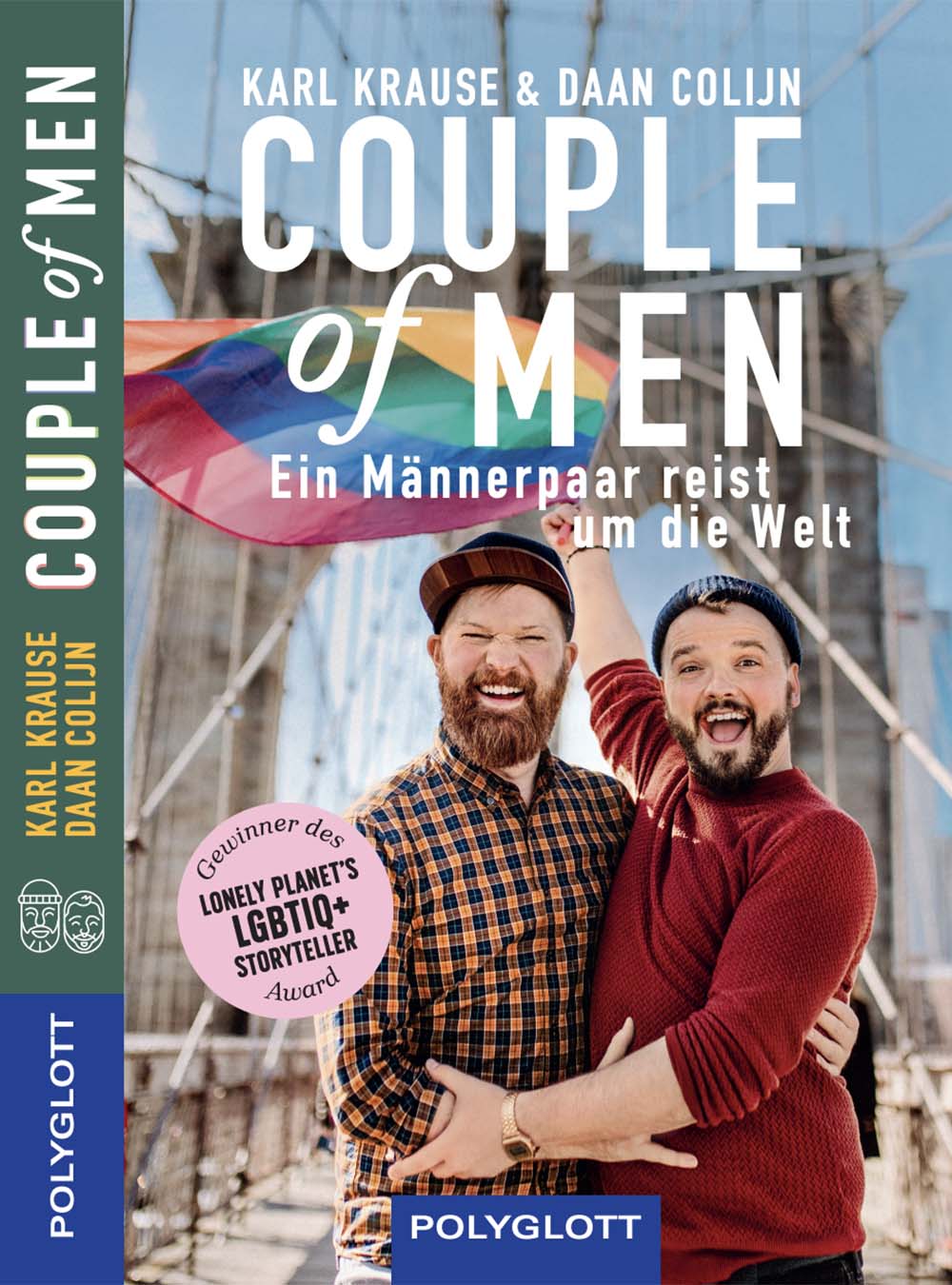 Advertisement
The perfect present to inspire (German-speaking) LGBTQ+ travelers and their allies to travel the world open-minded, respectfully, and with a happy heart.
Order our book online or purchase it in bookstores in Germany, Austria, and Switzerland.
Dress code: Info about the Wearing of Costumes
Guests are authorized to wear costumes during this special evening event. However, Disneyland Paris reserves the right, at their discretion and at any time, to prohibit certain costumes such as those which completely conceal the wearer's face or head and/or if they consider the costume/accessories/make-up shocking or inappropriate for younger guests and their families. The same applies to accessories that could be considered dangerous on attractions, for other guests, or could affect safety or security within the Disney Parks.
For safety reasons, Disney also reserves the right to visually inspect or use security scanning equipment on your clothing, coats, and personal belongings before entry and/or inside the Disney® Parks, especially for guests wearing multi-layered costumes that cover the entire body. Additional provisions may apply, and Disneyland Paris may ask a Guest to remove some or all of a costume deemed to be inappropriate. We will be wearing something Disney Rainbow inspired but leave the full costumes to all the Disney characters we will be meeting!
Safety Conditions
This event can cause a high noise level. For prevention and protection, Disneyland Paris will provide free earplugs. These will be available in the bars and at the First Aid Center located in Front Lot. Check DisneylandParis.com for more info. You can also ask a cast member for The Disney Park Rules at the entrance of the park.
Interesting Posts for Your Pride Travels
Join us for Disneyland Paris Pride 2023
We, Karl and Daan, avid Disney enthusiasts and proud members of the LGBTQ+ community, have always been captivated by the magic of Disney. Be it in both the Japan Parks, the Hong Kong Disneyland Resort, Disneyland and Disney California Adventure Park, and Disney World in Orlando, Florida. Whether exploring the enchanting parks, immersing ourselves in captivating stories, or celebrating love and diversity at events like Disneyland Paris Pride, our Disney obsession knows (almost) no bounds.
Join us as we share our firsthand experiences and adventures in the world of Disney. Discover why we believe that Disney truly is for everyone. See you in Disneyland Paris!
Do you like it? Pin it! >>
Would you like to learn more about us gay travel bloggers and experience our queer adventures with us? Then stay tuned and follow us on Facebook, Twitter, YouTube, Pinterest, and Instagram! See you in the Disney Parks in Paris, Florida, Anaheim, or Japan or on one of our next Gay Pride trips worldwide!
Karl & Daan.