As usual, we are bringing you the latest scoop from the vibrant world of gay travel. After a fantastic Pride weekend in Germany, we're thrilled to share the inspiring highlights of the recent Munich Pride (called CSD, the abbreviation for Christopher Street Day) and its resounding success in promoting equality and fighting discrimination. With over half a million participants (a new record!), this year's event in the Bavarian capital Munich proved to be a powerful platform for change and a celebration of diversity. In this Couple of Men article, we show you the empowering journey of the LGBTQ+ community that unfolded on the streets and stages of Munich during Munich Pride 2023.
– in collaboration with the Tourism Board of Munich –
Munich Pride 2023: "Queer Action Plan Bavaria now!"
The message "Queerer Aktionsplan Bayern jetzt!" (Queer Action Plan Bavaria now!) resounded all around the Bavarian city of Munich this weekend. But the subject is even bigger and more important than ever. The Munich Pride and 19 other CSDs across the German state of Bavaria rallied around one central theme: the Queer Action Plan for Bavaria. This rallying cry reverberated throughout the city's streets and stages as the diverse LGBTQ+ community shared their opinions and perspectives on the plan's various aspects. Because Munich's queer community needs backup and safe spaces for all communities represented in the LGBTQ+ acronym.
Voices of Resilience and Determination
And it did not stop after the CSD-PolitParade ended in Munich's center area. On the main stage, Enrico W., a courageous gay individual, shared his harrowing experience of being physically assaulted after a night out in Dingolfing. In an interview with the Süddeutsche Zeitung, Kristina Wölfel, a moderator on the main stage at Marienplatz, emphasized the importance of visibility at Munich Pride. She stated, "It is our lives, our reality, that are threatened by all the hatred and increasing attacks." The community's emotions were further stirred by the ongoing debate surrounding the drag reading event at a Munich city library branch since May. Official CSD München Press Release >
A New Record of A Growing Movement
But how many people participated in Munich Pride 2023? A lot! Record a lot! Around 60,000 people participated in the CSD-PolitParade 2023, with 181 formations (walking groups and trucks) taking part and an impressive 460,000 spectators. Throughout the day, a staggering 520,000 individuals joined the Munich Pride 2023 festivities, immersing themselves in the vibrant atmosphere of the LGBTQ+ event, which included stage programs, a street festival, a party area, a rainbow family section, and 78 information booths. Comparing these numbers to the previous year's event – we celebrated Munich Pride 2022 on the Pro7 truck – which saw 400,000 attendees and 27,000 participants in the CSD-PolitParade, it's evident that Munich Pride is experiencing remarkable growth.
Political Support for Change
Politicians from all German parties took to the two stages, expressing their support for the Queer Action Plan's key objectives. These include compelling the state government to record specific instances of violence and discrimination against LGBTQ+ individuals. Secondly, the campaign demands sensitizing the police to the needs of queer people and expanding counseling services, especially in rural areas. Furthermore, another key objective is to revise school curricula and establish dedicated accommodations for LGBTQ+ refugees in all administrative regions. Good to know: All other 15 German states do already implemented a queer action plan for the LGBTQ+ community.
Advertisement
We found some great deals with flights worldwide as well as in and around Europe via Amsterdam (and return) with gay-friendly KLM Royal Dutch Airlines. That includes direct connections with KLM or their partner airlines, Air France and DELTA. *subject to availability / last check: 2023
Munich Leading the Way in Bavaria
The city of Munich sets an example for other regions and cities in Bavaria to follow. Acting as a representative of Mayor and Patron Dieter Reiter, Mayor Katrin Habenschaden expressed her full support for the demand for a Queer Action Plan in Bavaria. She highlighted the alarming statistics, stating that
"… delinquency against queer people has increased sevenfold between 2010 and 2021, according to the state government's response to an inquiry in the state parliament. A sevenfold increase! This is unacceptable, which is why I wholeheartedly support the demand for a queer action plan in Bavaria on behalf of Munich's city leadership."

Mayor Katrin Habenschaden
The Way Forward
While the presence of Bavarian Minister Ulrike Scharf was noteworthy, her previous lack of expertise on queer realities left many questioning her commitment. At the Community Stage on Kaufingerstraße, she announced that her ministry had already begun working on an action plan, with a roundtable discussion planned for July. Approximately €700,000 ($820,000) would be allocated for implementing the proposed measures. However, Minister Scharf provided few specific details, leaving unanswered questions about the extent of community involvement in the plan's development. To address these concerns, a conference for all stakeholders in the Bavarian LGBTQ+ community is scheduled for September 8th and 9th, organized by LSVD Bayern.
Inclusivity and Funding: Community Voices Matter
Julia Bomsdorf, the spokesperson for Munich Pride, emphasized that the community must not be excluded from the process of shaping the Queer Action Plan. Additionally, many individuals expressed skepticism regarding the funding allocated to the plan. Munich alone invests four times the proposed budget to support its LGBTQ+ infrastructure. Given Bavaria's size and diversity, €700,000 might prove insufficient to address the needs of the entire region adequately.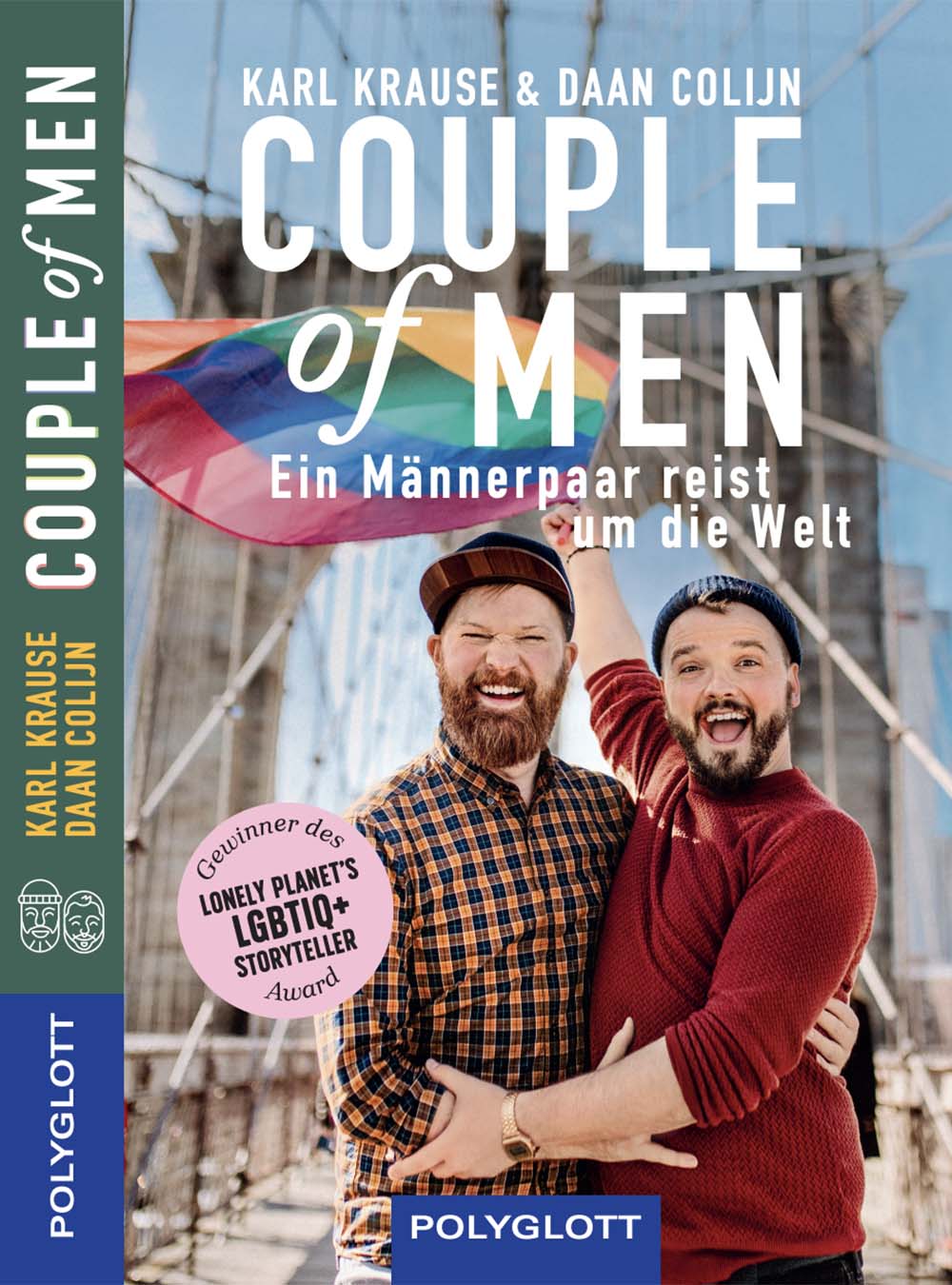 Advertisement
The perfect present to inspire (German-speaking) LGBTQ+ travelers and their allies to travel the world open-minded, respectfully, and with a happy heart.
Order our book online or purchase it in bookstores in Germany, Austria, and Switzerland.
Munich Pride 2023: A Platform for Change
The remarkable growth of Munich Pride 2023 serves as a testament to its crucial role as a political platform for showcasing queer lives and experiences. This is especially true for the younger generation, who find empowerment and inspiration through visibility and activism. Once again, we were amazed by the amount of queer representation, especially among the younger generations. But let's never forget: Pride is not just about celebrating diversity; it is an ongoing fight for equal rights and acceptance. The resounding success of this year's event demonstrated the community's unwavering dedication to these principles.
Interesting Posts for Your Pride Travels
Munich Pride 2023: Four Decades of Progress
For over 40 years, LGBTQ+ individuals in Munich have taken to the streets, demanding equal rights and acceptance. This monumental event, hosted by LesCommunity, Sub (the Gay Communication and Culture Center), Munich AIDS-Hilfe, the Rosa Liste voter initiative, and diversity, features over 100 events during the 16-day Pride Week. The highlights of Munich Pride 2023 include the CSD-PolitParade, which attracted over 520,000 participants and spectators, the two-day street festival around Marienplatz, and the much-anticipated Rathaus Clubbing party. We could enjoy the 20th anniversary of the unique Pride event after dancing the night away in 2022.
A Brighter Future Ahead – WITH Munich Pride 2023
As we reflect on the tremendous success of Munich Pride and the push for the Queer Action Plan, we are filled with hope and optimism. The united voices of the LGBTQ+ community, their allies, and political figures demonstrate a collective commitment to fostering a more inclusive society. Especially at a time when the influence of politically conservative and right-wing streaming seems to grow. Munich Pride celebrates our diverse identities but also serves as a powerful catalyst for change. Our Pride Trips >
Now it is time to plan your trip to Munich Pride 2024
As we continue our journey through the beautiful tapestry of LGBTQ+ travel destinations, let us be inspired by the triumphs achieved at Munich Pride 2023. Together, we can create a future where love, acceptance, and equality prevail.
Stay tuned for more exciting adventures and empowering stories as we navigate this unique path toward a brighter future. Remember, dear reader: Love knows no boundaries. Keep exploring, fighting, and spreading the message of inclusivity and acceptance wherever your travels take you.
Do you like it? Pin it! >>
Would you like to learn more about us gay travel bloggers and experience our queer adventures with us? Then stay tuned and follow us on Facebook, Twitter, YouTube, Pinterest, and Instagram! See you in Munich, Bavaria, Germany, or on one of our next Gay Pride trips worldwide.
Karl & Daan.
Disclaimer: All individuals who can be seen in the close-ups have consented to publication during the Pride Event. However, should you recognize yourself in an image and would rather not have this image published, please inform us, and we will remove that particular picture immediately. Thank you.