Every March for the past 27 years, Amsterdam has hosted the largest Dutch LGBTQ+ film festival, the Roze Filmdagen (= Pink Film Days). An extensive selection of international films, documentaries, and short films will be available for the queer community to watch, getting already in a Pride mood. The movies are all about queer culture, including romantic comedies, provocative documentaries, and everything beyond. Together with festival director Werner Borkes, we've selected the best gay movies of 2023, which include the Argentinian movie "Horseplay", the Taiwanese film "Moneyboys" and the Czech movie "Where Butterflies don't fly".
Top 15 List of Gay Movies for the RFD 2023
The selection of films screened during the festival will reflect the diversity of the LGBTQ+ community, with gay, lesbian, and queer actors. The festival also features panels on queer culture, especially in the film and movie-making genre. For a total of twelve days, starting on 22 March 2023, film lovers will be able to enjoy a diverse program in the cinemas of Het Ketelhuis in Amsterdam Westerpark. Like last year's editions, enjoy the best gay films selected by Couple of Men for Roze Filmdagen Amsterdam 2023.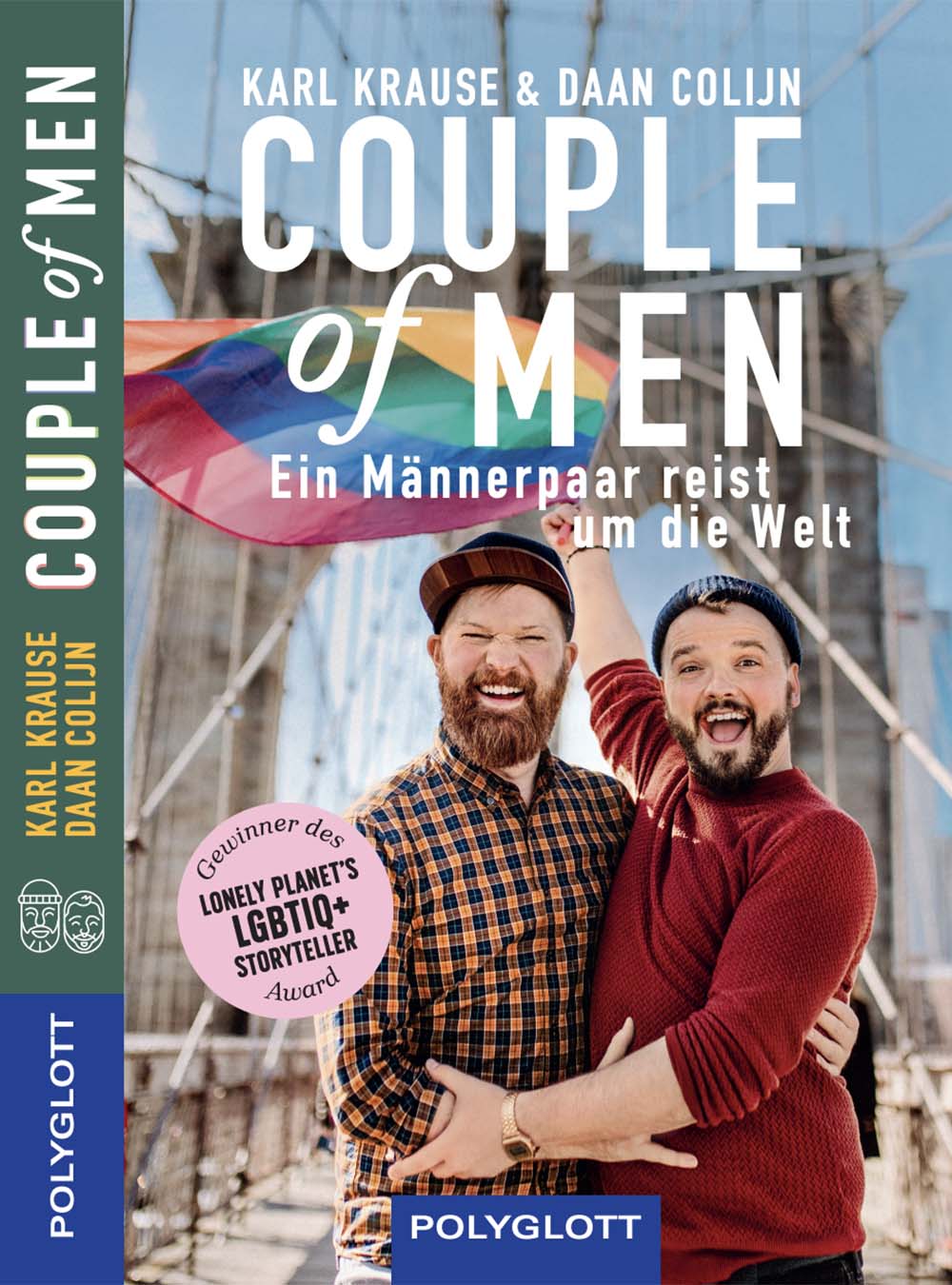 Advertisement
The perfect present to inspire (German-speaking) LGBTQ+ travelers and their allies to travel the world open-minded, respectfully, and with a happy heart.
Order our book online or purchase it in bookstores in Germany, Austria, and Switzerland.
#1 BARRIO BOY | USA
(2022) – 80 minutes
Quique, a Latino barber in a macho world, faces a difficult path when feelings develop for a handsome Irish stranger after a chance encounter during a hot, sweaty summer in Brooklyn, New York. As their friendship blossoms, they begin to suspect the nature of their relationship. Quique's search for love and self-acceptance continues, navigating complex and often uncomfortable layers of sexuality, family, friends, race, and class. More about Barrio Boy here >
Screening Dates:
29th of March 2023 | 17:15 Hours
31st of March 2023 | 17:00 Hours
#2 BURNING DAYS (kurak günler) | Turkey
(2022) – 129 minutes
Emre, an attractive, dedicated prosecutor, is assigned to a village in the throes of a water crisis and a series of political scandals. Initially welcoming, he is reluctantly drawn into the political turmoil as tensions rise. Simultaneously, a bond develops between Emre and the owner of the local newspaper. The pressure escalates amidst heated rumors when sexual tension arises between them. More about Burning Days here >
Screening Dates:
24th of March 2023 | 21:15 Hours
30th of March 2023 | 21:15 Hours
#3 EISMAYER | Austria
(2022) – 87 minutes
Known and feared as the toughest training officer in the Austrian army, Sgt. Major Eismayer is ruthless in his treatment of recruits and unyielding in his discipline, order, and macho toughness. But Eismayer's closeted existence is shattered when he falls in love with Falak, a new recruit who is openly gay. For a man like Eismeyer, love for another man is incompatible with his understanding of being a model soldier. Will he go the extra mile to protect the tough-guy image, or can he follow his heart and what he really wants? Inspired by a true story. More about Eismayer here >
Screening Dates:
24th of March 2023 | 21:00 Hours
1st of April 2023 | 13:15 Hours
#4 ELEPHANT (słoń) | Poland 2022
(2022) – 94 minutes
Somewhere deep in the Polish countryside, young Bartek has a special bond with the horses on his possessive mother's farm. But he gets a glimpse of a new future when the musician Dawid returns to the village for a while. While vicious gossip circulates, some kind souls help him make his choice. Featuring beautiful images and relatable characters, this is an uplifting story of finding freedom. More about Elephant here >
Screening Dates:
23rd of March 2023 | 21:15 Hours
27th of March 2023 | 17:00 Hours
#5 FUCCBOIS (f#*@Bois) | Philippines
(2019) – 96 minutes
Ace and Miko are two Instagram celebrities who aspire to become professional actors. They are both working as models in a gay bar when an unknown man invites them to a private resort on a remote island. He threatens to release a xxx video of them on the internet if they don't comply. Ace and Miko come to the resort to meet the blackmailer, who turns out to be the powerful mayor of a local town, and fear that their reputations will be permanently damaged if the video spreads. More about Fuccbois here >
Screening Dates:
28th of March 2023 | 17:15 Hours
#6 GOLDEN DELICIOUS | Canada
(2022) – 119 minutes
Torn between his girlfriend's dreams for their future and his father's ambitions, an Asian-Canadian teen struggles to find himself and follow his desires in this fresh, engaging coming-of-age story. In his first feature, director Jason Carman vividly captures the pleasures and complications of a young man suddenly discovering feelings for the boy next door. In a genre traditionally represented by white, heterosexual, and mainstream narratives, this film is a rare yet important entry. More about Golden Delicious here >
Screening Dates:
25th of March 2023 | 21:00 Hours
31st of March 2023 | 21:15 Hours
#7 HORSEPLAY (los agitadores) | Argentina
(2022) – 102 minutes
It's vacation time, and sexy Andy is leaving town for a few days at a luxurious mansion with all his good-looking, good-hearted buddies. The timeless nature of the holiday encourages rest, relaxation, and the occasional bit of teasing. But each has different personal boundaries, as their initial consensual shenanigans reveal. Horseplay is no exception to director Marco Berger's ongoing interest in queer narratives and the depiction of erotic fantasy, sexuality, and gender since his debut film. Once again, masculinity in its most dangerously toxic form is the subject of a provocative political tale from the Argentinian filmmaker. More about HORSEPLAY here >
Screening Dates:
28th of March 2023 | 19:00 Hours
2nd of April 2023 | 15:00 Hours
The Berlin-based Spartacus informs LGBTQ+ and queer travelers about how gay-friendly a holiday destination is according to several ranking factors and criteria. Gay travelers can use the Gay Travel Index 2023 to prepare for their gaycation and as a guide when choosing a holiday destination. But which country ranks first? Where is it safe to travel to as a gay and LGBTQ+ traveler?
#8 IN BED (ke'elu en machar) | Israël
(2022) – 85 minutes
Guy and his best friend Joy are enjoying the Pride Parade when a fatal shooting interrupts their happiness. They flee the scene to the safety of Guy's house. There they take in a fellow Pride parade participant, Dan, who seems to be in shock. They embark on an erotic, adventurous night, including paranoia since the shooter is still on the run. A night of excess that will reveal the monsters in your head… and in your bed. More about In Bed here >
Screening Dates:
26th of March 2023 | 19:00 Hours
2nd of April 2023 | 17:15 Hours
#9 IN FROM THE SIDE | UK
(2022) – 134 minutes
After a drunken encounter, two equally devoted men from a cash-strapped and divided gay rugby club in the UK unwittingly sleepwalk into an adulterous affair. Unfortunately, they must hide their growing feelings or risk destroying the club they love. This tale of adultery and relationships is an absolute feast for the eyes, with a beautiful rugby backdrop and some very skillful actors. More about In From The Side here >
Screening Dates:
28th of March 2023 | 21:00 Hours
31st of March 2023 | 21:00 Hours
#10 JIMMY IN SAIGON | USA / Vietnam
(2022) – 89 minutes
The mysterious death, radical life, and forbidden romance of a 24-year-old Vietnam veteran who died in Saigon in 1972 is the subject of this gripping documentary. Shrouded in secrecy and shame, director Peter McDowell, Jimmy's younger brother, was only five years old when Jimmy died. The film follows Peter's 10-year quest to uncover the secrets surrounding Jimmy's sexual orientation and the rumors that he used drugs. As he struggles to come to terms with his identity as a gay man, Peter finds surprising connections to his late brother. More about In From The Side here >
Screening Dates:
26th of March 2023 | 17:15 Hours
28th of March 2023 | 19:15 Hours
#11 KEEP THE CAMERAS ROLLING: THE PEDRO ZAMORA WAY | USA
(2022) – 98 minutes
A true story about a pandemic, politics, misunderstanding and prejudice, the impact of the media, and, above all, the AIDS activist Pedro Zamora. The film tells the story of Pedro Zamora, his life, his joys, and his impact on the people who knew and loved him and those who saw the strength of his commitment and the effect he had. Despite his death on 11 November 1994 at 22, his insistence on his way with courage, humanity, and love has truly changed the world. More about Keep The Cameras Rolling here >
Screening Dates:
25th of March 2023 | –:– Hours
#12 LE PARADIS (the lost boys) | Belgium / France
(2023) -88 minutes
Uncertain about life on the other side of the fence, Joe prepares to return to society in a young offenders' institution. But Joe's desire for freedom quickly gives way to a desire of a different kind when the new arrival, William moves into the cell next door. This debut film charts the twists and turns of the passion between two young men who thought their lives had been put on hold. It offers an uncompromising vision of love: Behind these walls, passion comes first and freedom a distant second. More about Le Paradis here >
Screening Dates:
23rd of March 2023 | 17:00 Hours
1st of April 2023 | 19:15 Hours
#13 MONEYBOYS | Taiwan
(2021) – 120 minutes
Fei earns good money in the big city as a gigolo. He needs this money to support his poor rural family, which, despite its hypocritical attitude towards his proclivities, gladly accepts it. The charade is derailed when a potential new lover arrives and an old boyfriend, left under dramatic circumstances, reappears. This is a powerful story of love, survival, and acceptance. More about Moneyboys here >
Screening Dates:
27th of March 2023 | 21:15 Hours
1st of April 2023 | 21:15 Hours
#14 UNIDENTIFIED OBJECTS | USA
(2022) – 100 minutes
Peter is a man with a great deal of intelligence in a small body. He's also gay. This has only added to his cynicism as an armor plate against the world. Well, staying at a distance is something his slightly unhinged next-door neighbor Winona doesn't do. As a free spirit, she requires Peter to drive her to where she believes aliens will abduct her. Humor pierces the bitterness, and unexpected bonds form as this fabulously offbeat road movie unfolds. And will the aliens be able to get there on time? More about Unidentified Objects here >
Screening Dates:
25th of March 2023 | 13:15 Hours
31st of March 2023 | 19:00 Hours
#15 WHERE BUTTERFLIES DON'T FLY (kam motýli nelétají) | Czech Republic
(2022) – 126 minutes
Daniel is a lonely teenager with indifferent, quarrelsome parents and no real plan for his future. His teacher, Adam, is in a reasonably good relationship with his partner, David, but their relationship is kept a secret from the outside world. When a school trip to a cave complex goes horribly wrong, they are left to fend for themselves in the dark, trying to survive. To find a way out, both literally and figuratively, they'll have to leave their bubbles. With some excellent photography, this is an unusual and highly satisfying story. More about Where Butterflies Don't Fly here >
Screening Dates:
26th of March 2023 | 21:15 Hours
29th of March 2023 | 21:00 Hours
Best Gay Movies selected for Roze Filmdagen 2023:
Best of Amsterdam "Gay" Pride with Canal Parade 2018 >
All you need to know about traveling to the Dutch capital Amsterdam >
All you need to know for your Gay Travels to the Netherlands, Holland >
Plan your visit to the Roze Filmdagen with our best Gay Movies 2023
Of course, our top list of the best gay movies in 2023 is just a selection for guidance to get an overview of the online festival. Check the whole program of the Roze Filmdagen for all movies, films, and documentaries!
Karl & Daan.
Do you want to know and see more of us gay couple travel bloggers? Stay tuned on Instagram, Twitter, YouTube, and Facebook! See you in Amsterdam, the Netherlands, and around the world!
This year again, it is possible to support the Amsterdam LGBTQ+ Film Festival 2023 with two different kinds of memberships (website in NL/EN).
Option 1: Become a Pink Member. You can support the Amsterdam LGBTQ+ Film festival by becoming a member; one-year membership is €55. A Pink member gets yearly discounts for festivals and events the RFD cooperates with, such as Ketelhuis Queer Screenings.
Option 2: Become a Platinum Member. Want to go all in? Then become a Platinum Member. For €750, you'll be our guest at the opening and receive a personal passepartout for all screenings during the festival.