BERLIN: Goosebumps alert! As every year, we visited the world's largest travel trade fair in Berlin, the ITB, in 2023. Numerous meetings with travel destinations, interviews, panel discussions, and informative lectures were on the agenda. Equipped with business cards and plenty of power bars for a little energy boost in between, we settled in for the marathon days of ITB 2023. What we didn't know until yesterday: After receiving the Lonely Planet Award in 2021, this year, our blog Couple of Men was in the running for the prestigious ITB LGBTQ+ Pioneer Award 2023.
Meetings with LGBTQ+ friendly destinations
But how do we get in touch with travel partners, destinations, and colleagues from the blogging world? As press participants at the ITB travel trade show, we can schedule talks and meetings using various tools. Once contact has been made, and common ground has been established for possible cooperation, we must sell ourselves. By this, of course, we mean our work on the blog, magazine articles for print media, our book, and future campaigns on our social channels. Our goal: to promote LGBTQ+ friendly destinations, businesses, accommodations, and Pride events that are safe spaces and destinations for gay, lesbian, trans, and queer folks around the world.
---
On our summer trip from Sweden to Germany to Austria, we received a completely unexpected message: "Congratulations on winning the first Best in Travel LGBTIQ+ Storyteller Award from Lonely Planet!" This award is usually given to places and organizers that deserve special attention for the upcoming travel year. We were speechless that we should now be one of them!
---
Panel discussions as gay travel bloggers
But first, various panel discussions were on the agenda. Not just as members of the audience, but as experts on the topic of queer travel, pink washing, and our work as gay travel bloggers. Together with experts in the field of LGBTQ+ travel, such as Ravi Roth, Meg ten Eyck, Maartje Hensen, The Globetrotter Guys, and ItsVaBene, we answered the visitors' questions and were also able to educate them on the topic of "gay travel blogging".
---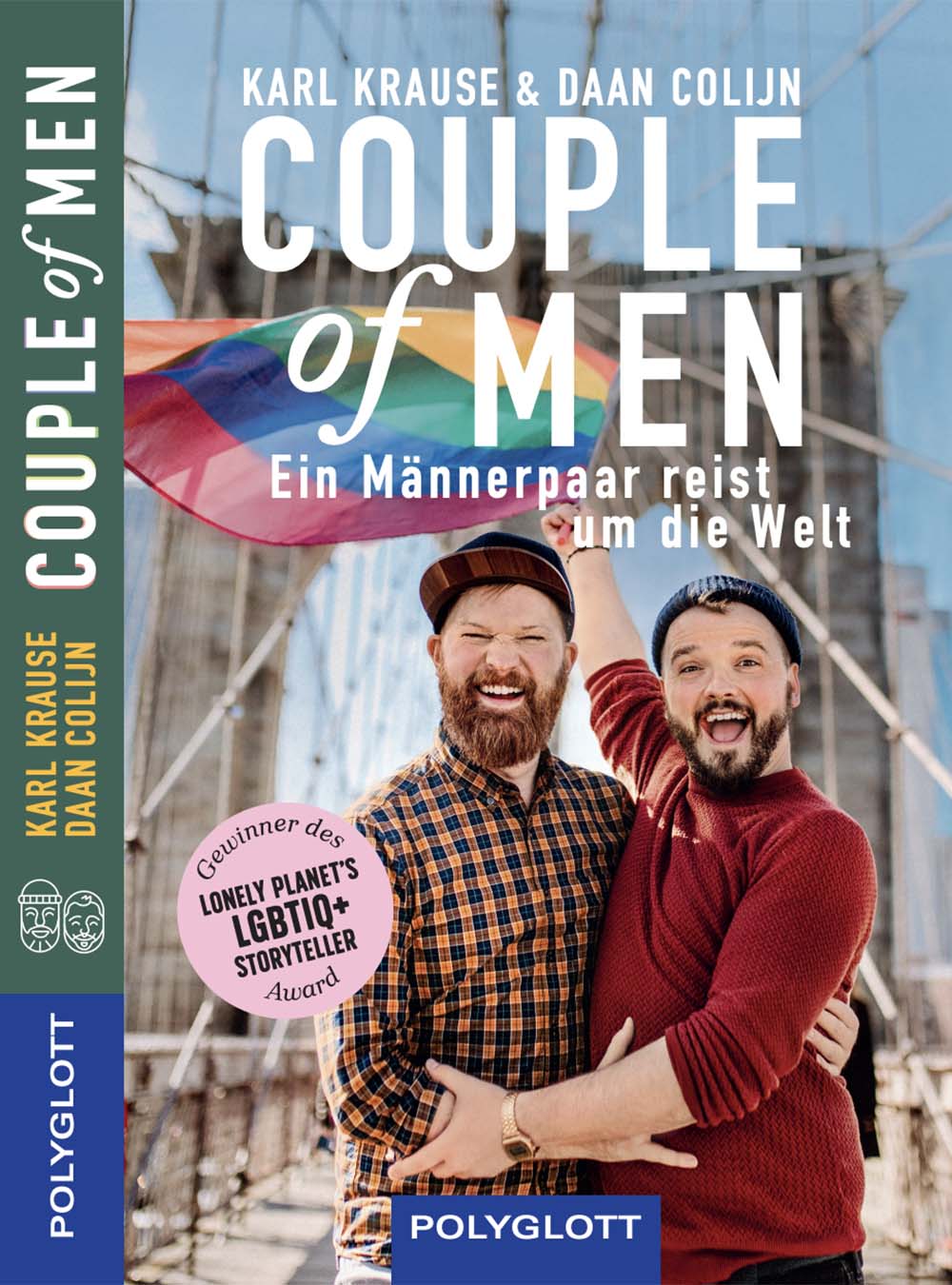 Advertisement
The perfect present to inspire (German-speaking) LGBTQ+ travelers and their allies to travel the world open-minded, respectfully, and with a happy heart.
Order our book online or purchase it in bookstores in Germany, Austria, and Switzerland.
---
ITB Diversity Gala 2023
At the end of an exhausting yet inspiring week of travel in Berlin, we were invited to attend the first edition of the ITB Diversity Gala 2023 as guests, along with many other essential professionals from the LGBTQ+ world. Travel specialist Daniela Wagner hosted the evening with speeches by the Maltese ambassador to Germany, H. E. Giovanni Xuereb, the lesbian mayor of Tampa in Florida, Jane Castor, and the president of the International LGBTQ+ Travel Association IGLTA, LoAnn Halden. And then, it got silent in the venue when Thomas Böhmkes from Diversity Tourism and Rika Jean-Francois from ITB Berlin stepped on stage.
Receiving ITB LGBTQ+ Pioneer Award 2023 in honor of LGBTQ+ content creators around the world
You do not have to be a senior to be a pioneer in what you do. And writing the first ever LGBTQ+ travel book in German is definitely trailblazing work for the LGBTQ+ community, especially in Germany.

Thomas Böhmkes, Diversity Tourism
With these words, Rika invited us to step on stage and receive the third ITB LGBTQ+ Pioneer Award. Our emotions reached new heights as we gave our acceptance speech with trembling voices. We could hardly have been more proud to be presented with this award as bloggers, content creators, and influencers. But it was especially important for us to accept the award on behalf of all LGBTQ+ content creators and storytellers: friends, colleagues, and creative and inspiring people beyond measure who accompany us on our journey together.
And there was another reason to celebrate. After all, the 9th of March is Karl's birthday. On this evening, a very special surprise was in store for this occasion. The pianist of the Gala composed a very personal birthday serenade for us backstage. What a special evening!
The Berlin-based Spartacus informs LGBTQ+ and queer travelers about how gay-friendly a holiday destination is according to several ranking factors and criteria. Gay travelers can use the Gay Travel Index 2023 to prepare for their gaycation and as a guide when choosing a holiday destination. But which country ranks first? Where is it safe to travel to as a gay and LGBTQ+ traveler?
Possible trips for Gay Travel Bloggers Couple of Men in 2023
But in the end, it's all about traveling. Of course, some travel destinations are higher on our list than others. This year, we were interested in a possible trip to Japan, Malta for Euro Pride, the USA with Puerto Rico for the IGLTA Convention, and Chicago and Philadelphia for Pride. However, chances are that we will also include other exciting destinations in our travel plans for 2023. Do you have any tips and ideas for a trip we should do this year? Then send us a message here or on our social media channels.
For more travel news and background stories about the LGBTQ+ community, follow Couple of Men on Instagram, Twitter, YouTube, Pinterest, and Facebook!