For 26 years now, the largest Dutch LGBTQ+ film festival takes place in Amsterdam every March under the name "Roze Filmdagen", meaning Pink Film Days. The queer Community will be able to watch an extensive selection of international films, documentaries, and short films. Furthermore, on the 25th anniversary of the queer film festival, all the films have something in common: they address queer culture, romantic comedies, provocative documentaries and everything in between. We teamed up with festival director Werner Borkes to choose our best gay movies of 2022 including Romanian movie "Poppy Field", the Namibian movie "Kapana", the Italian movie "Mascarpone" and the Icelandic gay film "Cop Secret".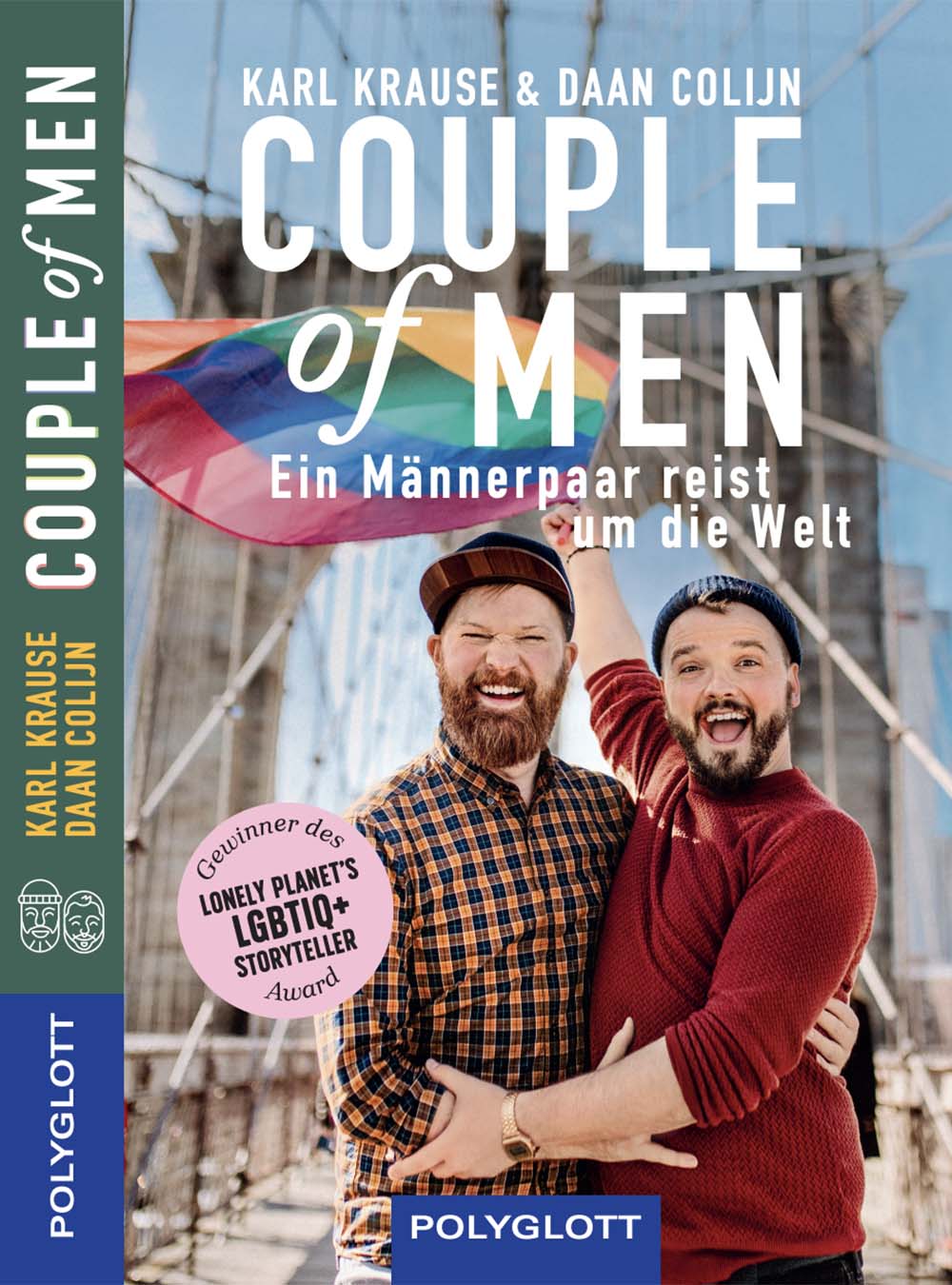 Advertisement
The perfect present to inspire (German-speaking) LGBTQ+ travelers and their allies to travel the world open-minded, respectfully, and with a happy heart.
Order our book online or purchase it in bookstores in Germany, Austria, and Switzerland.
Top 15 List of Gay Movies 2022 at Roze Filmdagen
In doing so, the selection of movies shown is meant to reflect the diversity of the LGBTQ+ community, with lesbian, gay and queer performers. In addition, there will be interesting roundtable discussions that will go beyond the film themes to explore queer film culture. For a total of eleven days, beginning on March 10, 2022, film lovers can experience a diverse program either in the theaters at Ketelhuis or online, in the comfort of their homes. Like the other editions in the past year, enjoy the best gay films 2022 for the Roze Filmdagen Amsterdam 2022 selected by Couple of Men.
#1 Cop Secret | Iceland
(2021) Icelandic, with English subtitles
The diehard policeman Bússi, although he has a drinking problem, manages to maintain order in his rough neighborhood. When a new super-villain makes the city unsafe, he is forced to work with his arch rival, ex-square-jawed photographic model and exemplary cop Hördur from the wealthy neighboring town. In between the flying bullets and explosions, something beautiful blossoms. This action film makes lavish use of all the clichés you can think of: chases, merciless villains, homoerotic subtext, and that's not even it. The camerawork gives Reykjavík the allure of Los Angeles in this delightful buddy movie, directed by Hannes Þór Halldórsson. Fun fact: Hannes was also Iceland's national goalkeeper. More about Cop Secret here >
Dates:
12th March 2022 | 21:30 Hours
#2 La Santa Piccola | Italy
(2021) Italian, with English subtitles
Mario and Lino are two inseparable friends in a sunny neighborhood in Naples where everyone knows each other. They lead a monotonous life in their district. Until everything changes: Annaluce, Lino's little sister, begins to perform miracles and from one moment to the next becomes the patron saint of the neighborhood. For Mario and Lino, the unthinkable happens: a door opens to a new world in which they risk everything. Even the most important thing they have: their friendship. One that, at least for Mario, goes far beyond brotherhood and, for us, yields one of the most intense intimate scenes of the festival. More about La Santa Piccola here >
Dates:
17th March 2022 | 19:30 Hours
#3 Deserto Particular | Brazil
(2021) Portuguese, with English subtitles
Daniel, a 40-year-old police officer, is suspended due to an internal investigation for violence. When his Internet sweetheart suddenly stops answering his text messages, he decides to drive north to look for his long-distance lover. This seems hopeless until a man shows up who says he can connect the two under very specific conditions. The Brazilian Oscar entry for Best Foreign Film is a particularly engaging story told from two points of view. More about Deserto Particular here >
Dates:
13th March 2022 | 21:30 Hours
#4 Firebird | Estland – USA
(2021) English, no subtitles
When Sergey, a young Russian soldier, is tasked with accompanying pilot Roman on the base where they are both stationed, more quickly grows between the two. But his female colleague and friend Luisa also has a crush on Sergey. A dangerous, yet exciting love triangle develops that the men must keep out of the KGB's watchful eye. Based on Sergey Fetisov's memoirs, the film is a feast for the eyes. Sensual and lushly filmed, full of erotic tension and an eye for drama. More about Firebird here >
Dates:
16th March 2022 | 21:30 Hours
#5 I Carry You With Me | Mexico & USA
(2021) Spanish and English, with English subtitles
An ambitious chef and a teacher from provincial Mexico meet in an underground gay bar and fall in love. They begin a relationship that will last several decades. Under social pressure, they emigrate to New York in search of a better life, but nothing will be the same there. In this epic story based on truth, the two lovers, Iván Garcia and Gerardo Zabaleta, are embodied by the real men in the documentary-present and by actors in flashbacks. More about I Carry You With Me here >
Dates:
19th March 2022 | 21:45 Hours
#6 Narciccus And Goldmund | Germany
(2020) German, with English subtitles
In this epic adaptation of Herman Hesse's novel with the same name, the young, restless Goldmund is sent to a monastery to study. There he meets the very religious Narcissus. An intimate friendship develops between the two, especially Narcissus' feelings go beyond brotherly love. The impetuous and cheerful artist Goldmund soon realizes that the monastery does not suit his ideas of freedom and, encouraged by Narcissus, embarks on a journey full of adventure. Years later, the two men meet again under dramatic circumstances. Goldmund's feelings have not yet disappeared. More about Narcissus And Goldmund here >
Dates:
20th March 2022 | 13:45 Hours
#7 Wandering Heart | Argentina – Brazil – Netherlands
(2021) Spanish, Portuguese and English, with English subtitles
Santiago, a single gay man, has reached a turning point in his life. Recovering from a painful relationship breakup, he is sad to see his daughter Laila go to live alone. They have a close but also emotionally intense relationship. As the fear of being alone threatens to swallow him up completely, his behavior becomes increasingly erratic. With alcohol, drugs, and forced sex, he tries to get himself through it all. Over the course of a chaotic summer divided between Argentina and Brazil, Santiago must learn to let go. This emotionally moving drama is about the intense desire to love and be loved. More about Wandering Heart here >
Dates:
14th March 2022 | 21:45 Hours
#8 Poppy Field | Romania
(2020) Romanian, English, French and Arabic, with English subtitles
Cristi is a young police officer in Bucharest who hides his relationship with Frenchman Hadi from his colleagues. On the day Hadi comes to visit him, Cristi is called to an intervention in a cinema, where fascists have sabotaged the screening of a queer film. When one of the visitors recognizes Cristi, the situation is in danger of spiraling out of control. Inspired by true events, the film balances between intimate and explosive moments and shows a contemporary, divided and troubled Romania. More about Poppy Field here >
Dates:
16th March 2022 | 17:45 Hours
#9 Beyto | Zwitserland
(2021) Swiss German and Turkish, with Dutch subtitles
Swiss-born Beyto is the pride of his parents. He gets good grades, never gets into trouble, and helps out in the kebab store. Swimming is his great passion. His parents are not very enthusiastic about it, but as long as his education does not suffer from it, they are fine with it. One important thing to this Turkish immigrant family is that their son must have a better life than they do. Beyto has been in love with his swimming coach Mike for some time, but he knows very well how his parents and their Turkish surroundings feel about homosexuality. When his parents do find out, their world falls apart, and they have no choice but to resort to a ruse. More about Beyto here >
Dates:
20th March 2022 | 19:30 Hours
#10 The Perfect David | Argentina – Uruguay
(2021) Spanish, with English subtitles
Teenager David obsessively works on his body, day and night, to achieve the idealized physique of a bodybuilder. His mother Juana, a well-known artist, oversees all aspects of his daily extreme routine and training, using his sculpted body as an art object. While David devotes himself to further developing his build and occasionally blows off steam with gay porn, there is a lot of social pressure coming from his group of friends. His masculinity is questioned. Can a forced intimate intercourse with his classmate Mica quell the rumors? More about The Perfect David here >
Dates:
14th March 2022 | 17:30 Hours
#11 Mascarpone | Italy
(2021) Italian, with Dutch subtitles
The life of thirty-year-old Antonio turns upside down after he is suddenly dumped by his boyfriend. From one day to the next, the Italian has to look for new living quarters, a new job and a new life fulfillment. Soon he finds a place to live in the apartment of the sprightly and sexually active Denis and starts working in the bakery of the handsome Luca. In this world full of (literal and figurative) delights, after all, is he really as dependent as he thought? More about Mascarpone here >
Dates:
19th March 2022 | 17:30 Hours
#12 Kapana | Namibia
(2020) English, Afrikaans, Oshiwambo, with English subtitles
HIVOS FREE TO BE ME AWARD winner – This is the first Namibian film to tell a queer love story. In a country where same-sex relationships are still punishable by law, two men begin a relationship. George is a middle-class insurance agent who is fairly open about his homosexuality. On the other hand, Simeon is a market vendor who is deeply in the closet. Both are challenged in their ways to defy societal expectations and stigmas. More about Kapana here >
Dates:
12th March 2022 | 19:30 Hours
#13 The Schoolmaster Games | Sweden
(2021) Swedish, with English subtitles
Based on the popular novel by Kristofer Folkhammar, this sensual and visual melodrama takes place at the all male St. Sebastian Academy, where homosexuality is the norm at a place that pulsates with eroticism and power games. In a stylized cinematic universe inspired by high school flicks and 90s boy bands, the search for who will be allowed to lead the yearly procession leads up to dramatic events. A daring, disturbing and unique debut feature film from Swedish director Ylva Forner. More about The Schoolmaster Games here >
Dates:
17th March 2022 | 21:30 Hours
#14 The Swimmer | Israel
(2021) Hebrew, with English subtitles
Speedos, water, desire and only one ticket to the Olympics. Erez is a very talented Israeli swimmer competing for a spot on the Olympic team in a rigorous training camp in the desert. He must deal with the homophobia of the sports world and with his hidden desire for his camp mate Nevo. The feelings prove mutual, but showing them can be dangerous. The swim coach warns the two men that there can be no friendship between the rivals, but Erez cannot and will not turn off his feelings. More about The Swimmer here >
Dates:
20th March 2022 | 17:30 Hours
#15 Bridesman | USA
(2021) English, no subtitles
Teenager David obsessively works on his body, day and night, to achieve the idealized physique of a bodybuilder. In this first-ever Grindr-produced series, comedian Jimmy Fowlie steals the show as the shamelessly selfish gay man Terry, who assists his best friend Judith in preparing for her wedding. Upon seeing the too handsome groom-to-be, a radical decision is immediately made. Terry wants the groom for himself and will secretly do everything in his power to prevent the wedding ceremony. Fast-paced comedy full of delicious one-liners, fag hags, and a sexy Uber driver. More about Bridesman here >
Dates:
18th March 2022 | 15:30 Hours
Best Gay Movies selected for Roze Filmdagen 2022:
Best of Amsterdam "Gay" Pride with Canal Parade 2018 >
All you need to know about traveling the Dutch capital Amsterdam >
All you need to know for your Gay Travels to the Netherlands, Holland >
List of the best Gay Movies selected for Roze Filmdagen 2022 in Amsterdam
Of course, our top list of the best gay movies 2022 is just a selection for some guidance to get an overview for the online festival. Check the whole program of the Roze Filmdagen for all movies, films, and documentaries! A single online movie ticket will cost you €8.50 and the "normal" cinema tickets for €11. Access the online movie theater by visiting: watch.rozefilmdagen.nl.
Karl & Daan.
Do you want to know and see more of us gay couple travel bloggers? Stay tuned on Instagram, Twitter, YouTube, and Facebook! See you in Amsterdam, the Netherlands, and around the world!
This year again, it is possible to support the Amsterdam LGBTQ+ Film Festival 2022 with two different kinds of memberships (website in NL/EN).
Option 1: Become a Pink Member. You can support the Amsterdam LGBTQ Film festival by becoming a member; one-year membership is €50. A Pink member gets a €30 discount for this year's online passepartout. During the year, you also get a discount on tickets for Gay Night at Het Ketelhuis, and sometimes other festivals and events we cooperate with.
Option 2: Become a Platinum Member. Want to go all in? Then become a Platinum Member. For €750 you'll be our guest at the opening, you'll receive a personal passepartout for all screenings during the festival. And we'll throw in a unique T-shirt. Plus, we'll invite you to some special events during the festival, and during the year.