The largest Dutch LGBTQ+ film festival has been held in Amsterdam every March for the past 27 years. The festival is called Roze Filmdagen, which means Pink Film Days. The queer community has the choice to watch an extensive selection of international films, documentaries, and short films, mostly from 2023. Once again, in 2023, all the films share a commonality – queer culture, romantic comedy, provocative documentary, and everything in between. We have teamed up with festival director Werner Borkes to pick our favorite lesbian movies of 2023 from around the world. The list includes the Kazakhstani film "Balaban", the Lebanese movie "Sirens", and the Swedish film "Så jävla easy going – So damn easy going".
Top 10 List: Lesbian Movies 2023 at Roze Filmdagen
The selections screened will reflect the diversity of the LGBTQ+ community, featuring lesbian, gay, and queer performers and actors. Furthermore, exciting roundtable discussions will go beyond the films' themes to examine queer film culture. For twelve days, starting on 22 March 2023, film lovers will be able to experience a diverse program of shorts, documentaries, and feature films in the cinemas of the Het Ketelhuis at Westerpark in Amsterdam. As in the other editions of the past year, you can enjoy the best lesbian movies of 2023 for the Roze Filmdagen Amsterdam 2023, selected by the Couple of Men.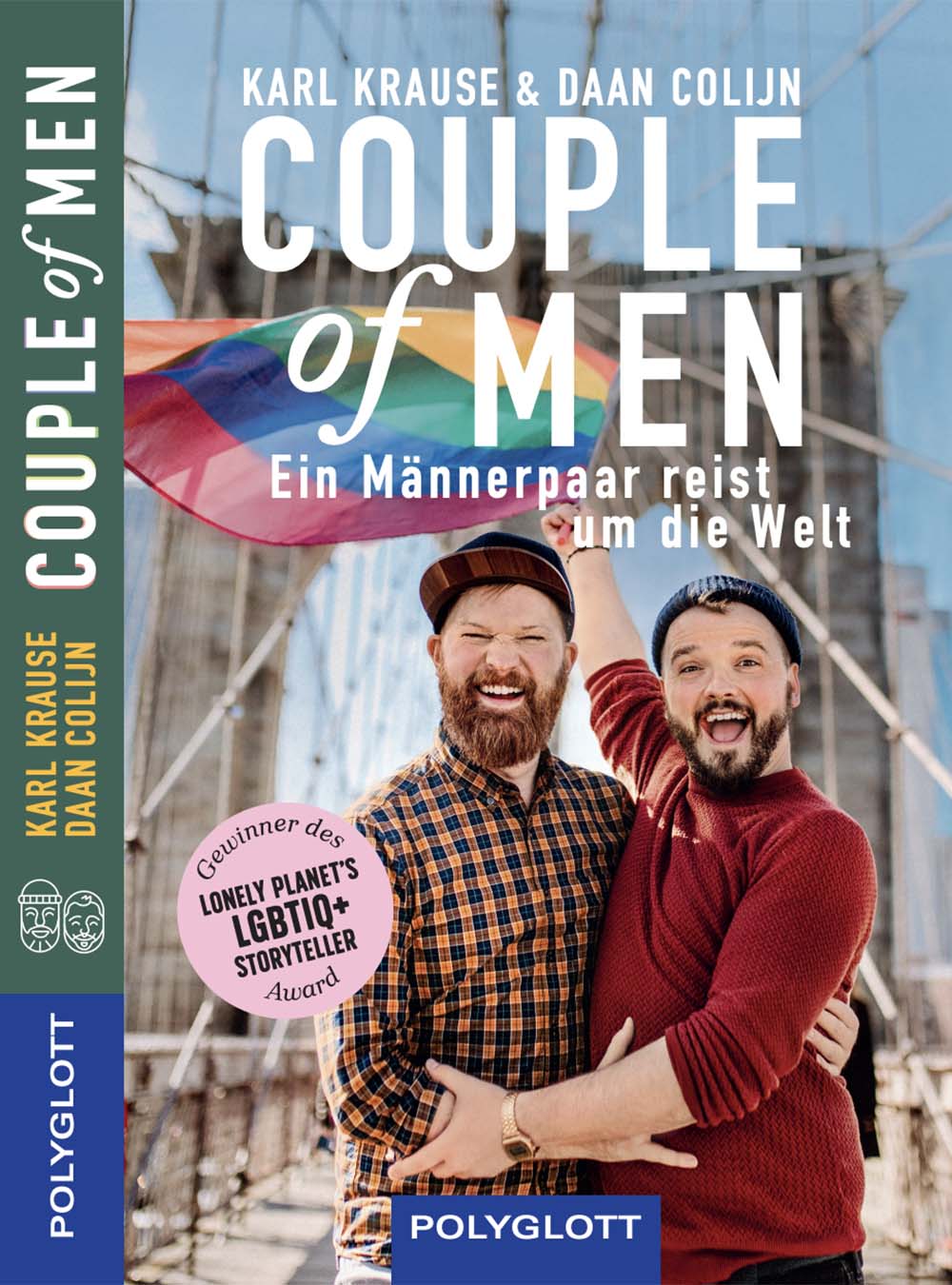 Advertisement
The perfect present to inspire (German-speaking) LGBTQ+ travelers and their allies to travel the world open-minded, respectfully, and with a happy heart.
Order our book online or purchase it in bookstores in Germany, Austria, and Switzerland.
#1 BALABAN | Kazachstan
(2022) – 101 minutes
Tradition and modernity clash, as do rich and poor backgrounds, in this gem of a movie from Kazakhstan. Two teenage girls fall in love, while one lives in luxury in a modern villa, and the other one is from an orphanage for HIV-positive children. Against the backdrop of this blood-transfusion scandal, based on real-life events, they decide on a bold plan: steal a priceless hunting falcon, sell it, and start a new life in Paris. Majestic images, nail-biting chase scenes, and budding young love. More about Balaban >
Screening Dates:
24th of March 2023 | 21:15 Hours
31st of March 2023 | 17:15 Hours
#2 BESTIES (les meilleures) | France
(2022) – 80 minutes
Spending the summer with her gang, Nedjma is a teenager living in Paris with her mother and sister. Her life is turned upside down when she meets Zina, from the other gang — rivals in broad daylight, lovers in secret. Nedjma finds herself sucked into a spiral, torn between the gang's values and her own desires, which no one around her can understand, let alone tolerate. In the end, she will have to make a choice that will have a profound impact on who she is. More about Besties here >
Screening Dates:
26th of March 2023 | 13:15 Hours
31st of March 2023 | 21:15 Hours
#3 BLUE JEAN | UK
(2022) – 97 minutes
Jean teaches physical education at a secondary school. The year was 1988, and the Thatcher government passed a law prohibiting the promotion of homosexuality (Section 28). At school, Jean is not open about her sexuality with her students. This contrasts with her friend Viv, a tough, free-spirited girl who completely defies the rules. But Jean herself is not ready for this yet. With this new law, it is now impossible for her to be openly gay. When a new student arrives, Jean finally feels compelled to choose. More about Blue Jean here >
Screening Dates:
23rd of March 2023 | 10:45 Hours
26th of March 2023 | 17:00 Hours
31st of March 2023 | 19:15 Hours
#4 BREAKING THE ICE | Austria
(2022) – 102 minutes
Mira lives for ice hockey. As captain, she leads her team with great determination. It's challenging to reconcile this with her role in the family vineyard: she runs the farm with her mother and her adventurous but increasingly demented grandfather. The new player, Theresa, completely unsettles her with her nonchalance and openness. And when Mira's missing brother Paul turns up, and the three of them get lost in the nighttime streets of Vienna, Mira discovers the freedom of breaking the rules, of reinventing herself. And understands that you can only love if you let go. More about Breaking the Ice >
Screening Dates:
24th of March 2023 | 17:15 Hours
1st of April 2023 | 19:15 Hours
#5 GATEWAYS GRIND | UK
(2022) – 75 minutes
Friendship, romance, and an excellent place to boogie – the historic and infamous The Gateways club was all this and more for London lesbians from when it opened its doors in the 1930s. This charming documentary takes us on a journey through the scandals and stories of those who frequented the establishment and those who grew up within its walls, with Sandi Toksvig's delightful narration. Gateways Grind will leave you both nostalgic and wistful. More about Gateways Grind >
Screening Dates:
24th of March 2023 | 19:00 Hours
2nd of April 2023 | 17:00 Hours
#6 GIRLFRIENDS AND GIRLFRIENDS (la amiga de mi amiga) | Spain
(2022) – 89 minutes
They are 30, but even though they are too old to be young again, they live as if they were 20. Enamored with love, they destroy each other in their search for it, moving from ex-girlfriend to ex-girlfriend, relationship to relationship. Against a backdrop of pop and autofiction and the appearance of a famous singer – who we're never quite sure is real – we watch a game that begins when Zaida returns to the city after a breakup. More about Girlfriends and Girlfriends >
Screening Dates:
27th of March 2023 | 19:15 Hours
1st of April 2023 | 17:00 Hours
#7 GIRLS DON'T CRY (le regazze non piangono) | Italy
(2022) – 105 minutes
Mia and Ele couldn't be more different from each other. The two girls quickly become friends while secretly smoking on the fire escape. Their worlds collide when Ele sets out to save her father's old caravan from the scrap heap, only to find Mia hiding inside, on the run, and with a secret. Their road trip from the poor deep south to the prosperous north of Italy takes them to incredible places and rundown areas, and most of all: it brings them closer together. More about Girls don't cry here >
Screening Dates:
25th of March 2023 | 15:15 Hours
29th of March 2023 | 21:15 Hours
The Berlin-based Spartacus informs LGBTQ+ and queer travelers about how gay-friendly a holiday destination is according to several ranking factors and criteria. Gay travelers can use the Gay Travel Index 2023 to prepare for their gaycation and as a guide when choosing a holiday destination. But which country ranks first? Where is it safe to travel to as a gay and LGBTQ+ traveler?
#8 MARS ONE (marte um) | Brazil
(2022) – 115 minutes
Mars One is an emotionally complex ensemble drama. It tells the classic story of a family in crisis. While a far-right politician takes power in Brazil, a young woman realizes she's queer: She falls in love for the first time. Her little brother has a new passion, too: science. But as he looks to the stars, his father tries to bring him back to earth, pushing him into a football career he's unsure if he really wants it. Meanwhile, the family matriarch is going through her private struggle, triggered by a new trauma. More about Mars One here >
Screening Dates:
25th of March 2023 | 21:15 Hours
31st of March 2023 | 15:00 Hours
#9 SIRENS | Lebanon
(2022) – 79 minutes
Set against the backdrop of the Lebanese revolution, this multi-award-winning documentary intimately chronicles the lives and music of Slave to Sirens, a band of five young metalheads. As their music serves as a refuge for Beirut's youth culture, the members wrestle with friendship, sexuality, and destruction. Its two founding members, Lilasi and Shery, are at the band's heart. Their complicated relationship and subsequent tense fallout threaten the very fabric of the band. But the criminalization of homosexuality in Lebanon and the utterly devastating effects of their country's political regime pose an even more significant threat. More about Sirens here >
Screening Dates:
24th of March 2023 | 15:15 Hours
30th of March 2023 | 21:15 Hours
#10 SO DAMN EASY GOING (så jävla easy going) | Sweden
(2022) – 91 minutes
The restless mind of Joanna, an 18-year-old Swedish girl, is reflected in the sounds and images of this film. She suffers from ADHD and is supposed to be medicated, but that's a problem because her father can't afford it. It is very embarrassing, mainly as she develops warm feelings for Audrey. And these feelings are mutual. There are many hilariously painful moments as we are drawn into the whirlwind of her life. Will she be able to make a bit of money? Even if there will have to be a few breaches of moral boundaries along the way? A light-hearted, refreshing coming-of-age story from Sweden. More about So Damn Easy Going here >
Screening Dates:
26th of March 2023 | 21:15 Hours
30th of March 2023 | 19:00 Hours
Links for Roze Filmdagen 2023:
Best of Amsterdam "Gay" Pride with Canal Parade 2018 >
All you need to know about traveling to the Dutch capital Amsterdam >
All you need to know for your Gay Travels to the Netherlands, Holland >
Plan your visit to the Roze Filmdagen with our best Lesbian Movies 2023
Of course, our top list of the best lesbian movies is just a selection for some guidance to get an overview of the online festival. Check the whole program of the Roze Filmdagen for all movies, films, and documentaries!
Karl & Daan.
Do you want to know and see more of us gay couple travel bloggers? Stay tuned on Instagram, Twitter, YouTube, and Facebook! See you in Amsterdam, the Netherlands, and around the world!
This year again, it is possible to support the Amsterdam LGBTQ+ Film Festival 2023 with two different kinds of memberships (website in NL/EN).
Option 1: Become a Pink Member. You can support the Amsterdam LGBTQ Film festival by becoming a member; one-year membership is €55. A Pink member gets discounts during the year, for example, on tickets for Ketelhuis Queer Screenung, and other festivals and events we cooperate with.
Option 2: Become a Platinum Member. Want to go all in? Then become a Platinum Member. For €750, you'll be our guest at the opening, and you'll receive a personal passepartout for all screenings during the festival.