Welcome to our blog post about our week-long vacation to Malta, officially named the most LGBTQ+ friendly country in the world by Spartacus! Nestled in the heart of the Mediterranean Sea, the enchanting island of Malta offers a harmonious blend of rich history, picturesque landscapes, and a warm embrace of diversity and the queer community. From the vibrant Valletta, Mdina, Gozo and the Three Cities – Cospicua, Senglea, and Vittoriosa – to the fishing village Marsaxlokk, we experienced unforgettable moments and created lasting memories as a gay couple traveling to Malta. Join us as we take you on a journey through the highlights of Malta, spending a week's vacation in this welcoming paradise infused with the spirit of EuroPride 2023.
– paid collaboration with Visit Malta –
Malta – Island Country of 21 islands
The archipelago of Malta is a group of islands in the Mediterranean Sea between Sicily and the coast of North Africa. The member state of the European Union is known for its historical sites that bear witness to the successive conquest by the Romans, Moors, Order of St. John, French and British. Four of the 21 islands are inhabited, while 18 remain unpopulated. During our first trip to Malta, we explored the two biggest islands, Malta and Gozo, with the perfect mix of culture, history, and natural beauty, including the national plant of Malta, the Maltese Centaury.
Valletta – The Fortress City
Our journey began in the capital city, Valletta, a UNESCO World Heritage Site renowned for its grandeur and captivating architecture. Strolling through the narrow streets of "The Fortress City", we admired the beautifully preserved buildings, churches, and stunning sea views. Named after its builder, Jean Parisot de la Valette, Valletta is a testament to the island's rich history. Built in a remarkable 15 years – starting in 1566 – without the aid of mechanical tools, Valletta boasts awe-inspiring architecture, including magnificent bastions, forts, and the Grand Cathedral. On top of its history, we experienced a welcoming atmosphere that made us feel right at home as we discovered cozy cafés, bars, and restaurants. Valletta balances perfectly history and modernity, creating an unforgettable experience.
Advertisement
We found some great deals with flights worldwide as well as in and around Europe via Amsterdam (and return) with gay-friendly KLM Royal Dutch Airlines. That includes direct connections with KLM or their partner airlines, Air France and DELTA. *subject to availability / last check: 2023
Explore Valletta Old Town
A tour around Valletta's Old Town is an absolute must for any visitor to Malta. Step back in time as you explore this UNESCO World Heritage Site's rich historical and architectural wonders. Here are some of our absolute highlights: We started our journey at St. John's Co-Cathedral, a masterpiece of Baroque art and home to stunning works by Caravaggio. As we continued our stroll, we discovered the Upper Barrakka Gardens, a tranquil oasis offering panoramic views of the Grand Harbor. Then it was time for us to take in the awe-inspiring vistas of the fortified city walls and the majestic ships that dock in the harbor. But that's not all.
We made our way to the Grand Master's Palace, an architectural gem that serves as the seat of the Maltese Parliament. Museum lovers will feel at home in Malta. We recommend the National Museum of Archaeology, where you can delve into Malta's ancient past, discovering prehistoric artifacts, including the world-famous Venus of Malta, which offers a glimpse into the island's Neolithic period.
No visit to Valletta is complete without a stroll down Republic Street, the city's bustling main thoroughfare. Immerse yourself in the vibrant atmosphere as you browse through boutique shops, charming cafés, and local craft markets. And don't be shy to explore one of the smaller side streets as well. We indulged ourselves in delicious pastizzi, traditional Maltese pastries, as we soaked in the energy of this lively atmosphere.
Although we did not have time during our first trip, we heard great stories about Malta's cultural scene. For example, a tip is to visit the Manoel Theatre, one of the oldest working theaters in Europe. Lastly, take a moment to appreciate Fort St. Elmo, a historic fortress guarding the entrance to the Grand Harbor. All the places offer plenty of photo ops. So, do not forget to bring your camera or phone!
During the first part of our stay in Malta, we had the pleasure of experiencing the exceptional hospitality and grandeur of AX The Palace. Situated in the heart of Sliema, this five-star hotel offers a luxurious retreat with stunning views of the Mediterranean Sea.
From the moment we enter the elegant lobby, we are greeted by a team of dedicated staff members who ensure every aspect of our stay is impeccable. The spacious and beautifully appointed rooms and suites at AX The Palace provide a haven of comfort and sophistication, offering a perfect blend of modern amenities and stylish design.
Lunch at Rubino Restaurant
As we all know, exploring the old town of Valletta makes you hungry. Our tip: Indulge in a culinary delight at Rubino Restaurant in the heart of Valletta's old town. This small but charming eatery serves delectable traditional Maltese cuisine, showcasing the island's unique flavors. Sample mouthwatering dishes prepared with fresh local ingredients and savor the warmth of Maltese hospitality.
Harbor Tour on a Typical Maltese Boat
Similar to the Venetian gondolas in Venice, Malta also has colorful traditional boats. With good weather and the right swell, it is, therefore, an excellent idea to explore the harbors of Valletta by boat. No sooner said than done! We embarked on a mesmerizing Grand Harbor Tour aboard a traditional Maltese boat. Feel the gentle breeze as you glide through the crystal waters of Marsamxett and Grand Harbor, surrounded by Valletta's impressive fortifications.
Especially, the stunning panoramic views of the city's skyline have enchanted us and visitors for centuries. For us, it was just the perfect way to get an excellent first impression of Malta.
During the second part of our stay in Malta, we had the pleasure of immersing ourselves in the luxurious and captivating ambiance of Casa Ellul. Nestled in the heart of Valletta, this boutique hotel offers an exquisite blend of contemporary elegance and timeless charm. Each individually designed room and suite at Casa Ellul showcases meticulous attention to detail.
The rooftop terrace provides breathtaking views of Valletta's skyline, serving as an idyllic spot to unwind and soak in the beauty of the Mediterranean surroundings. With its central location, Casa Ellul offers convenient access to Valletta's historical attractions, cultural sites, and vibrant dining scene.
Tour of the Three Cities
To experience even more of Malta's culture, you don't have to go far from Valletta. During our boat trip, we could already admire the mighty fortifications and walls across the Grand Harbor from Valletta. But now it was time to see the three cities up close. We followed the advice from our tour guide and immersed ourselves in Malta's rich maritime history with a tour to Cospicua, Senglea, and Vittoriosa, collectively known as the Three Cities.
These charming destinations offer a glimpse into Malta's rich past and are a must-visit for history enthusiasts. Walking through their narrow streets, we encountered impressive fortifications, picturesque squares, and ancient churches that bear witness to the island's architectural heritage. Exploring the Three Cities is like stepping back in time, immersing yourself in the fascinating history of Malta.
Ferry from Cirkewwa to the island of Gozo
From the country's main island, we set out on day three to explore the second-largest inhabited island of the archipelago, Gozo. This involves crossing the waters of the Mediterranean Sea by the simple but comfortable Gozo Ferries from Cirkewwa in about 20 to 30 minutes. The fee per person is about €5. And don't stress: if you can't get a seat inside, you can have your hair tousled on the deck while enjoying the view.
The charming island of Gozo offers a tranquil and picturesque escape from the bustling streets of Malta. We discovered a greener and more rural side of the archipelago, where life moves at a leisurely pace dictated by the seasons, fishing, and agriculture. True to this calmer motto, we uncovered Gozo's mythical aura by visiting Ggantija Temples, Ta' Kola Windmill, Ramla l-Hamra Bay, Calypso's Cave, Qbajjar Salt Pans, Victoria, and The Citadel, along with the enchanting Dwejra.
Let's dance, laugh, and love our way through EuroPride 2023 in Malta. Let us tell you more about the exciting program of the Pride event and a Couple of Men's favorite moments.
Ta' Karolina Restaurant in Xlendi
Even if Daan hadn't hit the jackpot here, being a vegetarian, he could at least appreciate the location in this cozy waterfront restaurant surrounded by rocks. And a salad, of course. At the same time, Karl could try out the delicious, fresh seafood brought directly from the Mediterranean Sea to the table here in the charming village of Xlendi. Savoring the freshest seafood delicacies while enjoying breathtaking views of the azure sea is just another tip for your gay travels to Malta. Let the flavors of Gozo come alive on your plate as you relish every bite.
Fisher Village Marsaxlokk
Back on the big island of Malta, there was plenty of culture and history to discover outside Malta's lively and bustling cities. For example, a visit to the cozy fishing village of Marsaxlokk. The charming seaside village is Malta's foremost fishing village, exuding a unique charm with its vibrant atmosphere and picturesque setting. We arrived just on time before lunch to stroll along the promenade and admire the traditional fishing boats, known as Luzzu and Kajjik, which are beautifully painted in vivid red, yellow, green, and blue colors. The bay's calm waters reflect the boats' hues, creating a delightful spectacle with plenty of opportunities for a souvenir photo.
La Nostra Padrona Restaurant in Marsaxlokk
Marsaxlokk is the perfect place to indulge in fresh seafood delicacies at the local restaurants while immersing yourself in the authentic Maltese coastal ambiance. We can recommend La Nostra Padrona, a delightful restaurant that epitomizes the culinary treasures of Malta. This charming eatery captures the essence of Maltese cuisine, offering a delectable array of traditional dishes prepared with locally sourced ingredients. From freshly caught seafood to mouthwatering pastries, La Nostra Padrona provides a gastronomic experience that reflects the unique flavors of Malta. The cozy atmosphere and friendly staff ensure a memorable food experience, making it a favorite among locals and visitors alike.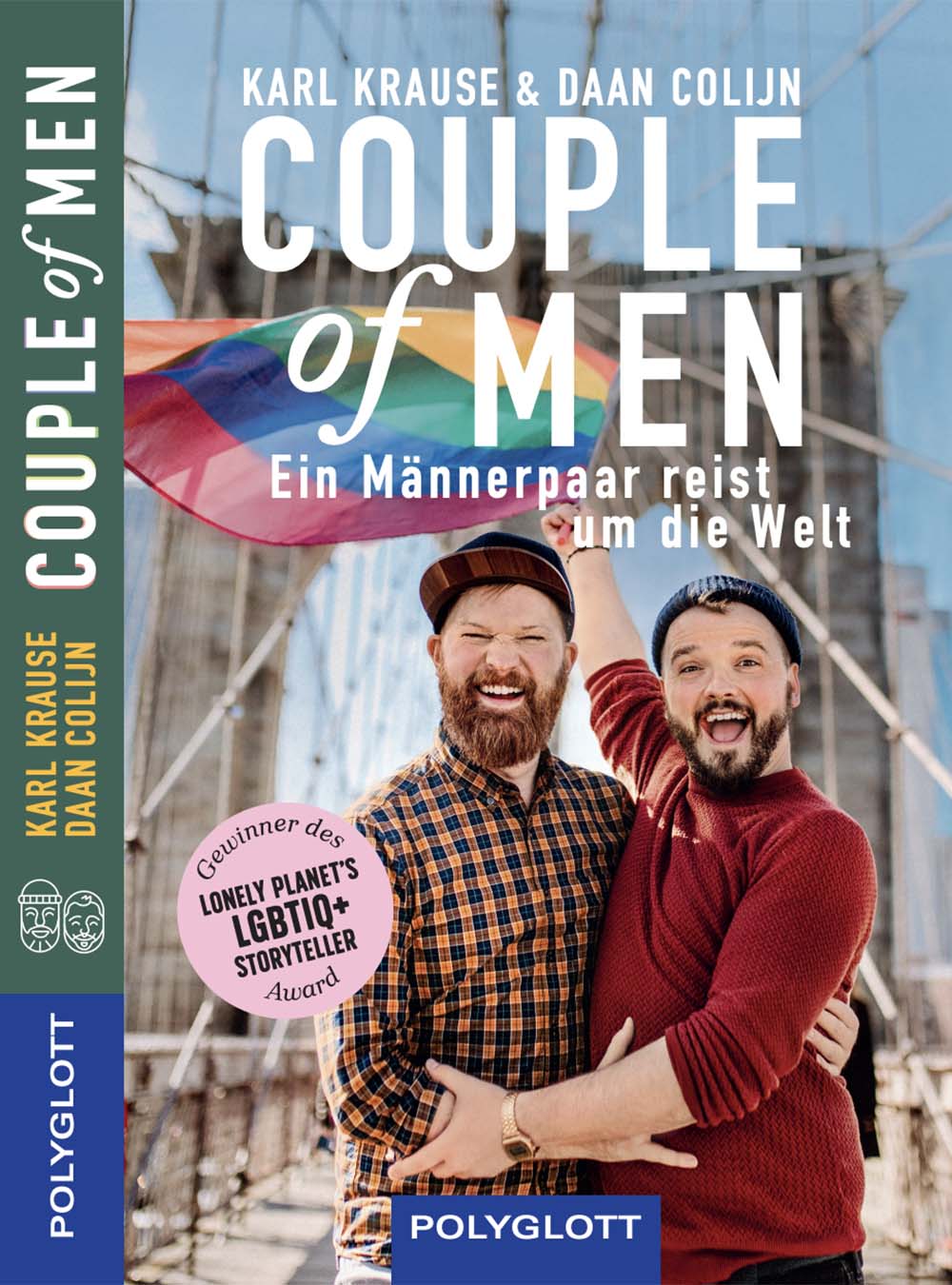 Advertisement
The perfect present to inspire (German-speaking) LGBTQ+ travelers and their allies to travel the world open-minded, respectfully, and with a happy heart.
Order our book online or purchase it in bookstores in Germany, Austria, and Switzerland.
Visiting the Blue Grotto of Malta
The Blue Grotto of Malta is a mesmerizing natural wonder located on the island's southern coast. Take a boat trip into the deep blue waters and be enchanted by the vibrant colors reflecting off the grotto's limestone walls. The interplay of sunlight creates brilliant shades of blue, turquoise, and emerald, leaving visitors in awe. Dive into the crystal-clear waters to explore the intricate rock formations and vibrant marine life. As you emerge, the breathtaking coastal scenery with its dramatic cliffs adds to the grotto's allure. With its unparalleled beauty, the Blue Grotto stands as Malta's most popular natural attraction, leaving visitors with lasting memories of this magical place.
Mdina – The Silent City
Situated in the heart of the island of Malta, Mdina, also known as the Silent City, is a captivating destination that transports you back to the medieval era. Enclosed within its ancient walls, this fortified city exudes an air of tranquility and charm. In our opinion, one of the highlights of our gay travels to Malta. But firstly, we had to cross a bridge and enter the gates of the city.
As we wandered through its narrow streets, we encountered grand palaces, centuries-old churches, and enchanting courtyards. After all, Mdina is home to several noble houses, including the island's oldest titled family, the Barons, who were created in 1350. With a population of less than three hundred, Mdina maintains a serene and peaceful atmosphere, allowing visitors to appreciate its historical grandeur and architectural marvels.
We could have spent many more hours among the centuries-old walls of Mdina. But it was time to slowly say goodbye to the island nation. But don't worry! We are already looking forward to our next gay travels to Malta, this time for Euro Pride in September 2023!
Coffee and Sweets at Café Luna at Palazzo Parisio in Naxxar
For a delightful break on our way back to Valletta was Palazzo Parisio in Naxxar. Here, we enjoyed a relaxing coffee and indulged in delectable sweets at Café Luna, located within the exquisite Palazzo Parisio in Naxxar. This charming café offers a refined and elegant setting, surrounded by the palazzo's beautiful gardens.
Savor a cup of rich Maltese coffee paired with a selection of mouthwatering pastries and desserts handcrafted with care and creativity. After the delicious nibbles, we treated ourselves to an extended walk and discovery tour through the lush green gardens. Definitely a tip for the end of our gay travels to Malta.
Now it is time for your adventure in Malta with our Gay Travel Highlights!
EuroPride 2023, hosted in Malta from 7th September 2023 to 17th September 2023, promises to be an exhilarating celebration of diversity, equality, and LGBTQ+ rights. As one of the largest LGBTQ+ events in Europe, EuroPride attracts visitors from around the globe who come together to embrace love, acceptance, and solidarity. The festival will feature a vibrant lineup of events, including parades, parties, cultural performances, art exhibitions, and educational forums. We just learned that Christina Aguilera will perform on stage after the Pride Parade!
It's an opportunity for the local LGBTQ+ community and allies to showcase their pride, share their stories, and advocate for equality. Euro Pride 2023 in Malta will undoubtedly create a colorful and inclusive atmosphere, leaving a lasting impact on both locals and visitors who join in this momentous celebration of love and acceptance.
Do you like the article?
Please share it on Pinterest!
Would you like to learn more about us gay travel bloggers and experience our queer adventures together with us? Then stay tuned and follow us on Facebook, Twitter, YouTube, Pinterest, and Instagram! See you in Florida, the Florida Keys, or on one of our next Gay Pride trips worldwide!
Karl & Daan.
We would especially like to thank Visit Malta, AirMalta, and both our hotels for the invitation, support, and opportunity to experience Malta in an accessible and authentic way.