Valletta, the charming capital of Malta, played host to EuroPride 2023, a celebration of love and diversity that left us with unforgettable memories. Lucky us, we were invited to join the celebrating crowd at the grand finale of Europe's biggest LGBTQ+ event from the 14th to the 18th of September. After our first trip in 2018, we embarked on a journey to this Mediterranean gem, where we discovered the rich history of Valletta and experienced the most exhilarating LGBTQ+ event of the year. Eurovision Party, Pride March, the concert of Christina Aguilera… In this Couple of Men blog, we'll take you through the highlights of our EuroPride 2023 weekend, showcasing the vibrant LGBTQ+ community and exploring how LGBTQ+ and gay-friendly Malta is.
– in paid collaboration with Tourism Malta –
EuroPride in Malta – Equality from the Heart
EuroPride 2023 in Valletta, Malta, showcased the Maltese LGBTIQ+ community's commitment to celebrating equality and addressing human rights issues in neighboring North African and Middle Eastern communities. This event provided a safe space for dialogue and action against prejudice and fear. The 10-day extravaganza featured Pride Marches, concerts, and theme parties in Valletta and Gozo. These festivities, coordinated by ARC – Allied Rainbow Communities, embraced diversity within the LGBTQ+ community and were a testament to unity. ARC, an independent nonprofit established in 2015, focused on enhancing belonging and growth among the Maltese LGBTIQ+ community. Their initiatives covered:
Right to Health: Improving sexual health and healthcare access.
LGBTIQ+ Civil Society: Advising the government for positive legislative changes.
Other LGBTIQ+ Measures: Promoting equality through campaigns and events.
The Maltese government, led by the Parliamentary Secretariat for Reforms and Equality, strongly supported LGBTIQ+ rights. Malta's reputation as a gold standard in this area was recognized by the United Nations Human Rights Office. Their commitment was evident in areas like employment, health, education, and sports through the Sexual Orientation, Gender Identity, Gender Expression, and Sex Characteristics Unit. EuroPride 2023 wasn't just a celebration; it was a symbol of hope and unity. It demonstrated that even in adversity, communities, organizations, and governments coming together could drive positive change.
The Berlin-based Spartacus informs LGBTQ+ and queer travelers about how gay-friendly a holiday destination is according to several ranking factors and criteria. Gay travelers can use the Gay Travel Index 2023 to prepare for their gaycation and as a guide when choosing a holiday destination. But which country ranks first? Where is it safe to travel to as a gay and LGBTQ+ traveler?
Eurovision & The Rise of the LGBTQ+ Phoenix
On September 15, 2023 in Valletta's Pjazza Tritoni around the famous Triton Fountain, EuroPride Valletta 2023 treated us to a dazzling "Eurovision Night." The Pride village in Valletta transformed into a vibrant, pulsating hub of colors, beats, and love. It was a night to remember, featuring Katrina, formerly of Katrina and The Waves fame, who had us dancing to her chart-topping hits with infectious energy. Lithuania's The Roop electrified the stage with their dynamic performance.
Our highlight was, however, our friend Conchita Wurst, the mesmerizing voice behind the Eurovision classic "Rise Like a Phoenix." The evening wasn't just about these stars; we also reunited with our dear friends Ravi around the World and the two lovely Italians, the World Mappers. It was a celebration of diversity, equality, and the unifying power of music.
Best of EuroPride March "Equality from the heart"
Under the vibrant banner of "Equality from the heart – human rights for everyone, everywhere," EuroPride 2023 in Malta's capital, Valletta, was a breathtaking spectacle we were fortunate to be a part of. As we stepped onto the small float proudly organized and decorated by GayGuideMalta.com, little did we know that we were about to embark on an unforgettable journey. With an explosion of colors and sheer joy, approximately 40,000 individuals assembled in a unified demonstration for the rights of the LGBTIQ+ community.
The ancient streets of Valletta bore witness to this exuberant march, where love, equality, and acceptance took center stage. Being on that float, among a sea of like-minded individuals celebrating love, diversity, and human rights, was an experience that left an indelible mark on our hearts. EuroPride March 2023 in Valletta was a testament to the power of unity and a reminder that when we stand together, we can create a world where equality and acceptance flourish.
Watch our EuroPride 2023 Instagram Reel >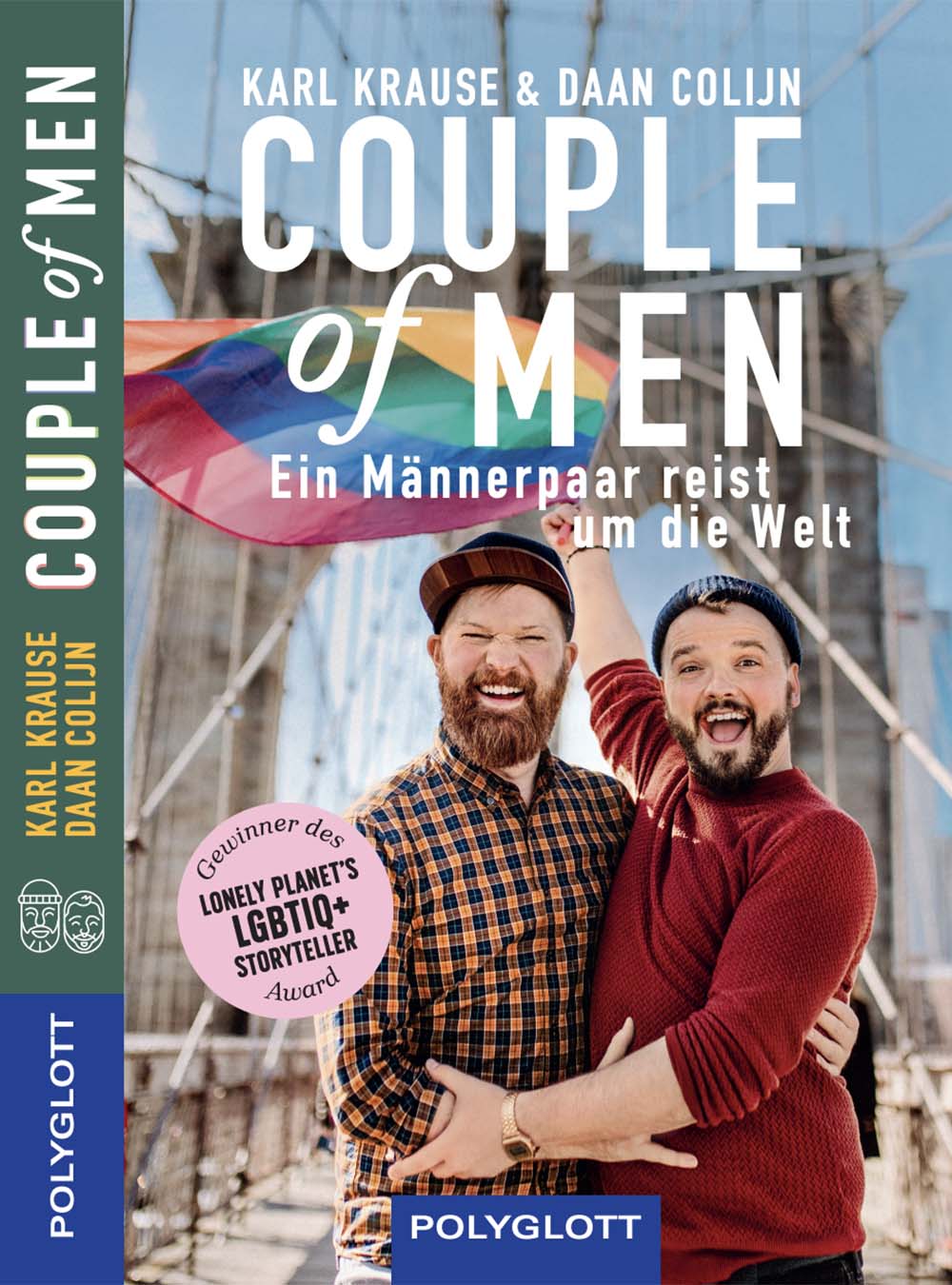 Advertisement
The perfect present to inspire (German-speaking) LGBTQ+ travelers and their allies to travel the world open-minded, respectfully, and with a happy heart.
Order our book online or purchase it in bookstores in Germany, Austria, and Switzerland.
The EuroPride 2023 Concert ft. Christina Aguilera
The Granaries in Floriana set the stage for an unforgettable music extravaganza during EuroPride Valletta 2023! We were beyond thrilled to witness the sensational Christina Aguilera headlining the Official EuroPride Valletta 2023 Concert. Her incredible talent and unwavering support for the LGBTIQ+ community made her the perfect choice for this remarkable event, celebrating diversity, equality, and inclusivity. After an incredible lineup of supporting acts, Xtina entered the stage.
For the both of us, this concert was a deeply emotional experience. As Christina Aguilera took the stage and performed her song "Beautiful," Karl couldn't help but burst into tears. Christina had been Karl's Coming-Out-Hero, as the music video was one of the first to showcase two men kissing. Hearing her sing this empowering anthem live was a moment of pure catharsis.
At the end of her performance, Christina Aguilera took a rainbow flag and waved it toward the crowd. What a special moment for us and all the fans who enjoyed a fantastic night in Valletta, Malta. The concert was not just a music spectacle but a celebration of love, acceptance, and the power of music to touch hearts and inspire change.
POOL PARTY by Lollipop at EuroPride 2023
EuroPride 2023 was wrapping up, but the fun was far from over! Dive into the ultimate closing fiesta – the POOL PARTY by Lollipop! Lollipop, in its third year, took charge of Medasia Playa, the hippest lido in Sliema. The day kicked off early with cool cocktails and a chance to cool off in the pool. Sporting our vintage swim attire – white and blue stripes, perfectly in sync with the vibe – we couldn't resist a dip in the inviting Mediterranean waters.
However, the real excitement was yet to come. Lollipop had an epic DJ lineup ready to make us move, but we had to hit the high seas in the late afternoon for the boat parade in the Grand Harbour. So, we soaked up the sun, danced poolside, and savored every moment. But it wasn't just about the revelry; it was about giving back. A portion of ticket sales supported three incredible organizations – gayguidemalta.com, ARC, and Checkpoint Malta – dedicated to uplifting the LGBTQ+ community.
Watch our EuroPride 2023 Instagram Reel >
Pride Around the Grand Harbor
In Valletta's Grand Harbour, EuroPride Valletta 2023 reached its end with Pride Around the Grand Harbour. This event served as the official closing ceremony of EuroPride Valletta 2023, organized in collaboration with Malta Sailing Experiences and Le Regatta restaurant. The parade commenced at 19:00, and we were part of it aboard a private boat that joined the boat parade as it sailed around the Grand Harbour.
As the sun dipped below the horizon, the colorfully decorated boat parade set in motion. From our vantage point on the private boat, we were treated to a unique perspective of the Grand Harbour's enchantment. It was a celebration of love, unity, and the diverse tapestry of life, a fitting culmination to EuroPride Valletta 2023. This event wasn't just a closing ceremony; it was a joyful journey that celebrated the beauty of diversity in the heart of Malta.
Advertisement
We found some great deals with flights worldwide and in Europe via Amsterdam (and return) with gay-friendly KLM Royal Dutch Airlines. That includes direct connections with KLM or their partner airlines, Air France and Delta Air Lines. *subject to availability / last check: 2023
How LGBTQ+ and Gay-Friendly is Malta?
Malta has earned its reputation as one of Europe's most LGBTQ+-friendly destinations, and our experiences affirmed this status. The nation's progressive policies, including equal and legal recognition of same-sex unions, gender identity protection, and anti-discrimination laws, reflect a strong commitment to equality and human rights. Additionally, Malta's Gender Identity, Gender Expression, and Sex Characteristics Act, passed in 2015, sets a high standard for protecting transgender and intersex individuals' rights. This legislative support is a testament to Malta's dedication to fostering a safe and inclusive environment for all.
During our stay, we encountered warm and welcoming locals who readily embraced diversity, making us feel welcome. Beyond the Euro Pride events, Valletta has a thriving LGBTQ+ scene that pleasantly surprised us. The city boasts several gay-friendly bars, clubs, and cafés. We encountered signs of pride and acceptance at every turn. From the rainbow flags adorning government buildings to the LGBTQ+ merchandise sold by local vendors, it was evident that Malta is a country that takes pride in its diversity.
Now it is time to plan your trip to Malta after EuroPride 2023
Our EuroPride 2023 experience in Valletta, Malta, was not just a celebration but a reaffirmation of love, unity, and acceptance. From the captivating Eurovision night to the powerful EuroPride March, the electrifying Christina Aguilera concert, and pride around the Grand Harbor, Valletta offered us a safe and embracing space to be our authentic selves as a gay couple traveling.
If you're a queer traveler seeking a destination that celebrates love and welcomes it with open arms, consider visiting the stunning island nation of Malta. With its rich history, breathtaking landscapes, thriving LGBTQ+ community, and progressive policies, Malta stands as an example of inclusivity in the heart of the Mediterranean. Malta awaits, and it's ready to embrace you with open arms.
Do you like it? Pin it! >>
Would you like to learn more about us gay travel bloggers and experience our queer adventures with us? Then stay tuned and follow us on Facebook, Twitter, YouTube, Pinterest, and Instagram! See you in Valletta, Malta, and, or on one of our next Gay Pride trips worldwide!
Karl & Daan.