What if love is the master plan? Could you be the masterpiece? Utrecht Pride, the city's main annual LGBTQ+ event, has become a vibrant celebration of diversity, love, and acceptance. Since its inception in 2017, Utrecht Pride has grown in popularity, attracting thousands of visitors each year. After receiving the Annie Brouwer-Korf Prize from the Midsummer Canal Festival last November, this year's edition – it will be the 5th edition of Utrecht Pride this year – will become even more prominent, more colorful, and, most of all, more queer. Let's delve into the history and explore the exciting program of this year's LGBTQ+ event with some of Couple of Men's favorite moments of the rainbow celebration Utrecht Pride 2023.
History of Utrecht Pride
The first Utrecht Canal Pride, now known as Utrecht Pride, took place on June 17, 2017, and marked the beginning of the annual Midzomergracht festival. The owner of Cafe Kalff, the popular local LGBTQ+ café, initiated the queer event in Utrecht after his boat was no longer able to participate in the Canal Parade of the Amsterdam Gay Pride. Determined to create an inclusive celebration in Utrecht, he organized an independent boat parade without commercial participants. The inaugural Utrecht Pride parade featured 25 boats and attracted around 20,000 visitors.
Building on the first edition's success, the event returned on June 16, 2018. This time, 41 boats participated, including intersex representation and organizations advocating for polyamory and LGBTQ+ history. The third edition of Utrecht Pride, held on June 1, 2019, marked the event's independence from the Midzomergracht festival. The parade boasted 48 boats and thousands of attendees witnessed the spectacle. Due to the unforeseen circumstances of 2020 and 2021, the fourth edition, scheduled for June 6, 2020, had to be postponed to 2022. However, in November 2022, Utrecht Pride received the prestigious Annie Brouwer-Korfprijs from the Midzomergrachtfestival, recognizing its outstanding contributions to the LGBTQ+ community.
Advertisement
We found some great deals with flights worldwide as well as in and around Europe via Amsterdam (and return) with gay-friendly KLM Royal Dutch Airlines. That includes direct connections with KLM or their partner airlines, Air France and DELTA. *subject to availability / last check: 2023
Best of Utrecht Pride 2023
Utrecht Pride 2023 was an incredible experience that showcased the vibrant diversity and inclusivity of the LGBTQ+ community. The entire city was alive with the rich colors of the rainbow, as people proudly adorned themselves in rainbow attire and makeup. Rainbow flags fluttered from buildings, symbolizing a city that celebrated love and acceptance. Everywhere we turned, we encountered a beautiful array of queer individuals, rainbow families, and loving couples, all basking in the atmosphere of unity.
The weather couldn't have been more perfect, with a clear blue sky and warm temperatures ranging from 20 to 24 degrees Celsius. Securing a spot along the Oudegracht canal in the heart of Utrecht's old town city center allowed us to be up close and personal with the captivating canal parade boats, an experience that surpassed even Amsterdam's renowned Pride celebration.
We had the pleasure of meeting wonderful people from all across the Netherlands, forging connections and celebrating our shared values of inclusivity and acceptance. Utrecht Pride 2023 truly left an indelible mark on our hearts as a celebration of love, diversity, and the power of community.
Experience of our third pride event in 2023
As a gay couple, we had the privilege of experiencing Utrecht Pride hand in hand, feeling safe, accepted, and included in every moment. The vibrant atmosphere of love and acceptance allowed us to freely express our affection for each other without fear or judgment. The party that followed the parade, located near Cafe Kalff, was an inspiring mix of LGBTQ+ individuals celebrating their identities. The pulsating music and joyful dancing created an electric energy that resonated with our souls.
It was a truly empowering experience where we felt the freedom to be our authentic selves. Our first Utrecht Pride became an unforgettable adventure filled with love, acceptance, and a celebration of the LGBTQ+ community.
Program 2023 Utrecht Pride 2023
Utrecht Pride 2023 promises an exhilarating program that celebrates love, acceptance, and the vibrant diversity of the LGBTQ+ community. The highlight of the queer event is the boat parade, where more than 50 organizations come together to showcase their commitment to the LGBTQ+ cause. The parade will navigate through Utrecht's canals, starting from the Bartholomeïbrug and ending at the Tolsteegbarrière. Find all details of Utrecht Pride Program 2023 (in Dutch only) here >
Boat Parade Utrecht Pride 2023
The central element of Utrecht Pride is the annual boat parade, a spectacular display of solidarity, visibility, and inclusivity. The parade will commence at 13:30, with boats departing from the starting point at the Bartholomeïbrug. The route will take them through Hoog Catharijne, Monicabrug, Viebrug, Hamburgerbrug, and conclude at the Tolsteegbarrière around 16:00. The entire parade will be visible from the sidelines, offering ample opportunities for spectators to join the festivities.
Good to know: The boat parade can only be viewed from the canal shore. Boats and other vessels along the route on the canals themselves are not permitted. Utrecht's canals are divided into five zones: orange, yellow, pink, red, and green. It is up to you to decide where you want to watch the colorful parade. You can find the zones on the map.
LGBTQ+ Activities around Utrecht
Utrecht Pride extends beyond the boat parade, offering a variety of LGBTQ+ activities for everyone to enjoy. Street parties will be held at multiple locations throughout the city, allowing visitors to immerse themselves in the vibrant atmosphere. In addition, there will be several other engaging events leading up to Utrecht Pride, including the Pride Photo Exhibition and Pathé Pride Night, where attendees can watch LGBTQ+ films and celebrate the community.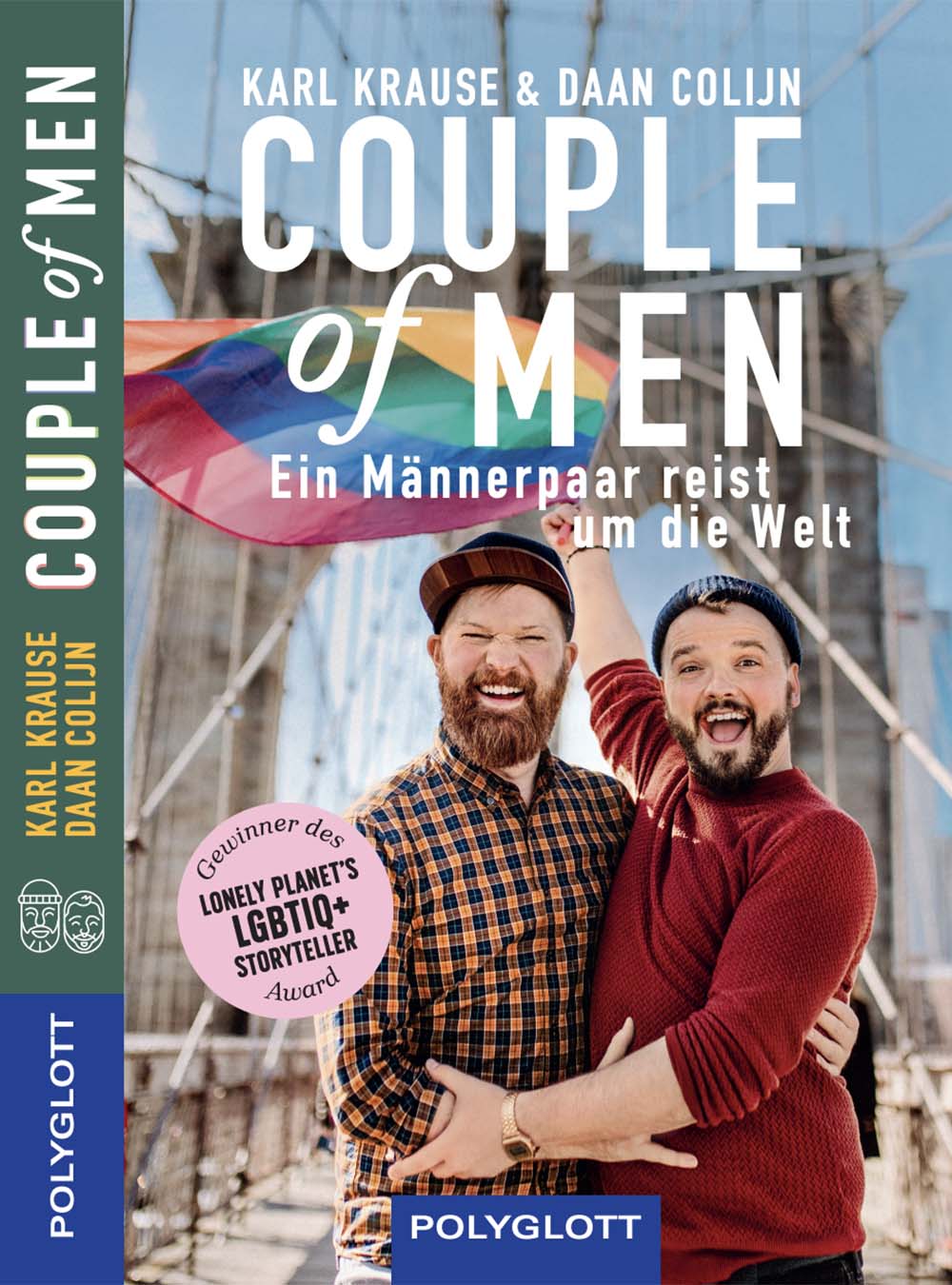 Advertisement
The perfect present to inspire (German-speaking) LGBTQ+ travelers and their allies to travel the world open-minded, respectfully, and with a happy heart.
Order our book online or purchase it in bookstores in Germany, Austria, and Switzerland.
Program after the Utrecht Pride Parade 2023
After the vibrant boat parade along the Utrecht canals, the excitement continues with a diverse program of events and activities. The celebrations extend into the evening with street parties, live performances, and afterparties scattered throughout the city. TivoliVredenburg hosts a range of events, including ICONIC – Pride Special, featuring queer pop music and DJs Vera Siemons and Liza van den Brink. RUBBER takes over BASIS, offering house and techno until the early hours. PRIDE LIVE showcases musical queer icons, while MAXI – PRIDE offers an open-minded club night. EKKO collaborates with PY•PS for a groovy mix of house and '80s disco. Pon Di Pride provides a safe space for BIPOC LGBTQIA+ community with Caribbean-inspired music. IsBurning x FLUID guarantees a night of celebration, and Janey invites women who love women to dance and connect. While Drinks & Drags at Hofman features drag performances and cocktails.
Practical information about Utrecht Pride 2023
Utrecht Pride 2023 will take place in the city center of Utrecht. It is recommended to use bicycles or public transportation to reach the event. You can find more information about public bike parking, bus lines, trains to Utrecht, route planners, and roadworks on the official websites:
The so-called botenparade (boat parade) and street parties are free to attend for everyone. However, tickets are required for the afterparties. The "Utrechtse Singel" is divided into five zones: grey, blue, pink, red, and green, so you can choose the best spot to enjoy the parade. After Utrecht Pride, there are street parties in the city center from 16:00 onwards.
Interesting Posts for Your Pride Travels
Advertisement
We found some great deals with flights worldwide as well as in and around Europe via Amsterdam (and return) with gay-friendly KLM Royal Dutch Airlines. That includes direct connections with KLM or their partner airlines, Air France and DELTA. *subject to availability / last check: 2023
Time to plan your trip to Utrecht and Utrecht Pride 2023
During Utrecht Pride, the Utrecht Bell Ringers' Guild will ring the bells of the Dom Tower for the first time, symbolizing a stark contrast to events three centuries ago. Back then, the tower custodian exposed a network of men engaging in same-sex encounters, leading to a nationwide witch hunt.
Today, a memorial stone for those trials lies near the Dom Church, and the boats of Utrecht Pride pass by it on the canal Oudegracht. Although the bells will be covered, their support for Utrecht Pride 2023 is significant, embracing all who attend the parade and event.
Do you like it? Pin it! >>
Would you like to learn more about us gay travel bloggers and experience our queer adventures with us? Then stay tuned and follow us on Facebook, Twitter, YouTube, Pinterest, and Instagram! See you in Utrecht, Amsterdam, the Netherlands, or on one of our next Gay Pride trips worldwide!
Karl & Daan.