The historic gay-friendly Fairmont Palliser Hotel in Downtown Calgary, Alberta, Canada. With over a hundred years of luxurious hospitality right in the center of Calgary in Alberta, the Fairmont Palliser Hotel is an institution to experience the glamour of recent decades of Canadian Railway Hotel businesses. Opened in 1914, the remarkable building was designed by Architect Lawrence Gotch of E. and W.S. Maxwell of Montreal. Fans of Edwardian architecture will love the Fairmont building in Chicago School Look, especially from the outside since it was the highest building in Calgary town, at least until 1958. But also from the inside, the Palliser Hotel did not lose a piece of its majestic presence due to several renovation and investments in the past couple of years.
The very central location right next to the Calgary tower and in Downtown Calgary at Palliser Square as well as the gay-friendly staff, the luxurious pool and spa area in the basement, made our stay very comfortable. Additionally, the comprehensive breakfast and very well-equipped rooms made our city weekend Calgary right before our Winter Road Trip through the Rocky Mountains to Jasper for Jasper Pride Festival extra convenient. Enjoy the review of our gay-friendly stay with photos, stories, and info about the historic Fairmont Palliser Hotel and see the legendary Canadian luxury Calgary City Hotel through a couple of men's eyes.
Our Deluxe Room with City View on the 6th floor
We stayed in a spacious Deluxe Room with a huge Kingsize Bed and a very comfortable mattress. The bright room offered us a sleeping area, a sitting corner with a desk. The room was modern but luxurious furnished and equipped with all necessary amenities to survive an eight-hour jet lag from Europe to Mountain Standard Time of the Canadian Rocky Mountains. The view from the 6th floor over Downtown Calgary was stunning, every morning again, and we appreciated the separate walk-in wardrobe, complimentary coffee, thee and Wi-Fi (thanks to our President's Club Membership). The luxurious bathroom with a bath and a rain shower was equipped with bathrobes, a hairdryer, and complimentary shower gel, shampoo, conditioner, and moisturizer from Le Labo (which smells like you never want to bathe without it again).
Definitely one of the highlights at Fairmont Palliser Hotel Calgary was the breakfast at the "Rimrock" dining room right next to the chimney. Additional to a rich breakfast buffet with a gigantic cowboy painting as a backdrop, we could order from the à la carte menu and combine them with a fresh made omelet and ongoing refilled fresh orange juice. The staff was super friendly, the food fresh and tasty, and the atmosphere precisely right to start a perfect morning.
The facilities of the 4-Star Fairmont Palliser Hotel
We loved to start our day with a swim in the huge indoor pool and to warm up afterward in the steam room. The pool area wasn't busy at all, especially in the morning hours. Fresh towels, bathrobes, and cucumber/lemon water are complimentary pool area services. If you are up for a sporty day, just get awake by doing some exercises at the hotel gym. We didn't use it, but guests are welcome to enjoy some extra relaxing time at the fully-equipped Health Club with a separate, quiet Spa area.
What to do in Calgary during your gay-friendly stay
Calgary knew exactly how to surprise us, seriously. The city in the east of the Rockies in Canada was mainly established as an outpost for the police and post in the late 19th century due to the Canadian Pacific Railway's way further west. Nevertheless, although the city's face changed significantly in the past centuries, the Fairmont Palliser Hotel is part of the explorer history of Alberta. Today, the very central location just a stone throw away from the Calgary Tower and the arts center Arts Commons, guest staying at The Palliser can reach all the main sights and highlights. We love to bike a city, even in winter with minus 20 degrees. And so, we decided to do that in Calgary by fat tire bikes. Although Calgary is known as an oil city, Canada's third-largest municipality has been serving its tourists with separate bike ways along beautiful parks and the Bow and Elbow River and more. Our tip: try a detour over Calatrava's Peace Bridge. Read more about our Gay Couple City Weekend on our blog.
Résumé of our Fairmont Palliser Calgary Hotel stay:
The centrally located Fairmont Palliser Hotel in Calgary with its impressive architecture and luxury interior knows how to combine Luxury and Canadian exploration history. By the way, the hotel was named after Captain John Palliser, who was an explorer in the region around Calgary in the 1850s. Back to the review: Our Deluxe Room was comfortable, clean and fully equipped. The staff of the Fairmont Palliser was greatly helpful, assisting in solving every problem during our stay. Long story short: the Fairmont Palliser Calgary was our perfect way to arrive in Canada, explore Calgary and prepare for our Winter Road Trip to the Rocky Mountains in Alberta. We would definitely stay at Fairmont Palliser again.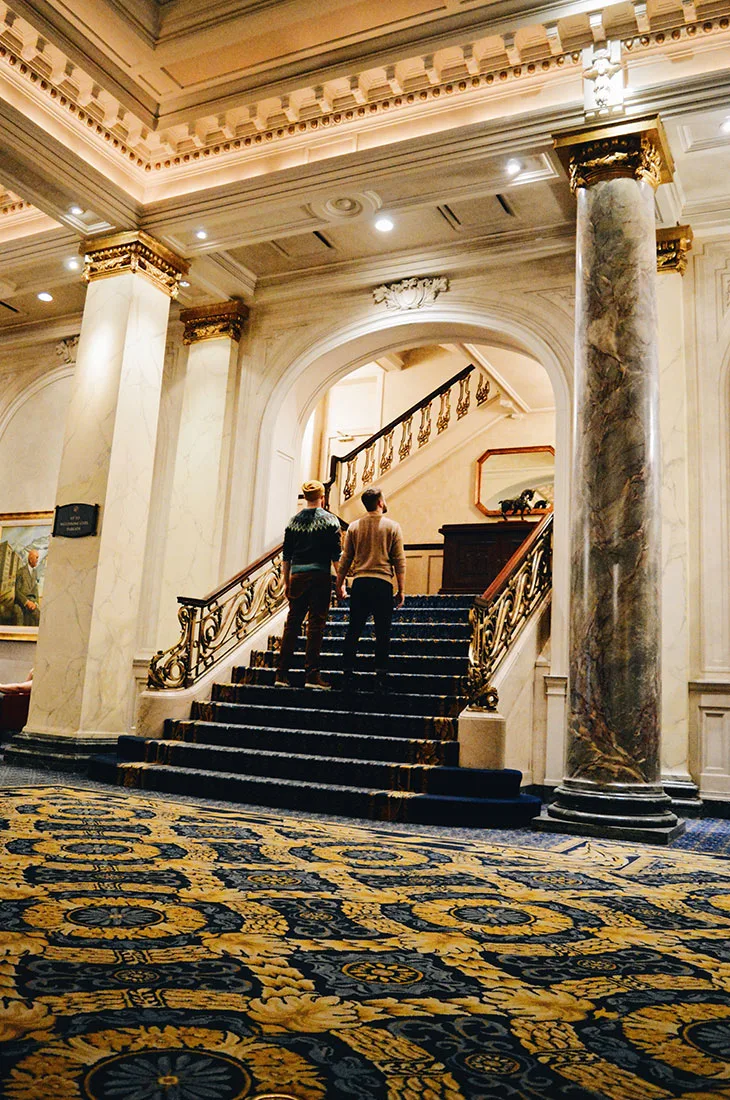 Interesting Articles for your Gay Couple City Trip to Calgary, Alberta, Canada:
Gay-friendly Fairmont Palliser Hotel Downtown Calgary Canada:
Address:
Fairmont Palliser Hotel Calgary
133 9 Ave SW, Calgary, AB T2P 2M3
Canada
Official Website: fairmont.com/palliser-calgary/
Contact: Tel.: + 1 403 262 1234 (toll-free room reservation from NL: 00 800 0441 1414)
Good to know:
Wi-Fi is not complimentary in any Fairmont Hotels. But if you are willing to join the free Fairmont President's Club, you automatically activate several amenities but most important, free Wi-Fi access. Take your time to explore the building, the gigantic hallway lounge, and enjoy breakfast next to an open fireplace.
Do you want to know more about our gay travels around the world? Stay tuned on Facebook, Twitter, YouTube, Pinterest, and Instagram. See you again in Spain, Portugal, Europe, and somewhere around the world!
Karl & Daan.