Ahoy there, fellow party-loving gay travelers! If you're reading this, it means you're planning or are about to embark on an epic journey aboard the "Explorers of the Sea" by Royal Caribbean for the highly anticipated La Demence THE CRUISE 2023. As "seasoned veterans" who've previously experienced this extraordinary voyage in 2016 and 2017, we are thrilled to share our top 10 Tips for the European Gay Cruise. Our tips for The Cruise by La Demence will help you prepare for an unforgettable vacation filled with sheer endless fun, like-minded men, and fabulous destinations. As the gay couple behind Couple of Men we have to say only one thing: Let's get ready to set sail!
– in collaboration with The Cruise –
The Cruise by La Demence
Did you know that La Demence is one of the biggest gay parties in Europe and the biggest Gay Party Event in Brussels, Belgium? Queer men and gays from all around the world are regularly coming to the Belgian capital to dance, party, and flirt with each other. Additional to the party weekends, La Demence organizes a one-week adventure once a year with an annually different new exciting route, all-inclusive fare, and a varied and unique party itinerary. Also, on the Gay Cruise 2023, all cruise passengers are invited to bring their own themed, colorful outfits, coming along well-rested, in a good mood, and with many friends. But why is that? To help you prepare for this extraordinary experience, we've compiled ten essential tips that will ensure your vacation is nothing short of spectacular.
#1 Embrace the Party Spirit
This European gay cruise is renowned for its vibrant party atmosphere. So, get ready to dance into the sunset during the T-Dance parties or to dance the night away – every night! From the iconic pool parties to themed night events and electrifying performances by renowned DJs, the onboard entertainment is second to none. Pack your dancing shoes, bring your infectious energy, and let loose with your old and newfound friends. Prepare to create unforgettable memories on the dance floor.
#2 Plan Your Outfits, Darling!
One of the highlights of La Demence THE CRUISE is the opportunity to express yourself through dazzling clothing. Prepare a collection of eye-catching outfits, ranging from beachwear to flamboyant clubbing attire. Don't forget to pack some fabulous accessories to complete your look! Whether you're channeling your inner disco diva or embracing tropical vibes, let your unique style shine according to the party theme. We put together our favorite outfits in the following three blog articles, plus videos:
#3 Participate in Themed Nights & T-Dance Parties
Prepare to unleash your creativity during the exciting themed nights on board. Whether it's a white party, a leather and fetish night, or a tropical extravaganza, embrace the opportunity to dress up and stand out from the crowd. These themed nights create an atmosphere of shared excitement, enabling you to connect with like-minded individuals who share your passion for fun and self-expression. And no, there is NO wrong outfit, just the wrong attitude! Express yourself and be free! If you are not a dressing-up and partying person, do not worry and enjoy watching the partying crowd.
#4 Enjoy the Sex-Positive Atmosphere
Not only because of the darkroom or the outdoor cruising area, open-minded men feel so comfortable on The Cruise ship. It probably also has to do with the fact that we're not just moving around for a few hours but for a whole week in a 100% homo-normative world. It's sizzling, flirting is the order of the day, and the body-positive attitude of most travelers naturally leads to a charged atmosphere. Our tip: Surrender to this unique situation, embrace it to the fullest, and live by the motto "Everything can, nothing must". Even if it's just watching.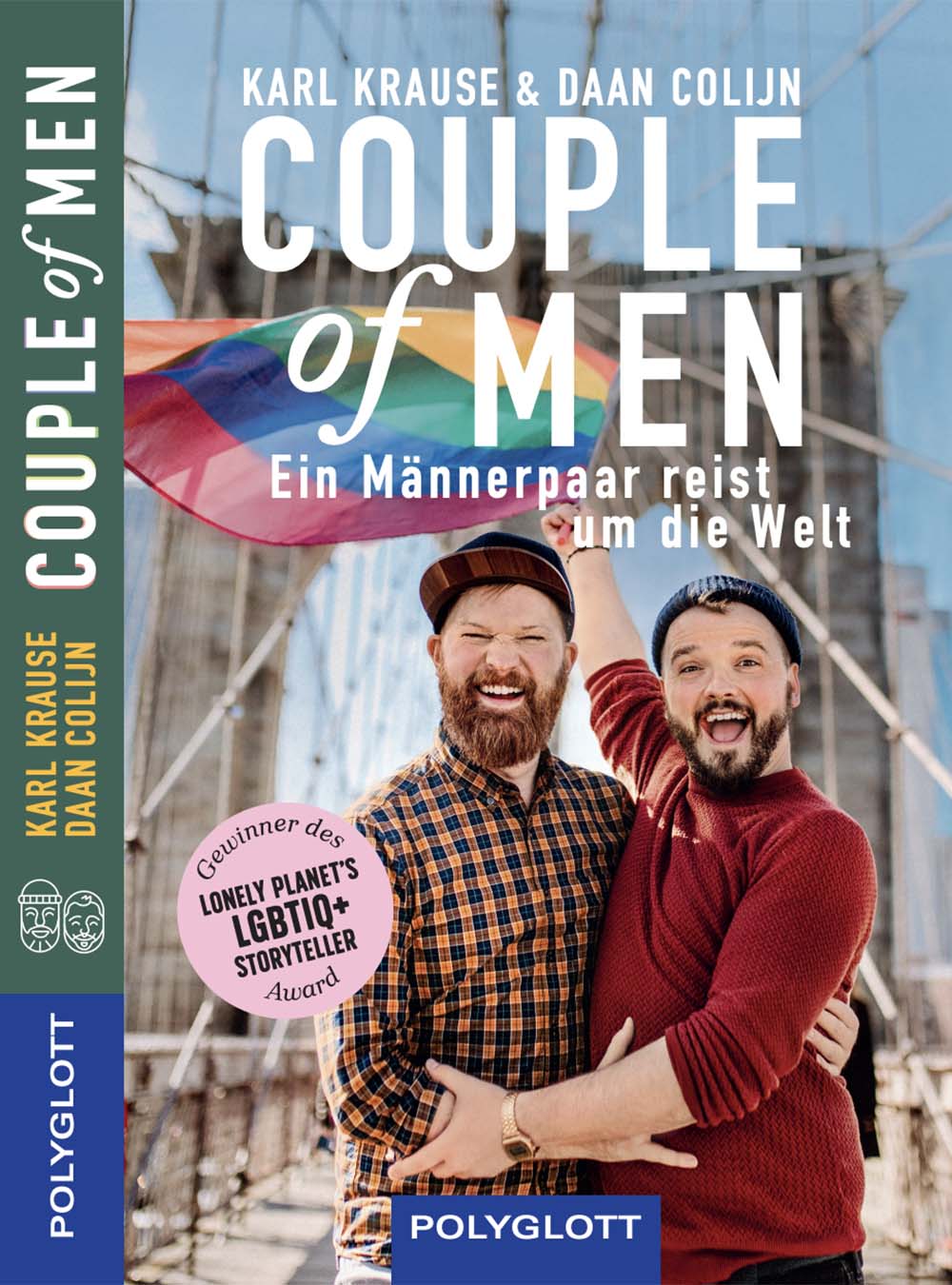 Advertisement
The perfect present to inspire (German-speaking) LGBTQ+ travelers and their allies to travel the world open-minded, respectfully, and with a happy heart.
Order our book online or purchase it in bookstores in Germany, Austria, and Switzerland.
#5 Stay Hydrated and Be Nice to Your Body
Having shared tips one to four with you now, tip five is as significant! Take care of yourself and your body. With non-stop partying and endless excitement, it's crucial to take care of your physical well-being. Stay hydrated by drinking plenty of water throughout the day and sipping on refreshing (non-alcoholic) cocktails by the pool. Fuel your body with nutritious meals offered by the ship's various dining options on board. We also learned from experience that not all parties, events, and offshore adventures are mandatory to embrace The Cruise experience fully. Choose your favorite theme parties, take enough breaks in between, get enough sleep, and keep your distance from other travelers if you are feeling unwell. Remember, maintaining a healthy balance will keep you energized and ready for the next adventure.
#6 Be Mindful of Consent and Boundaries
As you navigate the exciting social scene on La Demence THE CRUISE, it's essential to respect personal boundaries and prioritize the consent of all gay travelers onboard. Remember that everyone has different comfort levels, so be sure to communicate clearly and obtain explicit consent before engaging in any intimate activities. Often a smile, a straightforward hand gesture, or a joint sexy dance is enough for approval. But every so often, a more unmistakable sign is necessary. And even a polite NO means NO, as travelers will be onboard who do not prioritize sexual encounters, live monogamously or enjoy a certain distance. After all, everyone on The Cruise should feel comfortable and respected to ensure a safe and enjoyable experience for everyone involved.
#7 Explore the Destinations
Beyond the thrilling onboard experience, La Demence THE CRUISE 2023 takes you to stunning destinations. Ravenna, Sarandë in Albania, Argostoli in Greece, Malta, and Catania in Sicily await your exploration. Take the time to research each port, discover the local LGBTQ+ and gay scene, and plan excursions to make the most of your time ashore. Whether you're visiting historical landmarks, lounging on picturesque beaches, or discovering local cuisine, these destinations offer diverse experiences.
La Demence THE CRUISE is not only about the parties; it's also an opportunity to forge meaningful connections with like-minded individuals. Engage in social activities organized on board, be kind and friendly when you meet people in the elevators, and join cocktail parties or plan group dinners. Not to miss is the Mister Cruise election, the high-heel run, or the handbag-throwing competition. These events provide an excellent chance to meet fascinating people from all over the world. And who knows, you might make lifelong friends or even find a special someone along the way!
#9 Take Advantage of the Ship's Amenities
The "Explorers of the Sea" by Royal Caribbean offers a plethora of amenities beyond the parties and entertainment. Take advantage of the onboard gym facilities to stay active and maintain your fitness routine. Enjoy the swimming pools, jacuzzis, and sun decks for some relaxation under the warm sun. We are personally looking forward to spending time on the nude sun deck, having fun conversations in the hot tubs, and enjoying some exciting encounters in the dark room and cruising areas. And don't forget to explore the diverse dining options, from casual cafés to gourmet restaurants, where you can savor delicious meals with your fellow gay cruise travelers.
Lastly, don't forget to document your incredible journey! We will most certainly do that. You will find us walking around with a camera or phone to capture our most favorite moments of THE CRUISE 2023. So can you! Share your adventures on social media using the official cruise hashtags #thecruise and #thecruisebylademence2023, connecting with other attendees and keeping the memories alive. Just remember to be respectful of others' privacy and seek permission before sharing images that include fellow guests!
Our Tips European Gay Cruise La Demence "The Cruise"
Preparing for La Demence THE CRUISE 2023 on the "Explorers of the Sea" promises an extraordinary adventure for gay men who love to party, socialize, and explore fabulous destinations. By following the advice of these ten tips, you'll ensure that your one-week vacation is unforgettable, filled with thrilling experiences, lasting friendships, and countless memories. So pack your bags, unleash your inner party animal, and get ready to set sail on a journey of a lifetime! Bon voyage and cheers to an extraordinary La Demence THE CRUISE!
Would you like to learn more about us gay travel bloggers and experience our queer adventures with us? Then stay tuned and follow us on Facebook, Twitter, YouTube, Pinterest, and Instagram! See you in Italy, Albania, Greece, Malta, or on one of our next Gay Pride trips worldwide.
Karl & Daan.
Do you like it? Pin it on Pinterest!