Mallorca has a mixed reputation among travelers. When the island comes up in conversation, for some, it immediately conjures images of straight German Ballermann visitors partying to carnival music. Others will think of Magaluf, visited mostly by British tourists—harboring streets littered with stag and hen parties and the birthplace of many regrettable, drunk tattoos. Mallorca, also spelled Majorca, doesn't have a gay reputation like other Spanish destinations such as Gran Canaria or Sitges. But that doesn't mean there's no action for those looking to meet men. There are multiple forms of gay cruising in Mallorca. In this article, find my impressions, recommendations, and tips for the best cruising beaches, clubs, and bars in Palma de Mallorca and throughout the Balearic island. Did I miss a spot? Let us from Couple of Men know in the comments below.
Gay cruising beaches in Mallorca
There are two main gay cruising beaches in Mallorca: Es Trenc in the South and Muro in the North. I will share my comprehensive overview of the two locations in the following paragraphs.
The beach of Es Trenc, close to Campos
Platja d'es Trenc is a stunning sight with white sand and azure water. It is, by far, the most beautiful beach I have been to in Spain, with its color profile rivaling destinations such as the Maldives. The sand is soft, the beach is clean, and the water is incredibly warm. Even without the adventurous guys in the bushes, this destination is worth a visit. Fortunately, the serendipitous encounters in the dunes can enhance your enjoyment of the elements, making any hot summer day even steamier. How do you get there, and how do you find the men?
Find a parking spot
Unless you're staying remarkably close to the beach, you'll likely need a car to reach it. My recommendation is to approach Es Trenc from the East. If you are an early bird (and I mean around 9 a.m.), you can find free parking very close to the beach. Spaces are limited; however, sometimes you might strike gold. Park on Carrer Covetes across from Bar Esperanza (9X3F+R6 Ses Covetes, Spain) to get one of the coveted spots. For all not-so-early-risers, hungover party people, or big-hotel-breakfast-enjoyers, I'd recommend Parking Sa Barralinas (9X7H+XR Ses Covetes, Spain). This parking lot likely has space throughout the day and costs about €7 for a day ticket.
Walking to the paradise
You'll need to walk on a straight road towards the beach for about 15 minutes. It's not ideal, but manageable. As you walk, set your intentions for the day. Aim to walk towards Bar Esperanza and then naturally follow the path to the beach. Walk along the beach, and you'll quickly notice the cube-like, white buildings along your path, which the locals call "bunkers". I'm not sure of their function, but they serve as an excellent waypoint for you to find your path to the desired locations. Once you pass the one that says, "Niu d'humana felicitat" – which fittingly translates to "Nest of Human Happiness" (9X2H+39C Ses Covetes, Spain) – you'll start to get into the more nude area of the beach. Here, straight couples mix with the first gay ones, and as you continue, the beach becomes exclusively gay. In my experience, the best spot is around 8XWJ+VM5 Ses Covetes, Spain – though it might change over the year.
You've finally arrived; you made it.
What now? Enjoy Gay Cruising in Mallorca!
A quick hop over the rope behind the beach will provide access to the dunes. Make your way through the initial sand beds towards the thick, overgrown forest in the back. You might need to go through a narrow, overgrown passage. From here on, ascend the elevated forest area behind the beach. I want to take a moment to emphasize that this cruising area is stunning.
The loud sound of cicadas in the hot summer sun creates a mesmerizing soundscape and backdrop to your exploratory activities. Paths wind throughout the upper forest area, with plenty of little nooks and crannies. The surface is a mix of sand and pine needles, so while you can walk through the area completely naked, I recommend wearing shoes or sandals.
The area is spotless, and when you reach the top of the hill, you're met with a stunning view of the forest underneath. It truly is cruising with a view and one of the most beautiful areas I've been to. The trees provide some welcome shade from the glaring sun. The area is incredibly large, which can be a mixed blessing. You never feel cramped or claustrophobic, but occasionally, it can also take a good while before you run into anybody else.
Personal tips for Es Trenc
In my experience, Es Trenc attracts mostly tourists: Germans, French, and some Spanish mainlanders. Other positives: from the parking to the beach, you'll pass a supermarket where you can stock up on cold drinks and food, which is very handy. There's also a beach bar on the way, should you want to pick up a cheeky cocktail. After a long day, face up or face down in the sand, I highly recommend going to Bar Esperanza for food, which is genuinely good. Just make sure to reserve beforehand, as it fills up quickly.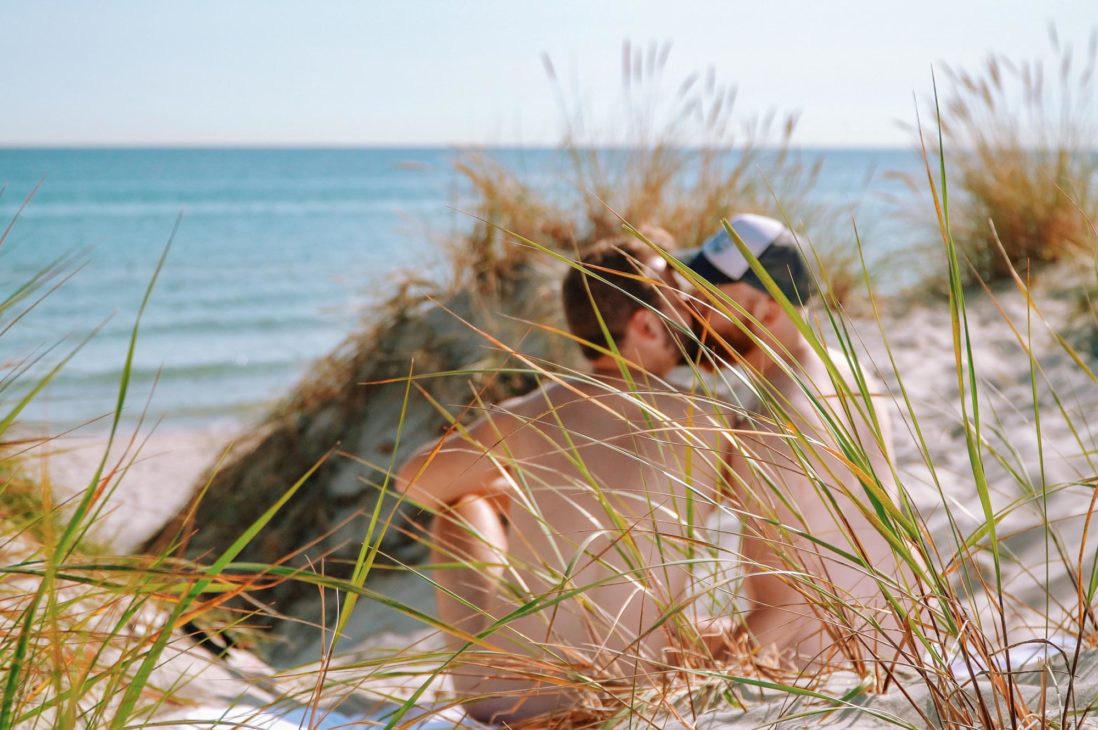 Together with our dear friend and Gay Cruising Culture expert John, we are showing you the best cruising places of gay-friendly travel destinations worldwide. How to find gay cruising hot spots? What should be considered when doing gay cruising? Is gay cruising legal in the country you are traveling to?
Muro gay beach
If you're at the other end of the island – Muro might be a better option for you. Or maybe there's someone at Es Trenc that you want to avoid. Whatever it is, it's always good to have options. So, gay cruising in Playa del Muro is possible, especially when you're staying in nearby Can Picafort.
Muro is quite a narrow beach backed by a stunning forest area. A wooden pier runs parallel to the coastline through the forest. It's a stunning backdrop for some beautiful Instagram pics. The water is alright, although not as translucent as in Es Trenc. There are no shops or supermarkets on the beach, so make sure you bring provisions.
How do you get to Muro beach?
While this is not a comprehensive guide to all parking possibilities, I recommend parking at Q4PH+HM Can Picafort, Spain. From here on, walk eastwards (to the right when facing the sea). You can walk through the path in the forest. However, if it's your first time, I'd recommend going via the beach to find your way because you can see when the beach gets more gay. Throughout your journey, you'll notice watch towers periodically dotting the coastline.
As you continue walking on the beach, you'll notice the visitors becoming less straight and more nude. Walk to the watchtower at Q4HQ+CP7 Can Picafort, Spain, and then you'll be in the right place. Interestingly, there was a clear distinction between gay and straight couples, separated by the main path to the historic Spanish 'sighting' or watch towers. This might not always be the case, but the clear-cut border was very noticeable to me.
What now? Enjoy Gay Cruising in Mallorca!
Walk past the watchtower into the dunes. You now have two options: either follow the narrow paths perpendicular to the ocean, which lead to several interconnected spots where you can play, or walk further into the dunes, away from the ocean. If you go far enough, you'll see another watchtower in the middle of the dunes. Many guys tend to gather in and around this tower and its immediate surroundings. If you walk too far, you'll reach a sectioned-off path. I'd recommend avoiding that, as there are just regular passersby there.
To be honest, while this area is alright and does see plenty of action (with more locals and generally a younger crowd than Es Trenc), I'm not a big fan of this spot. If given the option, I'd always recommend Es Trenc over this. In the various times I've visited it, this cruising area is unfortunately just plain littered. As an advocate of ethical cruising, I can't condone or support guys who leave their condoms, tissues, and garbage in nature, and Muro was especially bad in this regard. Although there were some cleanup efforts, like hung-up garbage bags in the trees, this place was a mess and left me feeling gross.
Always remember: when you cruise, take a small ziplock bag and pack all your trash.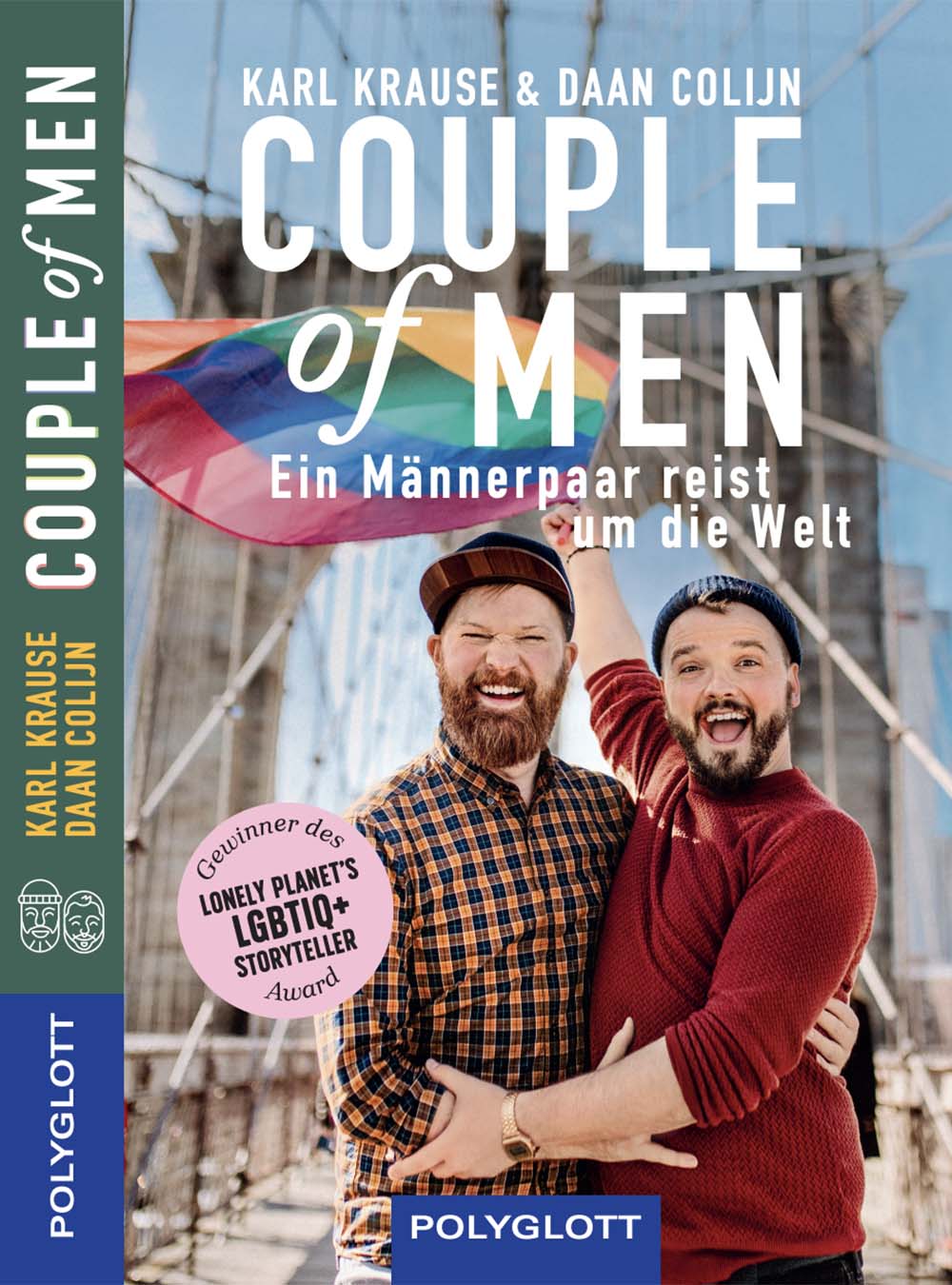 Advertisement
The perfect present to inspire (German-speaking) LGBTQ+ travelers and their allies to travel the world open-minded, respectfully, and with a happy heart.
Order our book online or purchase it in bookstores in Germany, Austria, and Switzerland.
Going out in Palma de Mallorca
A bit of a side note: Palma de Mallorca is a beautiful city; it genuinely surprised me. I strongly recommend going for at least one day if you're in Mallorca for mostly beach days. I walked with my lover throughout Palma, holding hands and being affectionate, and felt exceptionally safe. Furthermore, I noticed numerous other LGBTQ+ and gay travelers.
Here's what I find bizarre about Palma de Mallorca: with so many gay people, there are only 2 (!!) cruise bars, one gay club, and a gay sauna – but not a single "regular" gay bar. It was a bit perplexing. After a long day, I just wanted to have a chill beer somewhere and meet guys or other travelers. But the only options were cruise bars or clubs. If you know why this is, please let me know in the comments; I'm ever so curious. Anyway, since this is a gay cruising article about Mallorca, here are some insights on the local scene:
Fucktory
I was a bit taken aback by this bar/club. Upon checking their Google Maps listing, I saw a lot of… peculiar decor. Bloody handprints on the bathroom door, biohazard signs everywhere, skulls, etc. I assumed these were photos from a Halloween party, but this is just the type of decor the owners opted for. While I understand the theme – some ultra-masc, industrial, danger zone cruising – the only thing I will say is that a lot of the decorations seemed to be done with spray paint, making the whole place smell like paint. I wish they'd air it out better because, walking around, I seemingly got a contact high just off the fumes, but that's beside the point.
Fucktory is a classic cruise club. It gives a bit of Gran Canaria, Yumbo Center vibes. From the outside, an unremarkable entrance leads to a hallway. If it looks closed, try to open the door because it most likely is open. Here, you need to ring a doorbell. A hatch will open, and you'll pay your €15 entrance. This includes two beers or one more potent drink.
On the first floor, there's a bar with friendly staff and, most importantly, an entire room with free lockers, which I personally appreciate in a cruising club. Guys generally stayed dressed or shirtless, but no one was naked. Fucktory has a large underground cruising maze structure with cabins, a sling, and other amenities. However, for me, it was too dark. I appreciate a bit of red light or more lit areas to see who I interact with rather than pure darkness.
What I will say is that the place is very well visited. I was there on a random Wednesday night, around 11 p.m., and the place was packed. Many local guys, men of mixed ages, from younger to bear guys in their 50s.
Sitges is a small town about 35 km away from Barcelona. It tends not to be on everyone's radar, which is why mentioning it to the uninitiated usually draws befuddled looks. For many gay men, however, the name Sitges evokes images of the sun, sea, and … intimate encounters. Welcome to our Sitges Gay Cruising Guide!
Dark Cruising Bar
Also located north of the center of Mallorca's capital city, Palma, the Dark Cruising Bar is another solid choice for an intimate night out. Much like Fucktory, it has similar facilities but lacks the same intense interior style (for better or for worse). Dark Cruising Bar regularly hosts themed evenings based on different fetishes, practices, and dress codes. If you're considering a visit, it might be a good idea to check their agenda to ensure it's the right vibe.
One distinct advantage of the Dark Cruising Bar is its drink offer. On Wednesdays, Thursdays, and Sundays, patrons can choose between a standard admission fee of €12, which includes two drinks, or shelling out €20 for unlimited draft beer. If that's not a deal, I don't know what is.
Gay Sauna Spartacus
Right in the center of Palma de Mallorca, you can find this gay sauna. I generally don't go to Saunas when I'm on beach holidays with cruisy dunes. So, unfortunately, I have no experience in the Spartacus Gay Sauna to share with you. Did you go? What was it like? Please let us know in the comments.
John's Guide for Gay Cruising on the Island of Mallorca
However, a vacation in Mallorca is not just about tranquil moments and scenic views. In addition to its rich cultural heritage with numerous historical sites and museums, Mallorca boasts a deep connection to the natural world. Whether it's the stunning Mediterranean coastline, the lush parks, or the azure waters of the Balearic Sea nearby, your trip to this Spanish island promises endless excitement.
For many LGBTQ+ travelers across Europe, Mallorca is one of the most welcoming and inclusive destinations. So, save this Mallorca LGBTQ+ Travel Guide for your upcoming adventures! We're counting the days until we can return to this beautiful island paradise.
Do you want to know more about our gay travels around the world? Stay tuned on Facebook, Twitter, YouTube, Pinterest, and Instagram. See you again in Mallorca, Spain, or somewhere around the world!
Karl & Daan & John.
Important note: We wrote the contents of this website with due diligence and the author's best knowledge. It contains personal impressions and experiences and only represents the author's opinion – your experience may differ. Locations and situations can change quickly, so make sure to use your best judgment and caution when engaging in activities.
Disclaimer: Always respect local laws and behavioral guidelines regarding cruising in public and intimate encounters, even on the beach, in the forest, or wherever it might happen. Cruising is at your own risk. This article contains no legal or medical advice and is for entertainment purposes only. Our cruising guides and stories are not intended to support unlawful behavior, but to add an adventurous note to one's trip.