The last weeks and months have really been a roller coaster of emotions. First, we won the Lonely Planet Best in Travel LGBTIQ+ Storyteller Award. Then we locked ourselves up for months in our small apartment we just moved into and kept any contact to a minimum in order to write our first book, "Couple of Men – Ein Männerpaar reist um die Welt". Now, after the book is finally available in bookstores, we will be featured on German TV, in a 12-minute insider episode about our favorite city, Amsterdam. Learn what to expect with Couple of Men on German TV – im WDR – and where to watch the series outside of airtime on Couple of Men.
It all started with a message on Facebook
The contact to the team from WDR was made by our dear friend, colleague, and Couple of Men storyteller Sarah Tekath, who followed up on the message in a Facebook group. After only a few phone calls, the date for the shoot was set, the recording for Couple of Men on German TV would take place in March and would air in May. We would therefore have the opportunity to show a three-person recording crew and reporter Daniel Aßmann three of our favorite places in Amsterdam while being able to talk about our work as LGBTQ+ travel bloggers and book authors. The day started in the center of Amsterdam, on the canal Single.
---
On our summer trip from Sweden to Germany to Austria, we received a completely unexpected message: "Congratulations on winning the first Best in Travel LGBTIQ+ Storyteller Award from Lonely Planet!" This award is usually given to places and organizers that deserve special attention for the upcoming travel year. We were speechless that we should now be one of them!
---
#1 View of the city from a glass tower
We met not far from a side entrance to the Kalverpassage shopping center in the heart of Amsterdam. Just around the corner, in one of the cute canal houses on the world-famous flower market, Daan's mother grew up and spent her childhood on Reguliersdwaarstraat behind it. This street is now considered one of Amsterdam's go-to spots for gay and queer travelers, with bars, café, and clubs. Needless to say, we have a special connection to this part of Amsterdam. So, we're frequently drawn to the Blue Amsterdam café and restaurant, which has a 360-degree view of the city. The so-called Kalvertoren (translated as Kalvertower) made of glass not only offers delicious snacks, but also a unique view over the rooftops of the Dutch capital. Everyone is welcome here!
#2 Sunset in Amsterdam Noord
We made our way on foot through the city center, more precisely through the so-called red-light district. But even though many of the partly centuries-old, and very photogenic houses can be found here, our destination was the other side of the central station, Amsterdam Centraal. With the free ferry, we crossed over to Amsterdam Noord at the stop NDSM Werf. Here, where boats and ships were once built, the art and creative scene have settled these days. In addition to studios, flea markets, and exhibitions, LGBTQ+ travelers can also attend some of the best queer parties in town. That's the case at Noorderlicht, for example, which was our second stop as an Amsterdam insider. Snacks, local beer, a fire pit – what more do you need to end a day in Amsterdam in style? Oh yes, a location right on the water of the river IJ, a perfect sunset, and a charming company.
#3 Into the night with cocktails in a queer bar
Back on the city side of Amsterdam, we were drawn into the queer nightlife. Therefore, we had planned a cocktail round at the bar PRIK, which has held the title "Best gay bar in the Netherlands" for many years. Here we mingled with the queer, colorful crowd and watched Daniel Aßmann not only mixing some cocktails, but afterward, we made ourselves comfortable outside and tasted his creations. PRIK is one of our absolute favorite queer places in Amsterdam, where we meet friends and acquaintances, and which we can also highly recommend to other LGBTQ+ visitors to Amsterdam. From here we went into the Amsterdam nightlife.
---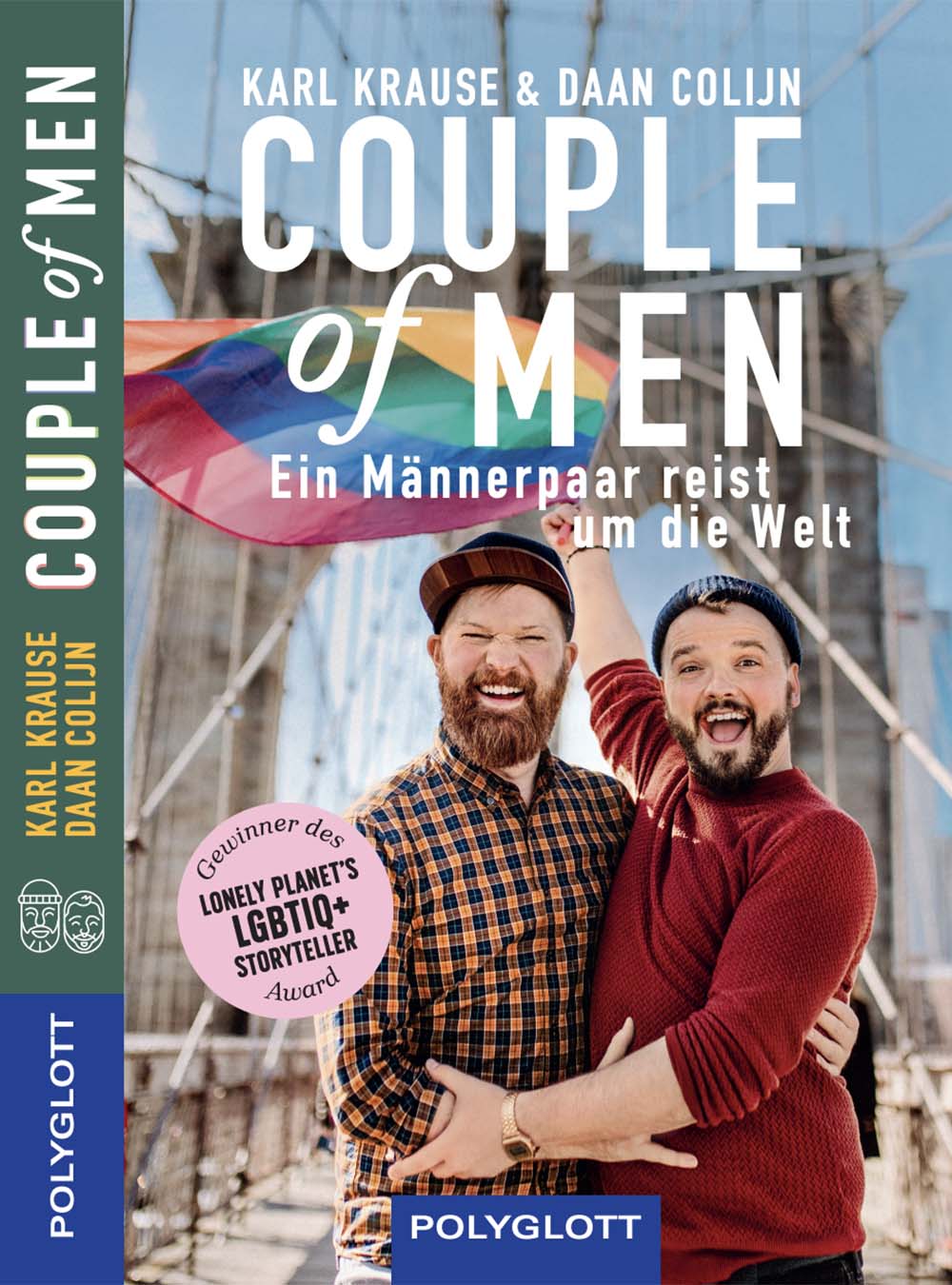 Advertisement
The perfect present to inspire (German-speaking) LGBTQ+ travelers and their allies to travel the world open-minded, respectfully, and with a happy heart.
Order our book online or purchase it in bookstores in Germany, Austria, and Switzerland.
---
When and where can you watch this episode?
From Amsterdam out into the world
Our travel planning for 2022 is really picking up speed right now. Soon we will be leaving for a longer trip to the USA – of course to Orlando. Back from the States, we are planning a train trip across Europe and will be attending various Pride events. We are also organizing readings of our recently published book "Couple of Men – Ein Männerpaar reist um die Welt" at the Homochrom Litfest in Cologne, Munich, Dresden, and Berlin. But that was not all for this travel year.
For more travel news and background stories about the LGBTQ+ community, simply follow Couple of Men on Instagram, Twitter, YouTube, Pinterest, and Facebook!