Couple of Men – A Gay Travel Blog
WORLDWIDE: LGBTQ+ & Gay Travel: 10 Reasons Why Queer Travelers should consider and plan Gay Exclusive Vacations, Gay Cruises, or a stay at Gay-only getaways.
Gay Travel Blog Couple of Men
A German-Dutch gay couple, happily living the adventurous life together, eager to explore the world around us, from our favorite neighborhood restaurant to adventurous hiking trails into the mountains and exciting city trips around the globe.
We are Karl and Daan from the Gay Couple Travel Blog Couple of Men, and we'd like to inspire you to explore the world open-minded, respectful, and with a happy heart.
Karl & Daan.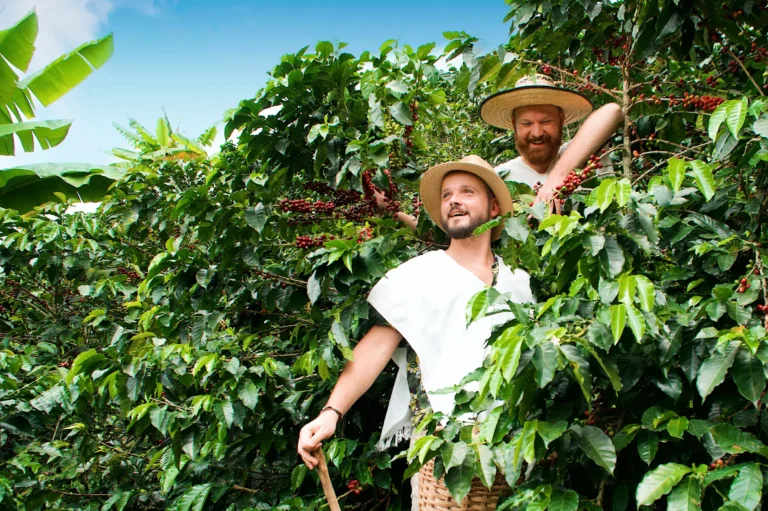 COLOMBIA: From the most dangerous city in the world to a gay-friendly destination – in one generation! Art and culture, cable cars, and self-sustaining neighborhoods.
USA: Our road trip around California, Utah, Arizona, and Nevada. Gran Canyon, Zion National Park, Yosemite, San Francisco and LA – join us on our trip to the land of opportunity.
PERU: For us, our Peru adventure meant learning more about the history of this South American country, which goes back much further than 'just' to the glorious Incas.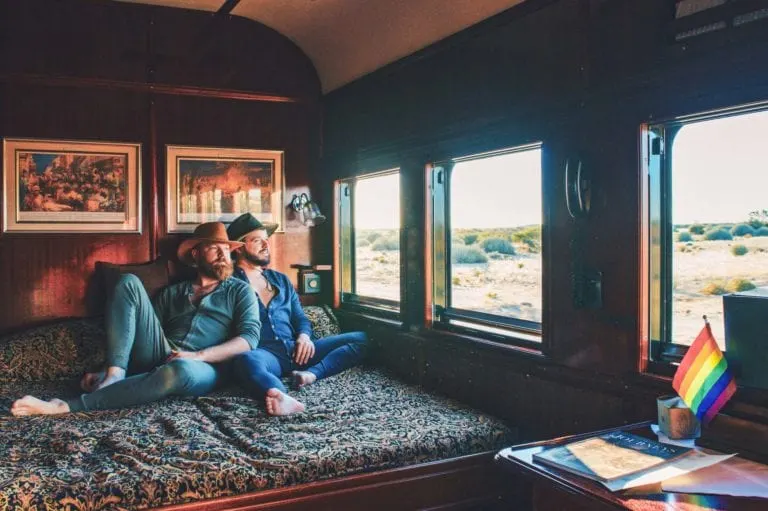 SOUTHERN AFRICA: Our journey through rural inhabited Savannah regions, windy dunes and protected National Parks turned out to be one of our biggest gay travel adventures ever.
COSTA RICA: The most important fact you should know about: Costa Rica is one of the safest, LGBT welcoming, and very gay-friendly countries in Central America with an incredible unique biodiversity.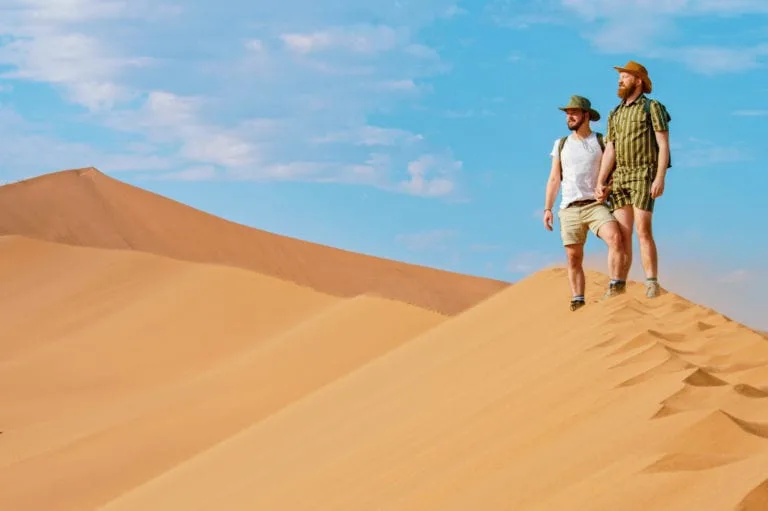 NAMIBIA: During our nine days Train Safari from Namibia to South Africa's capital city, we had the chance to visit one of the most spectacular sights of Namibia, the dunes and desert of Sossusvlei.
Pride
Happy Pride! With this international greeting, lesbians, gays, intersex and trans folks as well as queer people, as well as their friends and allies, are marching side by side demonstrating various LGBTQ+ Pride parades for equality, acceptance, and equal love. But what does PRIDE for the LGBTQ+ community actually mean and stand for? Why are we using the abbreviation LGBTQ+? And why is a Coming Out for queer people so important and really still necessary? We are giving answers to these and additional questions on our Gay Couple Travel Blog Couple of Men.
BERLIN: When we discovered that Hotel am Steinplatz in Berlin Charlottenburg was part of the Marriott family and listed under the Pink Pillow Collection, we had to check it out.
KEY WEST: We stayed at the popular clothing optional gay resort Island House in Key West. In 2019, the accommodation has become "The Best Gay Resort In The World".
ORLANDO: We stayed at the Aventura Hotel at the Universal Orlando Resort™ in Florida, located close to Universal's Volcano Bay, Islands of Adventure, and Universal Studios Florida.
ITALY: Gay-friendly BeVedetta in Scarlino, Italy, located high up on a hill overlooking the sea, was just the right place to experience a gaycation, far away from the stress of everyday life.
ORLANDO: We stayed at the LGBTQ+ friendly Review Hard Rock Hotel at Universal Orlando, Florida, a premier resort hotel to Universal Studios Florida™, located close to the Universal CityWalk Orlando.
MUNICH: The 4-star hotel was our accommodation for the 4-days trip to Munich this summer with enough space to play games, to dance to DJ sets, and to work in an LGBTQ+ welcoming environment.
FINLAND: Before we start with our review of the gay-friendly Klaus K Hotel in Helsinki, we want to warn you, it is going to be a very sexy gay-friendly hotel article.
NEW YORK: We must admit that New York his has been on our gay travel to-do list for a long time following in the footsteps of LGBTQ+ activists around the city of New York.
USA: The Yosemite National Park in California was one of our top highlights we planned for our four weeks road trip around the South West of the United States of America.
Queer Couple Stories
By sharing their stories, we get to understand the daily lives of couples that are running a business together, that are activists for freedom and equality together, that are facing everyday problems together or that simply are what they actually are, two people in love. This is why we use Queer Couple Stories on our Gay Couple Travel Blog Couple of Men to raise awareness of LGBTQ+ couples and their situations with the goal to change the perception and acceptance in our society. We want them to be seen – by sharing their stories.
SPAIN: Mallorca doesn't have a gay cruising reputation like Gran Canaria, Amsterdam or Sitges. But there are places where intimate encounters are possible. Here are John's tips.
GERMANY: The first LGBTQ+ Travel Book Couple of Men – Ein Männerpaar reist um die Welt, giving insights into our lives as gay men, as a couple, and queer LGBTQ+ communities
AMSTERDAM: An extensive selection of international films, documentaries, and short films will be available for the queer community to watch, getting already in a Pride mood.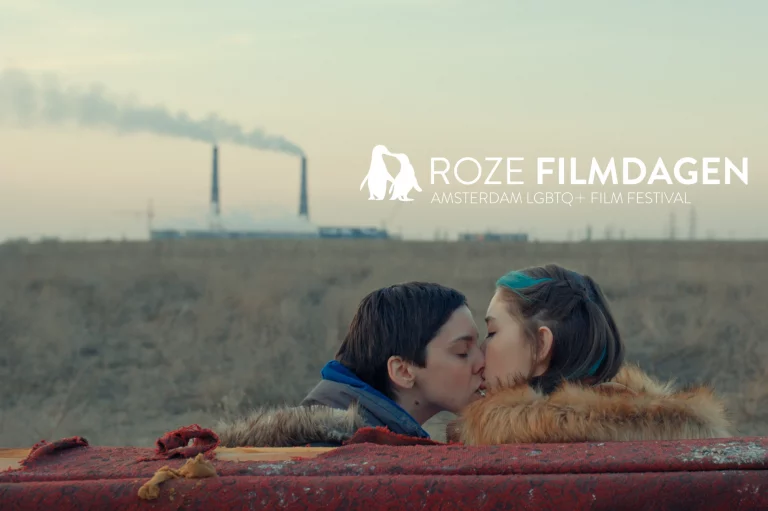 AMSTERDAM: We have teamed up with festival director Werner Borkes to pick our favorite lesbian movies of 2023 from around the world.
WORLDWIDE: Need inspiration on where to travel next? Or you're not sure which places are suitable for travelers from the LGBTQ+ community? LGBTQ+ travel books help lesbian, gay, trans, and queer travelers find inspiration and direction for planning their gaycation.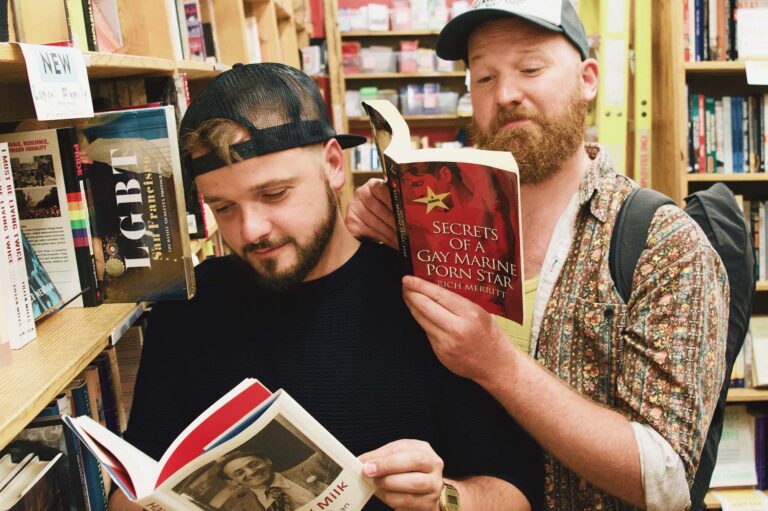 WORLDWIDE: Our selection of the 12 best international LGBTQ+ books in English with lesbian, gay, transgender and queer community topics worldwide.
AMSTERDAM: In 2022, the LGBTQ+ film festival Roze Filmdagen will be full of colorful movies, docus and short films. We selected the best 10 queer movies for you!
AMSTERDAM: For the 25th edition of the queer film festival Roze Filmdagen, we teamed up with festival director Werner Borkes to choose our best gay movies of 2022.
AMSTERDAM: The 25th edition of the queer film festival, movies, docus and short films about queer culture will be shown either at Ketelhuis or streamable at home.
LGBTQ+ Rights around the World >
MOLDOVA: How safe and enjoyable is the life of the LGBTQ+ community in the Eastern European country? Sarah attended an online event organized to answer these questions…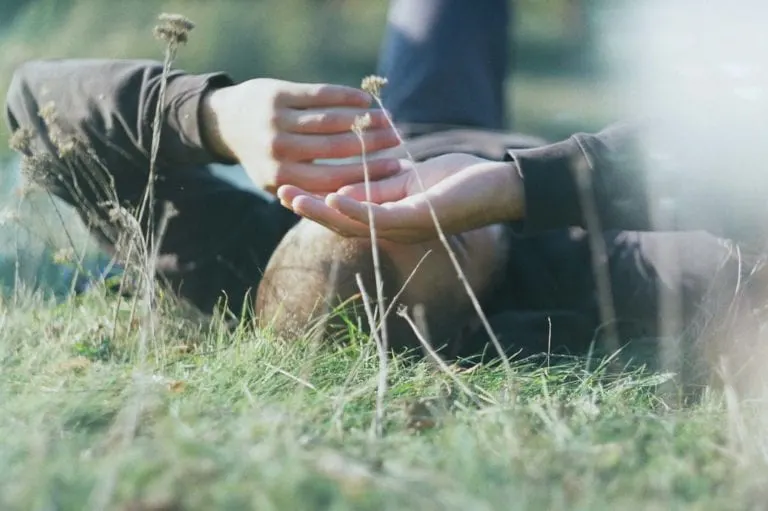 UKRAINE: Sarah learned about the situation of the LGBTQ+ community in the Eastern European country at an online event organized specifically for activists and journalists.
LAOS: The Democratic People's Republic of Laos also called Laos for short, has the reputation of being one of the most tolerant communist countries for the LGBTQ+ community.
CAMBODIA: Additionally to the two genders, male and female, Cambodia's national language Khmer also knows the third gender kteuy, describing a person who has the physical characteristics of one gender but the behavior of the other.
VIETNAM: Homosexuality was still described as a social evil by a national television broadcaster in 2002, comparable to prostitution and illegal gambling. Over the past years, the situation for the LGBT community in Vietnam has improved.
MYANMAR: …or Burma, still one of the most conservative countries in Southeast Asia, is also the country where life is anything but easy for LGBTQ+ people
LEBANON: The country has a reputation in the Middle East for being the most liberal of all countries when it comes to the LGBTQ+ community in general.
RUSSIA: A kiss and a murder. This is how recent events in Russia can be summarized in the LGBTQ+ community. Renowned LGBTQ+ activist Yelena Grigoriyeva was found dead in St. Petersburg in mid-July, with several stab wounds in the chest and signs of strangulation.
GEORGIA: Although homosexuality has been legal in Georgia since 2000, it is taboo in large parts of the country with far-reaching consequences for lesbians, gays, and queer people in the country.
---
AS SEEN IN


SOCIAL MEDIA @COUPLEOFMEN