Brussels Pride is an annual event that holds significant importance for the LGBTQIA+ community in Belgium and beyond. This year, the Pride festival adopts Amnesty International's powerful slogan: Protect the Protest. It serves as a call to defend the fundamental right to protest, not just in Belgium and Europe but worldwide. Brussels Pride 2023 aims to provide a platform for advocacy, celebrate diversity, raise awareness, promote equal rights, and create a supportive community. Especially the Safer Pride initiative should be mentioned as well, ensuring a safe and inclusive celebration for all participants. Let's delve into the objectives and program of this year's LGBTQ+ event with some of a gay Couple of Men's favorite moments and photos of the Brussels rainbow celebration 2023.
Protect the Protest: The Brussels Pride 2023 Motto
The theme of Brussels Pride 2023, "Protect the Protest," emphasizes the fundamental human right to protest without hindrance or violence. Protest takes various forms, from street demonstrations to virtual activism, and plays a vital role in challenging norms, advocating for justice and equality, and asserting oneself.
By adopting this motto, Brussels Pride aligns with the global movement to safeguard the right to protest, which faces increasing pressure in many parts of the world, including Europe and the European Union. And so, it was time for us again – on our second pride in 2023 after Pride of the Americas – to wave our rainbow flag and stand up for equality.
Advertisement
We found some great deals with flights worldwide and in Europe via Amsterdam (and return) with gay-friendly KLM Royal Dutch Airlines. That includes direct connections with KLM or their partner airlines, Air France and Delta Air Lines. *subject to availability / last check: 2023
The Objectives of Brussels Pride – The Belgian & European Pride 2023
#1 Providing a platform for advocacy
Brussels Pride 2023 offers the LGBTQIA+ community an invaluable opportunity to amplify their voices and advocate for the improvement of their rights and living conditions. With the theme "Protect the Protest," the event serves as a rallying call to address the challenges faced by the community and demand necessary changes.
#2 Celebrating diversity
Embracing the spirit of inclusivity, Brussels Pride aims to celebrate the diversity within the LGBTQIA+ community. The festival seeks to promote tolerance, acceptance, and understanding of all sexual orientations and gender identities. It serves as a powerful platform to showcase the strength and vibrancy of the LGBTQIA+ community.
#3 Raising awareness
One of the primary goals of Brussels Pride is to raise awareness about the issues faced by the LGBTQIA+ community, including discrimination, prejudice, and violence. By shining a spotlight on these challenges, the event seeks to educate and inspire individuals and communities to become allies in the fight for equality and acceptance.
#4 Promoting equal rights
Brussels Pride is committed to promoting equal rights for LGBTQIA+ individuals and encouraging governments and institutions to implement inclusive policies. By advocating for legal protections and social acceptance, the event strives to create a society where all sexual orientations and gender identities are respected and valued.
#5 Creating a community
In addition to its advocacy and awareness-raising efforts, Brussels Pride aims to foster a sense of community and belonging within the LGBTQIA+ population. By providing a safe and supportive space, the event brings people together, enabling them to connect, share experiences, and find solace in their shared identities.
Program May 10 to 20: Pride Week, Pride Village, Pride Parade
The Brussels Pride celebrations encompass a range of activities and events held throughout Pride Week, leading up to the Pride Parade on May 20th. Pride Week commences with the Mini Pride on May 10th, featuring engaging debates and conferences addressing various LGBTQIA+ issues. These discussions set the stage for the week-long festivities.
On May 20th, the Pride Village welcomes everyone to experience the vibrant atmosphere and engage with LGBTQIA+ associations. It provides a space for individuals to connect, share stories, and build support networks. The highlight of Brussels Pride for us was, of course, the Pride Parade, which began at the Mont des Arts at 14:00 on May 20th. The parade acted as a powerful platform for LGBTQIA+ visibility and rights advocacy, marching the rainbow and hundreds of protest posters around the "Capital of Europe", Brussels.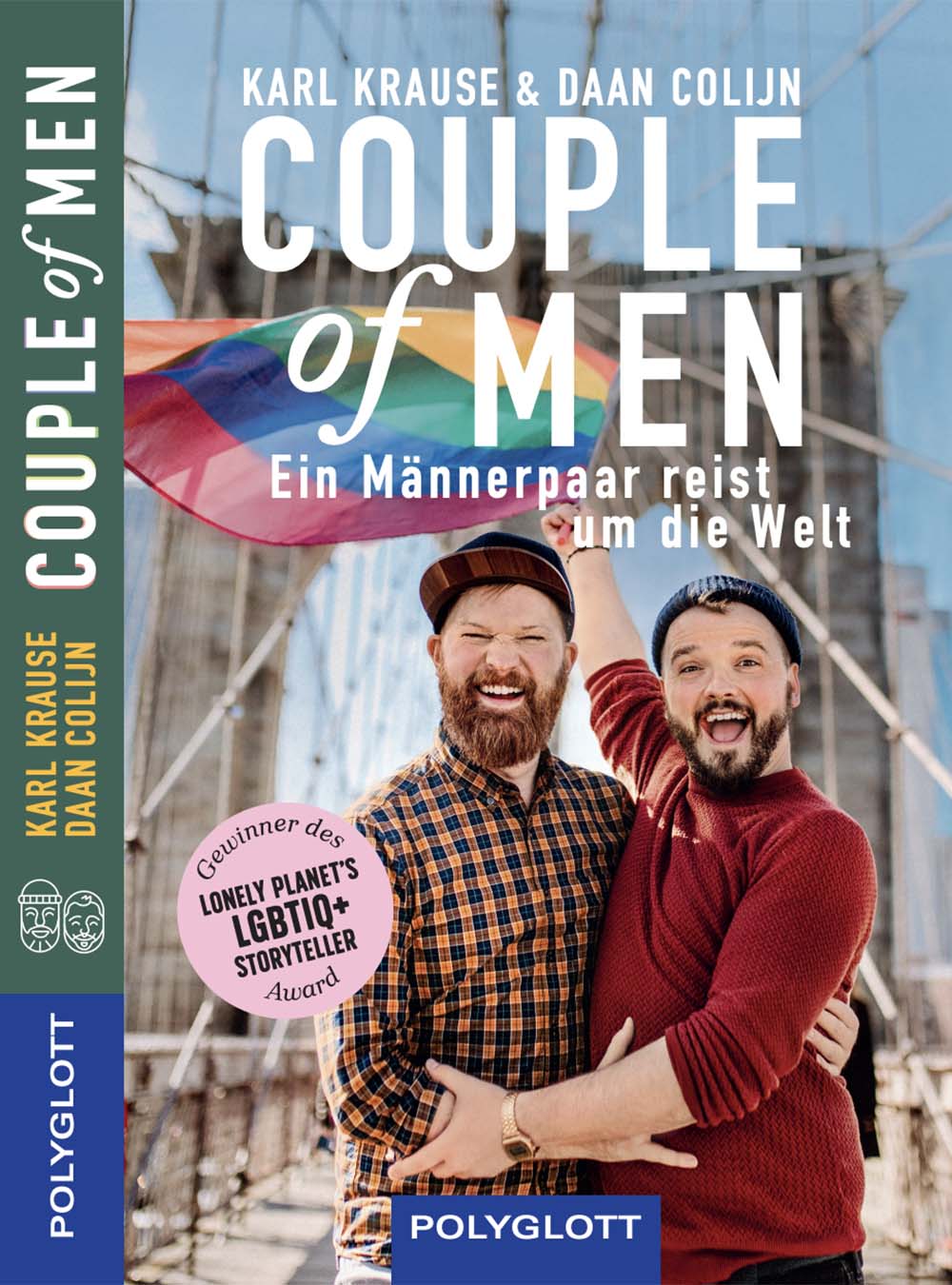 Advertisement
The perfect present to inspire (German-speaking) LGBTQ+ travelers and their allies to travel the world open-minded, respectfully, and with a happy heart.
Order our book online or purchase it in bookstores in Germany, Austria, and Switzerland.
Safer Pride at Brussels Pride 2023: Ensuring a Safe and Inclusive Celebration
A crucial aspect of Brussels Pride is the implementation of Safer Pride, an initiative dedicated to ensuring the safety and protection of participants at LGBTQIA+ events, including Brussels Pride and other events throughout the year. Safer Pride is a collaborative partnership between the organizers of LGBTQIA+ events, the Brussels police, emergency services, and other stakeholders and LGBTQ+ allies within the city.
The concept of Safer Pride revolves around creating designated zones within the event site that are specifically designed to welcome participants, provide reassurance, and address any concerns they may have. These zones serve as safe spaces where attendees can seek assistance, information, or support if needed.
The primary aim of Safer Pride is to ensure that participants can enjoy a secure and peaceful celebration without being subjected to violence or discrimination. In the unfortunate event that any incidents occur, the Safer Pride zones are staffed with trained personnel who are ready to assist and provide appropriate care.
The Safer Pride partnership works diligently to implement a range of security measures, including the presence of police and emergency services. These measures aim to create an environment where participants feel protected and can freely express themselves without fear.
Furthermore, the initiative emphasizes the importance of training security personnel to identify and manage incidents effectively. By equipping them with the necessary knowledge and skills, Safer Pride endeavors to enhance incident response and mitigate potential risks.
Through the Safer Pride initiative, Brussels Pride strives to foster an inclusive and supportive environment for all attendees. It serves as a testament to the event's commitment to creating a safe and welcoming space where individuals can embrace their identities, celebrate their diversity, and advocate for LGBTQIA+ rights.
Interesting Posts for Your Pride Travels
Time to plan your trip to LGBTQ+ welcoming Brussels
Brussels Pride 2023, with its motto "Protect the Protest," stands as a powerful symbol of resilience, advocacy, and unity within the LGBTQIA+ community. The event aims to provide a platform for advocacy, celebrate diversity, raise awareness, promote equal rights, and create a supportive community. Additionally, through the Safer Pride initiative, Brussels Pride ensures the safety and protection of participants, offering designated zones with trained personnel and implementing various security measures. As we join the vibrant festivities of Brussels Pride, let us collectively work towards a world that embraces and protects the rights of all individuals, regardless of their sexual orientation or gender identity.
Do you like it? Pin it! >>
Would you like to learn more about us gay travel bloggers and experience our queer adventures with us? Then stay tuned and follow us on Facebook, Twitter, YouTube, Pinterest, and Instagram! See you in Brussels, Western Europe, or on one of our next Gay Pride trips worldwide!
Karl & Daan.
We want to thank Visit Brussels and the Bloom Brussels nHOW Hotel for the invitation, support, and opportunity to experience Fort Lauderdale in an accessible and authentic way.