Gay couple hotel review of the adult-only luxurious accommodation in Italy: BeVedetta Relais & Glamping in Tuscany. Our trip to Italy – to Scarlino, Maremma, to be exact – felt like a trip back to the origins of our travel adventures together as a gay couple of men. Close to nature, fantastic views, LGBTQ+ friendliness, and a sustainable focus for the future. And even though we've learned over the years that a touch of luxury is part of a wholesome vacation for us, sustainable harmony with nature is (became) especially important to us. The gay-friendly accommodation is located high up on a hill overlooking the sea. It was just the right place to experience this symbiosis on vacation, far away from the stress of everyday life. Enjoy our photos, the story about Scarlino, and our LGBTQ+ welcoming and gay-friendly Couple of Men "Be Vedetta Glamping in Tuscany, Italy" hotel review!
– in collaboration with BeVedetta Relais & Glamping –
Welcome to "Be Vedetta" – A viewpoint in Tuscany
After a short flight via Amsterdam directly to Florence, we stood after a long drive with our rental car over the mountains, past Siena, in front of the mighty, red entrance gate. Round, atmospheric lamps on the right and left of the narrow driveway showed us the way to our accommodation. Just as we were about to leave our parked car, the friendly smiling receptionist in his little golf cart was already standing in front of us. But before we were to move into our little retreat surrounded by ancient olive trees, we packed our suitcases onto the electric vehicle to head uphill to the main building – the so-called Relais (French for a hotel located in the countryside) – for check-in. Here we met Anna Barberini, owner, and manager of the Italian estate.
"The reason we chose your accommodation was your little rainbow flag on the home page. What does it mean to you to visibly show it?" we asked Anna. "Well, first of all, for me Be Vedetta is a welcoming place for everyone, independent of sexual orientation, gender, or country of origin. We thought long about how we can display it as a statement without it being too much 'rainbow in your face'. I am pleased to hear we succeeded with it and to welcome you two to our lovely home here in Tuscany." And while Anna's dog welcomed us as well, Anna continued: "Be Vedetta truly means that every visitor picks his or her way of experiencing vacation: sea view in a lodge or a luxury suite in the Relais, it is up to you!" With a smile and truly happy about our safe arrival, Anna handed us the keys to the lodge Elletra and said, "enjoy your vacation in Maremma!"
---
Advertisement
We found some great deals with flights worldwide as well as in and around Europe via Amsterdam (and return) with gay-friendly KLM Royal Dutch Airlines. That includes direct connections with KLM or their partner airlines, Air France and DELTA. *subject to availability / last check: 2023
---
Vedetta Lodge Prestige – Sea View
For nine nights, one of the Be Vedetta prestige lodges overlooking the sea was to be our home. Formalities completed, keys in one hand, our filled water bottles in the other, we entered our spacious, clean accommodation after a short drive downhill into the olive grove. As darkness fell, we caught a last glimpse of the setting sun from our veranda and could literally feel the tension of the trip falling away from us. Earplugs in our ears and the mosquito net stretched over the bed, we crawled under the covers, snuggled up together, and whispered "here's to a great vacation" before falling asleep.
The next morning, the sun was already shining on our bed when we were awakened by a friendly voice outside our tent. It must have been around 8 o'clock when Francesca delivered punctually to the minute our breakfast we had selected the night before. In keeping with the glamping theme, the breakfast was loaded in a picnic basket, with food primarily packed in reusable and recyclable containers and bags.
We pulled back the curtains, and opened the closures – glamping means staying in luxurious, tent-like accommodations, so no windows or doors – to let the warm late summer air into our 50-square-meter lodge. And the view … we were simply stunned by the sea and mountain view.
Rich breakfast package: Diverse & daily fresh
Putting on the coffee for Karl, we started preparing our breakfast table outside on the veranda, accompanied by calm Italian summer lounge music. Then it was time to try the fresh croissants, homemade cake, fruit salad, and local cheese. Daan couldn't get enough of his omelet with sautéed sage from the BeVedetta garden. And the weather was so beautiful that we could even see the island of Elba on the horizon.
And while we philosophized about the planning for the coming days, our eyes wandered over the generously, luxuriously furnished lodge. A sofa for two, a fold-out armchair, a sofa table, a dresser with a coffee maker and a milk frother were just as much part of the interior as a small refrigerator, a fully equipped bathroom, and a small air conditioner, which is also used as a heater in the fall. Gay-friendly Glamping in Tuscany, Italy at its best.
Luxury Facilities at the BeVedetta glamping Lodges
The first days for us were all about relaxing, doing nothing, and enjoying the hospitality of the team of the Barberini family business. The small but exclusive pool was particularly appealing to us. All alone, we spent the whole day alternately lying in the sun, under the parasols, or in the refreshing water of the outdoor pool.
If you expect a big basin where LGBTQ+ travelers can swim long laps and practice the head dive, you will be disappointed. The max. 1.40 meters deep BeVedetta pool is mainly for refreshment and a place of tranquility overlooking the sea. Numerous butterflies, insects, and lizards are also at home here and gave us a real vacation feeling.
Good to know: LGBTQ+ travelers can reach numerous restaurants after only a short drive from BeVedetta. However, the opening hours are limited, especially in the low season. For those who have the money and want to be pampered during their stay, we can recommend the Be Vedette Restaurant Rossocorbezzolo. Delicious dishes are prepared from regional ingredients, which can also be prepared vegetarian on request.
What to do in & around Scarlino?
The next days were no less relaxing, and yet we were looking for a change and a little adventure. Thereby, we were magically attracted by the blue sea. We spent two days on the beach and in the crystal clear waters of the Tyrrhenian Sea, part of the Mediterranean. Now, in the low season, we had the coast practically to ourselves.
But of course Tuscany has much more to offer. Fortunately, we were mobile. For two days, we set out with our rental car to discover the Tuscan cities of Siena and Scarlino. In doing so, we also took a little trip back in time because Karl spent some time of his studies here in Italy.
But that was not all. Did you know that Tuscany is famous for numerous spas and naturally occurring hot springs? Some of them can even be visited for free! Relaxing and healthy at the same time! More about our wellness explorations here >
---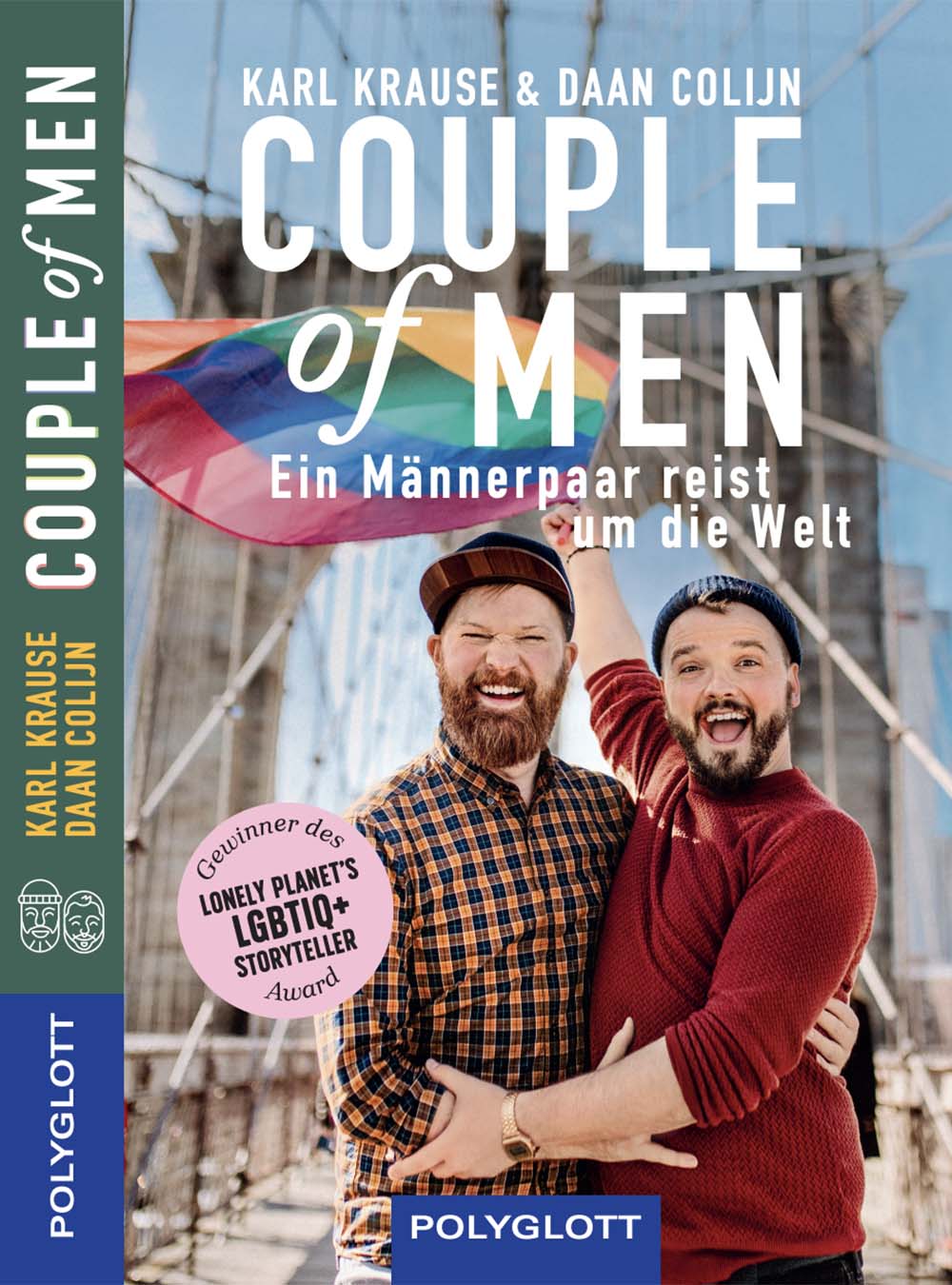 Advertisement
The perfect present to inspire (German-speaking) LGBTQ+ travelers and their allies to travel the world open-minded, respectfully, and with a happy heart.
Order our book online or purchase it in bookstores in Germany, Austria, and Switzerland.
---
Review of gay-friendly Be Vedetta in Scarlino
We were able to enjoy our glamping vacation to the fullest. The staff with a certain Italian temperament, the proximity to nature, and the focus on an adults-only vacation rounded out the queer-friendly experience in Italy. For us, it is still important to mention that, as it is the case in many Mediterranean regions, there are repeated dog concerts to be heard, even at night. The gay-friendly BeVedetta accommodation also positions itself as particularly dog-friendly. Earplugs are therefore advisable.
Furthermore, there were unusually many mosquitoes and horseflies this late summer. So, don't forget your mosquito repellent. And last but not least, we were pleased to have packed our bathing and swimming shoes. After a hike along the wooded coast, we were able to take a refreshing bath on the stony coast without any problems.
Please note: This trip was made possible together with Be Vedetta as well as the tips and help to come from our wonderful readers, followers, and friends from all over the world. Nevertheless, our photos, our videos, our opinions, and our writings are our own, as always.