Need inspiration on where to travel next? Or you're not sure which places are suitable for travelers from the LGBTQ+ community? In addition to the best queer travel blogs, LGBTQ+ travel books help lesbian, gay, trans, and queer travelers find inspiration and direction for planning their gaycation. And let's face it, having a travel guide (or other queer book) in your suitcase calms your nerves about not losing track of where you are on the road, helps you categorize destinations, and at the same time, they provide tips for particular places that are especially relevant to the LGBTQ+ Community. This is why we introduce you to the best (international) LGBTQ+ travel books here on Couple of Men.
These LGBTQ+ travel books you should read
Traveling has not been easy over the past two years. So, most of us have decided to enjoy their homes. But even before that (and probably continuing after this challenging times), travel hasn't always been easy for the LGBTQ+ community. In some destinations, discrimination or danger was and is still present today. Nevertheless, there are brave members of the community who don't let this stop them and who claim their right to see the world like everyone else on the one hand, and on the other hand to show this world that there are naturally queer travelers as well.
Couple of Men – Ein Männerpaar reist um die Welt (German)
Out of competition 😉 In early May, our own LGBTQ+ travel book was released: Couple of Men – Ein Männerpaar reist um die Welt (a gay couple travels around the world). The book takes the reader on our travels to the USA, Iceland, Japan and South Africa, among other places. We also give you a very personal insight into our relationship, childhood, how we grew up and about our coming-out stories. We are very proud of our project and hope you enjoy it as much as we do.
---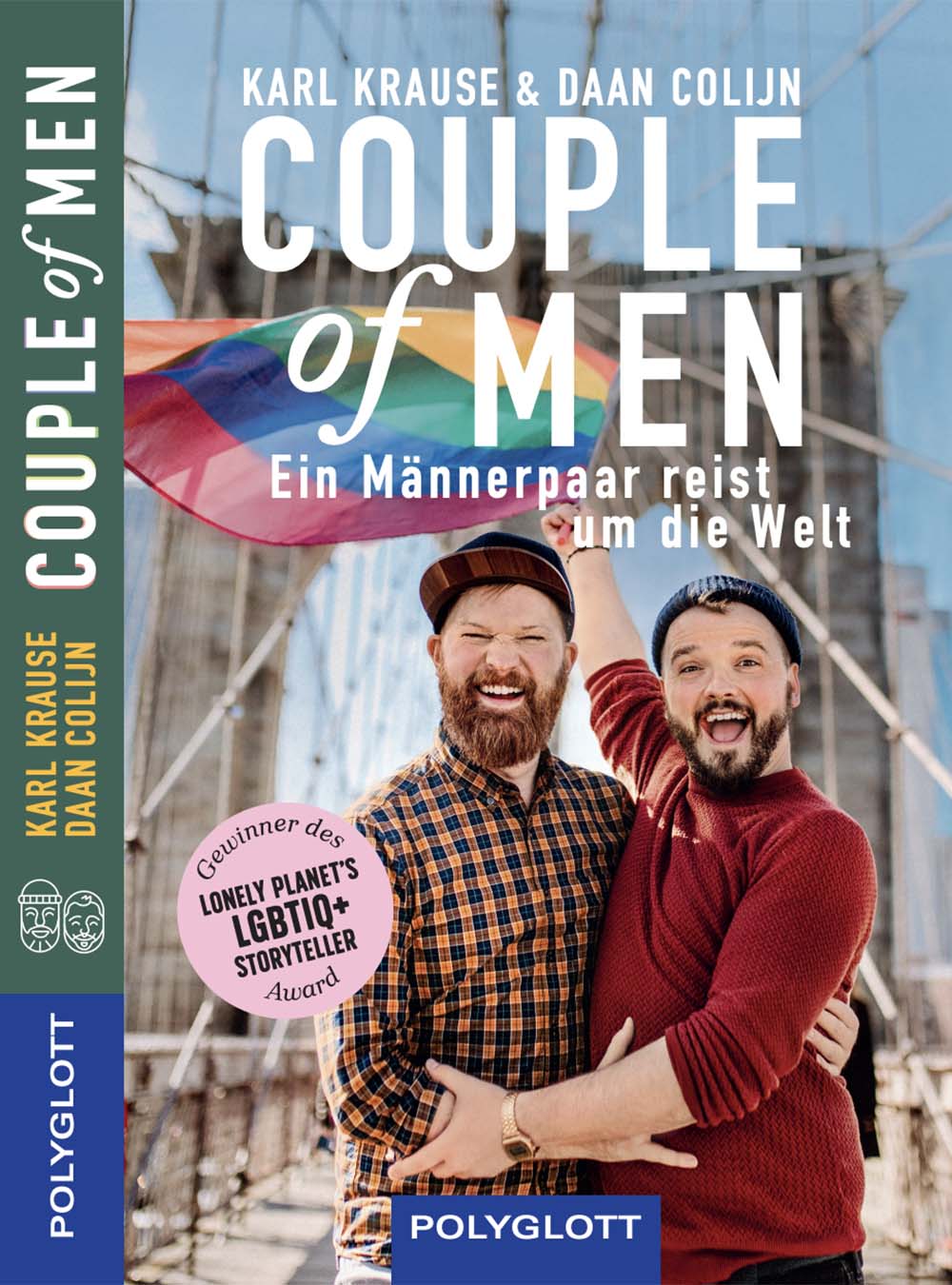 Advertisement
The perfect present to inspire (German-speaking) LGBTQ+ travelers and their allies to travel the world open-minded, respectfully, and with a happy heart.
Order our book online or purchase it in bookstores in Germany, Austria, and Switzerland.
---
#1 Mr. Hudson Explores – Bastiaan Ellen (DEUTSCH)
In 2019, Dutch tourism expert Bastiaan Ellen published an LGBTQ+ travel guide especially for gays, which has also been translated into German. Most importantly, this is all about traveling in style, primarily. The book is about art, design, fashion and lifestyle in Rome, Stockholm, Tokyo and Paris, to name just a few examples. A book to discover and rediscover.
Link: Shop on Amazon >
#2 Sassy Planet: A Queer Guide to 40 Cities, Big and Small – Harish Bhandari (ENGLISCH)
There are certainly LGBTQ+ travel hotspots in the world, mainly because the community knows that they are accepted there and that the chances are that there won't be any hassles. New York or Berlin, for example, are among these places. Yet, the world has so much more to offer. This queer travel book takes on big and small places in this world that queer travelers should definitely not miss.
Link: Shop on Amazon >
#3 The Gay Guide: New York, San Francisco & Paris (ENGLISCH)
This travel book series dedicates each issue to a city that is considered particularly queer and gay-friendly. So far, a total of three editions have been published, each featuring an expert who compiles the best places, clubs, restaurants and sights for the respective city. These LGBTQ+ travel books give really valuable tips for everything you need for your next destination: from transportation options to cultural tips to safety advice – everything is covered.
Link: Verkaufswebseite auf Amazon >
The Berlin-based Spartacus informs LGBTQ+ and queer travelers about how gay-friendly a holiday destination is according to several ranking factors and criteria. Gay travelers can use the Gay Travel Index 2023 to prepare for their gaycation and as a guide when choosing a holiday destination. But which country ranks first? Where is it safe to travel to as a gay and LGBTQ+ traveler?
#4 Eat, Gay, Love. Ein Memoir – Calum McSwiggan (ENGLISCH)
Hodder Paperpags Verlag – Website
If you don't have the opportunity to travel yourself right now, that doesn't mean you can't still go on a journey: from your sofa. Our friend and fellow author Calum McSwiggan takes you to Rome, Berlin and Thailand. There he meets all kinds of people and listens to their life stories. In a charming and entertaining way, he manages to inspire wanderlust while showing the wide spectrum of the LGBTQ+ community.
Link: Shop on Amazon >
#5 Real Queer America: LGBT Stories from Red States – Samantha Allen (ENGLISCH)
Elliot Bay Book Company Verlag – Website
Just because of its size and its diversity, the United States of America is well worth a trip. However, LGBT travelers who are not welcome equally in all US American states. That's why author Samantha Allen set out on a journey through the most conservative states to get to know the queer community there. In this book, she tells the personal stories of the people she met along the way through countries still in the process of becoming queer-friendly.
Link: Shop on Amazon >
Where to go on vacation this year? Is it safe to go there with my boyfriend? Or with my husband? Or with my rainbow family? These are just a few examples of questions we're hearing from our readers, followers, friends and family members who are planning an LGBTQ+ and gay-friendly vacation in 2023.
#6 Trans New York: Photos and Stories of Transgender New Yorkers – Peter Bussian (ENGLISCH)
Apollo Publisher Verlag – Website
Often on our travels, it's the people we meet that make our memories so special. Peter Bussian takes us into the world of New York's trans community with this beautiful photography book. Even if a trip to the Big Apple is out of the question for some of us, readers will still be immersed into the vibrant, diverse world of this unique city, feeling as if they've had a grueling, exhausting, wonderful city trip after reading this book.
Link: Shop on Amazon >
#7 The Blind Masseuse: A Traveler's Memoir from Costa Rica to Cambodia – Alden Jones (ENGLISCH)
University of Wisconsin Press – Website
Costa Rica, Bolivia, Nicaragua, Cuba, Burma, Cambodia and Egypt. Only a few of us are lucky enough to ever embark on a trip around the world. Mostly it fails because of time and money issues. Author Alden Jones, bisexual herself, nevertheless makes such a journey across several continents. It was made possible by filling pages after pages with her travel experiences and insights. Even though the book is set in 2013, nothing of its relevance has been lost.
Link: Shop on Amazon >
Berlin, Dresden, Hamburg, Frankfurt am Main, Cologne – and so much more, with beaches in the north of Germany, the Middle mountain range in the center of the European country, and the spectacular mountains of the Alps. Explore Germany and its 16 states with Pride parades, diverse cuisine, and lovely people.
#8 Gay Bangkok: Complete Gay Travel Guide to Bangkok – Bradley Chetworth (ENGLISCH)
Bangkok is known for its insane street traffic, delicious street food, and crazy nightlife. But also, for its queer community. There's nothing in Bangkok that isn't possible. Travel writer Bradley Chetworth gives you specific tips for offline and online dating in Thailand, LGBTQ+ friendly accommodations, bars, and your personal safety. In short, it explains how-to-be-gay in Thailand.
Link: Shop on Amazon >
#9 Gay: Being Gay in the 21st Century – John A.K. Scott (ENGLISCH)
This is about travel, but it's also about so much more than that. Scott lists the most LGBT-friendly places in the world, but also addresses important issues like dealing with homophobia, self-acceptance, growing older as a gay person, and all the challenges that still come with being gay in the 21st century.
Link: Shop on Amazon >
#10 Gay Camping Logbook (ENGLISCH)
There is nothing in this book. And that's exactly the point because LGBT travelers should fill this travel book with their very personal experiences and memories of wonderful camping trips. Just a few suggestions of what can be noted here: Where did you experience the glamping? Where were the best gay saunas? And where was clothing optional at the beach?
Link: Shop on Amazon >
---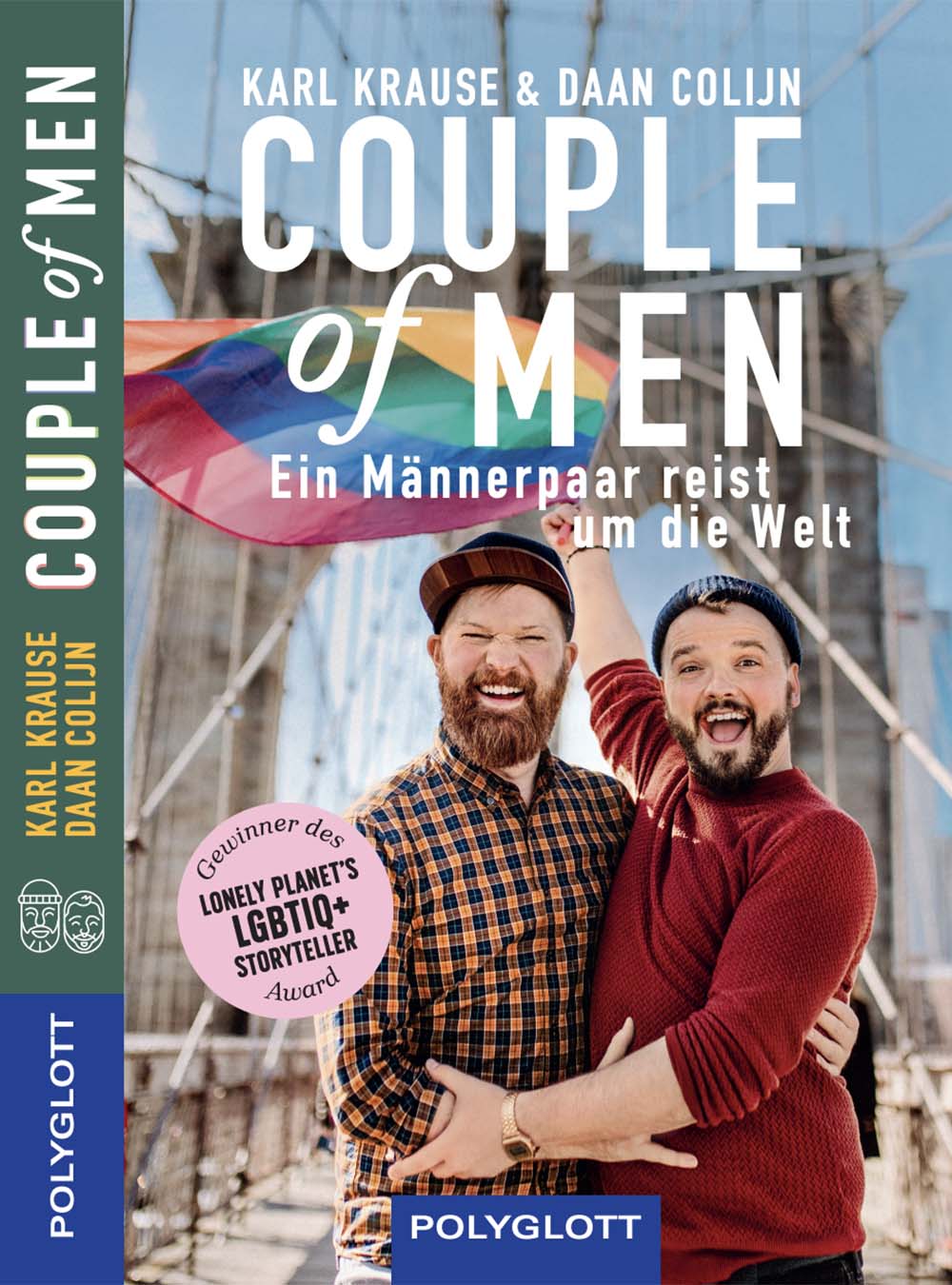 Advertisement
The perfect present to inspire (German-speaking) LGBTQ+ travelers and their allies to travel the world open-minded, respectfully, and with a happy heart.
Order our book online or purchase it in bookstores in Germany, Austria, and Switzerland.
---
Do you have any other tips for queer LGBTQ+ travel books?
Leider war der Platz in unserer Liste natürlich begrenzt, aber es gibt noch viel mehr LGBTQ+ Reisebücher, die es zu entdecken gilt. Wenn du noch weitere Vorschläge hast, teile sie gerne hier mit der Community.
Wenn du mehr über Reisenews aus und Hintergrundberichte über die LGBTQ+ Community erfahren möchtest, dann folge Couple of Men ganz einfach auf Instagram, Twitter, YouTube, Pinterest und Facebook!
Karl & Daan.