Who would have thought… When we were awarded the LGBTQ+ Storyteller Award by Lonely Planet in late summer 2020, we didn't know anything about our next project. Megaproject, really. Just a few weeks later, we received an unexpected email from Munich, Germany. The renowned publisher Gräfe und Unzer Verlag (publishing Polyglott, the ADAC travel guide and Merian, among others) expressed interest in publishing the first LGBTQ+ travel book together with us. Not just any, not just a few pages of colorful pictures, but the first one in German language, featuring travel stories from and for the queer community. Now, a year and a half later, our book Couple of Men – Ein Männerpaar reist um die Welt (A couple of men traveling around the world) is already in production and is scheduled to be published in the first week of May 2022, just in time for Pride month in June. Here's what you can expect from our first Couple of Men book.
"Traveling properly has to be learned"
… my grandmother Eleonore always used to say to us, "because after all, the whole life is a journey." How right she was. That's also why our book "Couple of Men" doesn't begin with our first trip we did together. But our book is not a simple copy of our blog articles on Couple of Men. In fact, we take it a step further. We take readers on our own (very) personal journey, from our individual coming out experiences, school days, Karl's early work as an activist, Daan's early experiences of being part of the boat parade at Amsterdam Pride, to our first kiss and the beginning of our journey together as Couple of Men. Along the way, we keep the entire LGBTQ+ community firmly in mind, answering questions like where does the LGBTQ+ acronym come from, or what does the rainbow flag actually mean? From funny moments to tears of despair, it's all in the book. And we are proud of each of these moments.
Facts and figures about our Couple of Men book
Dimensions: 13.8 x 21 x 2.2 cm
Number of pages: 256, with about 100 photographs
Language German (hopefully soon also in English)
Publisher: Polyglott (imprint of GRÄFE UND UNZER Verlag GmbH from Munich)
Publication date: May 3, 2022
ISBN-10: 3846408794
ISBN-13: 978-3846408797
Couple of Men: not an everyday travel book – and yet so "ordinary"
It starts with our childhood, before our paths crossed for the first time in a Berlin club. I, Karl, grew up in the former GDR, in the countryside surrounded by forested mountains, in the extended so-called Valley of the Clueless. Yes, this nickname was given to the eastern part of Saxony in the days of the German Democratic Republic, since no West German media could be received here, nor in the very northeast of the GDR. I blame the conservative, right-wing currents in Saxony in part on this cultural heritage. Well, this is where I grew up, this is where I had to fit in, this is where everything that was different was condemned, marginalized and viewed with suspicion. Consequently, my coming out was difficult and did not happen until late in my life. After the years I spent in Dresden, my time in Berlin followed.
At the same time, Daan experienced a very different childhood and teenage years in an environment in which he could discover and live out his homosexuality. Even as a child, his creativity, love for theater, social projects through politically active parents, and socially liberal and forward-thinking LGBTQ+ friendliness represented a very different, freer way of life. Would this have an impact on his coming out? A special trip to Berlin and the night of the night in a club in the German capital city was followed by several months of long-distance relationship and my move to Amsterdam. And our journey together could begin.
---
You can either pre-order our book Couple of Men – Ein Männerpaar reist um die Welt online or purchase it at your local bookstore in Germany or online, for example at Amazon.
Tip: It will be released on May 3rd 2022, just in time for Pride month in June!
---
Travel open-minded, respectful & with a happy heart
Japan, Iceland, Canada, the south of Africa, the Canary Islands, Costa Rica, Sweden and New York – Each trip brought and brings us closer to each other. Together, we are stronger and can overcome new hurdles and challenges. And along the way, our stories were read, our social media posts were liked, and our blog became internationally known. But the way we traveled together also changed over time, became more colorful and the LGBTQ+ communities of this world gave us insights, into foreign and diverse cultures. This includes CSD Pride events in Germany (for example), queer ski weeks, gay cruises and international LGBTQ+ summer festivals.
Japan, for us, the land of anime movies by Ghibli, theme parks like Disney Tokyo and the land of meditation, Buddhism and onsen (hot spring bath tubs). On our month-long trip through the Japanese empire, we were searching for the special jewels off the beaten bath.
For about 21 days, the streets and secrets of Iceland became our home. Time did not matter. Northern lights seemed to illuminate the starry nights for a small eternity. Like green rain showers in the sky. Being in Iceland, that's what mattered to us.
Our first trip to Canada brought us first to Calgary and then further into the winter Rocky Mountains. Why? For our first winter, pride on the slopes of the Marmot Basin ski area – attending the Jasper Pride & Ski Festival.
After a few late summer days in Cape Town, we flew to the Atlantic coast of Namibia. In Walvisbay, we boarded a luxury train of the Vos family from South Africa. Our train safari through Namibia and South Africa could begin.
Our first cruise along the Spanish coast was followed by our second gay cruise around the Canary Islands in the Atlantic with colorful themed parties, shore excursions and leisurely hours on the nudist sun deck.
Our adventure trip began in the Costa Rican capital of San José. From here, we made our way to the famous Arenal Volcano National Park, the cloud forests of Monteverde, and the sunny shores of the Pacific Ocean.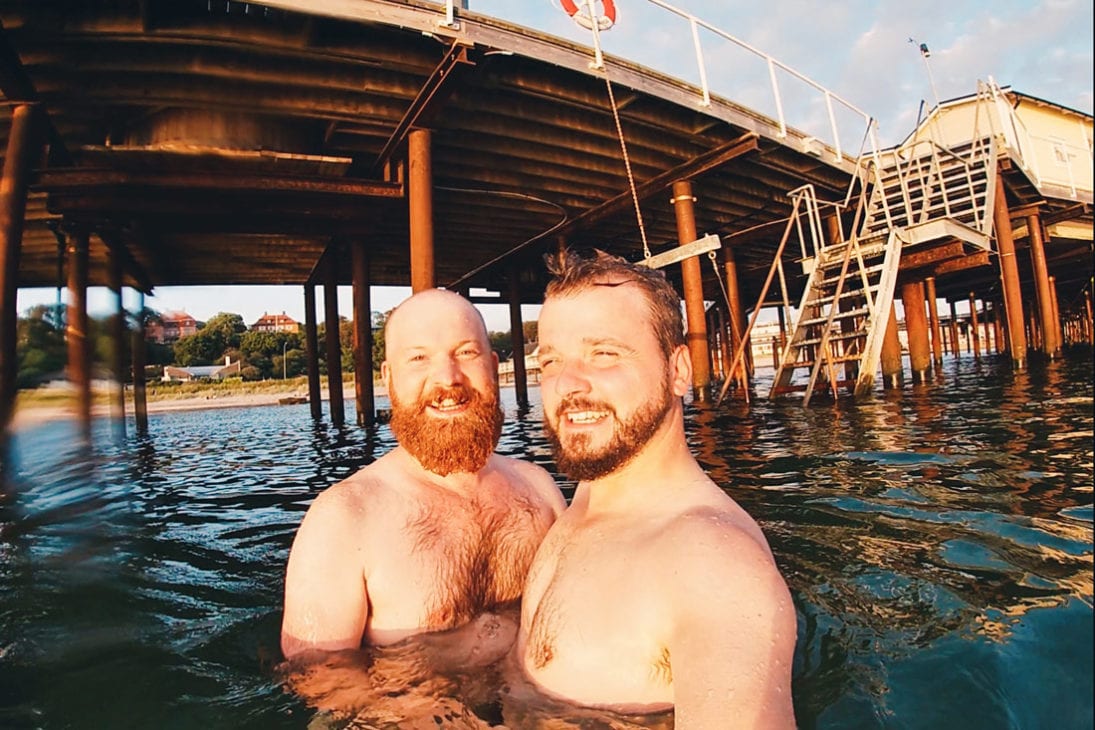 Spending a summer vacation in Sweden had been on our travel bucket list for a long time. Yes, you can call us nature lovers, no enthusiasts. The time was right when we traveled to Malmö and the southern Swedish county of Skåne a year before World Pride 2021.
Our last big trip brought us back to the US in 2021, where we were in upstate New York at the end of our month-long trip around the United States. This time, however, in Dutchess County, two hours by train north of the Big Apple.
Couple of Men – a couple of men travels the world: the first German, queer travel book from and for the LGBTQ+ community
In our book Couple of Men, we go a step further than you are used to from our travel blog and social media posts. It gets personal, about us, our travel experiences, and about the LGBTQ+ community we encountered during our travels. School awareness projects, queer sporting events, Winter Pride, and gay cruises. Joyful moments, tears, despair, and relief – we look forward to hearing your thoughts on our biggest project yet. Our goal with this project is to combine the luxury of travel with the opportunity to bring a piece of equality and diversity to the world.
Karl & Daan.
For more travel news from and background stories about the LGBTQ+ community, simply follow Couple of Men on Instagram, Twitter, YouTube, Pinterest, and Facebook!