During our nine days Namibia to South Africa Train Safari with Rovos Rail, we as a gay couple traveling around Southern Africa by train had the chance to visit one of the biggest National Parks in Africa. Etosha particularly known for its rich life stock including Elephants, Southern white and south-west black Rhinos, Giraffes, Zebras, Kudus, and a diverse population of birds like Ostriches and Kori bustards, is located in the Northern part of Namibia, the southwestern African country. The National Park itself is continuously under protection against poachers and other animal threatening to guarantee a healthy and balanced environment.
A great and safe way for LGBTQ+ travelers to visit Etosha National Park and to higher the chances of actually discovering the shy inhabitants of the Game reserve is by joining an organized game drive with experienced local guides and bushmen. Join Couple of Men on a two days game drive adventure in Southern Africa and find out which animals of the African Big 5 Games we could manage to capture with our cameras in the 22,270 square kilometers big nature reserve Etosha National Park in Namibia.
Two Days at Etosha National Park
We visited Etosha National Park at the end of May which marks the middle of autumn of the Southern Hemisphere. The days in Etosha can be pretty hot during the day while the temperatures can drop significantly during the nights, down to 10 degrees Celsius. Etosha National Park can be accessed via four gates: In the north through the "King Nehale or Nehale Iya Mpinganag Gate", in the east through the "Von Lindequist or Namutoni Gate", in the south through the "Andersson Gate" and in the west through the "Galton Gate".
Starting from Otjiwarongo, we arrived after a good two hours-drive through dry Namibian Savannah at the Mokuti Lodge, our gay-friendly accommodation right next to the eastern entrance gate of Etosha for one night. Equipped with cameras, sun lotion, and our safari hats, our first game drive to the 22,270 square kilometers big Etosha National Park in an open jeep began in the late afternoon, avoiding the heat of the dry Etosha Pan.
Starting at the Atlantic Coast of Namibia, we boarded the Rovos Rail Pride of Africa luxury train making its way through Namibia and South Africa to Pretoria. Our story about our Southern African adventure from Walvis Bay to Pretoria now on our gay couple travel blog!
Etosha Afternoon Game Drive for Sunset
Our hearts were beating faster and faster with the rate of a running Springbok when we started to spot the first animals of the African National Park in the north of Namibia including Giraffes, Oryxes, Kudus, Springboks, and Ostriches. While trying to find the best viewing points around waterholes, our guide told us about the wildlife and the history of the park, while always being on the lookout for the next game to spot. Although that calmed us down a bit, our hearts jumped up and down when we finally encountered a whole family of Elephants. That included some tiny young Dumbo-like ones drinking, bathing, and playing around one of the multiple waterholes of Etosha. No words can describe our excitement. It was simply fantastic and unrealistic to spend the sunset watching these giant and still graceful mammals making their way back into the untouched areas of Etosha National Park, always protecting the little ones behind their mothers' bodies.
We left Etosha by sunset with some stunning photo moments of Giraffes walking into the glowing setting sun. After a delicious dinner with local delicacies outdoors under the Namibian stars, we had a comfortable but short night in our very spacious two-bedroom lodge at the Mokuti Lodge.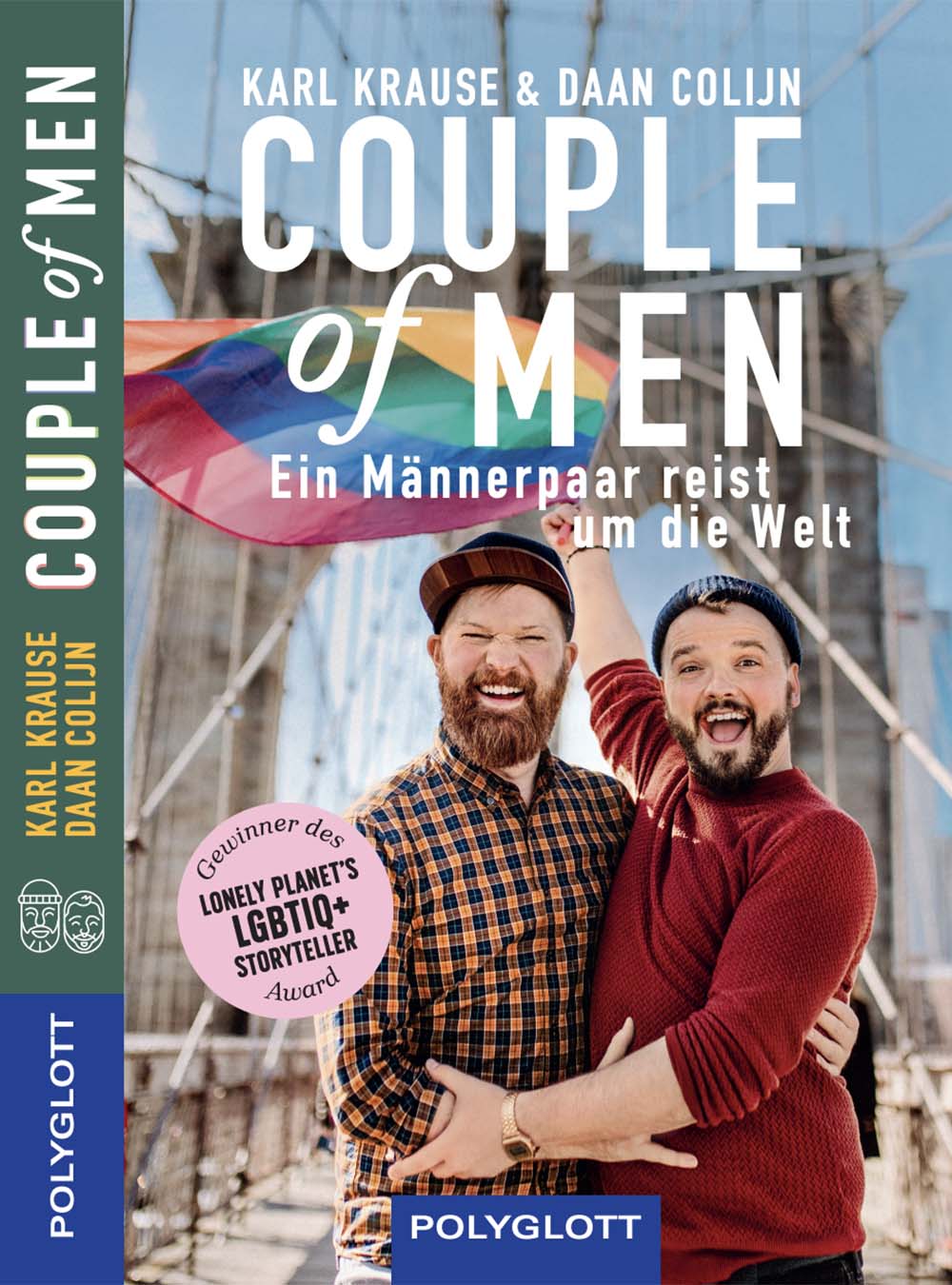 Advertisement
The perfect present to inspire (German-speaking) LGBTQ+ travelers and their allies to travel the world open-minded, respectfully, and with a happy heart.
Order our book online or purchase it in bookstores in Germany, Austria, and Switzerland.
Etosha Early Morning Game Drive for Sunrise
Six o'clock sharp, our early morning wake-up call kicked us out of the bed into a still dark and frankly cold African morning. Kicked out? Not exactly! We literally jumped out of our bed and into the safari car dressed in warm sweaters and wind protecting jackets for our second game drive, super excited and motivated to spot even more animals. It couldn't have been a better start: Already on our way into the park we encountered a big group of Zebras in almost touching distance. The mornings in Etosha National Park are freezing even though we were dressed with sweaters and wind protecting jackets.
But that didn't bother us too much. After a little while, trying very hard to spot one of Africa's Big 5 (Lion, Leopard, Rhinoceros, Elephant, and Cape buffalo), the highlight of day two appeared in the middle of the Etosha Pan: Two White Rhinoceros families just having breakfast right in front of us. Definitely the goosebumps moment of our morning game drive. Wow! Although we could not spot lions or any other carnivores during our visit to Etosha National Park, we enjoyed every single second outdoors in the Namib Desert.
The next adventure on our 9-days gay-friendly train journey around Southern Africa will bring us to Sossusvlei, one of the most spectacular desert sandy dunes in the world!
How to travel to the African continent? Where to stay in Namibia and South Africa? What to do and where to go? We collected the most important information for your South African gay travel adventure with detailed articles, travel information, and links to important and official websites.
Good to know about Etosha National Park
To prepare you properly for a visit to Etosha National Park, we put together some important info for your visit and game drives. First, depending on the sunrise and sunset, Etosha Park has slightly changing opening hours related to the sunrise and sunset. That circumstance guarantees calm and undisturbed nighttimes for all park animals. Secondly, it doesn't matter if you are joining an organized game drive or explore the park on your own. Our Tip: the local guides are connected with walkie-talkies with each other. If a particularly shy game shows up, you will be among the first ones to arrive at the spot. Additional to that, they will give you some extra information which no guidebook will provide you with.
Important items to bring to Etosha National Park Namibia
Don't forget to bring drinking water, sun lotion, binoculars, a sun hat and, of course, your camera. And please make sure to visit the restrooms/ toilets before the drive begins since there is no (easy) chance for a pit stop along the way inside the park.
Finally, dress accordingly, since especially during the early morning game drives, it can be painfully cold if you are just in your shorts and shirt and super hot in the afternoon when you only need a shirt and shorts. And now, enjoy planning your trip to Namibia, Etosha, and the rest of Southern Africa!
Do you want to know more about our gay travels around the world? Stay tuned on Facebook, Twitter, YouTube, and Instagram. See you again soon in Namibia, Southern Africa, and/or around the world!
Karl & Daan.